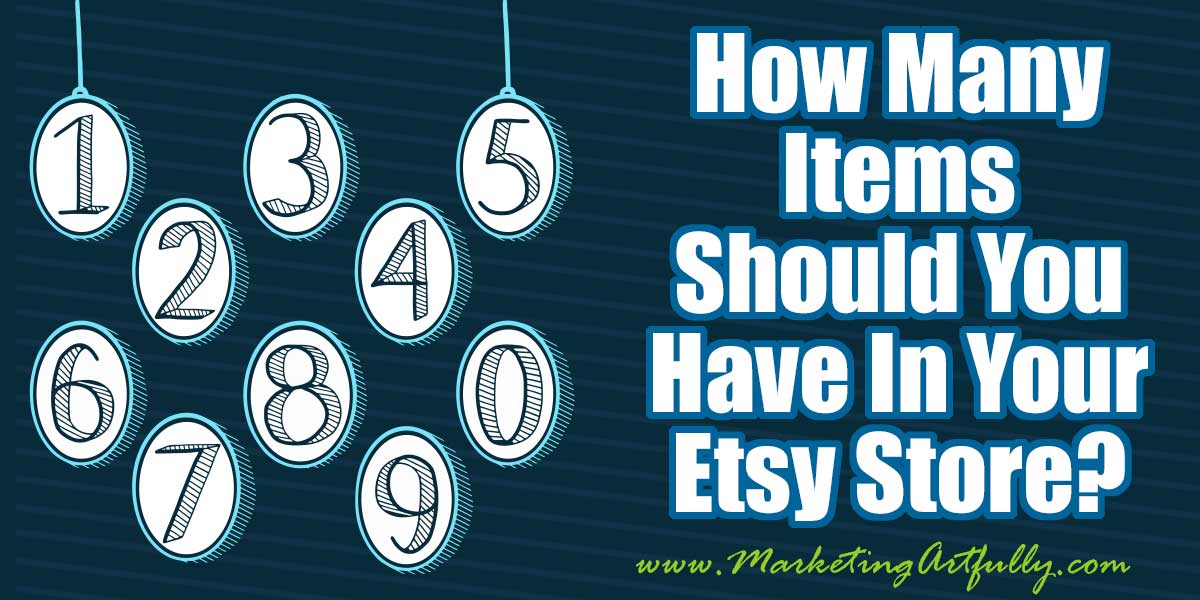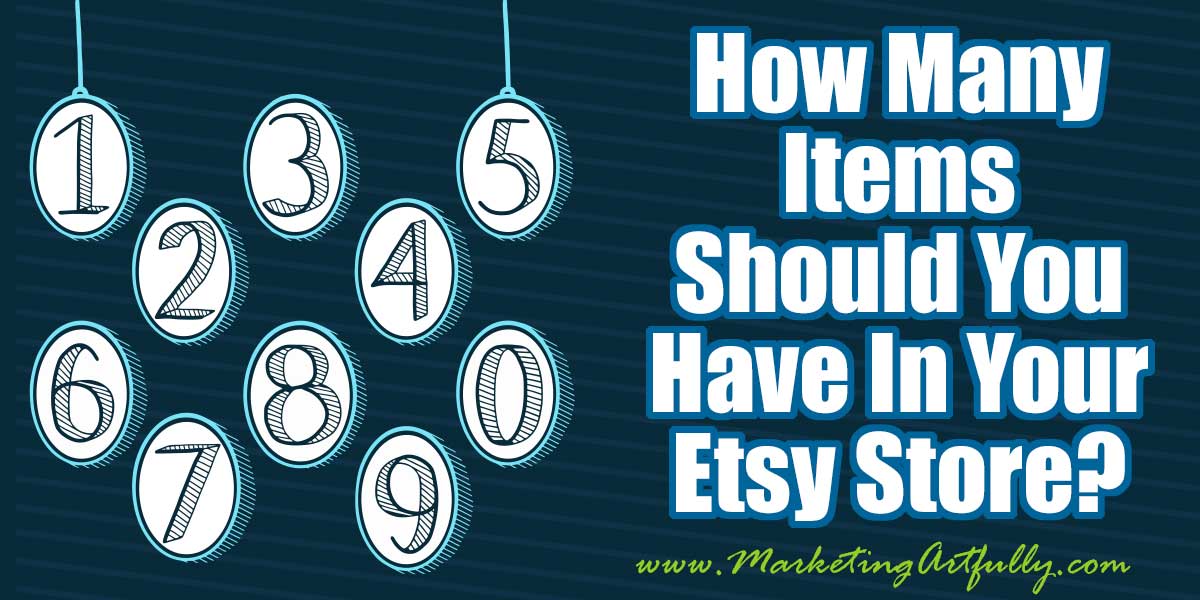 I have been wondering how many items should you have in your Etsy store. There is a lot of speculation about this on the forums and you hear anecdotally from Etsy sellers that they started selling more when they got to this number or that number, but even with a lot of searching, I could not find a definitive answer.
So back to my friend, data! I am going to research the top listings in a variety of categories to find out "the number". That elusive place where you have the best chance of selling.
I am doing this to find "the number" for my Etsy stores, Paperly People (which sells digital products) and Glamorously Vintage (which sells physical goods). 
Why Do The Numbers Matter?
Before I start though, let's go over why I care how many items people have in their shops as a metric. Here are some reasons why it might be important (there is no data for this, only human behavior):
It is creepy for buyers if you only have a few items in your store. They feel like maybe you are a scammer or that you are not professional.
People like to have the opportunity to buy multiple items for convenience or to save on shipping (yay! extra sales)
You have more opportunities to get found on the Etsy search engines (as far as I can tell, Google is only indexing categories of products not individual items so all your Etsy SEO efforts should be towards optimizing for Etsy.)
People like to see new things in your store (this one is more about retailing than data, but it is why stores come out with new "lines" every season, to keep things fresh).
How I Conducted The Research
I used my favorite handy, dandy Marmalead tool to easily see what the top items were for each category. I then followed through to find the shop and then the number of items they currently have available. (promo)
This is just a snapshot in time and isn't perfect, but is a damn sight better than guessing or speculating from what people said they did.
This is truly non-scientific and just based on random searches, but at least it gives me idea for what to shoot for. As my compter nerd, math geek husband says, I am not using valid data, but it is what I have and it is better than nothing.
The Numbers!
Here are the data for the average of the top ten from each search I conducted and then the overall number (see below for specific categories). I included a link to the shop if it was an independent seller. No companies were linked.
While I was at it I included the number of sales and the date their shop opened just for my own edification.
Overall, the very best amount of items to have in your Etsy shop for this research is 172.75
My Thoughts On How Many Items You Have To Have In Your Etsy Shop
1. The average of the average minus the highest and lowest number is 172.75. Mathematicians everywhere are pulling their hair out because you can't average an average, but I just need a number to shoot for and this seems like a normal sort of number after seeing all the shops I checked.
2. To me that is even a little high, most of the shops that I would want to emulate had about 100-125 items in them. That seemed to give a nice selection without be so overwhelming as to not make sense to an independent seller.
3. You could tell some of these were not handmade items at all,  nor were they supplies. Especially in the jewelry and wedding categories you could tell that there were manufacturers who were just using Etsy to sell. While that seems "not fair", it doesn't matter because it is just a fact of life.
4. Last but not least, the number of items and the number of sales were interesting. Shops with low numbers of items generally had lower sales and shops with more items had more sales, BUT that doesn't mean there is a correlation. Some shops with few items and who had been around a long time had higher sales.
For me as a newer Etsy seller, this tells me two things. 1) It is good to have more items within reason and 2) it just takes time. I know that is not the "easy button" answer, but there really is no way around it. To have a successful shop you need to create a great product that people want to buy and build up sales over time.
The Searches I Did
Jewelry Pendants
1. KristinaValicArt | Croatia (462 items | 82 sales | Oct 29 2013)
2. ZuziMax | Canada (19 items | 8 sales | Oct 28 2014)
3. IndiaCrystals | Tampa, USA (117 items | 1,709 sales | Feb 18 2014)
4. ADelicateWorld | Canada (318 items | 1,091 sales | Feb 26 2011)
5. SunAndMoonCraftKits | Colorado Springs, USA (1,309 items | 218,568 sales | Jun 6 2008)
6. FrezeArt | Lithuania (789 items | 11,876 sales | Apr 27 2012)
7. MnemosyneJewelry | Dayton, USA (16 items | 6 sales | May 27 2015)
8. Haberdasherys | Portugal (98 items | 148 sales | Jan 14 2015)
9. DeOrgonitas | Bristol, UK (52 items | 276 sales | Dec 28 2012)
10. JewelBasket | South Korea (1,761 items | 71,744 sales | Apr 23 2014)
Average in shops – 462
Wedding Favors
1. DistinctlyIvy | Spokane, USA (427 items | 101,518 sales | Dec 14 2009)
2. HaydenHarlowPR | Washington DC, USA (164 items | 1,213 sales | Mar 27 2013)
3. UrbanFarmhouseTampa | Tampa, FL (660 items | 36,627 sales | Jul 18 2012)
4. BeforeYouSayIDo | Berea, US (304 items | 7,977 sales | Dec 28 2011)
5. DealCardinal | Not Given (213 items | 2,079 sales | Dec 16 2014)
6. StampsJubilee | Seguin, US (143 items | 3,243 sales | Dec 1 2013)
7. MyWeddingStore | Miami, US (21,205 items | 25,751 sales | Mar 5, 2013
8. DMarieBridal | Cleveland, US (305 items | 1,403 sales | Jan 11 2012)
9. marrygrams | Houston, US (1244 items | 122,299 sales | Apr 23 2011)
10. forlovepolkadots | Poland (1,126 items | 6,072 sales | Sep 10 2014)
Average in shops – 125
(omitted MyWeddingStore from average, it was just not like the others)
Wool Balls
1. TheFeltHaus | Haddam, US (60 items | 296 sales | Apr 3 2014)
2. SweetEverydayMusings | Nashville, US (31 items | 153 sales | Nov 3 2011)
3. feltinga | Lithuania (240 items | 642 sales | Mar 30 2012)
4. Schnuffelinis | Germany (165 items | 2,875 sales | Dec 2 2012)
5. LucyAntwisGifts | York, UK (32 items | 29 sales | Oct 10 2014)
6. murdockdesign | Northhampton, US (112 items | 777 sales | Nov 25 2007)
7. CraftyWoolFelt | Los Angeles, US (790 items | 28,878 sales | May 10 2012)
8. WildMarigold | Columbus, US (37 items | 913 sales | Oct 7 2012)
9. Goodwooletc | Thompson's Station (138 items | 904 sales | Mar 17 2012)
10. Fairyfolk | Long Beach, US (779 items | 14,680 sales | Jan 7 2009)
Average in shops – 238
Industrial Lighting
1. lucentlampworks | Doylestown, US (145 items | 1,972 sales | Jan 17 2011)
2. OldSoulStore | Australia (20 items | 4 sales | Feb 12 2014)
3. MUDEEI | Birmingham, UK (3 items | 0 sales | Jan 24 2015)
4. LightLady | Hendersonville (36 items | 496 sales | Sep 27 2011)
5. IndustrialLightworks | Huntington Beach, US (28 items | 246 sales | Sep 12 2013)
6. newwineoldbottles | Columbus, US (153 items | 1,546 sales | Dec 9 2011)
7. GoodwoodOriginals | Beverly, UK (22 items | 103 sales | Jul 31 2014)
8. Bornagainwoodworks | Winchester, US (67 items | 1,335 sales | Mar 24)
9. WestNinthVintage | Conshohocken, US (119 items | 3,947 sales | Feb 27 2013)
10. Illuminology | Eastvale, US (40 items | 160 sales | Jun 6 2015)
Average in shops – 126
Personalized Stuffed Animals
1. andreavida | Hungary (75 items | 1,758 sales | Mar 19 2011)
2. Kugga Kids | Cincinnati, US (349 items | 3,752 sales | Aug 3 2011)
3. EricasSweetBoutique | NA (30 items | 67 sales | Nov 1 2014)
4. CrownMinkyBlankets | Winnipeg, CA (93 items | 1,271 sales | Nov 18 2009)
5. sassygatormonograms | Lafayette, US (267 items | 1,408 sales | Jun 25 2013)
6. atlantamonogram | Stone Mountain, US (154 items | 862 sales | Jul 17 2014)
7. BeckySuesCreations | NA (8 items | 6 sales | Sept 24 2015)
8. AinsleysDesigns | US (108 items | 146 sales | Apr 19 2015)
9. LaceyRaeDesigns | College Station, US (82 items | 318 sales | Feb 27 2015)
10. isewjo | Phoenix, US (863 items | 16,897 sales | Jul 17 2010)
Average in shops – 202
Printable Day Planner
1. SamOsborneStore | Thame, UK (169 items | 2,517 sales | Nov 4 2010)
2. HayahDesigns | Belgium (118 items | 227 sales | Aug 27 2014)
3. Spiffyway | London, UK (51 items | 102 sales | Apr 2 2015)
4. poppypresssf | San Francisco, US (17 items | 1,231 sales | Nov 23 2011)
5. PapierMyDay | Wrightwood, US (151 items | 1,768 sales | Sep 17 2014)
6. AgnesZDesigns | NA (3 items | 3 sales | Mar 16 2015)
7. SutilDesigns | San Francisco, US (631 items | 825 sales | Jan 20 2012)
8. MyDigitalPrintables | Canada (10 items | 38 sales | Apr 8 2015)
9. PinkSyrupPrintables | Australia (3 items | 4 sales | Sep 27 2015)
10. AMTaylorPrintables | Canada (25 items | 8 sales | Apr 28 2015)
Average in shops – 120


ADDITIONAL RESOURCES FOR ETSY SELLERS
(Visited 5,032 times, 12 visits today)