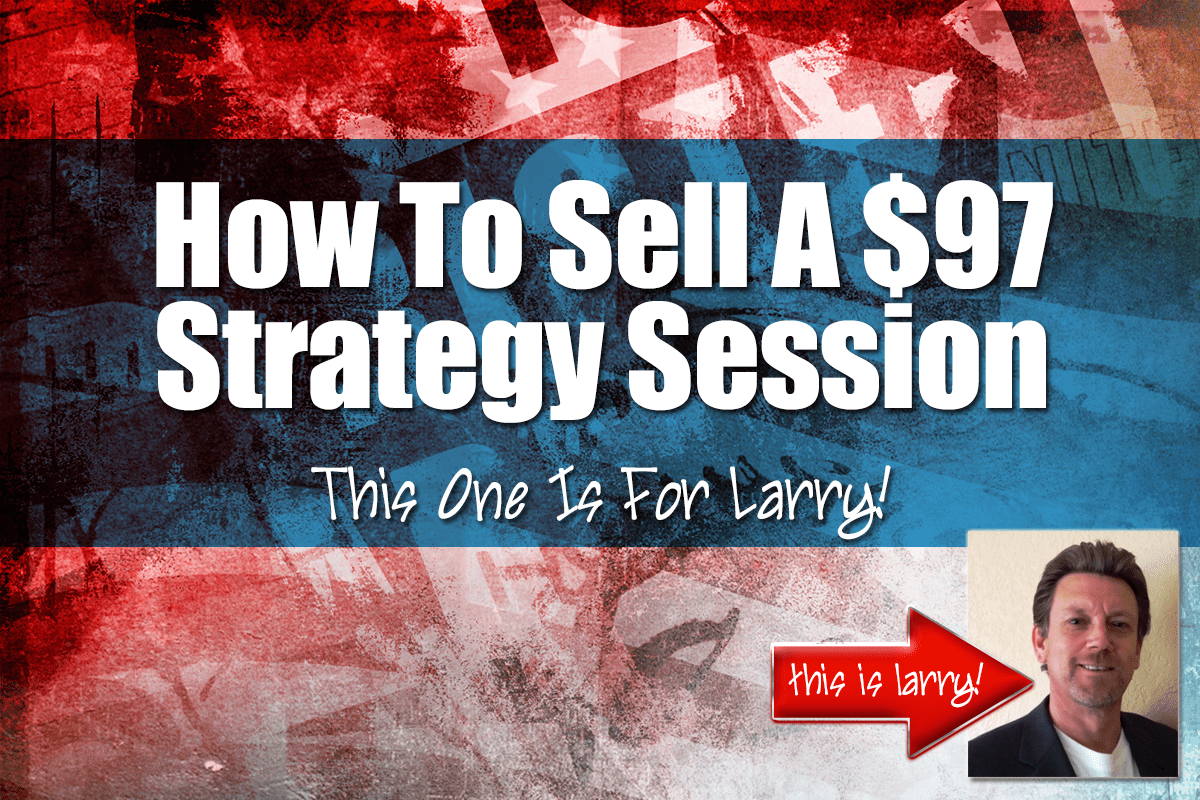 This post is about how to sell a $97 dollar consulting or strategy session.
You are going to see the length and wonder what the heck is so hard about doing this, but this is actually a piece for one of my all time favorite clients who is EXPLODING in his business recently and ready to take the next steps to make more money (and strangely enough, it will not be $97 at a time!)
Not A Money Maker
If you are doing a $97 consultation, even if it is for just an hour, you cannot do or source enough of them to make big bucks. Think about it…40 hours a week, $97 a hour times 52 weeks in the year IS just over $200,000…but…you are probably not a machine that can spit out great information on demand or keep too many stories in your head all at once. You will also have to do marketing and lead generation, administration and business development.
So why do a $97 session? It is basically to weed out the people who are tire-kicking or just fishing and find the diamonds in the rough.
Why So Much Resistance
In our coaching business, we find that many of our "peeps" are super resistant to doing this, and maybe not for the reason you think. Here are some common reasons they give for not being comfortable:
Realtors/Real Estate Investors – Larry works with real estate investors from the US and around the globe. He has an amazing real estate investing website and has recently started writing for a very highly regarded real estate investing magazine. On his site and in his popular newsletter he says constantly that people can call him with any questions, that he is available anytime. Very few people call, and the ones that do are mostly at the very end of sales cycle and are ready to talk money, but it seems to be taking them a long time to get there. One huge factor holding Larry back is that in the real estate industry, Realtors work for free until a deal is closed and he isn't sure that someone will be willing to pay him for his time and expertise before being ready to close a transaction.
Direct Sales – We have another client who works in the direct sales industry (MLM). She has been a top recruiter for many years on a national level and her expertise is a highly coveted skill. That said, she feels really funny about charging people for her time. Mostly she works just with the people who are in her downline and puts charity time in working with people who belong to her company but are not in her downline. She has seen other people work with MLMers and charge for it, but it is hard to get her head around why someone would pay her money and how that would help grow her direct sales business.
Who Am I To Talk?
So you are on my site reading this so you probably know that I am pretty good at marketing, but what you may not know is that for years all my lead generating was done on a semi-paid model. I would give free talks around town or where ever I happened to be and offer the people in the room a $97 consult. I never did "coffees" or one-on-ones because I can't help myself, I tell whoever I am with all about what they should do marketing-wise and if I met with 20 people informally I would get paid $0 and have wasted my time.
I say that I wasted my time because I am in business and the goal of being in business is to make money, not to help random strangers. Helping out people with no thought of payment is a non-profit model and I am a for profit business. Additionally, they got the ideas and concepts for free, so they assigned that exact value to them, $0, and didn't really do anything with them.
Over the years I have talked to close to 1,000 small business owners and learned the back end workings of their businesses. Their motivations, goals and dreams which means that I can now help even more people do even better work in their business. While I no longer do $97 consults, I am super happy that I got all those chances to talk to people, building up my experience and their businesses.
The Real End Result
Enough about me, back to charging money for your time. So let's look at Larry and his real estate investors. There are probably a few reasons they are not just calling him:
They really feel like they are going to be bothering him so they don't call
They feel like if he is willing to talk to them for free, how good can the info be
They are so early in the process they would be "wasting his time" reaching out right now
It is funny that 2/3 of those involve people being considerate of Larry and his time. The people who are his best prospects really are happy that he is giving them great information on his site and in his newsletter, they respect his opinion and are just waiting until they are ready to pull the trigger before reaching out to him.
The problem is that some of them will never have enough information to make an investment, they will spend years and years, gathering information and never buy a property. Some other ones will read Larry's stuff religiously, but not wanting to bother him, will pay someone else so they can have their questions answered and that guy will get the sale because he will have established rapport and been helpful on a personal level.
Strategy Sessions Instead of Consults
Consulting is experiencing a lack of respect and interest right now. People are sick of consultants who swoop in, talk-talk-talk and run out. We like to position our talks as strategy sessions because they are. We are not just throwing out info but making sure to put it together in a cohesive whole.
Another nice thing is that a strategy session feels like it should lead to another. You might want to offer them another session at a later date or even get them into a coaching program.
How To Set Up A $97 Strategy Session
Because I wrote this post for Larry, I know he was polite enough to read all the way through (aren't you?!?!?) but what he really wanted was the meat, the step by step guide to how to make a $97 strategy session available!
1. Make A Page On Your Website – Write out what you are offering

I always gave them about 7 examples of things that we could talk about, but basically you don't to have so much there that they rule themselves out because you don't have their exact problem listed or so little that they don't see a reason to give you $97.
2. You don't need to put too much about you!

Probably you are selling your $97 strategy session at a speaking event, on your website or in your newsletter. All places where they already know how cool you are so keep the "about me" to a couple of key highlights.
3. You need a payment processing thingy (that is the technical term)

To start, we recommend using Paypal.com. Here is a BRILLIANT tutorial about how to put a PayPal button on your site. You just needs parts one and two! This functionally allows people to pay you, you will get notifications and they will get a receipt.
4. Thank you page

You want to have a Thank You page that explains what happens next (PayPal will let you designate this when you set up your button). This page should tell them EXACTLY what is going to happen next so they don't worry that they just wasted their money.
I tend to tell them:
1. How long it will be before someone contacts them to set up their time (within one business day)
2. Who will call them (my gal Shell)
3. My phone number in case they have
here is my actual thank you page
5. A few graphics
If you are going to do this, do it right. Get with Fiverr.com person and have them make two or three graphics that will be on your page. You want a little bit of a variety so that you can share different things on social media and in your newsletter and people won't get banner blindness (seeing the same thing over and over).
You should also have a call to action button on the sidebar of your website saying that they can "set up a time to call" or some other fun verbiage.
6. A sales sheet
It is important to have an on-site signup form anytime that you are giving a talk. You want to let them know that they can hire you. This one is a very gentle offer, all we are asking for is their name and email address. Oftentimes we would have a credit card signup sheet.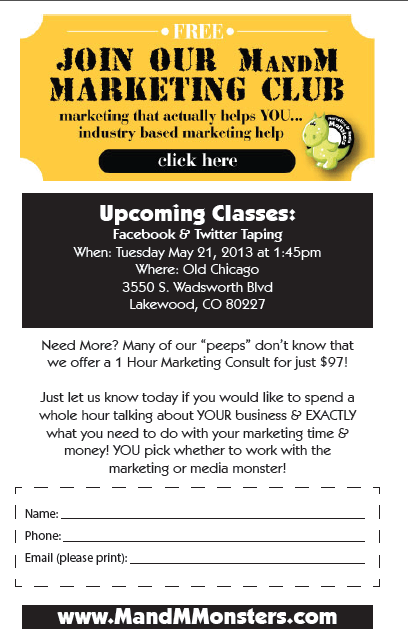 Wrapup
That is it! It looks like it has a lot of moving parts but is actually pretty straight forward and easy to do. If you would like help to figure out your business or marketing efforts, check out my Marketing Mentoring Program!
BONUS THOUGHTS
The last thing I want to leave you with is the actual reason that you are doing these strategy sessions. You should have some real things that you are going to sell AFTER the fact. Now, that does not mean that your hour should be dedicated to selling something else. You should spend the whole time talking to your customer and finding out what they need.
After that you might find out that they need a product that you are an affiliate for, you might find out that they are ready for some ongoing training or they may be ready to start investing in real estate, they just needed some one-on-one time to figure that out.
IF they have additional needs and the money to spend on those, it is your responsibility to help them figure that out. You are not "selling, selling, selling", you are really "helping, helping, helping".
(Visited 186 times, 1 visits today)