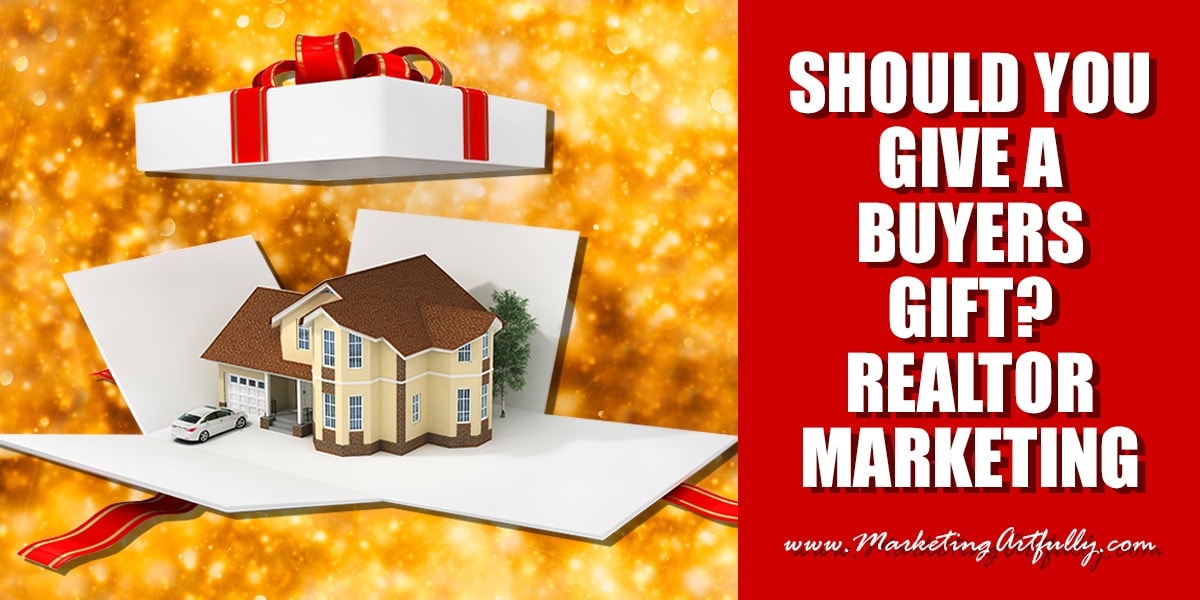 Real estate marketing covers a lot of things and I really believe that giving a buyers gift can be part of your marketing strategy, if it is done correctly!
My Position
Okay, I worked with a total of 3 buyers when I was a real estate agent many moons ago so I was not focused on this aspect of real estate marketing, BUT I work with many agents on an ongoing basis who swear by giving a gift at closing. Okay, after being teased unmercifully about my "3 clients" I have a full disclosure. I was a listing agent, not a buyers agent and carried 50 listings at a time, but only worked with 3 buyers!
I think that if you are doing it as a way to increase referrals or to keep in ongoing communication with your past buyers, then it is okay.
On the other hand, I feel like giving great service and doing a tremendous job of finding them a house, getting them a solid deal and helping them close is gift enough. There is something to be said for the fact that our accountants and lawyers don't give gifts. But then again they are never in their client's homes or cars so maybe that relationship is not as "personal" as a Agent/Client relationship.

What Real Estate Agents Say
I have a super cool real estate agent marketing newsletter that I send bi-weekly and so I polled my real estate agent peeps to see what they had to say and BOY did they come out with strong opinions one way or another. Some loved buyer gifts and some said no way, but I thought everyone had great feedback!
I have tried to break these up into interesting ideas and concepts for real estate marketing purposes! Where appropriate I have given suggestions that I think will help you find amazing gifts to give your clients.
No Buyer Gifts or Strategic Gifts
Several of the agents who responded were of the opinion that it was not necessary to give buyer gifts at closing.

House Related Buyers Gifts
Okay, let's call a spade a spade. I am a marketing girl and buyers gifts can be an amazing marketing tool! That said, I do think that there is a value to keeping the idea "house or home" related to keep them thinking about you and real estate in the same thought.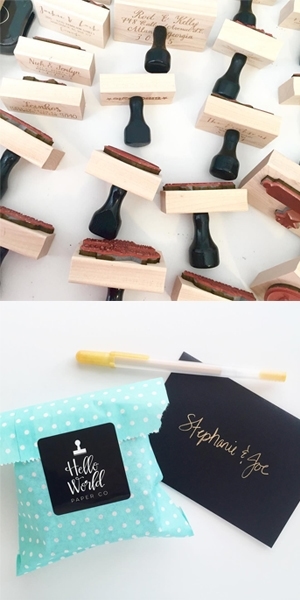 Super Fun Address Stamp – Hello World
Okay, this is absolutely my favorite idea for a buyer's gift. First off, your buyer has a new address so it is super helpful. Second off, it is real estate related as it goes along with the address.
Kelly from Hello World offered to make me a stamp but I am moving (HA) so I didn't get a chance to get one yet, but I have heard from multiple people that her stamps and designs are amazing! (I first heard about her from on the All Up In Your Lady Business Podcast)
AND she has a Real Estate Agent Program. First off, you get a 15% discount as an agent and then you get every 15th stamp FREE… holey schmoley! Just email her kelly (at) helloworldpaperco.com and let her know you want to participate.
Check out these amazing address stamps

Personalized Promotional Buyer Gifts
One thing I do love are promotional items (things that are branded with your contact information). These can range from just a simple pen to elaborate and expensive gifts.


Promotional Pocket Knife
I feel like a lot of the gifts suggested are a little girlie and it is important to note that sometimes the real estate agent is a man and sometimes the buyer is a man. Eric from the Stonebridge Collection sent me a knife and it is REALLY high quality for not all that much money. I feel like having a knife when you move in would be helpful!

Super Personalized Buyers Gifts
There are marketing gifts and then there are gifts from the heart. Here are some real estate agents who are going way above the call of duty, but who are genuinely caring and kind.
I reached out to Stephanie for her first night box list and it is super neat!
A Civilian's Perspective
More Real Estate Agent Gifts
Real Estate Marketing Buyer's Gifts Wrapup
Well there you have it! An overwhelming number of the real estate agents who responded thought that giving a buyers gift was a great idea (about 5 to 1).
I am up in the air about it still. I like giving gifts anyways so I understand the concept, but am not sure that it should be mandatory. I think that doing a professional job and having great customer service should be step #1 and then if the real estate agent wants to give a gift that could be a bonus.
ADDITIONAL RESOURCES FOR REAL ESTATE AGENTS