All of my best tips and ideas for a rocking New Years or January marketing campaign! Small business marketing ideas including themes, graphics, social media posts and content ideas to get your creative juices flowing.
This is part of my seasonal marketing posts series that walks you through marketing ideas for a whole year!
please note :: I often recommend resources, some I receive an affiliate commission for at no additional cost to you, these all help to keep this site free for you!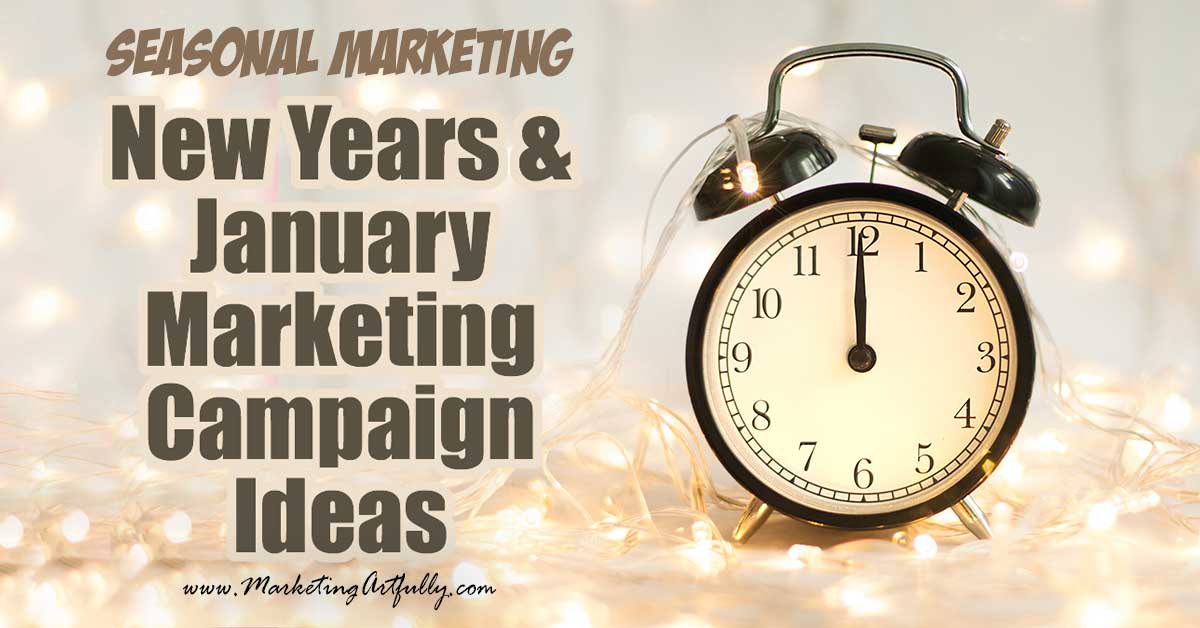 Some thoughts about New Years and January Marketing Before We Start
Although many "holidays" can be fraught with danger and controversy for small business marketing, New Years and January are super refreshing because they really have no problems at all!
Everyone is coming down from a season of mania with shopping and presents and stress and almost everyone is happy and hopeful for the new year.
There are so many ways you can incorporate the new years themes into your marketing… let's get started!
When Should You Start Marketing?
While Pinterest says that the new years season is October through January, doing a Google Trends search shows us that it is actually a super short timeline for "resolutions" which is a super specific term related to New Years Eve. (change the date range to 5 years to see the peeks and valleys of search)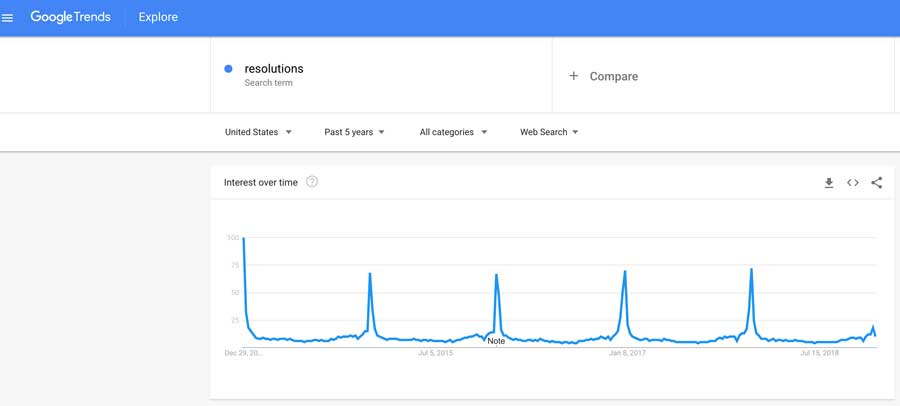 This time period extends from December 27 to January 7 and then drops off for another year!
Now, if we are talking about TOPICS related to New Years and January then your timeline is a little longer… for example, one thing people like to make resolutions about is losing weight which has an annual peek from December 31st to January 11th but then only gradually declines over the year.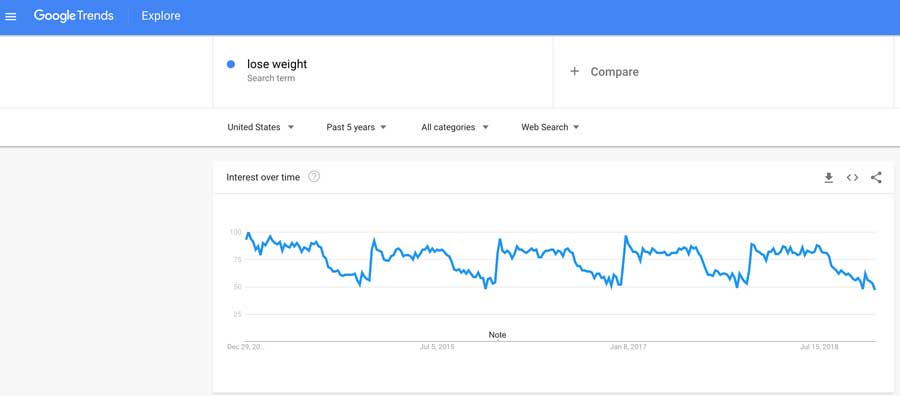 The nice thing about picking an aspect of new years is that you get a longer runway for your marketing efforts!
Additional Resources

New Years Customer Journey
It is important to think about where people are at on their journey through this season! For example, right after Christmas they might still be thinking of family and togetherness and after January 1st might be moving towards personal development, strategy and goal setting.
Your marketing message can change depending on where they are in the season!
Focus On Others & Family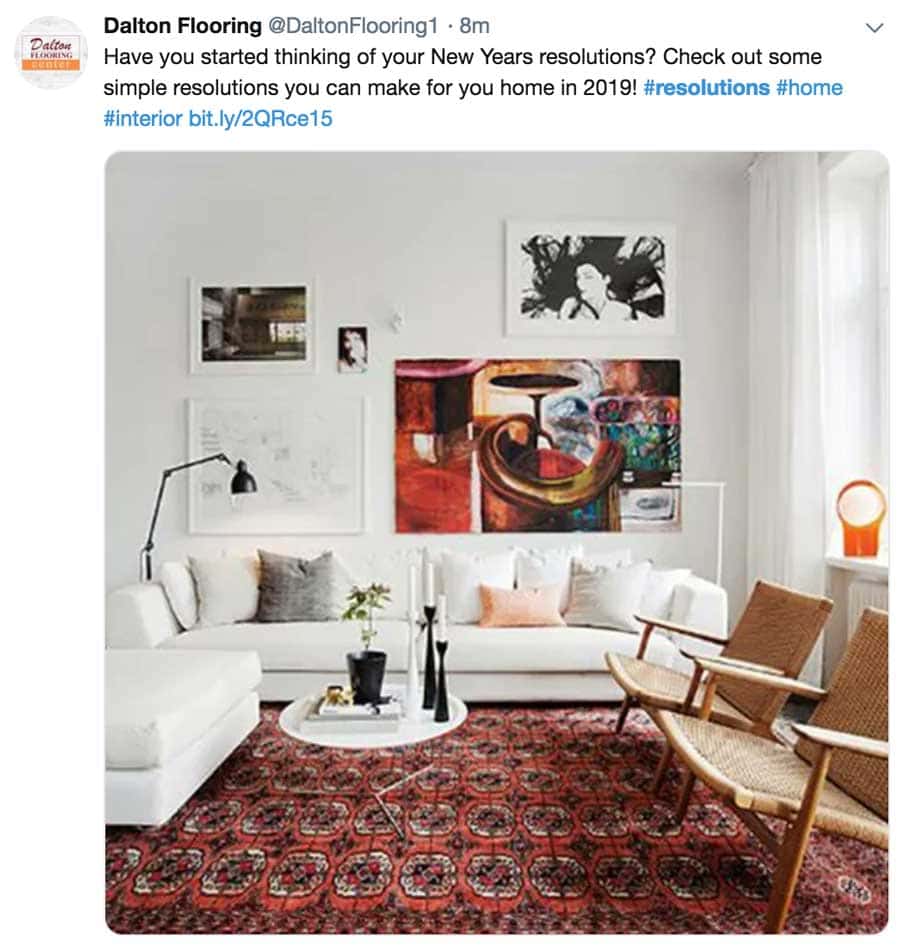 Love how Dalton Flooring has mixed flooring and home with new years resolutions!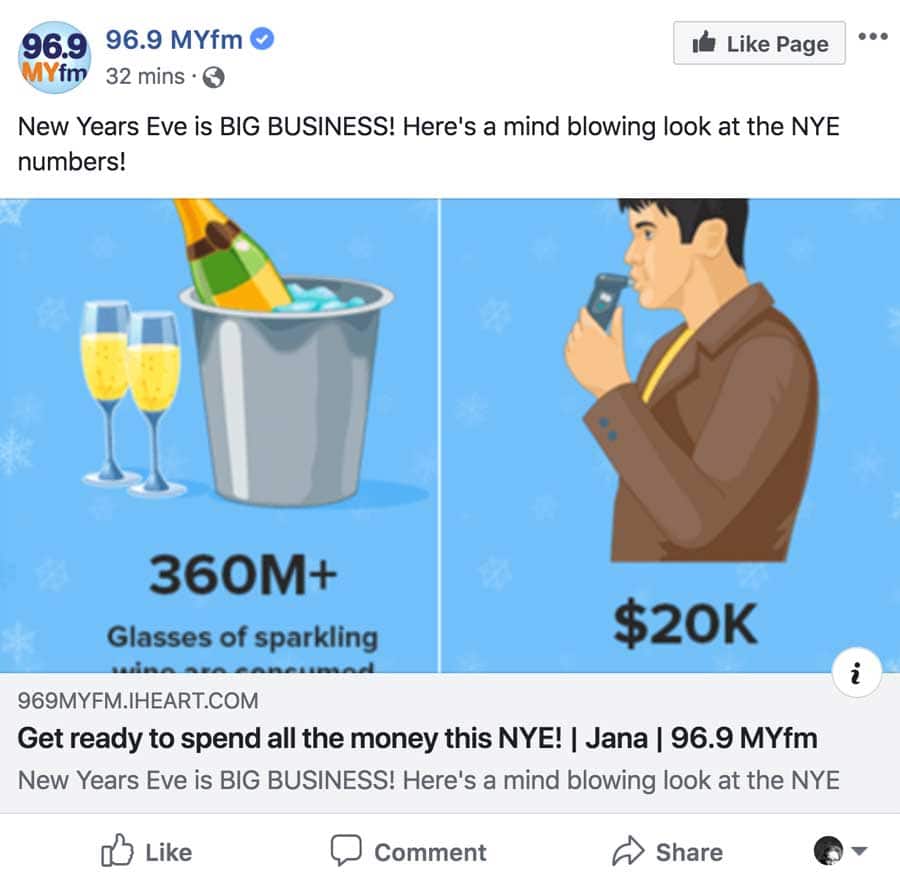 When you are doing your social media posts, it is great to find data like this that you could match with your industry! For example…
As a financial planner you could share, that with over 360M+ being spent on New Years, some of that could go towards setting up a 401K for savings
A real estate agent could talk about how many down payments could be made from that kind of money
A personal coach could talk about skipping the champaign and losing weight on New Years Eve rather than wasting all those calories!
Almost anything you find right around new years time can be managed into something that can match your business!
Focus on yourself and growth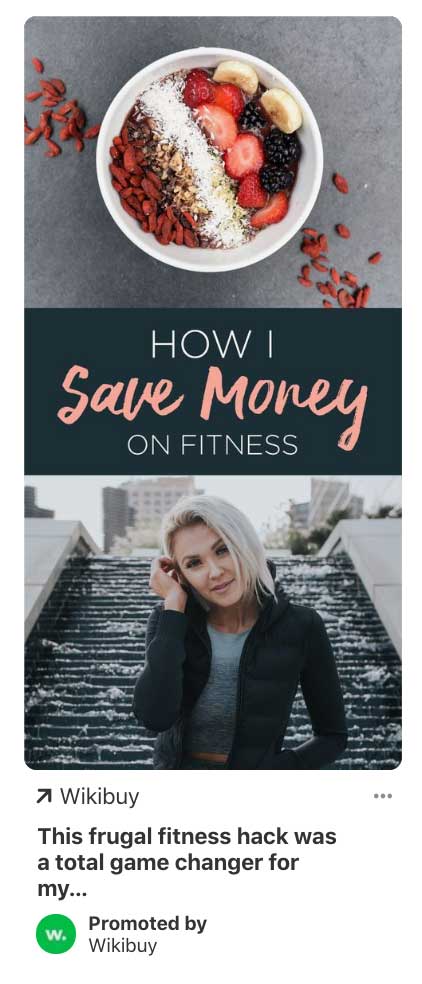 This wiki buy Pinterest post combines saving money AND getting fit… whoo whoo! And the fact that they are paying to promote it makes it even better! We know that these are themes that are worth paying to show right now!
Pro tip: We get so trained to ignore ads, but when a company or website is willing to pay money to get that content or product exposure, we know that there is enough interest to make the investment justified. While you are doing your research about what to create or sell, spend some time reviewing paid content on Pinterest or Google Ads after doing a keyword search (Facebook won't work because it is based on your interests so you won't see as broad a range of topics).
New Years and January Hashtags
If you are not as familiar with how Hashtags work, this is a great post to check out Instagram Hashtags… Tips & Ideas For Creatives and Professionals
#NewYears
#NewYearsEve
#NYE
#NewYear
#NewYearsResolution
#HappyNewYear
#NewYearsParty
#Goals
#GoalSetting
#Resolution
#Resolutions
#Resolutions(YEAR) so #Resolutions2019 or #Resolutions2020
#NewYearNewMe
How to find hashtags!
Because the kinds of hashtags you can use this time of year are so diverse, I thought I would give you my best way of finding hashtags super easy! Just go to Instagram and start typing in # (the pound sign) and then the start of the word that you are trying to find hashtags for.
Instagram will recommend ones that you can use in your posts on all the social networks including Facebook, Twitter, Pinterest, LinkedIn, and Instagram.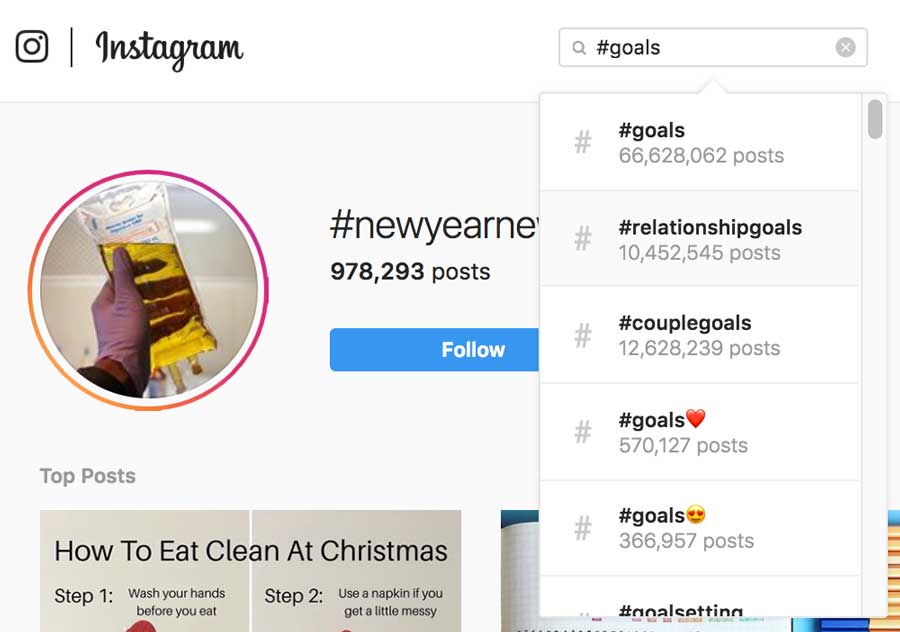 The reason you want to use hashtags is that your social media post can be found by people outside of your own social connections.
New Years Graphics
There are many different things you can promote during the New Years / January marketing season.
New Years
Babies
Father Time
Clocks
Fireworks
Smoking (quitting)
Weight (loss)
Exercise
Planners / Calendars
Martin Luther King Day
Sports (Bowl Games & Superbowl)
Football
Sports fields – goal posts, goal lines
Tailgate parties
Cheerleaders
Award Season
Popcorn
Rolls of film
Old cans of film
Sheet music
Content Calendar Ideas For January and New Years
There are some serious themes that we can hit for our content as we start the new year and the progress through January! Here are some that come to mind…
Losing weight
Eating heathy
Getting into shape
Exercise
Selfcare
Gratitude
Todos and calendars
Goal setting
Procrastination
Focus
Time management
House keeping and cleaning
Organization
Traveling
Stress reduction
Relationships
Quit smoking
Motivation
Read more
Learn a new skill
Make more money
Leadership
Growing your business
Read more books
Fun New Years and January Marketing Wrapup
Okay, hopefully these ideas will spark some creative marketing ideas for you and your business! Whether you are posting to social media or writing blog posts, having some overarching monthly themes for your content is probably a really good idea.
Also, you don't have to do all the work yourself. I love that this Instagram post is about leadership, featuring books written on the topic. Successchapters is using recommended reading lists to capture different hashtags and get followers who like that topic too.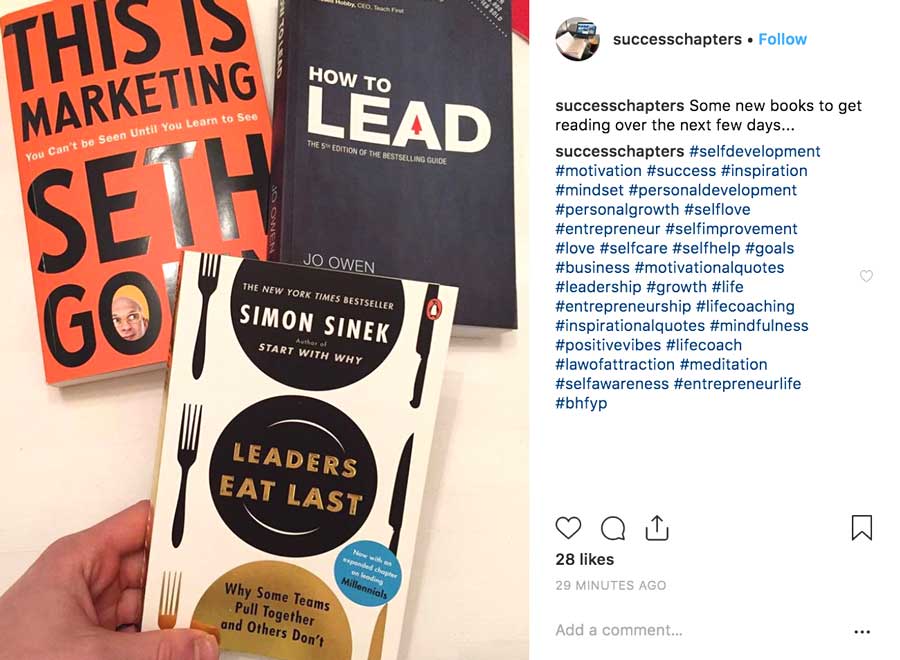 You don't have to create everything that you use at this time of year, you just need to understand how to leverage what is already out there to highlight topics that will help your business grow and make more sales in the coming year!