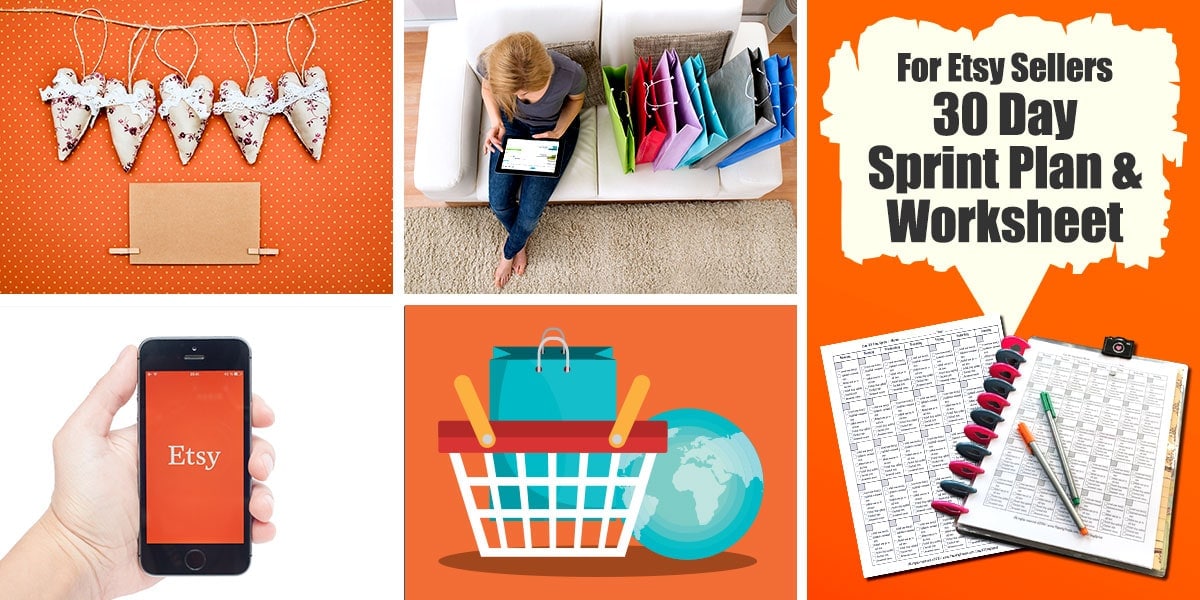 For Etsy sellers, listings are king. Whether you are a power lister or if you only have a few items in your shop, you need to be constantly massaging your listings to make them better and more visible in Etsy search.
With that in mind I decided that I was going to do a 30 day sprint for my Etsy store. I made myself a handy dandy little worksheet that covers six key areas that can help Etsians increase sales. Here are the things that I will doing and tracking with research below as to why I picked them to focus on!
1. Listing a new item everyday – One thing I do know from having done some research myself is that having over 100 items does help on Etsy. I am at 40 now so doing 60 more is one of my main goals. If I list an item every day in April I will be half way there!
2. Updating and renewing one item every day – I have heard and seen from my stats that renewing a product starts the ball rolling on views. Paying $.20 a day doesn't see like that much to pay for increased views.
3. Adding a new pic to an old item – I feel like I could be doing a way better job with my pictures so I am going to slowly start making them more fancy. One a day, just like the little engine that could.
4. Shop updates – Etsy has said that shop updates are a big part of their marketing plan going forward. That means that I am going to focus on this too..:) I am going to take my brand new picture and post it as a shop update!
5. Checked stats – They say what you measure increases. I am going to check my stats daily and see if I can get a feeling for what is working and what is not.
6. Answered convos – I sometimes forget to check these so this is just a little reminder to be vigilant about customer service as I sell more and more.
Get the 30 Days Etsy Sprint Worksheet For Etsy Sellers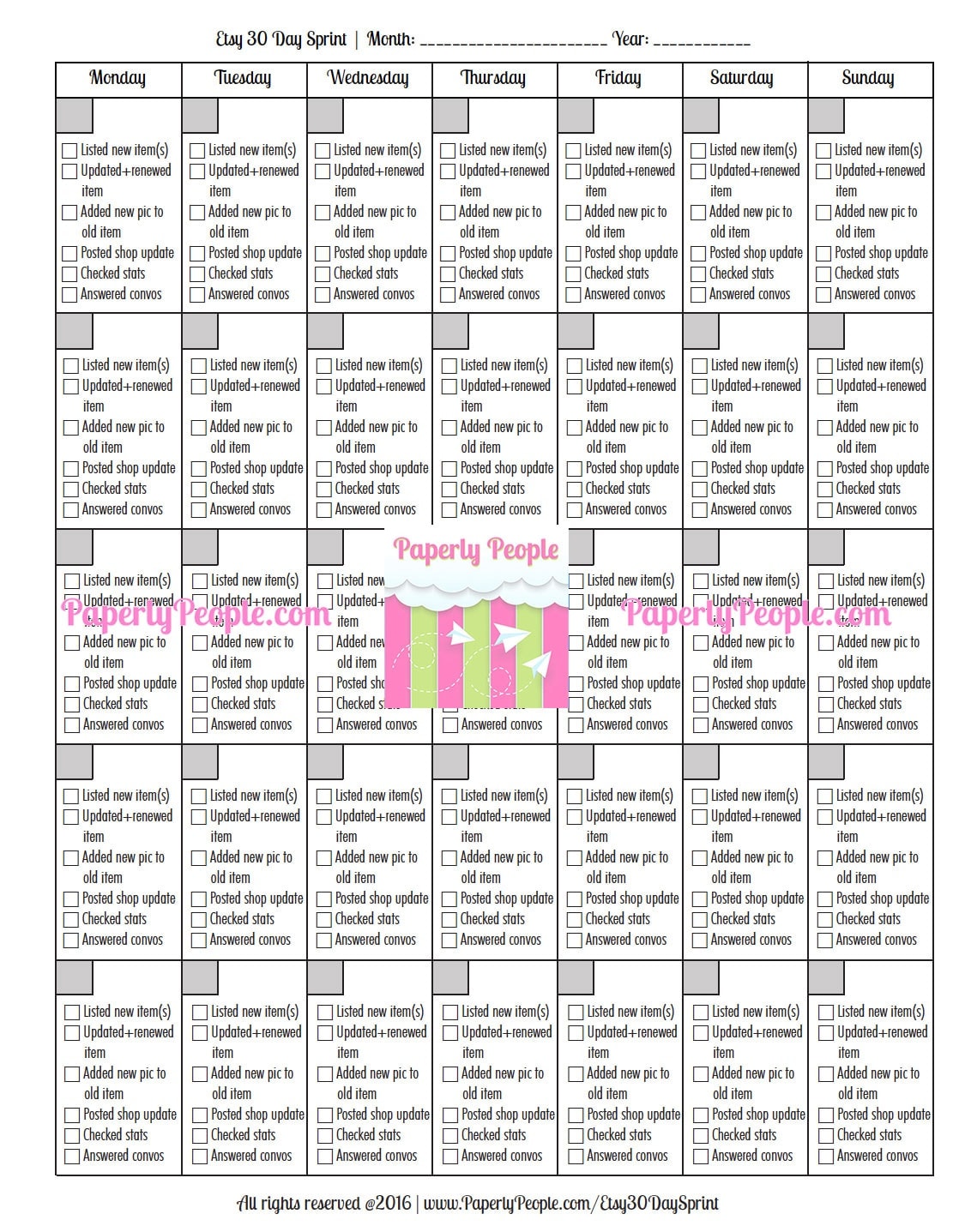 I am not a super organized gal who flows effortlessly through life. Instead I am grinding it out and doing the very best that I can everyday to reach my goals. One way that I have found I can be super focused is to use worksheets that let me do things very easily with checkboxes to show my progress.
With this in mind I made a worksheet to use for my 30 Day Etsy Listings Sprint. I have checkboxes daily for all six areas that I want to cover. I am anticipating two things from my month of Etsy. First that I will be very busy making new worksheets and second that I will probably sell more. Selling more means more convos and helping my awesome buyers. BUT that also means that it would be super easy to take my eye off the prize of doing my listings every day. This makes for a very bumpy business as I am swamped and then slow and then swamped as I start marketing again.
Doing something like this where I am focused and goal oriented for a short period of time has made me a lot of money in the past and I am sure it will work in my favor again with this sprint!
Wanna join me? Simply order the 30 Day Sprint Plan and Worksheet and jump in. The cool thing about this sheet is that you don't have to start at the first of the month to feel okay. Simply put this week's date on the top row and get to work!