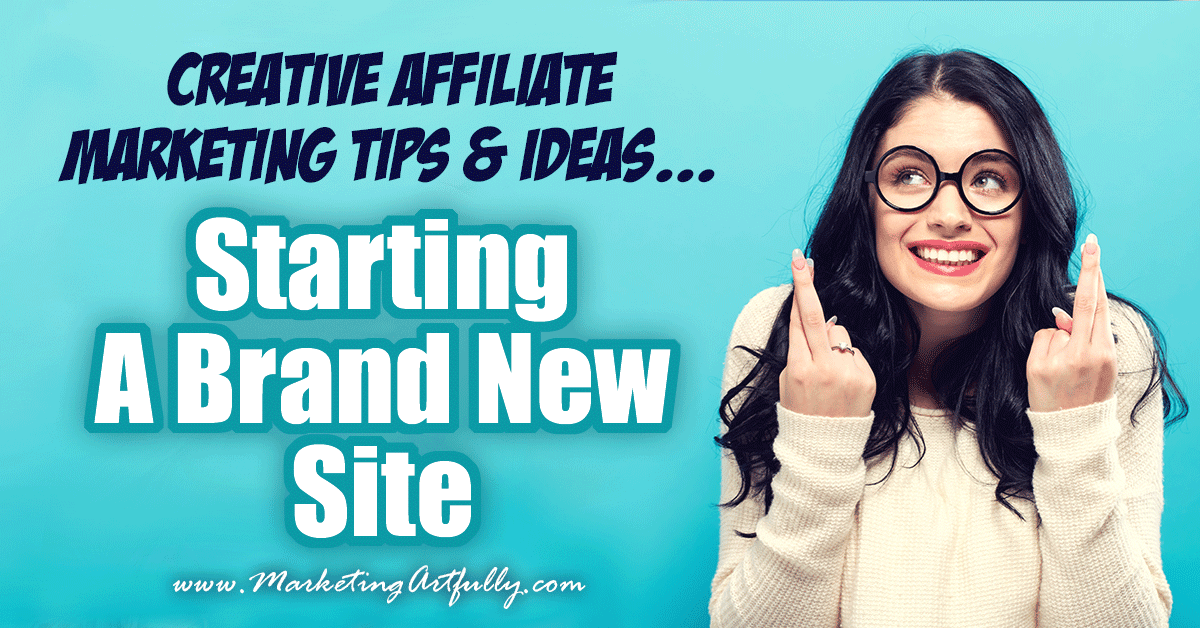 Starting a brand new affiliate website can be super exciting (and a wee bit scary!) This case study looks at all the bits and pieces of beginning affiliate marketing, how to find your audience, join affiliate programs and get targeted, buying readers.
Please note there are affiliate links in this post… of course!
Here is what Chelsey wrote…
I'm in the process of toying around the idea of starting an online blog to create a supplemental income and want to focus on meditation and aromatherapy to live a happy life. I know this has been done before… like… a lot…. but I feel like I'm still unique enough in what I want to accomplish and how I want to do it!

I was thinking of creating and selling rollerball aromatherapy and also having a subscription service to access guided meditations and videos (that I would add to frequently). I also plan to write an ebook and create some downloadable checklists and planners etc. Would also use affiliate marketing links (probably just Amazon to start) and eventually selling some ad space via google ad-sense or something.
It seems like Chelsey has thought out her idea pretty well. So the first thing that jumps to my mind is that she is super brave to let me write this post as we all think our "idea" is what is valuable. What is actually valuable is implementing that idea, not coming up with it so she is probably safe!
Who Are Your Peeps Who Will Buy Your Affiliate Marketing Products?
If you are starting any kind of website or business you need to stop right now and focus first on who you want to work with! For example, my people are generally 35-60, women entrepreneurs who are focused on multiple sales channels. They are kind of weird and like how I am not a "formal" marketer and cuss some.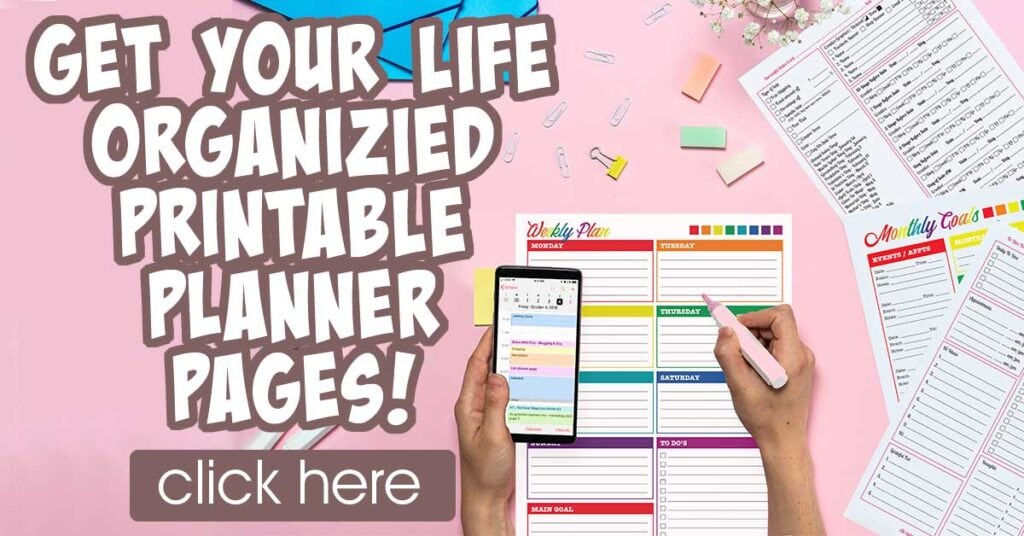 One of the reasons to figure out her peeps first is that when you are creating content (blog posts, videos, etc.) to get attention, you need to have a really good idea of who will want to read, view or listen to that content.
So first let's say that Chelsey should focus on people who already know about aromatherapy, essential oils, and meditation. I know, it sometimes seems like it would be better to try to make brand new converts, but is much easier to sell to people who are already looking for what you do!
If she is selling premade roller balls she should also target people with more money than time. So instead of doing posts about making essential oils mixes, she should do posts about the benefits of those mixes.
This may seem like a small difference but is a big deal in how many she will sell… for example, had she said she likes teaching people to make roller ball mixtures she could sell the supplies, roller balls, essential oils, carrier oils, etc.
But she said SHE wants to be one to make them so now she is selling her expertise and personal "brand" of mixes. I personally think this is a much more lucrative way to go!
Side bar! When I was a baby marketer and ran across someone who "didn't like marketing" I would try to convert them, telling them all the great things it could do for their business…sigh. It never worked out because they already had a worldview that marketing was stupid. Now that I focus on people who are excited about marketing I have much more fun and a better response!
What Makes You Different?
One of the things that Chelsey said was that she knows that other people have done this before and YES, others have.
So first off, the fact that other have done it before and are making money means that it is a commercially viable idea. Finding an idea that no one has ever done before means you have to waste A LOT of time getting people to notice you right from the start so YAY competition!
Second off, it is Chelsey's unique take on this topic that will make her successful. Now I don't know-know Chelsey so here are some different ways someone could set themselves apart based on their own background…
She could sell aromatherapy and mediation for business women who are stressed out, good because they have a job and money
Or she could target busy moms who are running around chasing kids all day and feel like they are losing themselves and need a way to focus again
Or she might like people who are high performance athletes who could use her natural products to help increase their focus and concentration
By seeing all these different kinds of audiences, we can start to figure out why it is so important to know who you are targeting. Writing contend that is bland enough to attract all these kinds of people will not make a ripple in the noise of the internet. But if she writes a post for busy moms that sounds like she has the exact answer to their problems, they will buy easily!
Where Are You Going To Set Up Your Empire?
Chelsey said she wants to set up a blog which makes me SO happy! I KNOW, it may take a wee bit technically to get a blog going, but it is so worth it in the end. Her blog will be the "hub" of her affiliate marketing efforts when she can collect email addresses, make blog posts and post affiliate links.
That said, it is rarely enough to just have a website sitting out there, she will need some other ways to attract eyeballs to her blog posts!
Ways To Get People To Your Affiliate Marketing Site
Here are some of the ways I promote my affiliate marketing posts….
SEO – You need to get really interested in how blog posts rank in Google! For a basic overview and some help, check out my SEO Sandwich
YouTube – Second largest search engine in the world after Google, including links back to your website is a great way to drive traffic
Pinterest – Pinterest is a powerhouse for many female affiliate bloggers! I find many men bloggers are missing out this amazing marketing channel (Blog post… Pinterest Marketing Fails)
Facebook Groups – Having a group on Facebook where you can drive interested people to your tribe is a great marketing method today
Instagram – Make sure your profile link goes to your website rather than linking to your affilate offers. You need to capture their email address BEFORE you send them away!
Yes, there are other marketing sites like LinkedIn (good for business) and Snapchat (good for younger people) but if you get started with these you have a good chance of driving traffic to your website fast!
When Should You Build An Email List?
Day One! As soon as Chelsey has her site up she should start building an email list of her interested followers. There are two reasons for this…
Chelsey will own that list of people who know, like and trust her. If she builds a Facebook page, they can change the rules. Build a Blab channel and it may get shut down. But build an email list and you get the privilege of talking to people on your schedule.
You can send affiliate offers in your email newsletters or onboarding emails (where you welcome new subscribers)
Most website owners think it is "stupid" to email one or two people each week and I just read a Facebook post where a gal had 58 subscribers and only 9 opened her emails so she figured it was dumb to keep sending bi-weekly emails.
I think it is amazing that anyone opens my emails and grateful when people like Chelsey ask questions so I can write them blog posts to help.
Your email list will give you the best feedback about whether what you are sharing is helpful or not!
I also think that mailing bi-weekly (every other week) or even monthly is too long between messages. Instead try and mail weekly to keep in touch with your people!
When Should You Start "Selling" Affiliate Products?
This is a crazy question that I hear A LOT from new affiliates. They feel like they should wait until some point in time in the future when they will "start" selling as if they are going to be doing something wicked.
I share affiliate products because I believe they can help my peeps so there is no time to "start", instead I pick products that I use or that compliment whatever I am talking about in that post.
Most of the topics that I talk about have affiliate products that I could recommend and I have signed up for over the years.
I also do BIG posts that have many affiliate links deliberately, like my "Best Product Photography Courses" that is a more deliberate selling machine, but still sincere because I have taken many of those courses and give honest opinions about what I think of them!
Where To Put Your Affiliate Marketing Links On Your Website
Here is a video where I share how I use my website to get affiliate link clicks!
What Affiliate Products Can Chelsey "Sell"
I don't know why this one trips us up so much but it gets me from time to time too! What should you be promoting as an affiliate?
Amazon Affiliate Program
So first off, it is best to start with Amazon's affiliate program because they let anyone in and you can get started right away showing your readers that you recommend products.
For example, Chelsey could find a product like this storage case on Amazon and write a big post about storing your roller ball products using color coded tops and give them the solution at the end with the affiliate link.
Because (in this example) she is targeting people with more money than time, she would want to provide a whole solution like this rather than writing a DIY roller ball storage post and including the links to all the different parts.
ClickBank Affiliate Program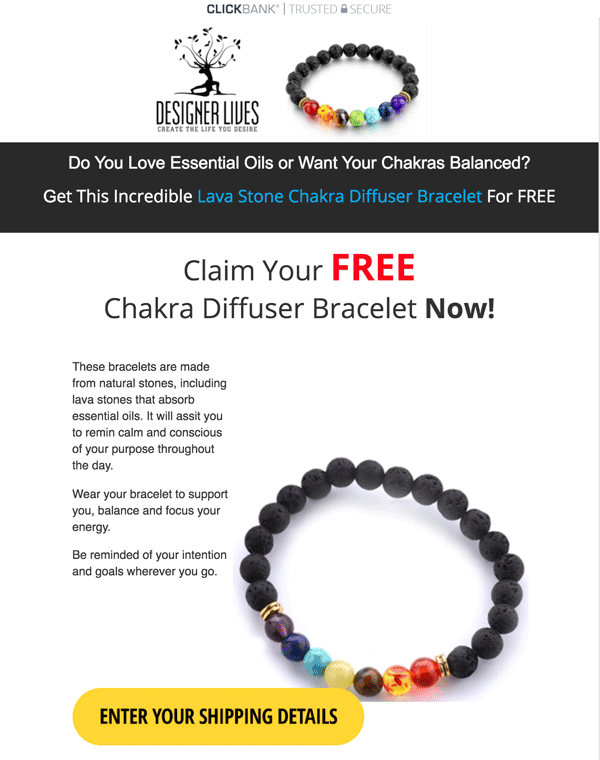 The next program I suggest Chelsey join is ClickBank. They also let anyone in and have some great products that match her target demographic!
For example, this Chakra Diffuser bracelet pays an average of $6.02 per sale, not bad when you consider that all Chelsey is doing is recommending it to people she has collected by creating great content!
Share A Sale Affiliate Program
The last affilate program that I am going to recommend is my all time favorite, Share A Sale!
They have so many different, high quality companies that they work with and don't have a lot of changeovers with their vendors!
Now, most Share A Sale vendors want to see that you are an established website before they will approve you for their programs (you can get signed up now, just don't shoot for the big dog programs at the very start!)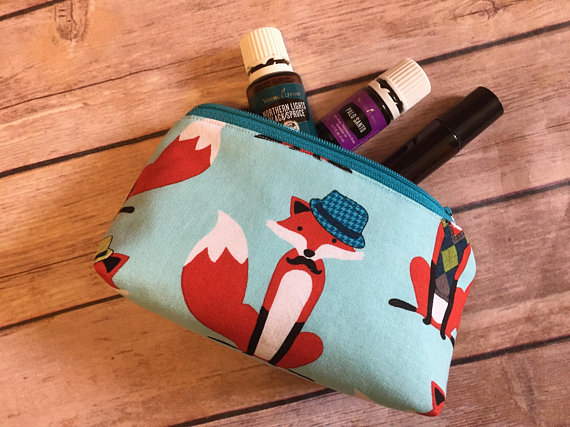 The neatest thing about Share A Sale (for me at least) is that they represent Etsy and you can find all kinds of super cool, quality items to share like this neat Essential Oils Bag that would match her target audience.
Being able to represent all different kinds of products means that she will not have to create them all herself. Yes, you make more money when you are selling your own products but time is finite and she said she likes to blog, not sew!
Creative Affiliate Marketing Tips & Ideas – Starting A Brand New Site Wrapup
Okay, that was A LOT of info, but should serve to give you a good overview of how to get started on affiliate marketing with a brand new website or blog.
If I have to pick one key takeaway that I want you to know it would be that 1) affiliate marketing can be super fun if you do it the right way with the right topic and 2) start creating great content and sprinkle in some affiliate offers right away but DON'T make it super spammy or awkward by going overboard with the links. Put them in when it seems appropriate but don't force it!
PS… I know that was two key takeaways, I am savage like that!
Additional Resources