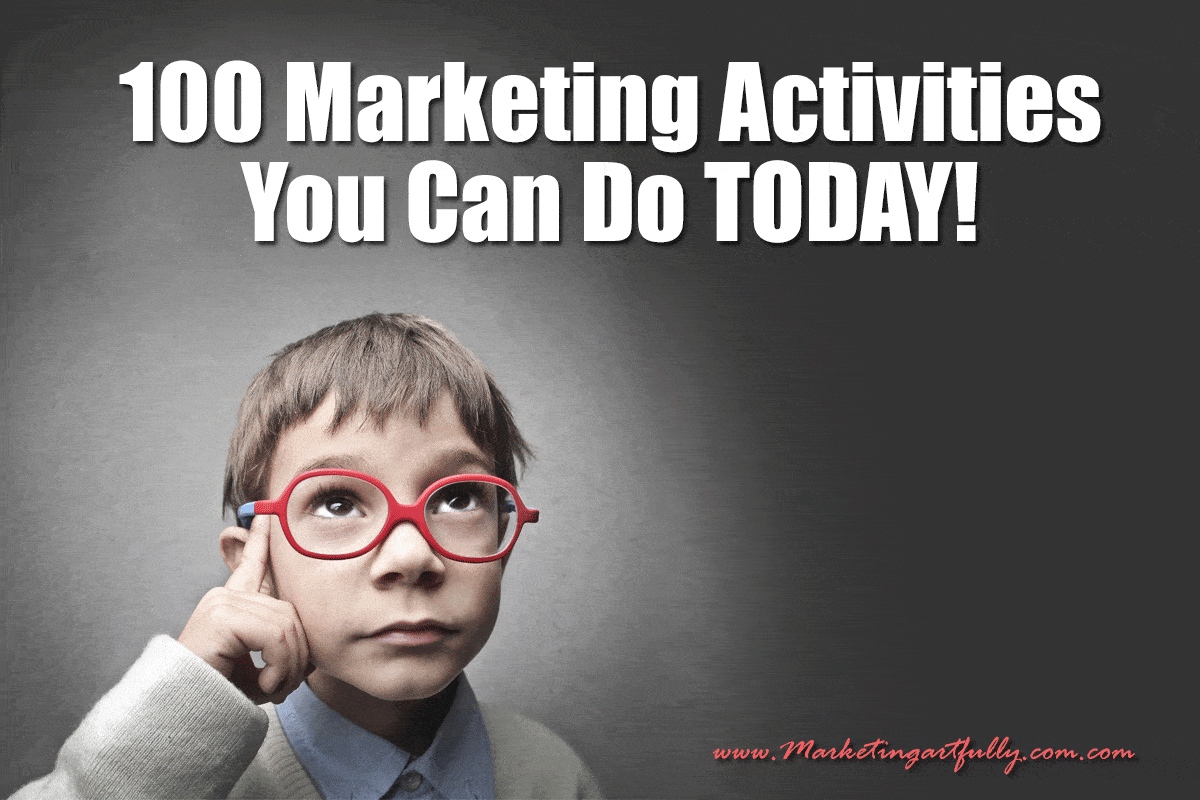 Marketing is all about doing something…writing a book, making a sales page, posting to social media. But honestly, our biggest marketing "wins" coming from forward movement, just doing some kind of Marketing Activity instead of waiting until everything is perfect.
This is list of marketing tactics…each is a little nibble of something you can do if you have 5 minutes between doing important things. Our huge marketing empires are made up of all these little moments.
If you like this, you will love our 100 Free Marketing Ideas sheet which is much more structured and could help more with a plan.
Social Media Marketing Activities
Check your profile and business banners, are they looking good or should you order new ones?
Order new social media banners on Fiverr.com
Share different people's social media profiles once a day for a month "introducing" them to your lists
Give someone you just met Klout, share that to your Twitter to give them love
Follow 100 people on Twitter who could buy what you are selling
Research your hashtags on hashtagify.me
Set up a Twitter ad
Make a Twitter list of influential people you can follow and share their stuff
Download our Twitter Cheat Sheet and start using special characters in your posts
Like 5 business pages on Facebook, you have to comment on one of their posts to get credit
Upload a movie to your business page, wait 30 minutes and share it to your profile
Check the sidebar ads to see what they are doing
Accept your friend requests on Facebook, post something nice to their wall that is not self serving
Figure out what your biggest prospect likes and share a post which they would like that has nothing to with your business on your wall, tagging them
Pin 5 pins on your favorite Pinterest board from the internet helping someone else
Repin 10 pins on Pinterest
Check and see if your board pictures are the prettiest one you can pick, if not, fix it
Make sure your most import boards on Pinterest are at the top or the bottom (the middle is for "stuff")
Follow 50 people on Google+
Sort your Google circles so they have no more than 99 people in each
Email a post to a Google circle
Use hashtags in your Google+ posts
Upload a video directly to Google+
Like 10 people's posts
Join a community that you are interested in and circle all the member (you have to participate)
Accept all your invites on LinkedIn
Join 5 groups who have people like your prospects
Like 5 peoples posts
Write a recommendation a day for a month
Video Activities
Shoot a quick video of something interesting from your cell phone and upload it to YouTube (do that every day for a month!)
Start a playlist of something interesting and add 5 videos
See if your 5 favorite industry leaders have a channel, subscribe
Make it your mission to see if you can one of your videos to 1,000 views
Learn to use Jing or Screencast-o-matic.com (yes! it takes about 5 minutes to figure out)
Make a channel trailer for your YouTube channel, be real and tell people what you do!
Try Google Hangouts and see how easy it is
Posting Pictures
Take a picture a day and post it to Instagram
Tag your Instagram pictures with hashtags
Follow 5 Instagram people you want to do business with
Like 5 Instagram pictures
Make a quick quote with pictures in PicMonkey.com
Make a quick quote with pictures using the Word Swag app on your iPhone
Make a post with quotes and pictures on your blog
Brainstorming
Write down 25 ideas for blog posts
Check who your top 5 competitors are on google and see what they are doing that you could copy
Start saving quotes you like in Evernote
Check Amazon to see which categories books in your industry sit in
Check Google to see how many competing websites there are for a phrase you are trying to hit
Do a Google search and see how many Google+ posts come up in the results
Save all the best sales pages you see in Evernote
Check Google Trends to see which of your keywords is hot right now






The Book Biz
Leave a review for your favorite author (hint hint) on Amazon
Add some of your favorite authors books to your wish list in Amazon to help them
Check your favorite book categories and figure out what is missing in the marketplace (later you can write a book!)
Visit Goodreads and start a book list
Local Sites
Check in everywhere you go on Foursquare.com
Take a picture each time you check in (bonus points if they are selfies or who you are dining with)
Check in on Yelp and give your favorite local businesses a review
Send a press release about your company to the local papers
 Blogging
Check the keywords and description on your blog (are your terms out of date)
Check your sidebar, is it showing your visitors exactly what you want them to do…we want you to sign up for our free courses!
Use Google analytics to find out which of your posts is the most visited and add a call to action that matches the content
Make 5 thoughtful comments on competing sites in your niche
Subscribe to the Google Webmasters YouTube Channel to learn the latest SEO tips
Add a neat video to the sidebar of your blog
Share 5 of your best archived posts
Email
Look at your outgoing signature line, snazzy it up a bit
Send a really amazing message to everyone, include something that they would really want!
Make segregated lists of people who like your industry AND then ones who like dogs, babies, etc.
Start asking everyone you talk to for their birthday, start sending out cards
Make sure your subject lines are awesome
Offline
Look at your business card, is it up-to-date and interesting, does it have a call to action?
Start a list of local companies that you can recommend
Do a hard copy newsletter, hand it out and mail to key prospects
Make a comment card to give to your customers for feedback
Pick up some thank you notes to send to people you talk to
Order some cool pens, we use the javelin pens and everyone loves them!
Order some stickers (we are enthralled with the sticker!) click for a $10 credit!
Customers
Call your best customer and thank them for being wonderful, ask them if there is anything else you could offer that they would like to buy
Send an email with an interesting link to your favorite customer and just say you were thinking of them
Make a sales leads sheet or print out your pipeline…what could you do to add just 5% more leads to your pipeline
Mindset
Try something on the list that you have never done before or think is stupid
Use Fiverr.com to spark an idea, see what is available for $5 and go for it
Start a list like this that is relevant to your industry to post on your blog
Vow to spend 5 minutes a day working on your favorite social media channel…every day, no distractions
Do something nice every day for someone who can't help you, share a charity's post, enter a contest and vote for someone, share a kickstarter, just be nice

(Visited 3,531 times, 7 visits today)