Looking for real ways to make money online? 100 ideas that do not involve taking surveys! Some are super easy that you can do without paying anything and some are longer, "grow an audience types". All are legitimate, make money from home ways you can grow your income. Ranging from fast (social media) to slow (blogging) and everything in between!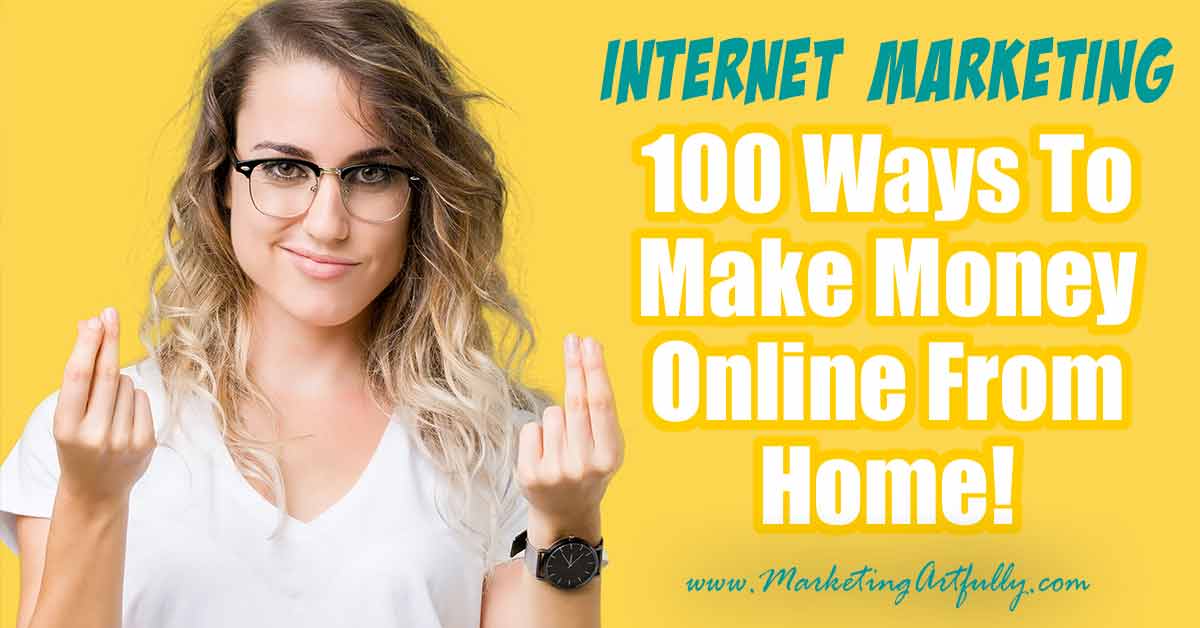 No fluff, just a good solid list of ways to make money on the internet including blogging, social media, digital products, online sales, and more. Where possible I have made sure that as many of my suggestions are easy passive income opportunities rather than requiring a whole bunch of effort after they are set up. Please note, there are affiliate links in this post, check out all my policies here.
Ever ask yourself, "How can I make money online?" For years I dabbled with all different kinds of things to make money with my blog or social media and wah, wah, wah. Not much going on… but now, sunshine and rainbows! For real… I make money from all different places. It was not easy, but super fun to learn new things and FINALLY get things going consistently and profitably!
My secret? Diversification! To most of us entrepreneurs that sounds like getting scattered and not focusing, but honestly, the more ways that we can make money, the more chances we have for getting discovered and having a breakout hit on our hands.
Additionally, not everyone loves the same things we do. I happen to love buying my books from Amazon, but some people like downloading a PDF and others want to buy a course and watch the content. I think this is a huge thing that is overlooked when we get myopic and start thinking everyone shops and surfs around the internet the same way we do.
I have broken this down into sections with different kinds of marketing channels so that no matter what you like to do, you can find something that will help you diversify your streams of income and make more money in the coming year.
Making Money With Your Website or Blog
Start a lifestyle blog (Choosing Your Lifestyle Blog Topics and Categories for Affiliate Marketing)
Generating traffic and selling affiliate products (How To Do Affiliate Marketing For Free Without Paying For Ads)
Hosting paid webinars
Sponsored posts – getting paid (and disclosing) that your post is sponsored
Paid advertising administered by you
Paid advertising through an agency like Mediavine – my ads network! (Should You Put Ads On Your Website?)
Work with the old school ad network, Google Adsense
Sell digital products on your WordPress site with WooCommerce
Set up a membership site on your website
Start a popular forum website like Warrior Forum
Set up a paid directory on your site
Request donations using PayPal or Patreon
Grow your traffic and sell the site on Flippa
Make Money With Email Marketing
Set up a popup and collect email addresses (6 Ways To Make Money From Your Email Newsletter List)
Sell sponsorships for individual messages
Promote affiliate offers (check and make sure that is allowed by your vendor)
Set up a squeeze page and product funnel using LeadPages
Sell a paid course delivered via email
Put a sales message on the "thank you" page for your email signup
Sell a highly targeted paid newsletter with proprietary data
My favorite Email provider (I have tried SO MANY!)
Convertkit
!
Create Your Own Digital Product
Make small printables like planner pages, patterns and stickers (Ultimate Guide To Selling Digital Downloads)
Sell your custom artwork via digital download (How To Sell Digital Downloads of Your Artwork)
Write Ebooks
Create an email training course
Record a video training course
Set up a membership site
Make graphics or clipart to sell
Build an App or software (SAS)
Sell your photography on sites like iStockPhoto and BigStockPhoto
Sell audio versions of your ebooks using a service like ACX
Start a digital magazine and sell ads
Make a workbook of the systems and forms you use in your business
Make a really cool "quiz" funnel that leads to sales (How To Make A Super Cool Marketing Quiz Everyone Loves)
Where to sell your digital products
On your website
Sell on Etsy (I have my digital products here!)
Build your own store using Shopify (this is what I use, ad, 2 week free trial)
Use a service like Gumroad
Start super easily by putting PayPal buttons on your site
Making Money With Affiliate Products
Share A Sale (My all time favorite affiliate network!)
Sign up for the Amazon Affiliate Program
I LOVE the owner of JVZoo and how reputable this network is
The old dear ClickBank
Partnering with a single vendor
Write product review articles
Do YouTube videos and include an affiliate link
Share A Sale
–
My All Time Favorite Affiliate Marketing Network (Lots of products in one place!)
Monetize Your Podcast
Promote your own products or services
Sell affiliate products as advertising
Sell sponsor spots on your show yourself (paid by number of downloads your show receives)
Sell sponsor spots through a network like Podtrack
Charge guests for appearing
Split sales generated by guests' appearances by using a special link for the show
Offer a "premium content" membership to get behind the scenes interviews
Create an ebook from interviews you have conducted
Sell Physical Goods
Sell Ebooks
Sell them on your own website using Shopify or Gumroad
Sell either exclusively with Select or just as another channel Amazon KDP
Sell to a more international crowd with Kobo
A little harder to set up but a great outlet is Apple iBooks
Use an aggregator like Smashwords
Include an email signup in the front matter of your books
Advertise on big sites like BookBub
Making Money On Social Media
Sell your products or services using social media
Sell affiliate products using social media
Use a an automatic scheduler like Later (free!)
Promote your own webinars
Share your product review and affiliate post
Make videos for Social using Lumen 5 (free!)
Facebook
Promote your products or services up to six times a day
Sell a membership to a private Facebook Group
Set up a "store" on your Facebook business page
Run Facebook ads to sell your products or services
Make sure you set up a custom audience that has visited your website already so you can "retarget" them
Make sure you have a call to action in your page picture
Twitter – Allows any kind of link you like, posts are not "throttled" but volume of posts is an issue
Promote your items for sale up to 24 times a day
Run Twitter paid ads to sell your products or services
Use hashtags to show up in searches and automated events
Best practice to use #ad hashtag to show that a post is paid for
Instagram – Instagram is a great place to sell your physical products!
Promote your products or services blatantly a couple of times a day
Promote "behind the scenes" and candid shots of your products unlimitedly
Post pictures of your items for sale
Make sure your shop link is in your profile (if you use Later, check out the LinkinBio feature)
Use relevant industry tags to gain exposure
Offer sponsored posts on your own
If you have a large following use an agency like Mobile Media Lab to sell advertising
Use Instagram's paid advertising through Facebook ads
Best practice to use #ad hashtag to show that a post is paid for
Pinterest – Allows straight affiliate links on their site (but frown on "gatekeeper" or landing pages that require an email address to get something)
Pin your products or services up to 12 times a day to different boards and accounts
Use Pinterest's paid advertising
Offer paid spots on your boards
Promote your sponsored website posts
Use "rich pins" to allow for sales right from Pinterest
Post pins to your direct sale site and to the review blog posts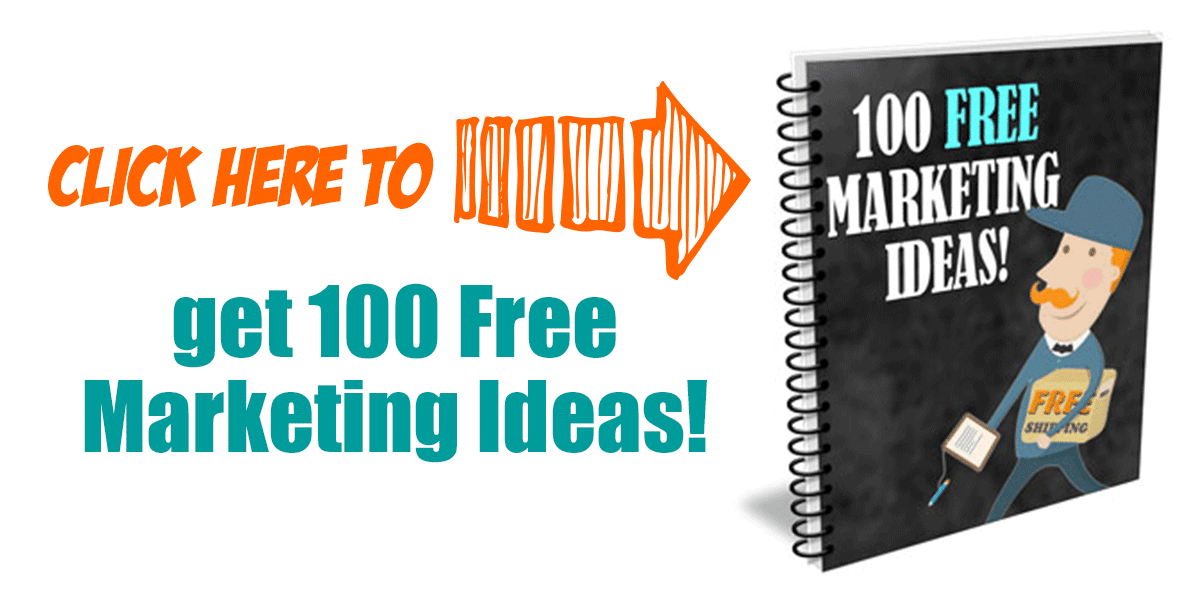 How To Make Money Wrapup
When I started this post about how to make money using your blog, internet marketing and social media I thought there would a ton of great posts out there competing with me, but I found lots of fluff and not really solid information.
Like much of what I write, I made this list for myself so I could quickly and easily think of ways to make multiple streams of income that would allow me to diversify my income.
Another thing… don't give up!
I have been doing affiliate marketing, blogging, selling printables and email marketing for MANY years and nothing ever clicked. I was dabbling and not really being serious about it… then about 3 years ago I got super serious and decided that I HAD to make money (we adopted 3 kids and I had to work less and make more!)
Now I make almost 5K a month passively between my affiliate efforts, my blog ads and selling printables on Etsy…. whoo whoo!
It wasn't easy getting everything set up and building my blog traffic, but honestly, it is the best thing I have ever done… do it for you!
Where I use a product I tried to let you know. While there are a couple of affiliate links in there, all opinions are my own and none of were paid for promotion.