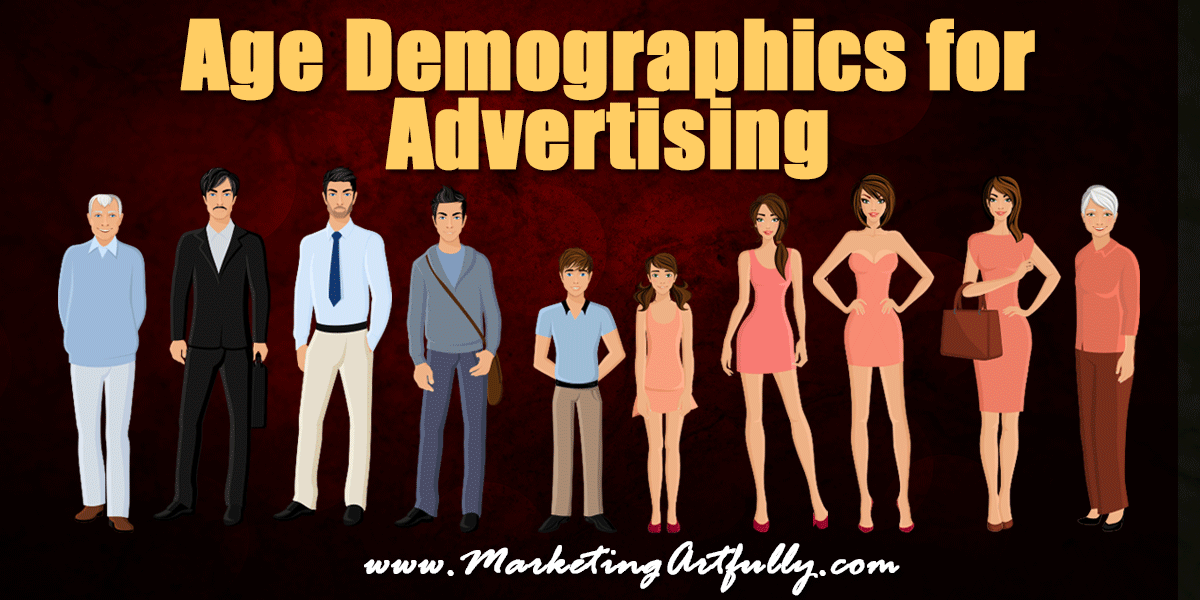 Customer demographics are about how old your customers are. It may surprise you to know HOW much age demographics for advertising effects your marketing efforts in this always on world.
Let's start our talk with the age ranges that advertising execs look at when planning marketing campaigns:
12 – 17
18 – 24
25 – 34
35 – 44
45 – 54
55 – 64
65+
So how do those age demographics effect your marketing campaigns?
A pop quiz, which group uses email least, young people (12-17) or the old dears in the 65+ category? If I had to guess, I would have thought that older people who can struggle with technology and who did not grow up with it are less likely to be reading their gmail. Come to find out, the young people almost never use email! They like the immediacy of instant messaging or texting!
a great post from the New York Times about how time spent on e-mail rose 15 percent for people 55 to 64, and was up 17 percent for people 65 and older.
GREAT information about age distribution on social networks from Royal Pingdom…there is some great age demographic as well as gender information there…go ahead…take a peek, I will be here waiting!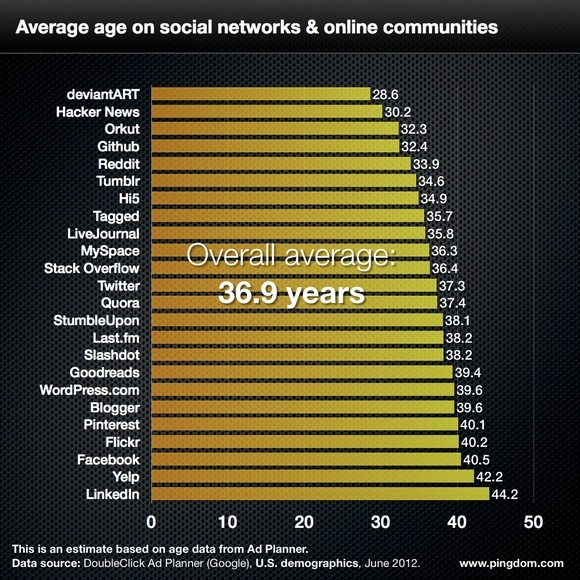 Some telling data for social media marketing….
The average Facebook user is 40.5 years old
The average Twitter user is 37.3 years old
The age trend for Facebook and Twitter. Compared to a previous survey we did 2.5 years ago, the age of the average Facebook user has gone up two years, while the age of the average Twitter user has gone down two years. In other words, Twitter's user base is getting younger, while Facebook's is getting older (social pingdom data)
Targeting your marketing message and platform to the right age demographic
So what does that mean for you, my reader who are mostly college educated, women between the ages of 35-54 (site statistic data from alexa.com).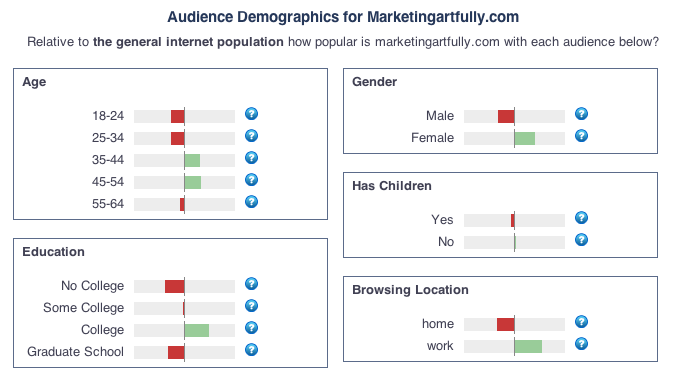 First off, I have men readers (I know because they make comments!) and I have readers who are a little older or a little younger than that, BUT primarily I attract people who are like me! Marketing nuts who are similar in age demographics to me (workaholic woman, college educated, 46 years old).
So if we take a peek at the age demographic data, my best social media response would come from WordPress (my blog), Pinterest, Facebook, and LinkedIn. Pretty on the money although Twitter does alright by me too!
Picking an advertising agency or social media marketing company
So, if you are considering hiring a social media marketing company to help with your marketing, you need to make sure their target market and what they do is congruent with your demographic and who hires you!
We met a really nice young man last month at an event in Denver. He was in the hip-hop, party all night, rave scene and was doing great with some of the clothing lines, helping musicians getting started and appealing to youngsters. His preferred platform was mobile marketing and he was very excited to tell me how "going mobile" would change my life.
Now, I am not that old, but I am getting to where I need some glasses…sigh. The thought of using my cell phone to consume the majority of my media gives me a headache just thinking about. I find text messaging from anyone other than friends an intrusion and would not be interested in knowing where the hot, hot, hot parties are.
My target demographic is very different than his AND my customers' demographics are too!
Very few of our clients are interested in reaching the 12-17 year old gang and while we do have some that are looking for young adults, mainly we work with small business owners and entrepreneurs who need to reach people with a little bit deeper pockets than most of these demographics.