Keeping up with age demographics for advertising is an ongoing process. With that in mind I periodically update this post with the best information that I can find! If you have any great data I am missing, please shoot me an email … tara(at)marketingartfully.com. This post was updated April 2017.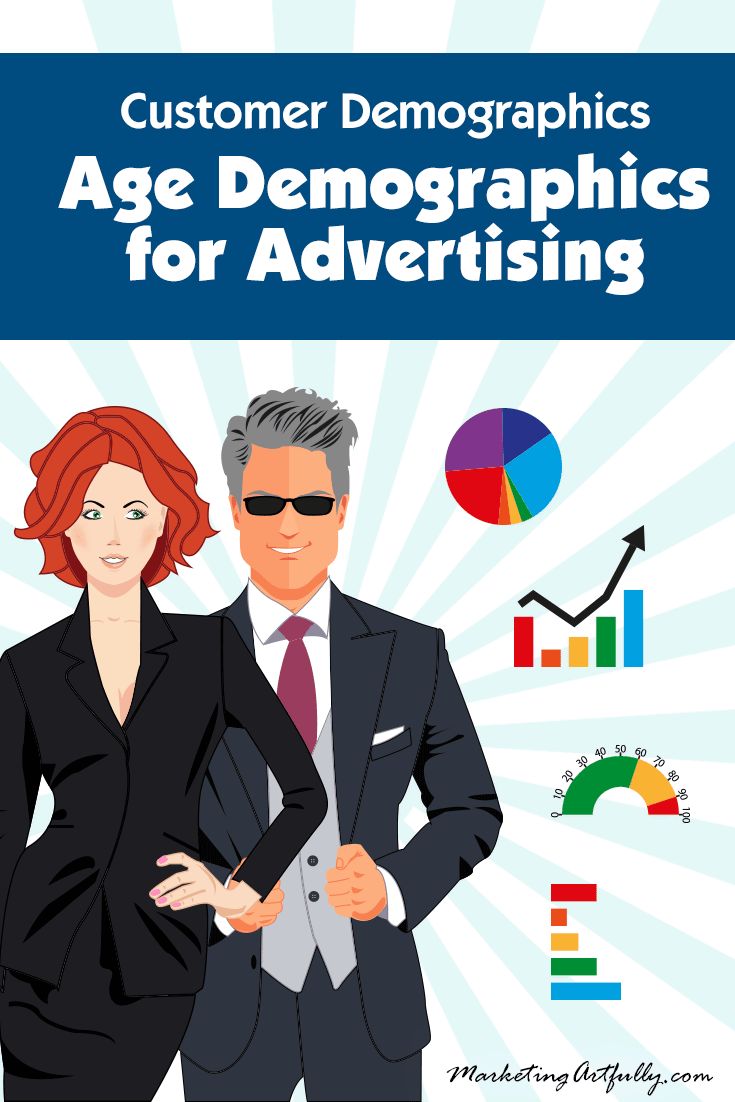 Customer demographics are about how old your customers are. It may surprise you to know HOW much age demographics for advertising effects your marketing efforts in this always on world.
Let's start our talk with the age ranges that advertising execs look at when planning marketing campaigns:
12 – 17
18 – 24
25 – 34
35 – 44
45 – 54
55 – 64
65+
Some telling data for social media marketing….
88% of young adults age 18-29 use social media (Pew – 2016)
Facebook has increased its reach to 79% (Pew – 2016)
62% of people over 65 use social media (up from 35% in 2015)
Facebook has 1.23 billion daily active users on average for December 2016 (Facebook)
52.82 million U.S. Facebook users are between 25 and 34 years (Statista – 2017)
Instagram has 600 million monthly active users  (Instagram – Dec 2016)
Pinterest has over 150 million monthly active users (VentureBeat – 2016)
Age Demographics For Advertising Resources
So how do those age demographics effect your marketing campaigns?
A pop quiz, which group uses email least, young people (12-17) or the old dears in the 65+ category? If I had to guess, I would have thought that older people who can struggle with technology and who did not grow up with it are less likely to be reading their gmail. Come to find out, the young people almost never use email! They like the immediacy of instant messaging or texting!
a great post from the New York Times about how time spent on e-mail rose 15 percent for people 55 to 64, and was up 17 percent for people 65 and older.
Targeting your marketing message and platform to the right age demographic
So what does that mean for you, my reader who are mostly college educated, women between the ages of 35-54 (site statistic data from alexa.com).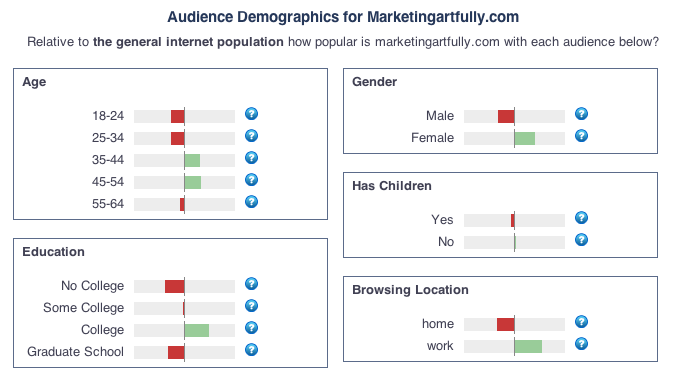 First off, I have men readers (I know because they make comments!) and I have readers who are a little older or a little younger than that, BUT primarily I attract people who are like me! Marketing nuts who are similar in age demographics to me (workaholic woman, college educated, 46 years old).
So if we take a peek at the age demographic data, my best social media response would come from WordPress (my blog), Pinterest, Facebook, and LinkedIn. Pretty on the money although Twitter does alright by me too!
Social Media Age Demographic Stats Over The Years
It is somewhat difficult to find current information about age distribution for the different social media networks. BUT I have started collecting this info from over the years to see the changes over time. Please note the dates of this data before citing it.
Pew Research graph from 2015 showing the progression of social media. 
 A breakdown of the demographics for each of the different social networks from Business Insider – 2014
Older info, but still interesting…age distribution on social networks from Royal Pingdom…there is some great age demographic as well as gender information – 2012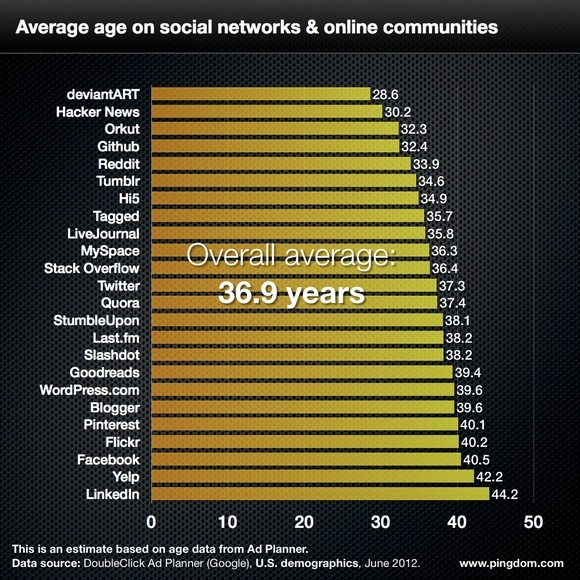 How To Develop YOUR Customer Avatar
Here is an additional resource for you to work on your customer avatar!
My marketing bestie and I sat down and recorded 6 videos about how to target your perfect customer and create your Customer Avatar. This is probably one of the most impactful things you can do for your business so we made sure that it was affordable for all of our "peeps"!
You get ALL of the information that you need to fill your business with customers you love! Not just videos but a worksheet, book and even examples of completed sheets that you can use to help make your "perfect customer"!
Nice things they say… "I thought I already knew how to identify a target market but this worksheet and video really opened my eyes up to details I hadn't thought of. Exactly what I needed to improve my my research and products. Thank you!" Rachel