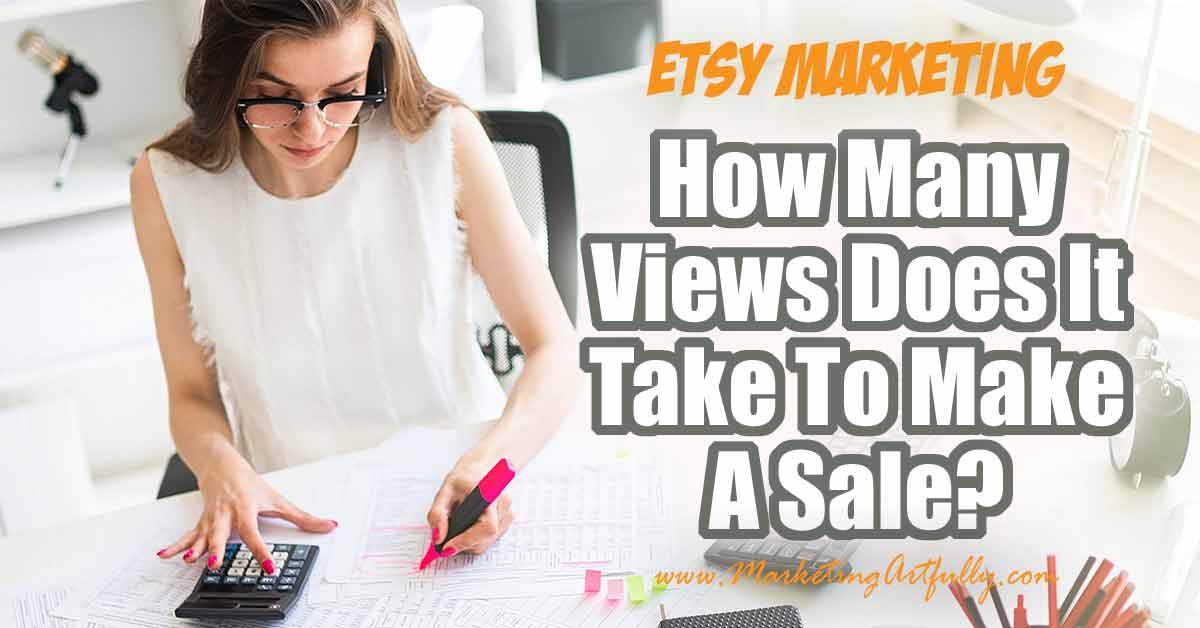 Today we are going to talk about how many views on Etsy is good enough to make a sale! Tips and ideas for how to use your Etsy shop stats to determine how many product views you need to make revenue. Good for all kinds of sellers (brand new and experienced) including handmade, vintage, supplies.
I am writing this post because a fellow emailed me and said he was getting "a lot of views" and no sales. He was getting about 4,000 views in his first month and no one bought.
please note :: I often recommend resources, some I receive an affiliate commission for at no additional cost to you, these all help to keep this site free for you! Check out my policies here
What Are A "Lot Of Etsy Views"?
If you are reading this post you might start thinking, "WOW, 4K DOES seem like a lot of views" OR you may be thinking, "only 4K, that is not a lot at all!"
So what is the discrepancy?
One of the reasons it is so hard to say that you should get a sale after 100 views or 1,000 or even 10,000 views, is because we are all selling different things!
This is what my stats looked like from last month on my two different stores…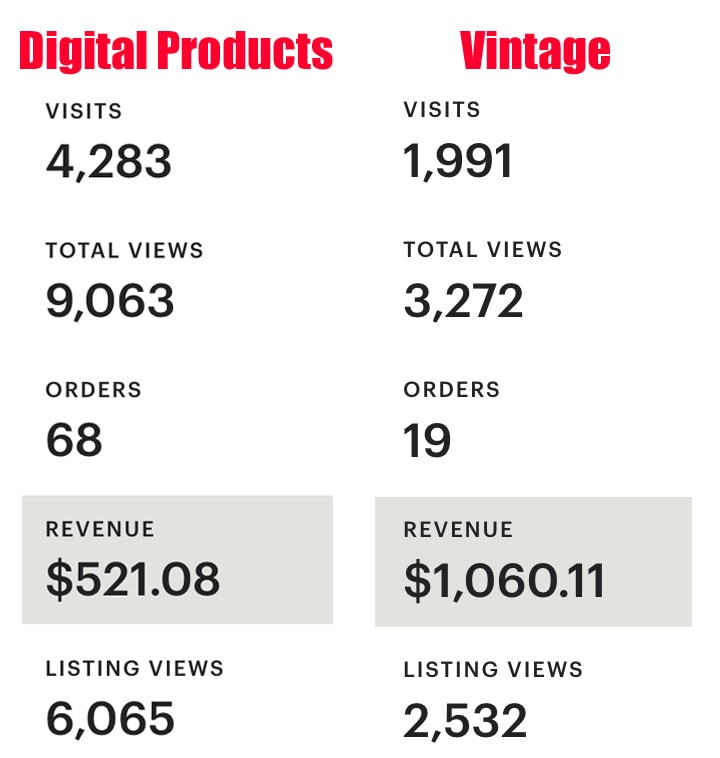 While I did get more views on my digital products store, I made more money on my vintage store!
If you are selling a hot property like gold necklaces, you might get a gagillion views, but have very low sales. Selling vintage cow doorstops? For real, there are months where my vintage store gets under a 1,000 views (looking at you July!)
Long story short, there is no way for us to know overall what the best number of views to get a sale is for any shop but our own!
What are Etsy views?

Let's start with the basics! Views are how many times your listings and shop have been seen while visits are the number of individual people who have visited your shop. In this Etsy article, they talk about views versus visits in the way that I know of them.
That said, when you hover over the description, this is what Etsy says they are…..

What that means is that "Total Views" are a raw number of times something in your shop has been seen and visits are how many times someone has come to your shop.
In my stats above, it seems like I have half as may visits as views, so people are generally (on average) looking at two items for every visit.
Cool to keep in mind, but any drama over views versus visits or what those numbers mean doesn't matter to us today because we are just going to be comparing views to sales which will give us an idea of how many views we need to get a sale!
Related post: Increasing Your Views In Etsy….Etsy SEO Search
Determining Your Conversion Rate
Now we are going to get into mathing, but it is super easy math!
What is a conversion rate?
Conversion rate is how many times we need something to happen to get a specific result… so we have this conversion rate:
Total # of Visits ÷ Total # Sales = How Many Visits We Need To Make A Sale
Should You Use Views or Visits?
Now, before we get to the examples, one question that might come to mind… if the visits are a "more precise" number, should we use visits or views?
Again, it really doesn't matter, because we are going to consistently use the same number every time. So pick one or the other and use that one over and over again to do your calculating and you will be fine!
This is my last rolling year on my digital products store…Doing the research for this is REALLY cludgy… you have to redo the dates a bit to make Etsy show them… sigh.
Feb 2019 – 9063 Views ÷ 68 Sales = 133 (How Many Visits I Need To Make A Sale)
Jan 2019 – 10213 Views ÷ 62 Sales = 164
Dec 2018 – 8227 Views ÷ 56 Sales = 146
Nov 2018 – 8267 Views ÷ 73 Sales = 113
Oct 2018 – 8471 Views ÷ 61 Sales = 138
Sept 2018 – 8048 Views ÷ 62 Sales = 129
Aug 2018 – 7841 Views ÷ 46 Sales = 170
July 2018 – 7936 Views ÷ 46 Sales = 172
Jun 2018 – 7465 Views ÷ 47 Sales = 158
May 2018 – 7297 Views ÷ 52 Sales = 140
Apr 2018 – 6561 Views ÷ 76 Sales = 86
Mar 2018 – 6778 Views ÷ 77 Sales = 88
Average those all out and I need 136 views to get one sale!
Now, if you don't want to do all that mathing and you have had a store for a while, you can just look at last year and do the conversion calculation for the whole year…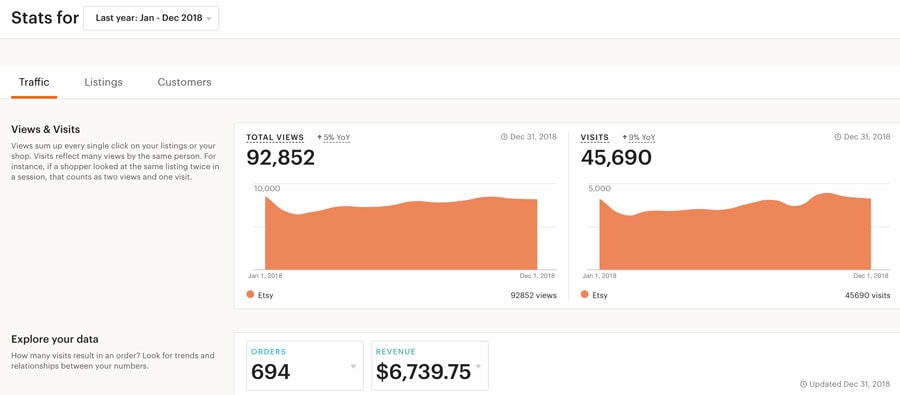 So 92,852 ÷ 694 = 133 … close enough for government work!
One reason to keep a running total on this is that you won't freak out if you have a "bad month". For example, January is a good view month but a worse conversion month and while I get fewer views in March my sales overall were higher!
Some sample conversion rates of real shop owners
I asked the amazing gals in my Etsy Facebook group to share their stats for last month and they did! If you haven't joined yet, for sure check out the group… it is free!
Fashion
Bags Shop #1 – She needs 492 views to get a sale!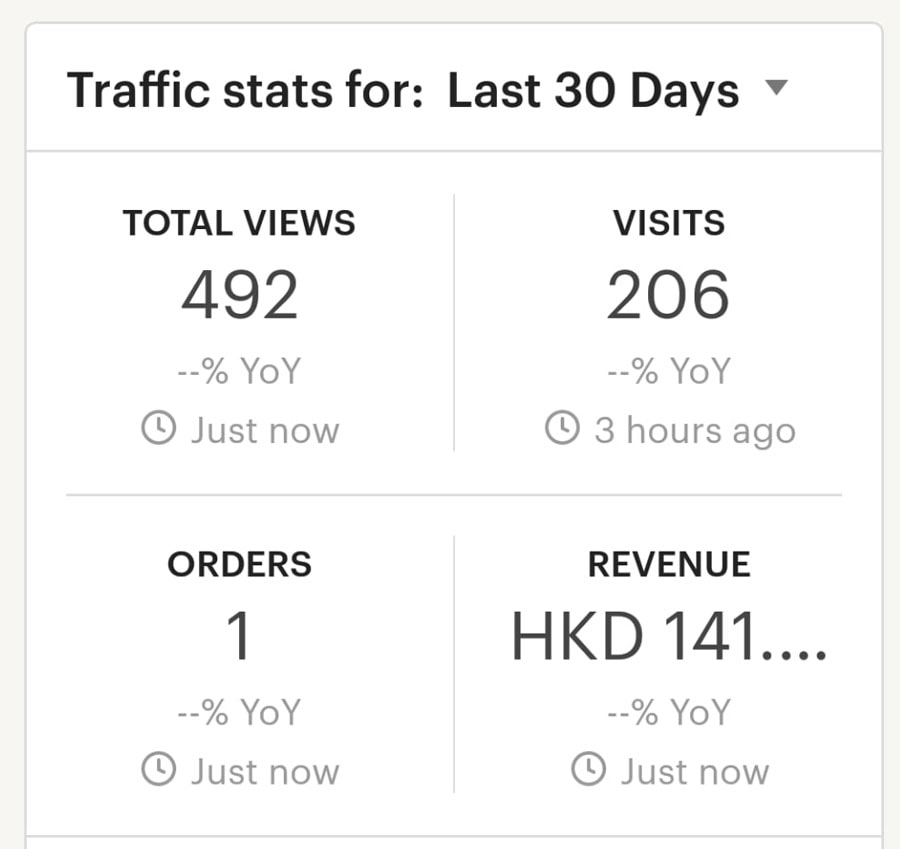 Sweatshirts Shop – She needs 275 views to make a sale!

Tshirt Shops
Shop #1… we don't know how many views she needs yet, because she didn't get an order in this time period! I shared this to let you know that this happens… just keep plugging away!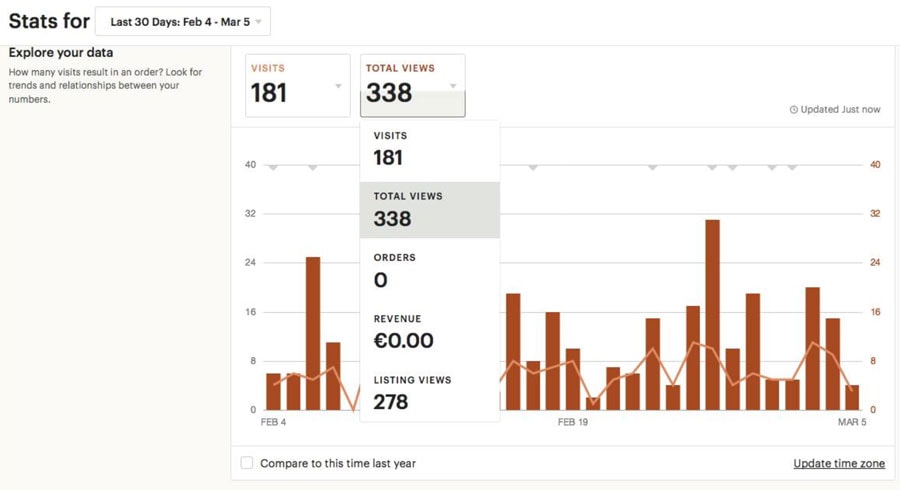 Tshirt shop #2 – She needs 105 views to make a sale!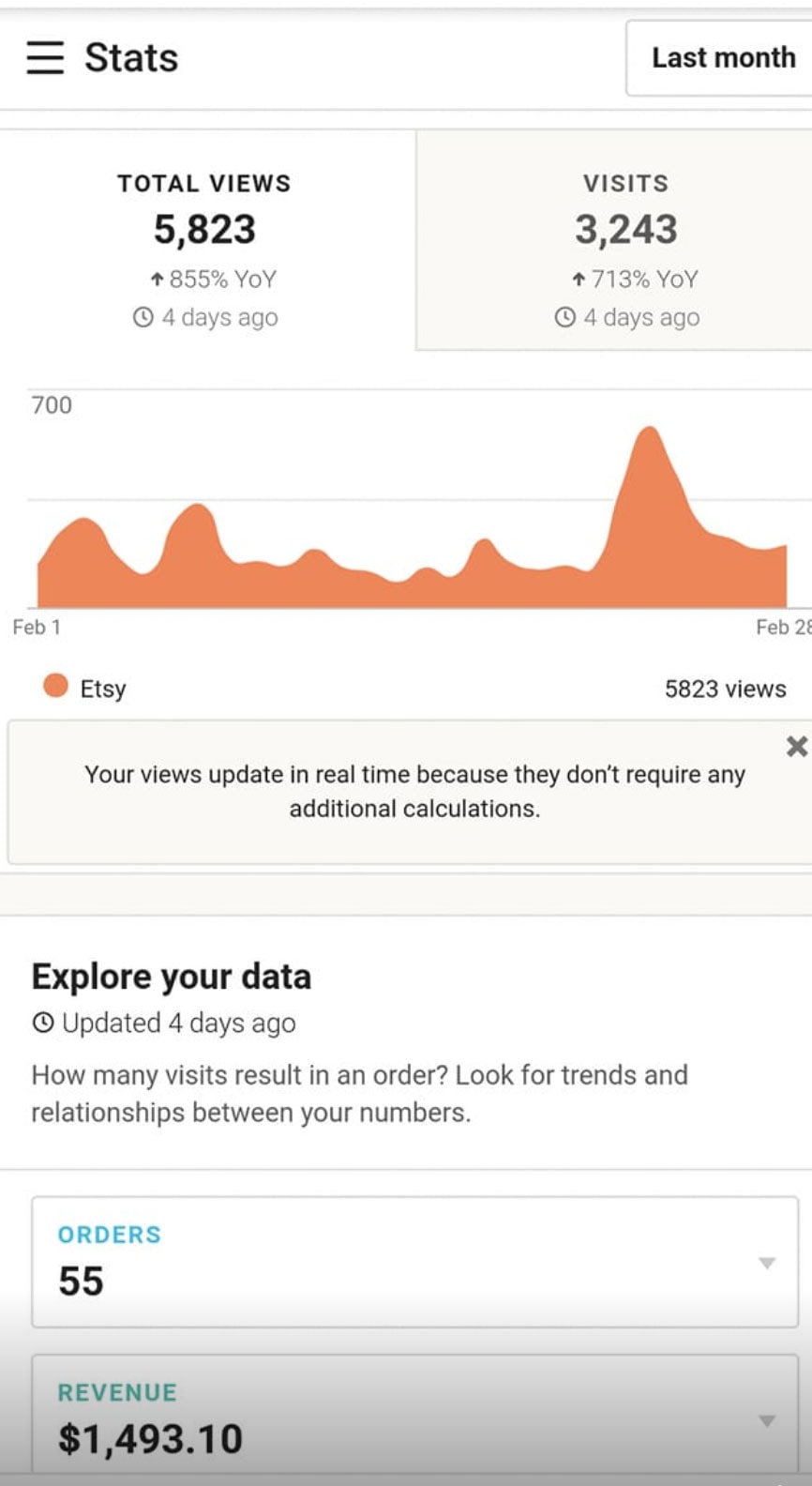 Tshirts & Personalized Items #3 – She needs 445 views to make a sale!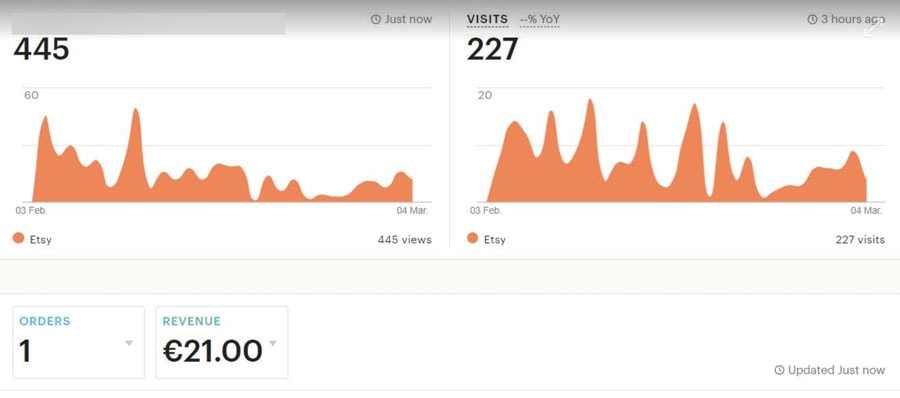 Jewelry Shops
Shop #1 – She needs 279 views to get one sale!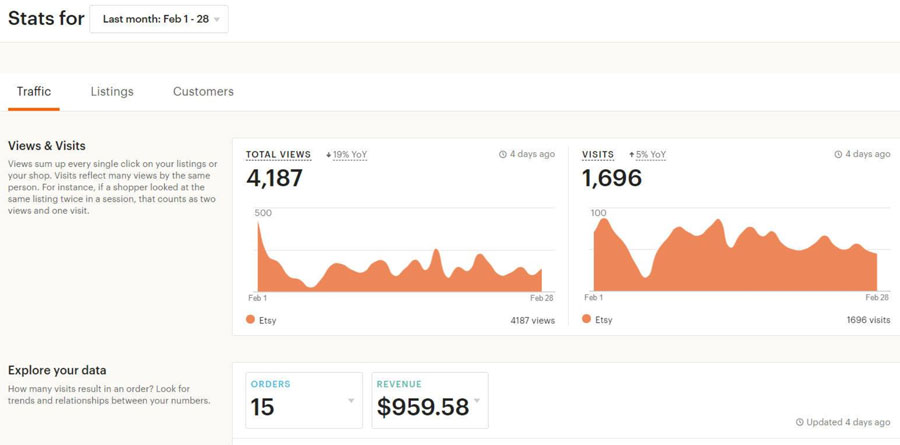 Jewelry Shop #2 – He needs 356 views to make a sale!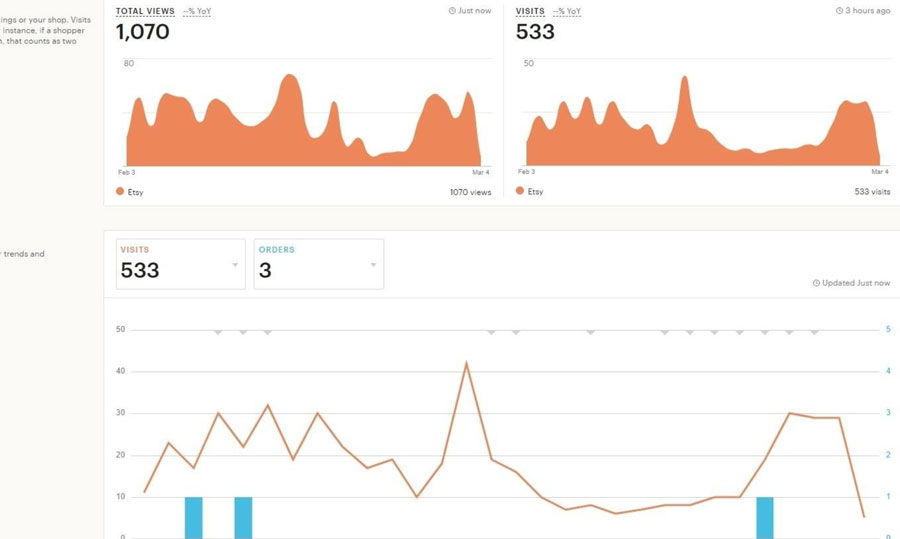 Jewelry Shop #3 – She needs 110 views to make a sale!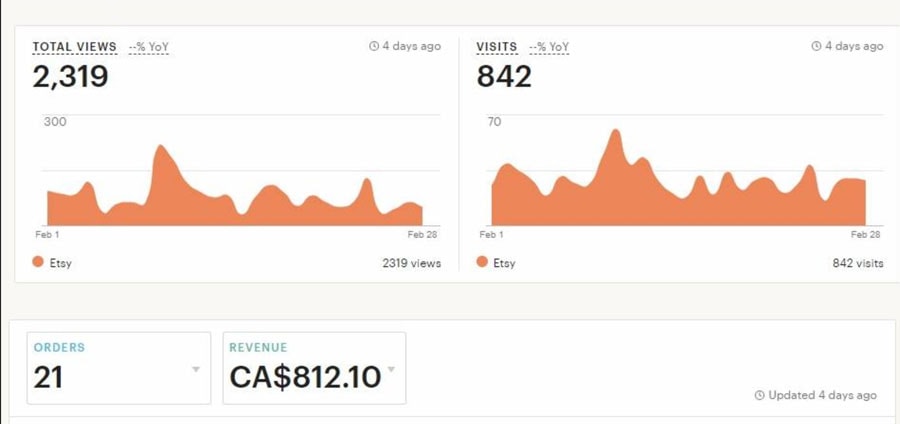 Jewelry Shop #4 – She needs 275 views to make a sale!

Vintage Shops
Vintage Shop #1 – She needs 290 views to get a sale!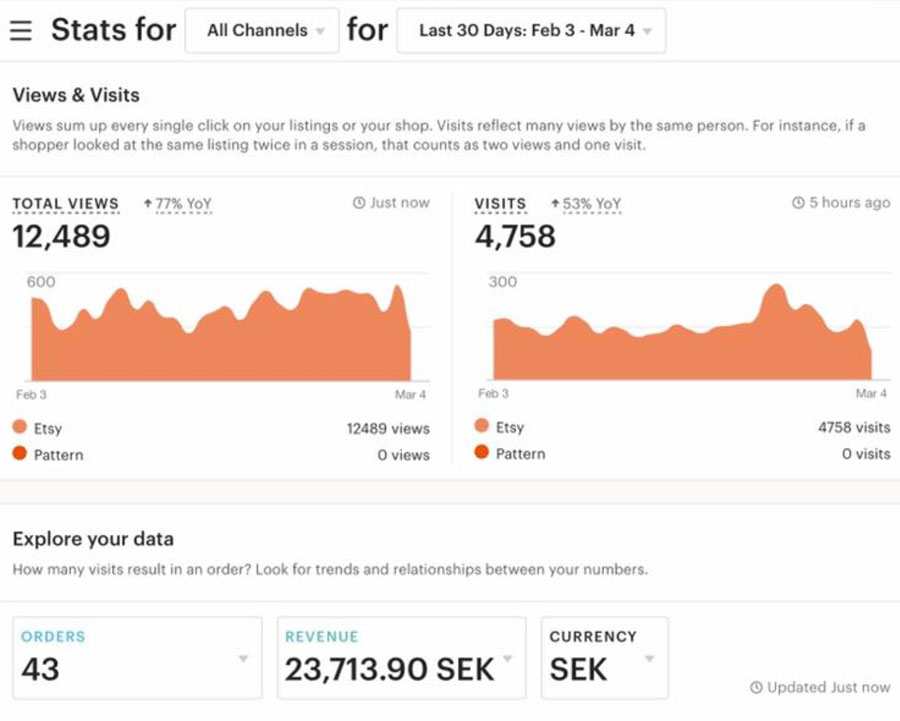 Vintage Shop #2 – She needs 192 views to make a sale!

Vintage Shop #3 – She needs 116 views to make a sale!

Digital Products Store
Digital Products Shop #1 – She needs 124 views to make a sale!
Some Thoughts About This View Versus Sales Data
It took between 105 and 492 views to get a sale overall
Fashion average was 383 (2 peeps)
Tshirt average was 275 (2 peeps)
Vintage average was 199 (3 peeps)
Total average was 229 views to make a sale!
Now, please bear in mind that so many things go into this number. For example, I use my shops as examples in my blog posts so my numbers are totally messed up. Many shop owners are coming to my store to look at my store rather than to buy what I am selling. Not a bother, but my views to get a sale would have to be higher than the average shop owner!
For sure we would need A LOT more people to really get a good baseline for how many views it takes to get a sale, but this was super fun to see! I know I think I get a "lot" of views, but it feels like the sales are slow in coming… but everyone feels that way! Haha!
How Many Etsy Shop Views Does It Take To Make A Sale FAQs
A bunch of questions came up while I was writing this post! Here are some that come to mind!
How can you fix a low conversion rate on Etsy?
So one way to make more sales would be to get more views, right? If it takes me 124 views to make a sale on my digital store, I could sell more by getting more views (do marketing, better Etsy SEO, etc.)
But another way you could make more sales is to increase the number of sales per visits. Some things you could do would be:
Better pictures
Good descriptions
Free shipping
Ship faster
There are a whole bunch more, but that gives you somewhere to start!
How did you make a sale when you have zero views on Etsy?
This was a fun question to figure out. A gal said she had no views for the month but got one sale… how the heck does that happen? One way I can think of is if someone had her item in their shopping cart and bought early in the first part of the next month. Voila, a sale with no views!
Does etsy count your own views?
According to Etsy they will not count your shop views when you are logged in.
Can you see who views your Etsy page?
You cannot see individual buyers who have viewed your page. You could get some info by tracking who has favorited your items or store, but Etsy aggregates that data so that the buyer is protected.
Advanced… Google Stats and Conversion Rates
If you are not at least a little nerdy, please skip this one!
You can hook your Etsy shop to Google Analytics and get other data for your View/Sales comparisons. For example, here are my Google stats for my digital products store which is listed above. The numbers are different than what you get from Etsy.
Etsy said I got 4,283 visits and Google said I got 2,922
Etsy said I got 9,063 views and Google said I got 6,504
What the what? Why are the numbers so different?
Well, Google is way better at filtering out spam and bots than Etsy is. Also, they may count views and visits differently (but I don't think they do).
So why did I even tell you this? Wellllll….
I would be more apt to trust Google numbers than Etsy numbers and with that in mind I can use Google View and Etsy sales data to find out how many views I REALLY need to get to make a sale.
6504 Visits ÷ 68 Sales = 95.6
So in "real life" I need to drive almost 100 people to my listings to make one sale. Because I do Pinterest and Blogging and Etsy SEO, that gives me a more realistic picture of how many views I really need to make one sale!
Related Post: Uber Geeky Google Analytics for Etsy Sellers
Etsy Shops Who Contributed To This Post
I did not match the shops to the stats deliberately because that would seem like prying (I share everything but not everyone likes to do that!) But I wanted to give a big shoutout to everyone who sent in their stats!