(Updated Dec 2018, includes the new Etsy changes!)
Today we are going to talk about things that are hard. If you want to grow your Etsy shop, there is only one thing that you need to focus on, getting your view up. That's it.
If no one sees your listing, no one can buy your listing.
So who is this post for? A brand new Etsy seller who is sad that they aren't getting any views at all. A seasoned Etsy seller who is sad that Etsy changed the rules and their views have dropped. Or finally someone like me who is just obsessed with finding the best way to sell on Etsy.
What Are Views
So let's get down to brass tacks here. Views in Etsy are, "The number of people visiting your listings and shop over a set date range." source Etsy
So those are people who have specifically looked at your stop or your listings.
Here are my shop stats for my digital products store, Paperly People, this month…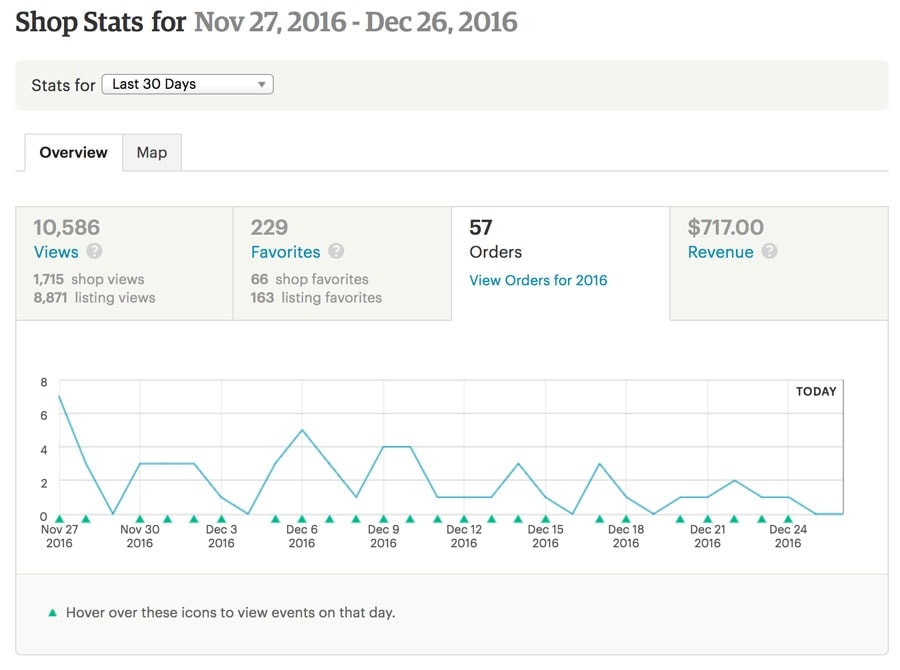 So that is nice, I have gotten 10,000+ views this month on my listings and shop. You should start by checking your shop view stats to see what your average is. Take the last three months and average them out to figure out what your baseline is to start.
Here are my views since I opened in July of 2015.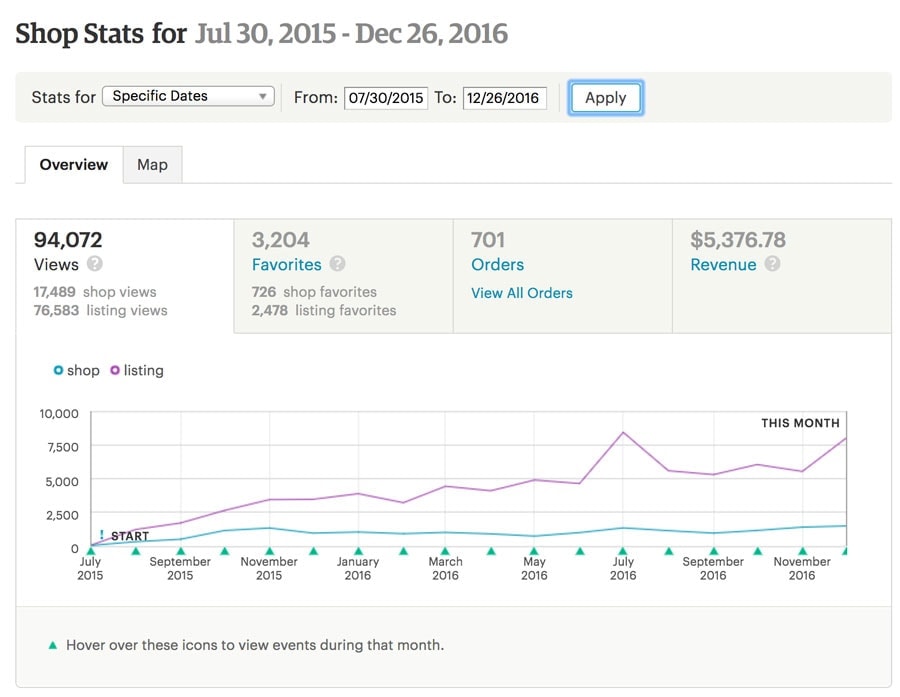 As you can see, there is a nice steady progression of views over time on an upward slope. I KNOW there are people out there who open a shop and then start getting so many orders they have to take a break right way, but just so you know, most of our shops don't look like that. Instead they grow gradually over time.
Things that effect this growth…
Number of listings in your shop (you have more chances to rank for different search terms)
Positive feedback growth (Etsy knows you are a good seller with great customer service)
You have more past customers who will see your new items in their feed
You have sold things in the recent past
So let's break this down.
Number of listings in your shop. I have lots of people come to me and ask why they don't get more views. I ask to see their shop and they have 6-10 listings. Well OF COURSE they don't have many views. That is only 10 chances to get found in search. Check out my post about How Many Items Should You Have In Your Etsy Store to see the averages. The awesome thing about this one is that you can change this number by listing more.
Positive feedback growth. This one seems ripe for manipulating but I wouldn't. Yes you can include a little card in your packages asking for a great review, but overall you will get about 20-25% of your customers leaving reviews. That number will grow the more you sell. I am not so sure I would mess around too much with this, except to sell more!
You have more past customers. This is where having customers helps! Etsy shows things from your favorite shops and past purchases on the "home page" and in the emails they send out. This is a frustrating one as you can't get this until someone buys, and you can't get someone to buy until they see your listing. Just be patient!
You have sold things in the recent past. The more you sell things the more you will sell things. I know this seems super hard if you are not selling anything right now, but Etsy rewards shops that sell things. You can control this a little by doing social media promotions, emailing your list or using a site like Etsy On Sale to manage your discounts (promo link, you will get credits to try a sale for free!)
So now you have done the basics. What is next?
Advanced Views On Etsy
If you are just starting out, head back up, most of this will not work unless you have loads of views to be able to reference them!
When you start digging into your stats, you see that there are lots different places you can find information that will help you to understand what your shoppers are doing.
Etsy > Your Shop > Stats > Views
This is full of fun data about where your views are coming from. Again I try and focus on things that I have control of since this is a productive use of my time!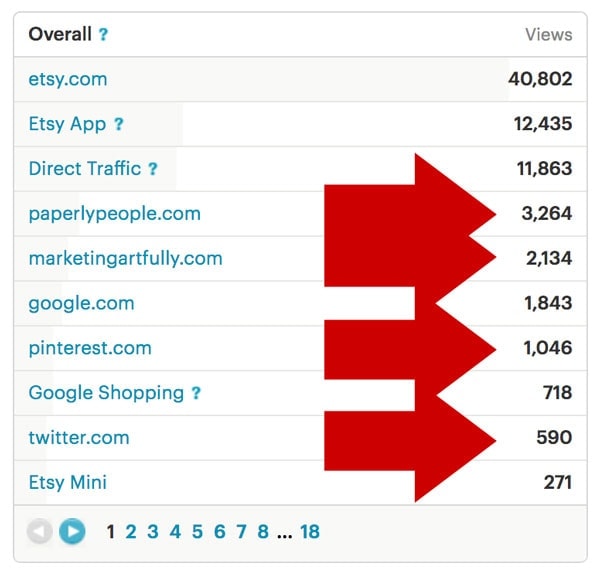 You Generated Views
I have 40K views total over the year. I SO appreciate that Etsy drives much of that traffic, but I like to help where I can.
I have driven over 7,000 views from my websites and social media. All in all about 1/4 of my views are "me generated".
Now, you might not have a website that you can use (yet) or a huge social media presence (yet), but you do have to have a plan to start somewhere. Figure out what you are good at and start working to drive up the views you get to your shop!
Your Other Listings
I find this one to be an interesting place to look. I got 700 people to look at that one listing (my "Wicked Good Ideas" sheet) who then went on to look at another listing.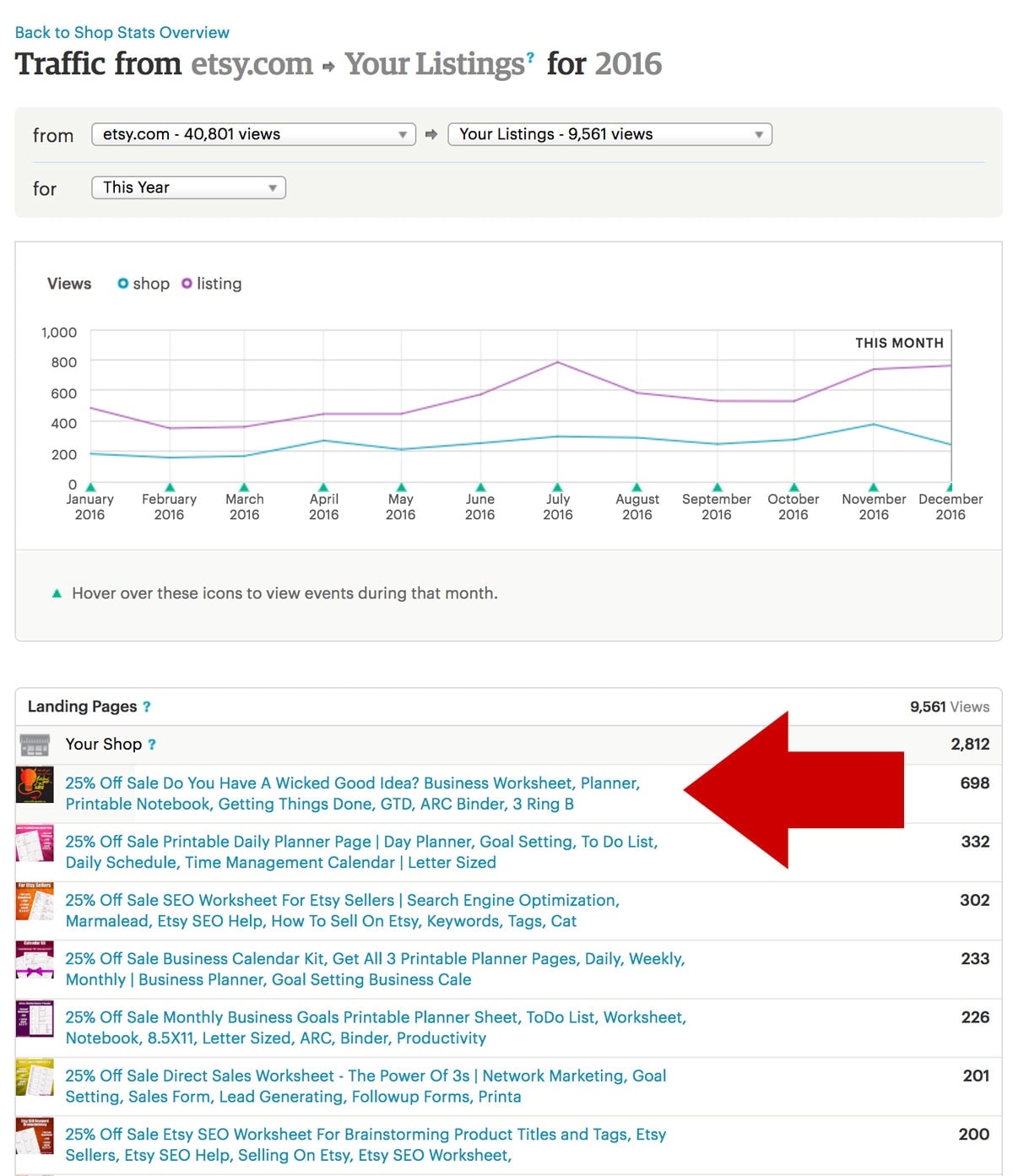 As this is not one of my top sellers, I KNOW that there is more that I can be doing to maximize the impact of this special listing. I could…
Make sure that there are links out to other products in the listing
Put a "general testimonial picture" in this listing so that I am getting them to buy in on liking me and my stuff instead of trying to sell this exact page
Figure out where the heck I have this linked from (because it is doing a great job!)
Finding these gems in your stats is like knowing a secret code. Optimize just a few of these and you will be able to keep more of those people on your shop instead of going somewhere else!
Know Your Listings
This really only works on evergreen shops like digital or handmade. For this one you are going to go through the front of your store and check the stats for a single listing.
Etsy > Your Shop > Pick A Listing > Stats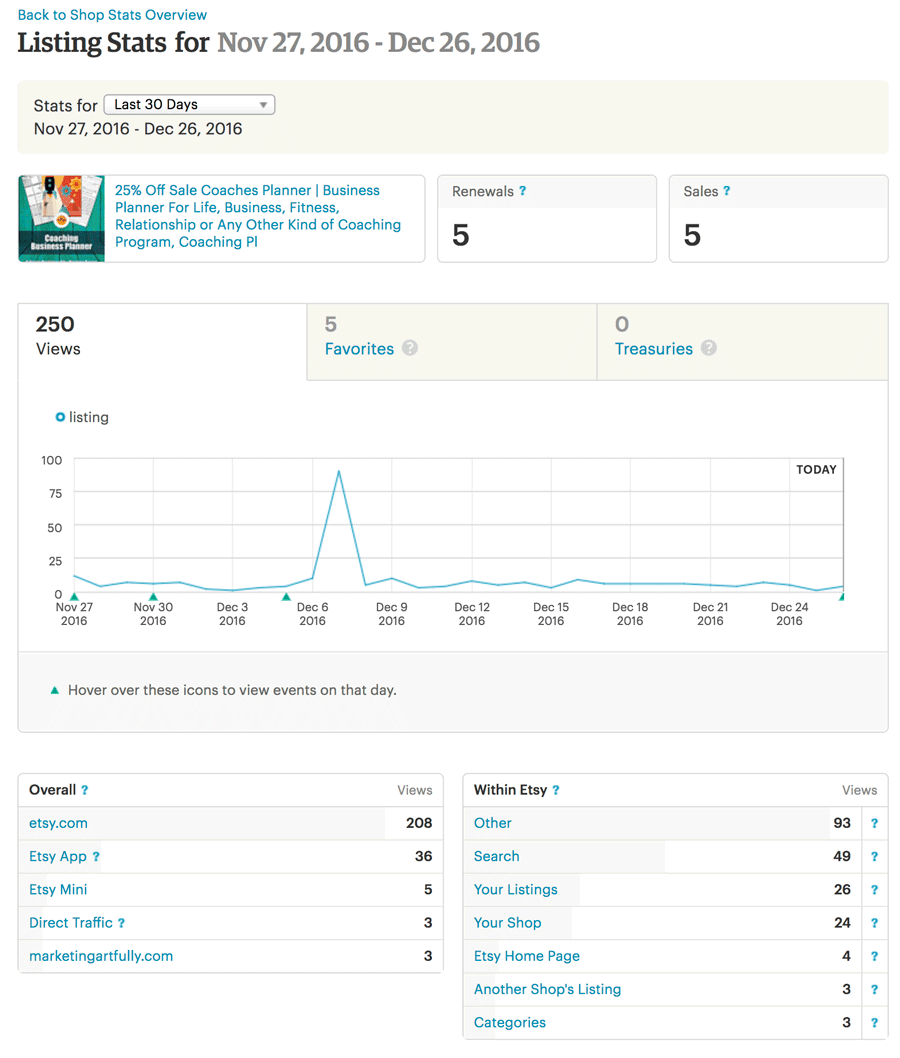 I admit it, I picked this one because it has all round numbers and I am a marketer, not a mathematician! This listing has a good conversion rate. 2% of this listings views turn into sales (5/250). There is a chance that I could increase sales by increasing that conversion rate!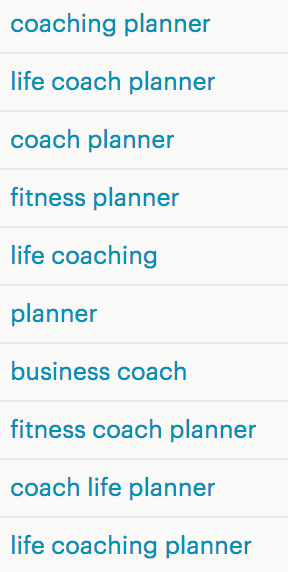 It also shows that there are not views from social media, so there is an opportunity to increase my views by making sure I have this one on Pinterest and Twitter.
Last but not least I can take a peek at the keywords that people are using to find this planner. This is heading into more pure Etsy SEO, but knowing this info for your listings is important.
I LOVE using this view to find out what keywords people are using JUST for this listing. If I was going to try to increase my views here I would use these words in my social posts, maybe write a blog post with them in the title or purchase some adwords using those words.
I KNOW, views are not sales, but they are definitely an indicator of intent to purchase since they are being used on an eCommerce site.
Trying To Rank For As Many Keywords As Possible
Okay this is my last one, but I feel like it is often overlooked. STOP trying to get every one of your listings to rank for the same top keywords!
I see so many people trying to rank for the main keyword that is top in their niche. YES it is worth it to take a couple of your listings and try to get them to rank for a top word.
But then branch out and try to get people to your shop through other related keywords on your different listings.
Many "seasoned" sellers who used to get lots of views are complaining that their views are down (I was following a thread on this exact topic when I got the idea to write this post). One reason for this is that Etsy now only will have one listing per shop per page.
So if they have all their listings optimized for "silver jewelry" for example, they would get one listing on page one for that search, one listing on page two, etc.
I KNOW it is frustrating when things change and what you used to do no longer works, but there is no sense crying over spilled milk. That is how Etsy search works now and if we want to get more views, we have to rank for more and different keywords!
Whether you are a vintage Etsy seller, handmade or digital seller this strategy works great!
ADDITIONAL RESOURCES FOR ETSY SELLERS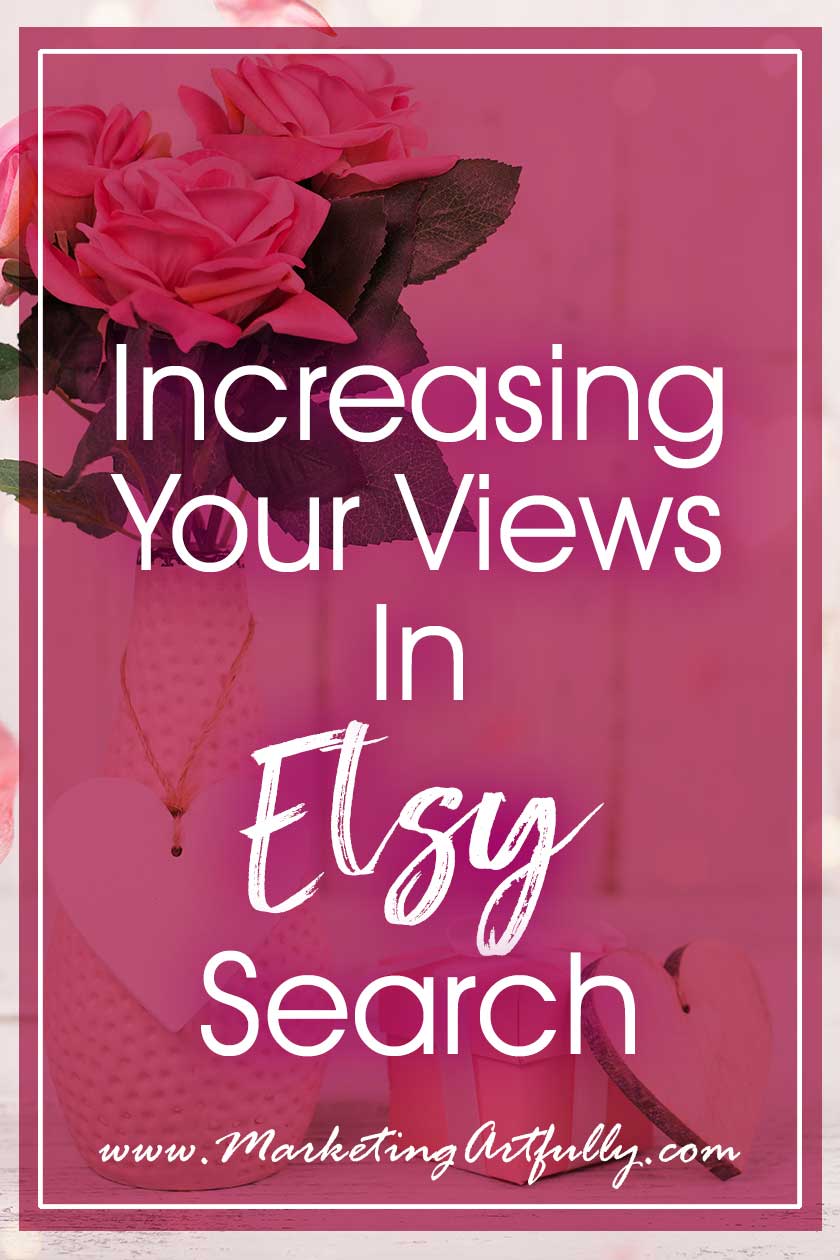 (Visited 19,083 times, 9 visits today)