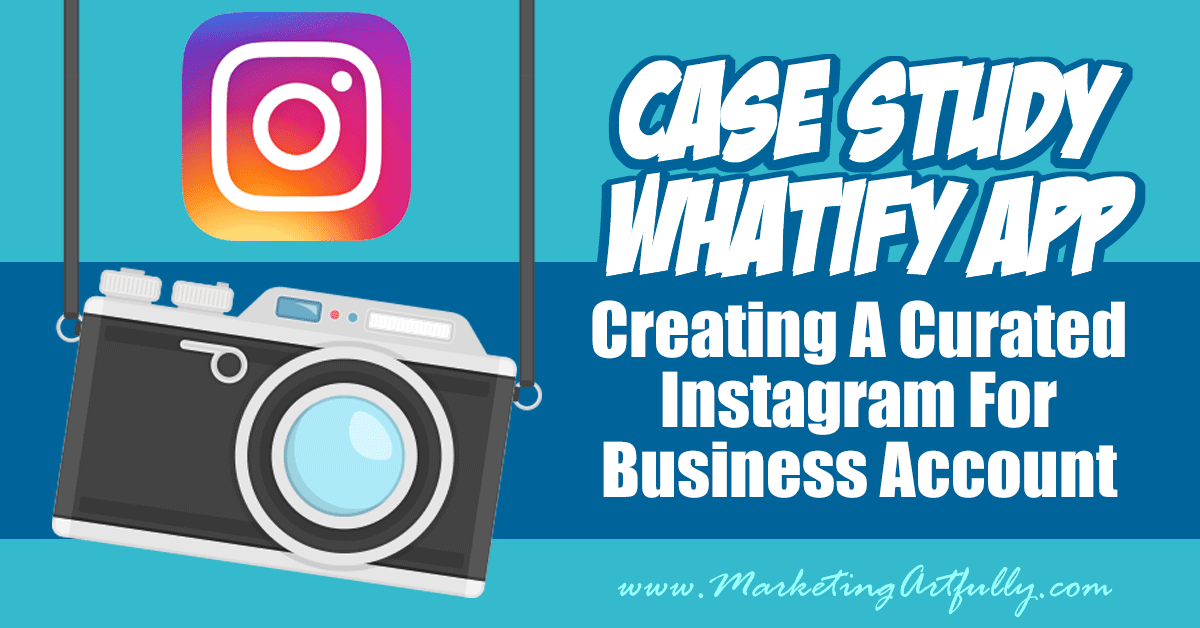 I love doing marking plans in public so everyone can see the concepts behind all the thinking I do! This plan is for the Etsy app, Whatify which compares the first two pictures of an Etsy listing and then says which generates more views for their listings… cool huh?
I have been talking with Jake (the owner) for a while now (they have an ad on my website since I have a large Etsy following) and he reached out yesterday asking if I had any marketing ideas for him. He said he had been doing influencer marketing and that was going okay, but he needed some fresh marketing ideas.
So I thought a wee bit about it and this is what he should do!
>> there are affiliate links in this post! recommending great products I love is how I keep this site free! <<
Please don't pigeon hole this post as only for app developers! If you are an Etsy seller or looking to reach Etsy sellers, many of the concepts here should get your wheels turning for your biz too!
Creating A Curated Instagram For Business Account
You would think that we should start with the features and benefits of Whatify but you would be WRONG! Think about it, the Etsy sellers that Jake wants to reach have no idea that they need his product… heck they probably don't know it exists so at this point he just needs to get their attention.
What Do Jake's Customers Want?
Thinking about this, what do Etsy sellers know that they want? They want exposure for their listings! Here are a few things Etsy sellers would want on Instagram from easiest to hardest:
More followers
More likes
More comments
Shares to your account
Views from Instagram
Sales from Instagram
And what could Jake offer them? More followers, comments, likes and shares for sure! So we know for this marketing platform (Instagram) we are going to specifically target Etsy Sellers > With Good Pictures > Who Actually Use Instagram
The Premise of the New Whatify Instagram Account
Okay, logical thinking says that Jake should make the connection between Whatify and his account SUPER clear. He should have pictures of behind the scenes (people typing on keyboards) and then push ad after ad for his product… right? This is a company for goodness sakes, it should be serious and dull! WRONG!!!
But what about if Jake made an account that could help his Etsy peeps. One that would feature their great pics AND show how his product works AND be super easy to run because Etsy sellers would send him their pictures.
That could be cool right?
The assets Jake has for this account are:
He has customers already who are raving fans and who will for sure let him use their pictures in his "marketing"
His business is graphics focused and so is Instagram
He has real, behind the scenes data that Etsy sellers would want if they knew about his app
So this account is going to be all about Etsy pictures, which ones lead to sales and getting connections to Etsy sellers who don't already use Whatify so he can sell his subscription service.
Picking An Instagram Name
Okay, the next step for Jake is to choose a name for his Instagram account. I sent him over a few suggestions… WhichPicWon, WhichPicWin, WhichDidTheyPic or WhichDidTheyPick.
In a perfect marketing world I suggest he use something with Etsy in the account name (that would for sure help his follow rate). BUT we can't forget that Jake is an actual company, not just making a shop account or influencer account. Etsy, of course, has the trademark of that name and the last thing we want to do is set up a huge Instagram account only to get a cease and desist because we used "Etsy" in the account name.
Jake wound up with … @whichdidtheypic
Setting Up The Profile
Okay, there are TWO places to have names in Instagram! First is the user name which we should not have Etsy in, but there is a second name where Jake could reference Etsy for sure! And the one link he gets should be directed right back to his app website.

His description should have some very specific things in it:
It needs to start with value for his followers
Emojies are vital. First off they act as "words" in your description and also break up a bunch of text and catch the eye. These show right off the bat that this account is about picture and shopping.
A custom hashtag. I picked #whichpicwon for Jake. No one is using it and having that in his posts as his own hashtag will "hook" them together.
Because this is a corporate account I think it is important to be up front and honest and link it back to the "official" Whatify account on Instagram.
Last but not least, is the magical place.. the "send me your pictures". Once Jake gets this account up and running he will be able to have Etsy sellers send him super pretty product pictures that he can feature and link to their profiles, helping Etsy sellers grow their Instagram too!

Things To Post
So what should Jake post on his account? Does he have to come up with a BUNCH of original content and spend all his time making pictures himself? NOPE! There is already a bunch of great pictures that he could use from Etsy sellers on Instagram. AND he will start getting pictures emailed to him (more below) AND he can make some of his own promoting his biz.
Reposts of Etsy seller pics
Success stories featuring Etsy sellers
Which one did they pick posts
This is a mockup of what his feed could look like. Notice it is mostly great pictures from Etsy Sellers (which will make people follow his account), two Etsy success stories right from the featured shops section of the Etsy blog and then his core business picture (which are also cool!) … etsy pics sources: bride & dog, calendar, lipstick, bunny, whale tail, cat with tie
How Many Times A Day
So does Jake HAVE to post 100 times a day? Nope! I would say that at most he should post two great pictures a day. More than that and he might start annoying his followers. Also that makes it even more important to have something super special to post and not have just a bunch of junk in his feed!
Proper Credit
The most important thing when you are sharing other people's photos is to give proper credit to the account that originally posted the picture (sometimes you have to follow a rabbit trail back of reposts so be careful!) This is especially important for Jake since his main goal is to get to Etsy sellers, not to link to other Instagram influencer accounts who are reposting too! source @beagleworld
Hashtags
Jake will want to research hashtags that Etsy sellers use in their own listings (because he is trying to reach Etsy sellers, NOT get popular for keywords that are in the pictures). Here are a few to start but Jake should find ALL the different ones for handmade sellers, vintage, etc. #etsy #etsyshop #myshop #etsyseller #etsylove
Additional resource: Blog post :: Instagram Hashtags… Tips & Ideas For Creatives and Professionals
What To Write In The Description of His Special Posts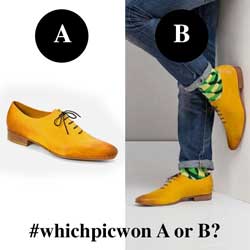 Okay, now we can do a wee bit of marketing! These "special posts" highlight the one thing that Whatify does best… test and see which product photos will get more views on Etsy.
In this kind of post Jake will want to be super fun and playful, NOT sell, sell, sell… BUT he needs to get customers too! So he can do something like this in the description…
Today we have two super colorful product pics from @arama_shoes. They wanted to see whether a "normal" product picture worked better than a stylized lifestyle picture to increase views of their product. They ran the test for a month and the answer was… (see answer below)
.
Put your guess in the comments A or B
.
.
No cheating…guess before you look!
.
.
.
A won! The plain picture got 22% more clicks than the stylized picture! Want this kind of data for your shop? Get a free trial of Whatify www.Whatify.com #whichpicwon #etsysellers #etsyseller #etsyshop
This description causes a few things to happen:
These posts will get more comments as people guess
We are directing people to the Whatify site to sign up
This is NOT a place to ask for pictures to share, this is a pure sales post!
How To Get Free Pictures
THIS is the beauty of the whole plan about creating a curated Instagram for business account. Using this one little tactic (after having done a crap ton of work first) will have Etsy sellers contacting Jake and asking him to help them!
I don't have a feature account like this, but I do know an account that does this AMAZINGLY well because I follow them and love all the pictures they post! ANTIQUE_R_US on Instagram is a combo account that posts great pictures of vintage items.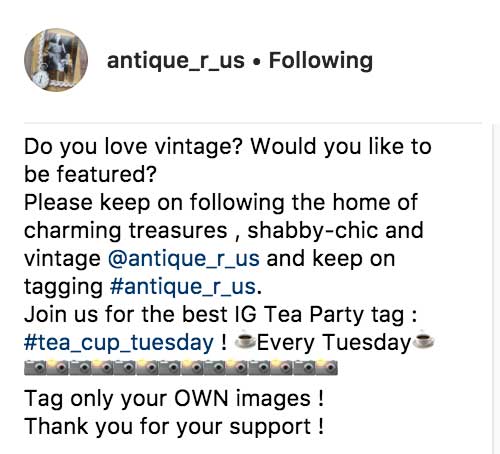 They are using the #antique_r_us to help find people who want to be featured on their Instagram feed. Functionally they don't even have to look for things to post!
That said, Jake wants to make relationships with Etsy sellers so I would definitely have the people email their pics in. This opens the door so Jake can ask if they would like to get on his mailing list, sign up for a free trial or even be a featured seller on his blog!
It is NOT an invitation to spam people who send their pics, but for Jake it could be a really great way to get Etsy sellers to contact him!
More Instagram For Business Help
Whew, that was a lot in one little post! And I am sure you have a ton of questions! Here are a few resources that you might want to check out…