If you have been blogging for any length of time, you probably have some posts that you know do well, year after year and are great for your traffic numbers. But if you are like me, you have some posts that you worked super hard to write, that you KNOW have great content that are not pulling in the numbers you would like to see.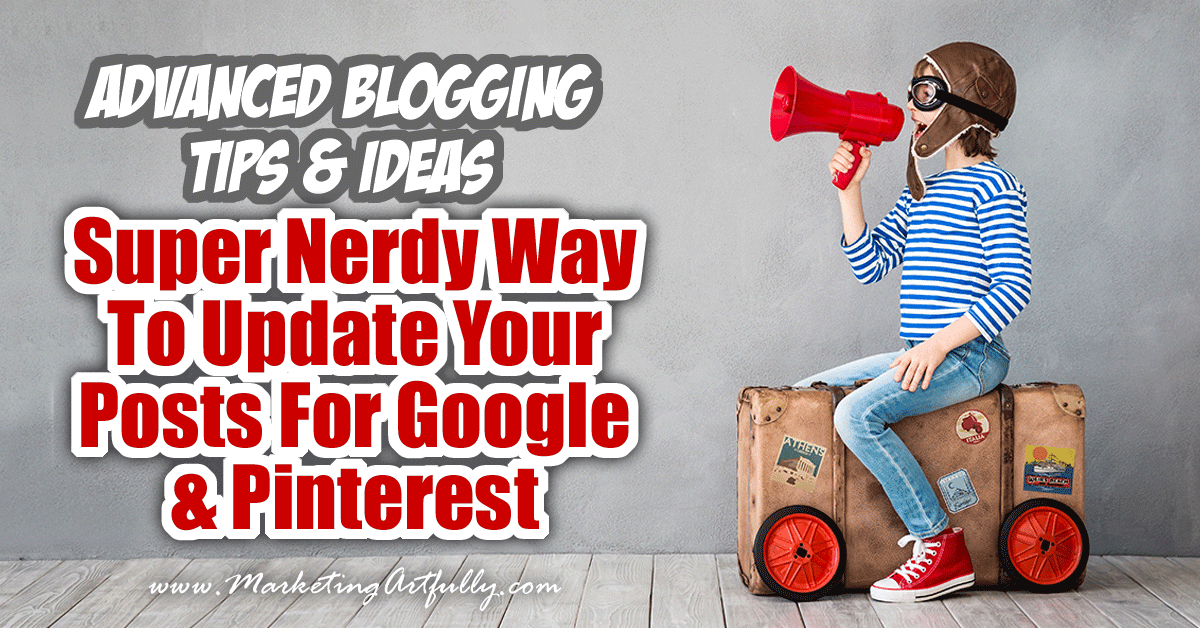 This post goes over how to find "sleeper" blog posts that you freshen up and update with a bit of content and new pictures to boost in the Google and Pinterest rankings. These tips and ideas will help you make the most of the content you took so long to make and which could be a shining star on your site with just a wee little help!
Okay Blog Posts That Are Only Semi-Popular On Pinterest or Google
So what kinds of blog posts am I talking about?
OK Social Shares
These are the ones that have "OK" shares on Pinterest (the one I picked to highlight had 23 shares on social media total when I started this process, not great).
Match My Current Products
I also like to focus on posts that match my current marketing focus. I just launched a real estate marketing membership site, so I was looking to refresh a post that I could turn into a little sales machine for my real estate agent funnel.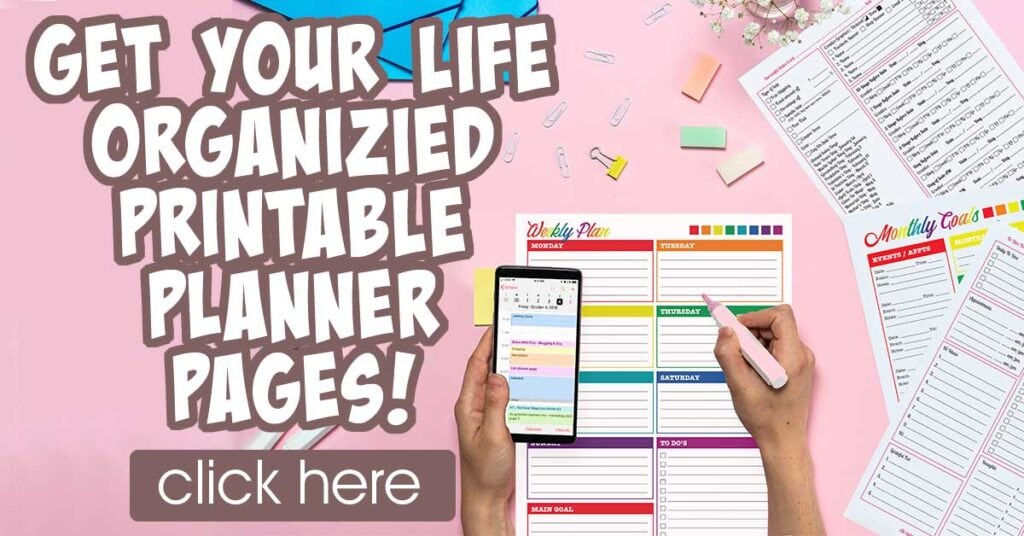 OK Clicks From Google
The post I picked also got some traffic from Google (296 views per month). I tend to swing through my top posts and see if there are any that have a fair amount of traffic.
I guess I am trying to say that I would not try to fix ones that have NO traffic or keyword rankings. I wouldn't delete them, but I would not spend anymore time on those. If I was trying to get a certain keyword to rank I would write a new post and link from the dud to the new post for a wee bit of Google juice.
Check On Google Search Console (the old Webmaster Tools)
Here is now to find an okay performing post… (I learned how to do this from the FABULOUS Neil Patel, How to Use Google Search Console to Drive 28% More Search Traffic)
1. Go to the Google Search Console
2. Click "Search Traffic" > "Search Analytics"
3. Click "Pages" – You will get a whole list of your pages and posts that are getting the most clicks from Google.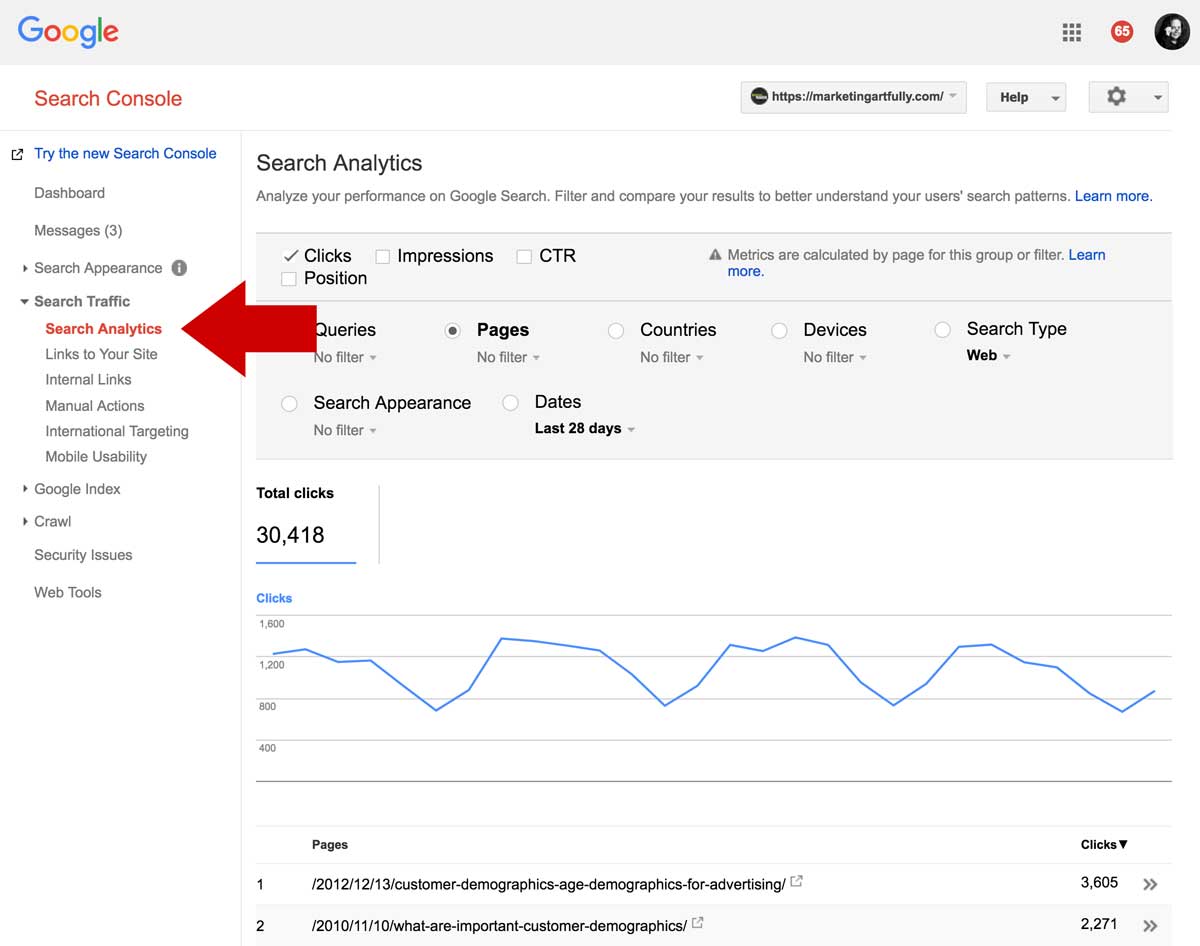 4. Click through to a post that you think could help your business. I picked the "Prospecting Luxury Home Buyers" post because it has a strong click through rate and is in position 25.1 in search. There are quite a few things that I can do increase this including adding relevant keywords to the post and pumping up the social media.

Once you click the post link, you can get data about the keywords that this post is ranking for… cool huh?
How To Update Your Post To Rank Better In Google Search
Now that I can see the queries that people are using, I can add these keywords to my subheadings and plump them up in my post content.

It is here that I will find out where I might have gone wrong with my verbiage or branding when I originally wrote the post.
"how to find luxury home buyers" does = "how to prospect for luxury home buyers" so that is okay, but what is really "sexy" in terms of drawing eyeballs to a graphic is…
"how to find million dollar home buyers"
Using data means that people have ACTUALLY searched for that term and doing some new graphics might help me grow the reach of this post!
This Blog Post Looks Okay… Sigh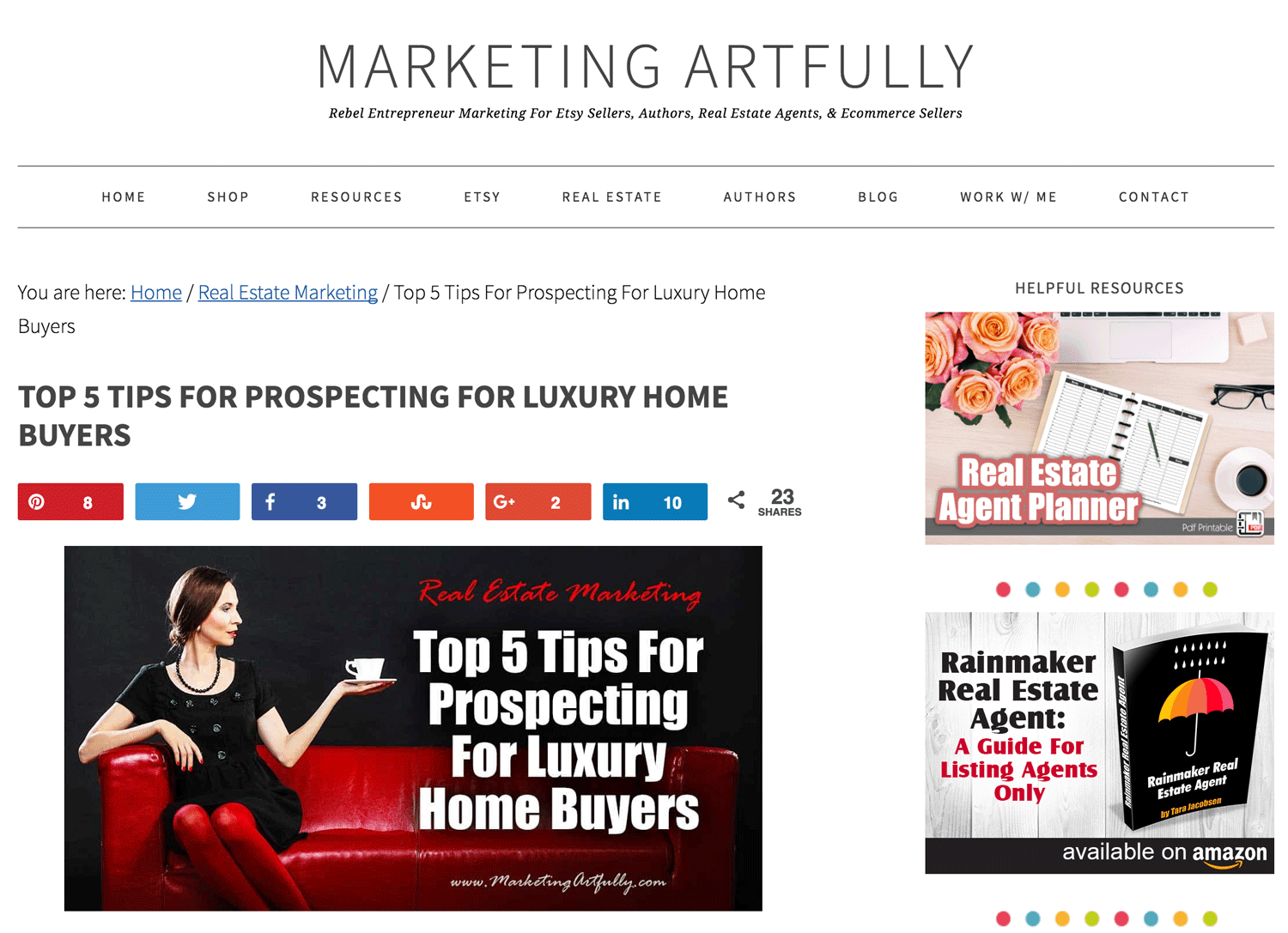 It is not setting the world on fire for visual social media purposes. It has just and Okay picture, okay keywords.
Updating The Image
I like the graphic contrast of the black and red image and it is great for the post, but obviously the words are not as sexy as I would like them to be and I could get even more Pinterest traffic if I make another image that helps feed into the post using the keywords we know people are searching for.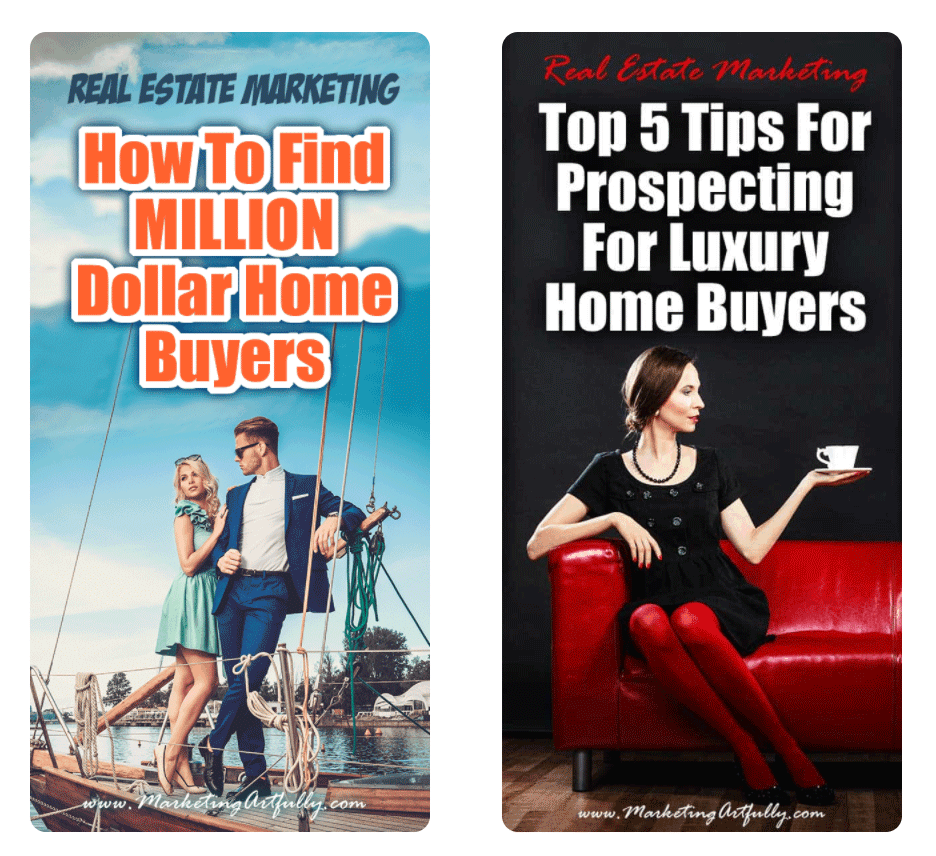 How To Promote Your Updates!
1. Resubmit to the Google Index through your webmaster tools (might make Google notice your changes a wee bit faster).
2. Update any new verbiage and add hashtags to your Pinterest pins (when I did this post originally Pinterest was frowning on hashtags).
3. Add this pin to your Social Media queue (I use MeetEdgar because they let you have a "library" of posts that go out automatically! #promo
4. Add it to your Tailwinds Tribes – I have found that the fastest way to get exposure for my Pinterest pins is to submit them to different "tribes" on Tailwind. (#promo)

The Updating Your Posts for Google & Pinterest Results
Slow and steady wins the race on this one! You will not see huge leaps all at once doing this method but a gradual creeping up of views and response.
Views went from 296 to 316 in a couple of weeks. That is heading in the right direction!
I have a few more pins on my new pin & my old pin. Sadly Pinterest rejected my fancy new pin for inclusion in their promoted pins program saying that it was inflammatory.
I will keep you up with how this is going in a few months when we have given changes a wee bit of time to work.
ADDITIONAL RESOURCES
More Advanced Blogging Marketing Articles https://marketingartfully.com/category/blogging/
Only The Best Free Stock Photos and Mockups Sites! https://marketingartfully.com/2017/04/19/free-stock-photos-sites/
Check out all my Pinterest Articles! https://marketingartfully.com/category/pinterest-marketing/
All my best worksheets & planners http://marketingartfullyshop.com
Get 100 Free Marketing Ideas http://100freemarketingideas.com