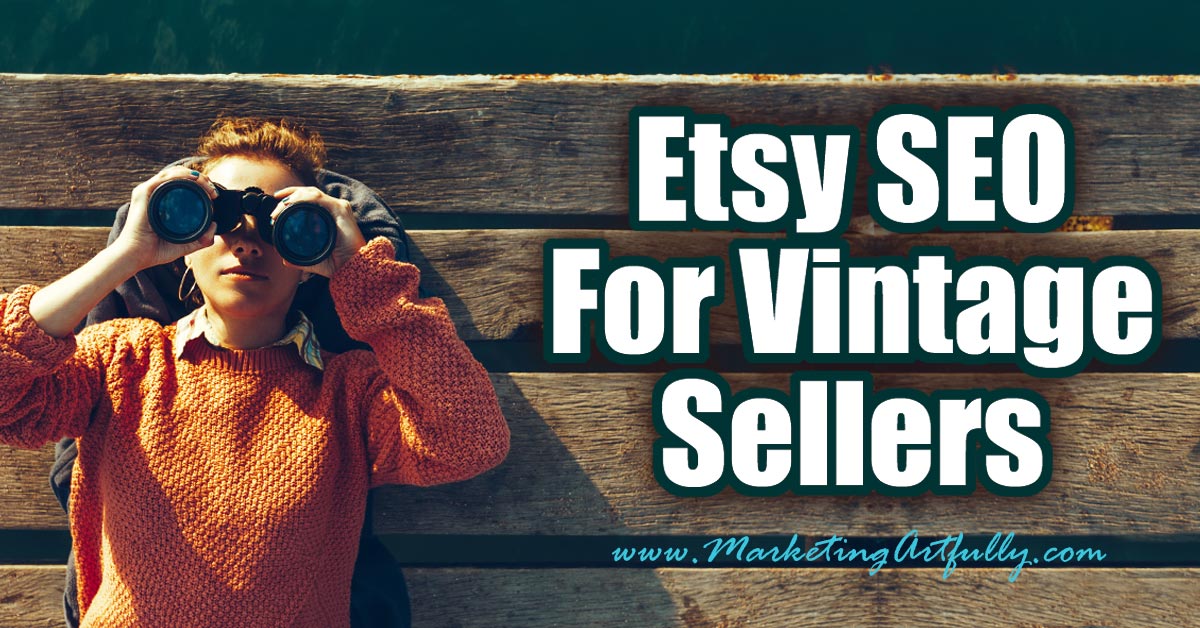 If you are selling vintage on Etsy I am sure you have noticed that many of the handy dandy tips, ideas and software products are made with a handmade seller focus. Selling vintage means one of kind, unique listings that may not fall into popular or standard keywords.
What Is Etsy SEO?
SEO (search engine optimization) for everyone means having titles, tags and now, maybe descriptions that match keywords that buyers are searching for. More keywords means more views, more views means more sales.
The trouble with selling vintage is that there are not as many buyers searching for our stuff as there are for say "stacking rings" or "handmade jewelry".
We are trying to optimize our listings so when that one perfect buyer comes along looking for an old, rusty hook with a piece of wood attached, they can find our listing (for reals, just sold that this week!)
How Do We Figure Out Keywords To Use To Sell Vintage?
In "real" SEO on Google we want to figure out great keywords with lots of views/searches that are not super competitive. You can use a variety of tools for this but I like the Google Keyword tool that is tucked away in Adwords.
In this example for "switch plate covers" and "light switch covers" we can very clearly see that picking "light switch covers" would be the winner as it has a higher search volume than the other option.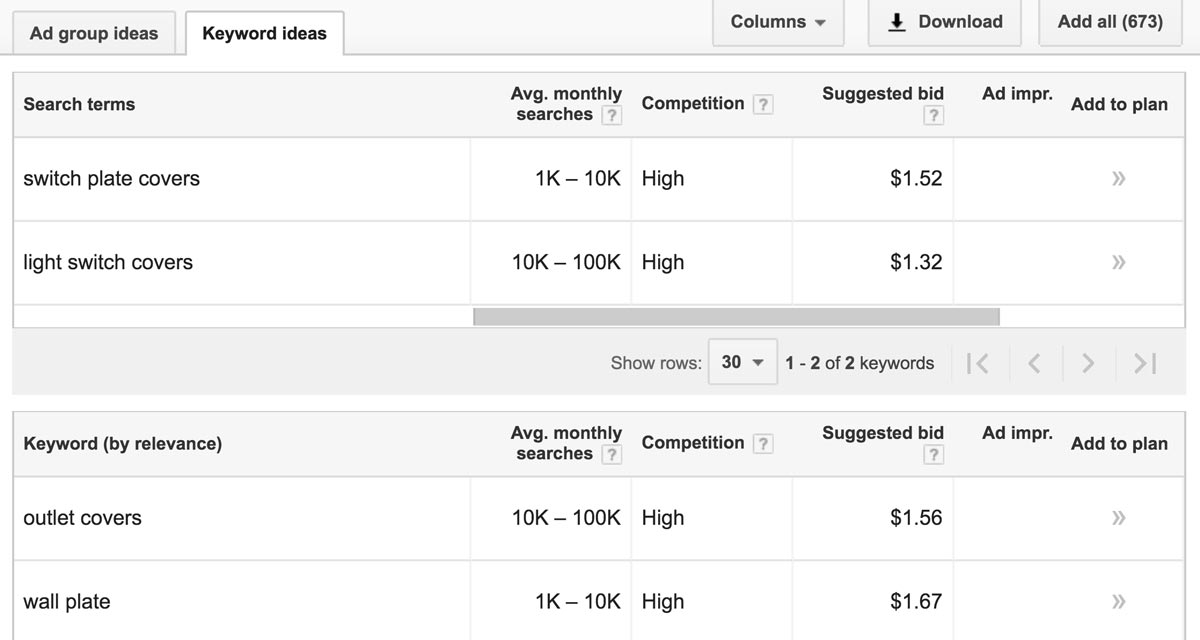 So easy peasy right? Go with that one?
But wait, there is more!
"switch plate covers" has 1,070,000 competing sites in Google and "light switch covers" has 1,630,000, so almost half again more. Sigh.
THIS is why SEO can be so confusing. There are no clear cut answers and generally we just need to do the best that we can to make sure we are optimizing our listings for highest quality words AND the best ones to help people find our products.
How Many Views Should We Shoot For Our Etsy Keywords?
When doing Etsy SEO it is tempting to think that we should try to find keywords that have super high views…right? Can't we just make our dorky old products fit into a modern, handmade world?
I tend to swing the other way. I want to have keywords that describe my products realistically in a way that vintage lovers will be able to find.
For example, here are the views for that rusty old hook that I talked about earlier. 4 visits in the 30 days before this piece sold. But because it was keyworded right, the person meant to have it found it!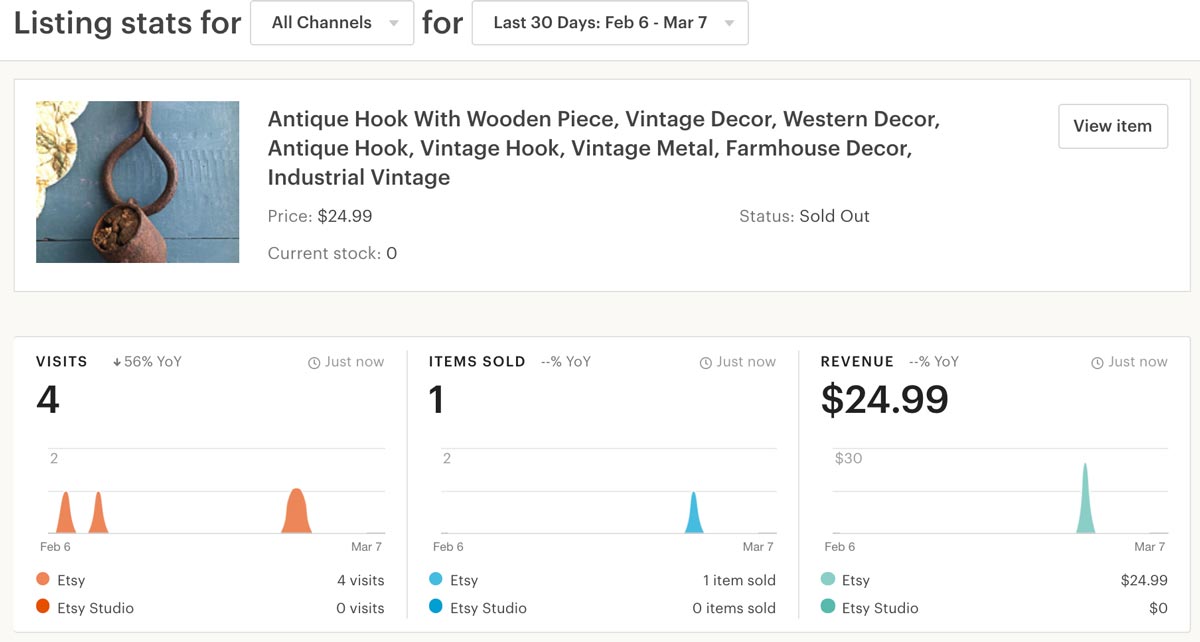 Here are the two, yup two, keywords that some magical creature used to find my item…

And there they are, "vintage hook" and "piece" combined with "industrial" for that second one. Now, I don't know which caused the sale, but I do know that this is a very clear indication that we need to have many different keywords in our titles and tags so we can attract the attention of buyers looking for something like ours.
Prop Tip: To find the stats like views and keywords on your sold items, go to the item and choose "stats". That is the easiest way to get to them!
What Are You Already Selling On Etsy And Are There Common Keywords?
So now, let's take a peek at my 10 last "normal" sales. I am going to omit things that are super weird so I can get an idea of the keywords people have used recently to find my sold products.
To do this I went to my shop and clicked my solds and then just opened up the last 10, omitting the ones that were weird or not representative of the kinds of things I normally sell. Then click stats.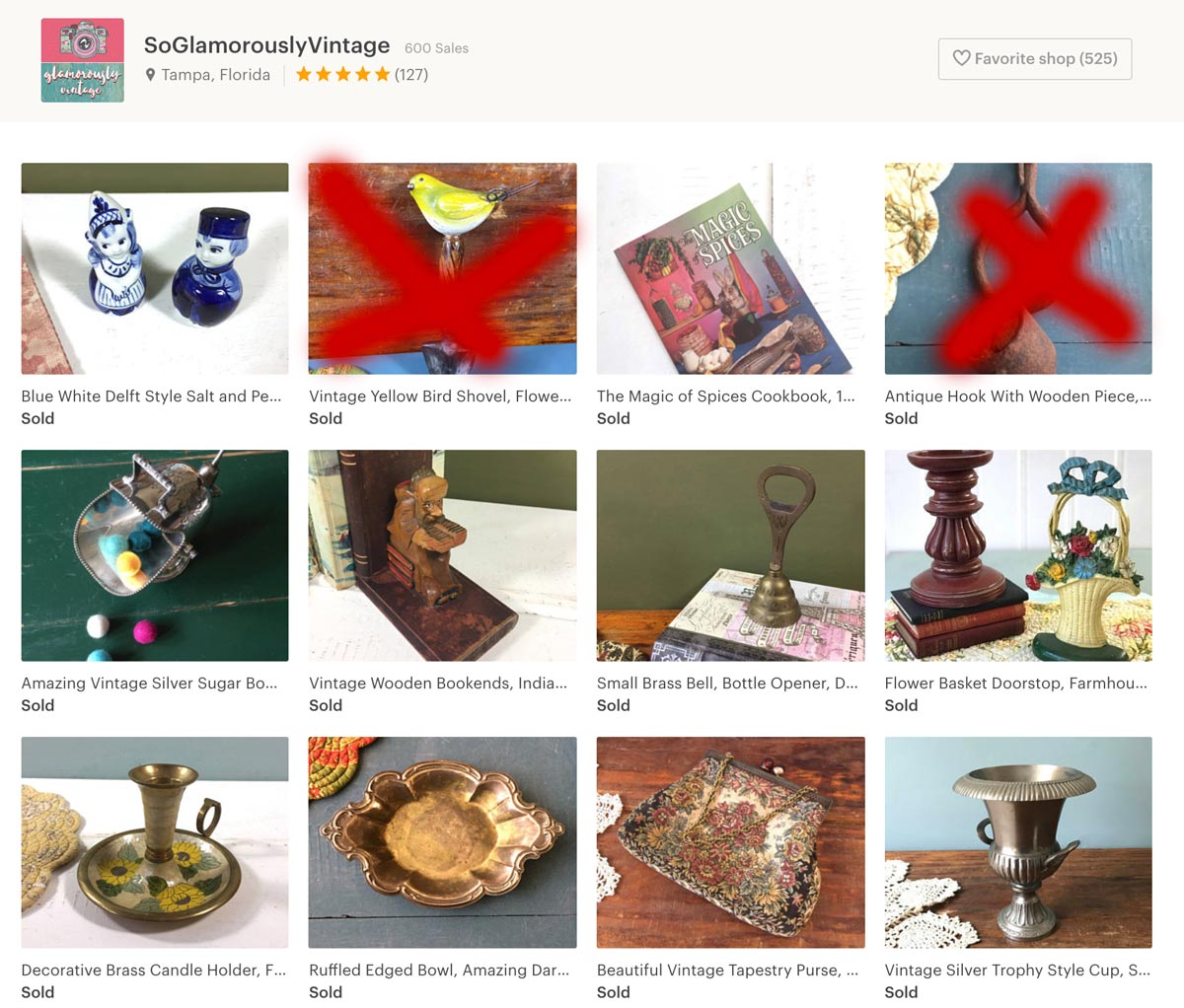 Here are the keywords people used (all are quantity 1 search)
[one-half-first]
delft blue salt and pepper shakers
delfts blue salt and pepper
delft shakers
old cookbooks
prill silver sugar scuttle
wedding silver
sugar scuttle
sugar bowl silver
carved book ends
book ends
no search (on the bell opener)
door stop
cast iron flower door stop
iron door stop
cast iron door stops
[/one-half-first]
[one-half]
doorstop with blue ribbon
hubley door stop
brass
sunflower decor
food photography props
tapestry bag vintage
tapestry purse
tapestry vintage bag
sac a main tapisserie
vintage evening bags
borse colorate
evening bag
vintage flower purse
beautiful tapestry
silver trophy cup silver trophy vase
[/one-half]
There are a mix of …
super specific "delfts blue salt and pepper" and "prill silver sugar scuttle" (super specific)
categories like "carved book ends" and "tapestry purse"
super broad like "brass" and "old cookbooks"
Functionally there is no way I could have figured out EXACTLY which keywords someone would use to search for my items (except for that "doorstop with blue ribbon" I really did think someone might do that search!)
Sourcing What To Sell In Your Vintage Etsy Store
I KNOW, this is supposed to be an Etsy SEO post, but let's take a second here and talk about how you can use this information to help with your sourcing.
Buy brand specific items. I believe at least two, if not three, of these items sold because the person was looking for as specific brand of the product. Now, this was not hard to figure out when listing because it was right there on the piece!
Source things you can buy AND that you can sell. I am super good at selling vintage silver plate items. I am not sure why, but somehow I have an "eye" for spotting interesting or unique pieces that people want to buy. Take a peek at your solds and figure out what you are good at selling and source more of those.
Look at the keywords that you have in the previous list. When you are shopping for inventory, see if you can focus on those kinds of items so that you can skip a bunch of the hassle of having to do all the keyword research from scratch, every single time.
How Etsy Search Works
Okay, now let's get down to brass tacks and talk about the mechanics of Etsy Search. First off, if you can nail a strong long tail keyword search phrase that has high volume you are golden (long tail meaning 2-3 words in a phrase).
You can find some of these by using the dropdown search in Etsy itself. Let's start with the big Kahuna, Vintage… something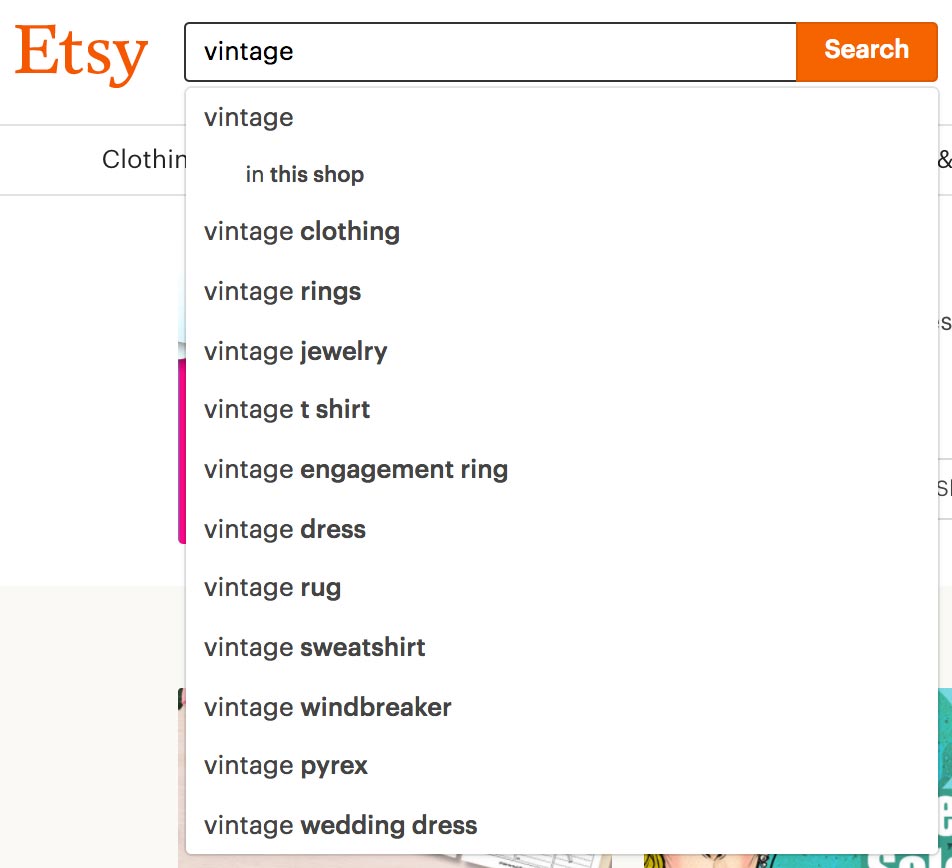 Now we know that we source things like "vintage clothing" or "vintage rings"… not to worry decor people, more for you later!
So I am going to start with the idea that we are trying to do a listing for "vintage rings" which has 395,484 competing listings for that term. I KNOW, we could do just "rings" and then use the vintage attribute, but work with me here!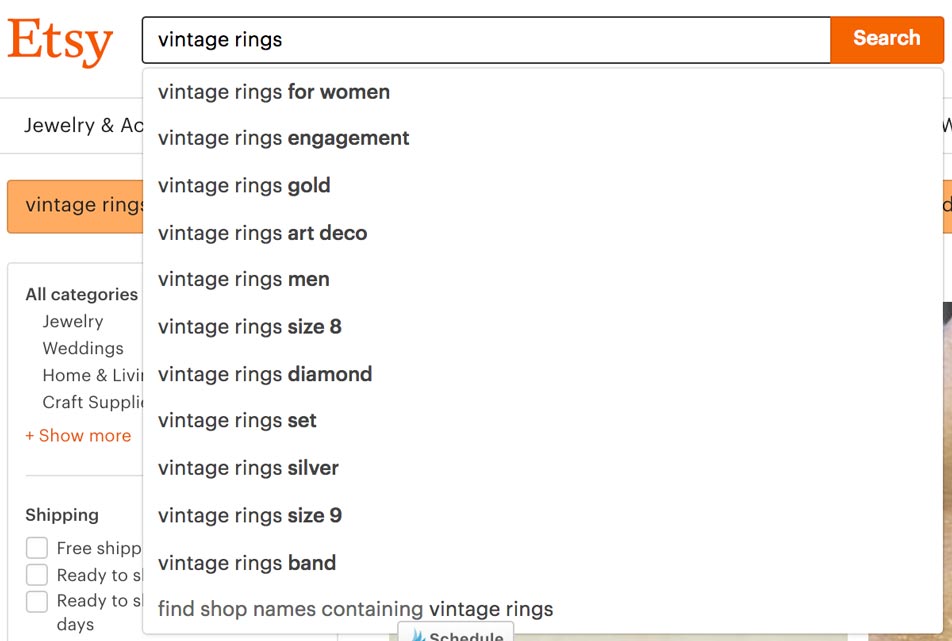 Now we have some ideas… let's think about this AND look at the top level categories that are hiding behind that dropdown which include…

Let's look at four of these if we are thinking that we have a beautiful vintage, gold and diamond ring we are trying to list…
vintage rings for women – 73,736 competing listings
vintage rings diamond – 73,654 competing listings
vintage rings engagement – 54,806 competing listings
vintage rings art deco – 29,402 competing listings
What we can see from this is that generic terms have more competition and the harder we drill down to the type or style the less competition. But what about searches? How many people are actually searching on Etsy for these items?
I use a tool called Marmalead to figure this out! (#promo)

Okay, according to this there are 200-300 searches per month for "vintage rings for women" and 100 per month for "vintage rings engagement" and "vintage rings art deco". Well that seems to suck, but let's really think about this. Does anyone say "vintage rings diamond" or would they really say "vintage diamond rings"… doh!

Doing this super quick search we can see that the terms we would use in our listing as "Vintage Diamond Ring", "Vintage Engagement Rings" and "Vintage Rings For Women" with the first two being our primary and secondary main keywords.
We could then use descriptive words to round out our Title looking something like this…
Vintage Diamond Ring, Engagement Rings, Art Deco Gold, Oval 2 Ct Size 8, Gifts for Women Wedding Bride Solitaire Jewelry Band Unique Bridal
I have heard recently some Etsy SEO "gurus" proposing that you should limit your title to just a few words and thinking that this will suffice to be found in search. As we can see from my examples of real searches above, Etsy is actually pulling pieces and parts of the title and tags to help people find our products. I honestly don't care if my title looks spammy, no one reads it anyways!
Additionally I don't want to repeat words if possible as that will only help maybe a wee bit in my rankings but not having room for additional keywords will kill me if I miss something that actual buyers are looking for!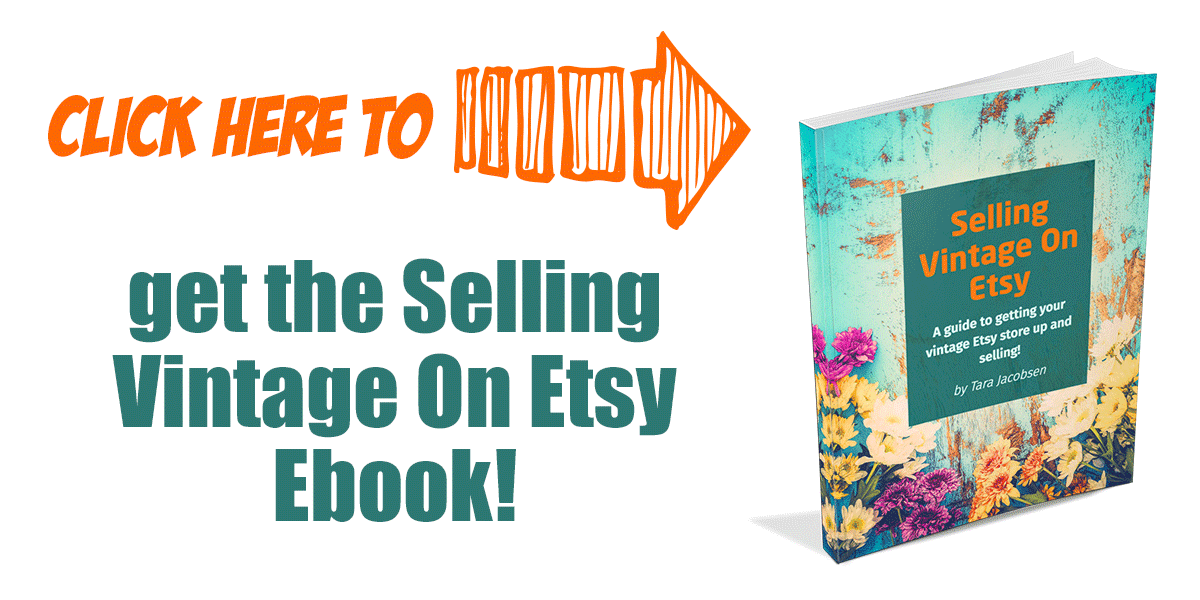 How To Do Your Tags
This may be the most confusing part of the process for vintage sellers (heck, for all sellers). My beloved Marmalead talks about having the "exact" order of the titles words and the tags and there is validity in that, but it also leads people to limit the number of words they are using in their tags. I cram as many words into my tags as possible to reach even more buyers!
Here are the tags that I used in the vintage basket doorstop…

Home & Living and Home Decor are the category tags generated by what I selected in the listing, the rest area combination of pasting the title into the tag field and hitting submit and just adding words that I thought would help with SEO.
Here is the title: Flower Basket Doorstop, Farmhouse Doorstopper, Rustic Doorstop, Decorative Doorstop, Kitchen Door Stops, Blue Ribbon, Cast Iron Hubley
And here are the keywords that were searched…
door stop (no where, I have "doorstop" and "door stops" but not just door stop…doh)
cast iron flower door stop ("cast iron" title and tags, "flower doorstop" not exact but I guess close enough tags exactly)
iron door stop ("iron door stop" not in that order, but in the tag and the titles words)
cast iron door stops ("cast iron" and "door stops" in both)
doorstop with blue ribbon ("doorstop" in both and "blue ribbon" only in the title…I took it out of the tags because I thought, "who the heck would ever search for blue ribbon")
hubley door stop ("hubley" is the brand name and is in the title and tags, "door stop" is no where)
What the heck, shouldn't there have been one keyword that ruled them all? Isn't that the goal of doing SEO? To find the exact keyword that people are searching for and trying to rank for that?
If you can get that out of your head you will start having much more fun with SEO! Yes, it is great to try and rank for a specific keyword, but here is a fun fact that you might not know…
15% of the searches done each day on Google have never been searched that way before
What the what? How could that be? There have been BILLIONS of searches done on Google and every day that many are brand new? Yep!
So our goal with SEO, especially doing weird, quirky, vintage SEO is to find as many different things that people might be searching for in our listings and then adding them to our products.
Step By Step Vintage Etsy SEO
I thought this might be helpful to you! Here are the step-by-step tasks to do when SEO'ing your vintage listing.
1. Look at it and think to yourself, what is this factually?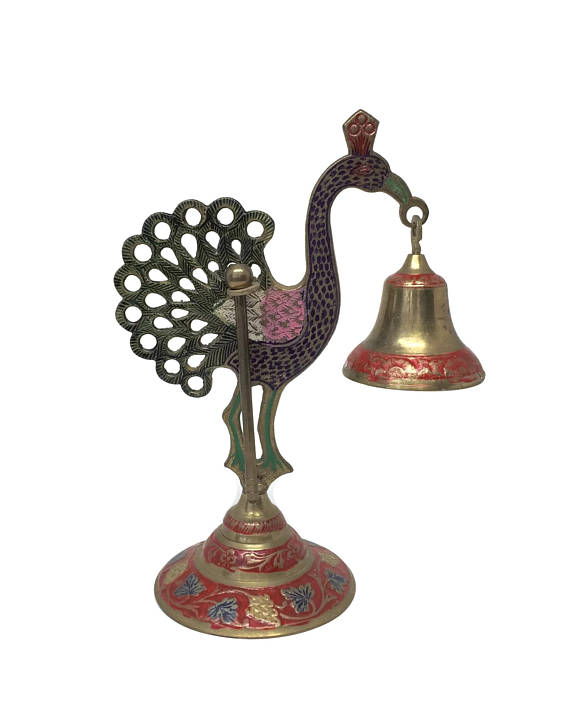 This little beauty from Viva Terra Vintage is a great example of the kinds of things that we, as vintage sellers, find and list!
Now Tracey is a great SEO-er and researcher so if you click the bird bell you can check out what her real listing looks like, but for now, we are on step one, what is this thing factually?
I think it is first a brass peacock bell.
Now this is where it is easy to get freaked out as there probably is not a lot of data out there about what keywords people would use when searching for something like this.
2. Think about the adjectives you would use to describe it.
I can think of unique, red, pink and cream, maybe ornate.
3. What are some synonyms you could use?
A peacock is a bird and it has a little handle to hit it with so maybe gong?
Next I would maybe head on over to Ebay where they have weird stuff too! I did NOT find a bell like this for sale but did find a couple of new keywords to think about in the titles of the products listed under "brass peacock bell"… rare and temple.
4. Ask some friends
I know for a fact that Tracey asked in a couple of groups about this piece and found that it is probably a yoga bell, which opened up meditation, Asian and Zen.
5. Research Your Keywords
If you are using Marmalead, now you can start digging into some data and find out what other keywords you should use based on data (if you aren't Marmalead user you can do searches on Etsy for these terms and look at current listings to what the sellers are using!)

As you can see here, there are the most searches for "meditation bell" so that would be my primary keyword with "yoga gong" as my secondary main keyword. (I KNOW, there are not a huge number of searches for this type of item, not anyone's fault, we are just trying to do the best we can to SEO our items to the best of our ability!)
6. Fill Out Your Worksheet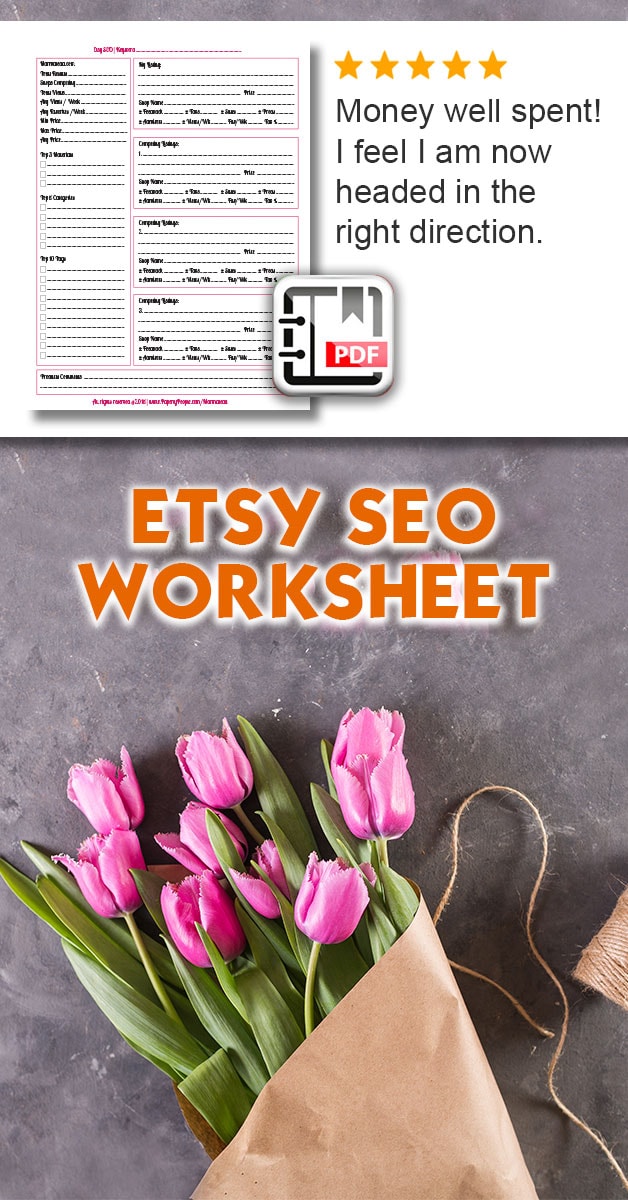 Having been a "real" SEO for a very long time, I have found I do best when I have a little worksheet to fill out as do this kind of research! This is a handy dandy form that walks you through all the steps that I have been talking about, including picking your primary keywords, checking competition and filling in all those extra words for your titles and tags.
Nice things they say…
A fabulous way to keep listing organized; something I've been struggling with for a while… Jill J (Etsy Seller)
With scads of 5 Star Reviews, this worksheet has helped so many Etsy sellers get their Etsy SEO working!
Before you ask, YES! It has been updated with 2018 SEO changes and there are lifetime updates so if things change in the future I will keep it up to date!
A Few More Etsy Vintage SEO Examples
Some of the gals in my Etsy Marketing Facebook group were gracious enough to let me use their stores as examples! So here are a few more quick examples to get your wheels turning!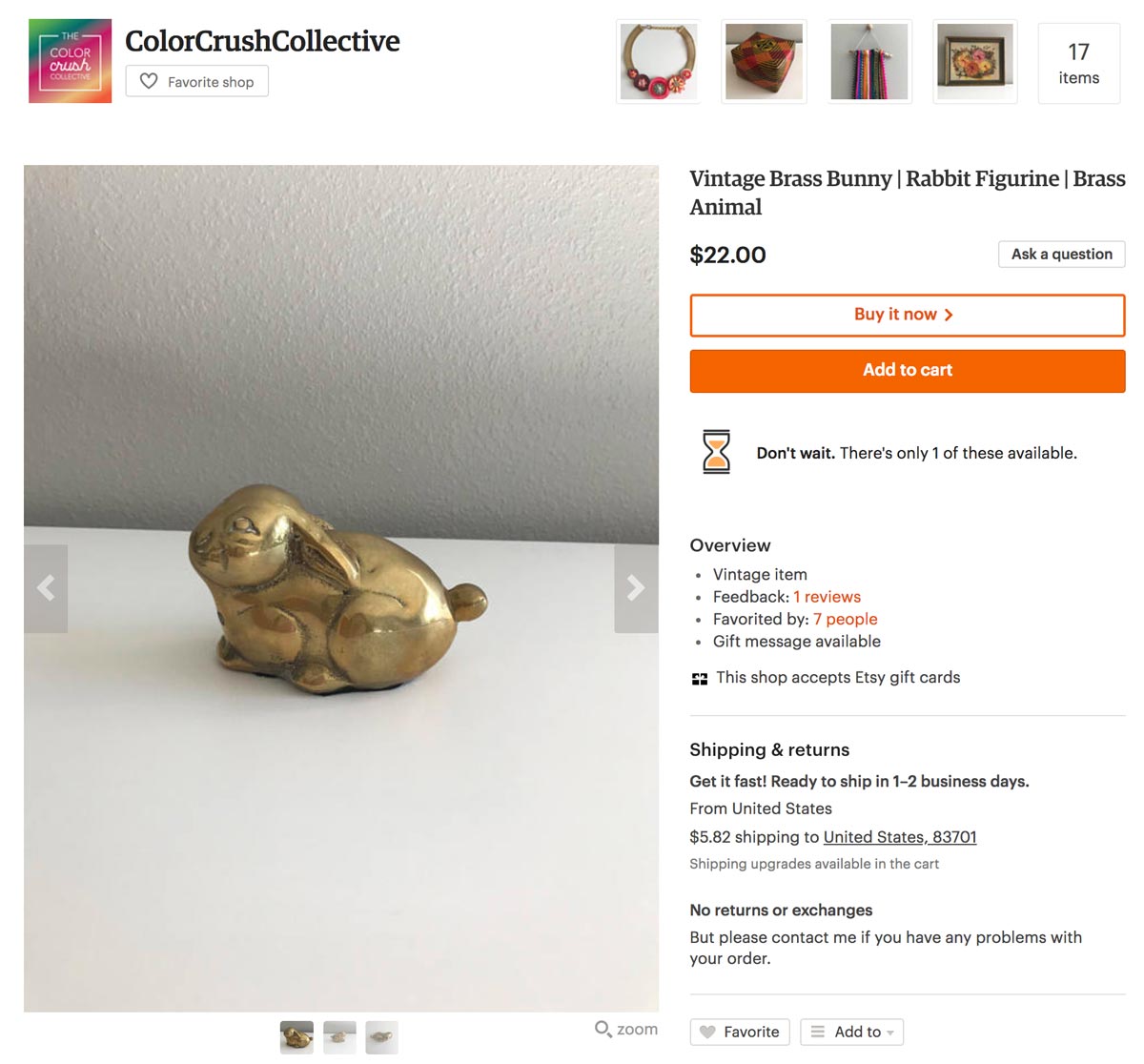 Here we have a cute little bunny that Andrea of ColorCrushCollective has listed. She has hit some of the main points, yes it is a brass bunny rabbit, could be an animal and is a figurine. I KNOW, it is easy to get here and think, what the hell else can I say about a little rabbit statue?
Here are a few questions to ask yourself…
Who? Who would like this? Gift for Bunny Lovers
Where? Where would this go? Nursery or Garden
When? When is it used? Easter Bunny
What? Collectible Statue, Gold Rabbit, Paperweight
Adjectives? Small, Tiny, Little, Cute
Now to be fair, she has way more words in her tags that could help in search…

But don't forget, Google search can't see your tags so you want to SEO your listings for Etsy AND Google!
And she could add "vintage retro old" to her "retro" tag, "easter bunny gold" to her "easter" tag. Use all the space you have there in your tags! For example, I was found for my cookbook that sold because I had a "vintage retro old" tag at the bottom of the cookbook listings. You can't get found if you don't have the words in there!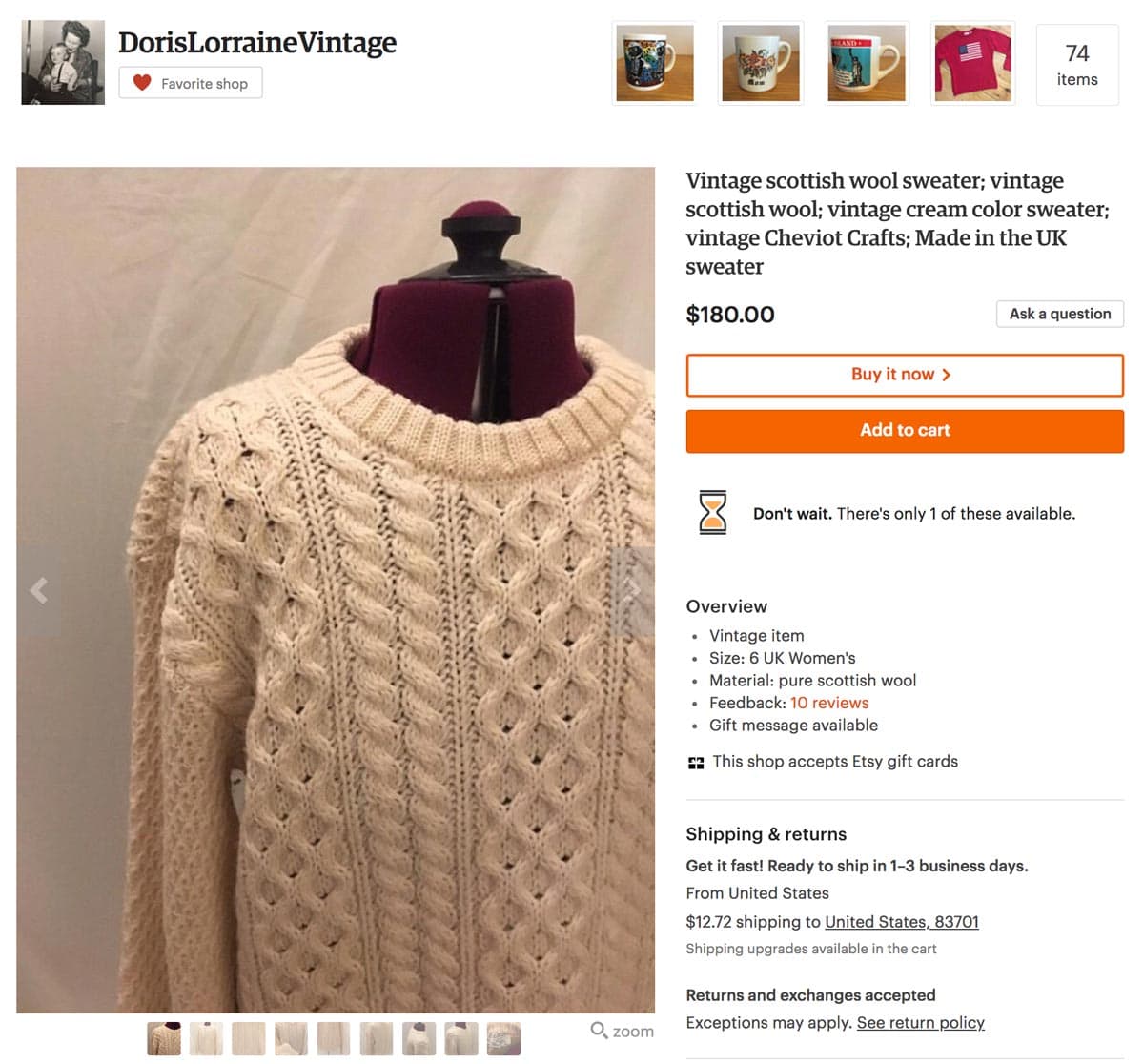 Alrighty then, Emma of DorisLorraineVintage used a lot more keywords, but she duplicated them a bunch. There are 3 vintages, two wools, two sweater and lots of filler words. Let's do this!
Who? Mens or Womens
What? Size, cable knit or that pattern, long sleeved, crewneck
When? Winter
Adjectives? Heavy, pretty, traditional
Some great other terms in her tags

Let's rewrite her title to incorporate all the words!
Vintage Pure Wool Sweater, Ivory Cream, Medium Womens, Pullover Cable Knit, Crew Neck Long Sleeved, Cheviot Crafts, Scottish Moffat Scotland
Now, that might be cable knit or having Made In UK may matter more than I think, but we want to make sure to get as many different search words in there as we can!
Etsy SEO For Vintage Etsy Sellers Wrapup
Well there you go! At the very least I hope that I helped you to think a wee bit differently about how you are doing your SEO. I KNOW it is harder to find high ranking keywords for our weird vintage pieces, but we need to do everything we can do to help people find our listings!
ADDITIONAL RESOURCES FOR ETSY SELLERS