Tips and ideas for how to make money by doing things the easy way, taking on less and making more. Solid inspiration for super busy entrepreneurs who are making themselves crazy!
please note :: I often recommend resources, some I receive an affiliate commission for at no additional cost to you! check out my policies here
I was talking with a friend yesterday who struggles with getting traction in her business. She has tried a bunch of different ideas over the years and is a super hard worker, but somehow it hard for her to make money on her projects.
I have another gal who has loads of ideas, makes some money, but always feels like she is not doing the "right" thing at the "right" time.
So today we are going to talk about how to make more money, by doing less and loving what you do more!
Why Aren't You Making Money?
Having talked to hundreds of entrepreneurs over the years I can say for sure that there are some concrete reasons peeps struggle with making money….
Doing "Stuff", But Without A Focus
This is what kept me stuck for quite a while. I am super dedicated to working (that good Midwestern Pennsylvania work ethic) but I didn't have a plan.
Was I trying to get blog readers, new clients, sell products, do affiliate marketing, what the heck was the point of all that "stuff"?
To Do: Write down all the "stuff" that you are doing, every little thing. Then see if all of it is in service of the way you are trying to make money right now!
Additional Resource: Income Planning Worksheet – Finally Focus!
Redoing Old Things Because of Comfort
Another big problem was that I was super good at getting clients (to this day I get 5-10 leads a week asking about my services, I don't have any services!)
Once I switched over to JUST blogging, I had to fight constantly not to fall back into the the things I was good at and learn new systems and tactics that would get me new results.
To do this I started stalking the food bloggers! Those girls are dedicated to getting lots of traffic and making money online so I started doing what they did!
To Do: Figure out a group of people who are making money the way that you want to and study how they are doing it!
Additional Resource: Everything Sucks The First Time You Try It!
Not Considering What Is Sellable
Ohhhhh, this one sucks! A lot of times we think of a product that we want to sell, we KNOW that it will help our peeps and we pour our heart and soul into it. But then they don't want it (no sales!)
Or we find a great affiliate product or service or MLM or offer a service and no one buys… sigh.
You should be focusing on what you market is telling you they want! They will email you questions, ask questions on your Facebook page, ask you questions in person.
To Do: Start noting down what people think you have answers to!
Not Knowing EXACTLY What You Are Selling
This one is hard. Many times I talk to small business owners and they are all over the place.
Either they have no idea what they are selling, they just have a concept and nothing concrete to buy OR they are selling so many different things that it is impossible to figure out what they are trying to sell!
In the "real world" this happens a lot… restaurants close because they are Mexican Jamaican fusion instead of selling one or the other. Your favorite furniture store starts selling facial creams and it is confusing.
Think of McDonalds, what do they sell? Harley Davidson, Apple, John Deere. All of these have clear product lines and customers that love them!
To Do: Write down what you sell or how you make money in one sentence or less.
Here is mine… I write high traffic blog posts that help people with a problem and offer them solutions in the form of affiliate products, an online course or in person training.
You Aren't Comfortable Asking People To Pay You Money
Whoa, this is a tough one! If you struggle with this, you will feel "BAD" every time to try to sell anything to anyone.
The only way that I have found to get around this personally is to FULLY BELIEVE in everything that I recommend to my peeps. I don't take money for promoting things I haven't tried personally and ONLY recommend things that I 100% support.
If you KNOW what you are selling to your peeps is going to help them with a problem, you have a responsibility to them to let them know about it!
To Do: Look at what you are selling, do you believe in it 100%? If not, stop selling it. If so, you have to tell everyone you know how much it can help them!
Being Busy Rather Than Making Money!
This one is hard too… you may be busy as a one armed paper hanger, but are still not making money… sigh.
That means what you are doing is not profitable and you need to inspect everything and see where it is going wrong!
AND you need to stop doing new things until you have analyzed all the current things you are doing!
For example, years ago my marketing besty and I were writing a book a week for 6 months. It was a concrete plan, we were executing and it was making money.
Much in the manner of "ask and you shall receive", as soon as we hit publish on our first real book on Amazon (we had done ebooks and giveaways prior to this) we got a really exciting offer. A BOOK DEAL from a genuine publisher! The cool thing was that it was not a book we would write spontaneously ourselves!
But the problem was, it wasn't our expertise so it would take a long time to write AND it was going to take a LONG time to make any money doing it… we turned it down!
For me, it was totally a time management and benefits analysis problem, with a little bit of woo-woo thrown in…as in the universe kept sending me messages that getting derailed off of our primary goals could be a bad thing.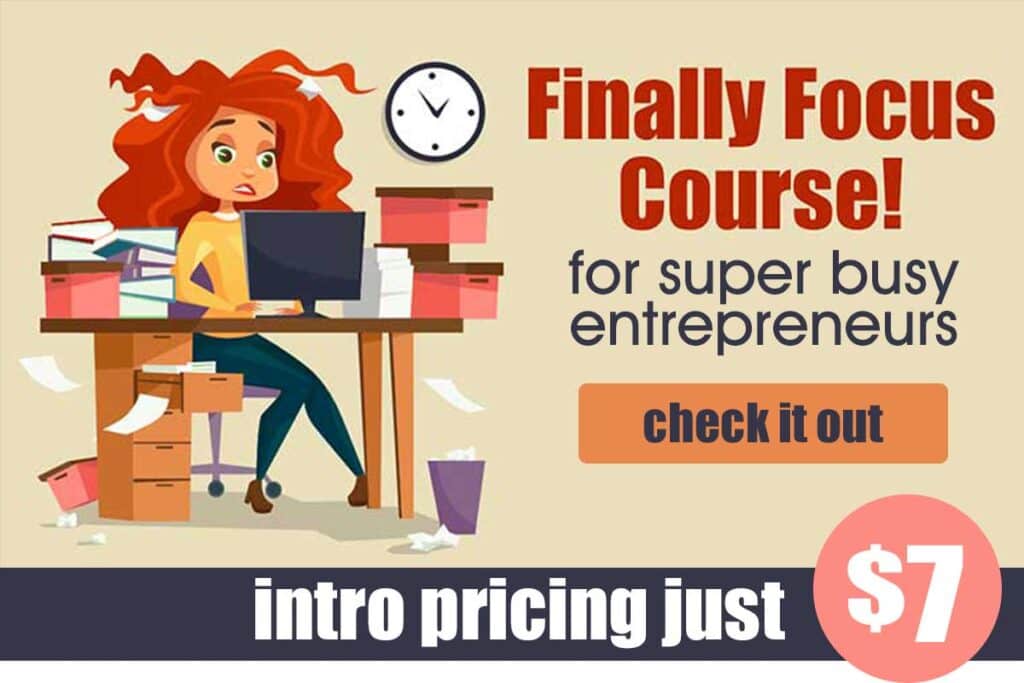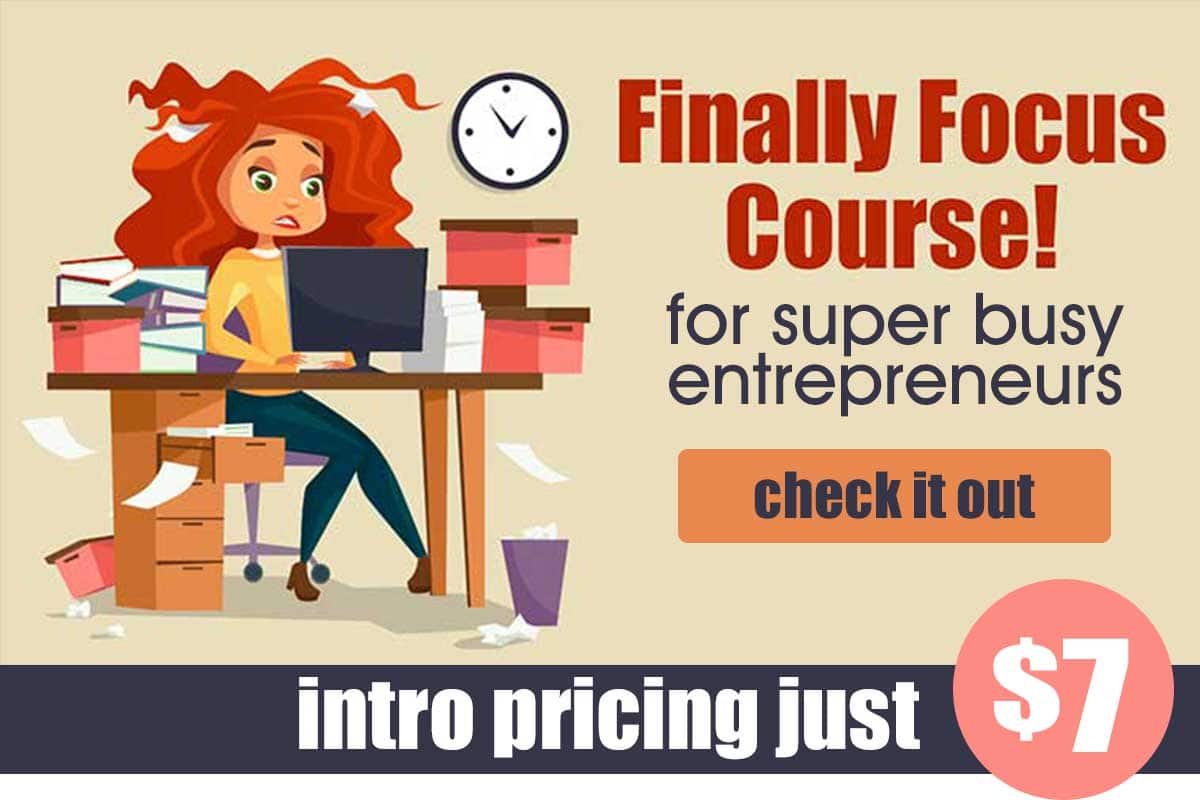 Turning Down "Great Opportunities" To Make Money
Okay that is all about you, but what about when you get other "great opportunities" that might derail your best laid plans?
1. Have ROCK SOLID, TAKE NO PRISONER goals for your business and hold every opportunity up against them to see if it will be a good fit
For example, I made a Shopify store so I could sell my products outside of Etsy. But I am not good at maintaining a storefront, doing customer service, sending sales emails or following up. I have found that having Etsy to do all that for me is WAY better since I like blogging, not customer service!
I lost a lot of money in sales while I was dinking around trying to figure that one out!
2. Be willing to take the time UP FRONT to find out everything you can
I had a gal email me and ask if I would do a video review for a blogger I really love. She picked me because I had already reviewed him in writing and offered $50 to make a video too…. EASY MONEY for me! It takes me like 5 minutes to make a video!
Then she said I had to submit a script, have it reviewed, and block out the parts of the video… wait, what? That would take WAY longer than $50 is worth, so that went on the no pile too!
3. Know your limitations
We COULD have written the book the publisher told us about, but it would have taken up huge amounts of our work cycles weekly that might be better spent elsewhere.
There is only so much time each day, week and month. Doing things that are not in your area of expertise waste your valuable time (and money!)
4. Walk away if you get are wasting time!
This happened when I applied to write for the Social Media Examiner and they accepted me! YAY! Then they proceeded to turn down about 20 titles I suggested that I would be good at writing about…BOO. Then they finally picked one! YAY!
Then we commenced a month long back and forth of me submitting my writing and them rejecting it because it had words and strategy instead of bullet point to dos.
In the time it took to go back and forth and back and forth I could have written 10 posts for my own blog!
5. Avoid Doing "One Offs"
I have always called things outside the scope of what I do a "one off" which is a term from the manufacturing world. A one off is something that is outside the scope of what your usual product line is. Running an ecommerce store was WAY one off from my lovely blogging life!
Your one off might be a new product opportunity, or making (another) new website, or partnering with a new brand. Everything that takes you away from the time you spend on your business in completely different direction costs you money!
(want more? read all about one-offs here)
Making Money Without Being So Busy Wrapup
I have been focusing on my blogging business now for a few years, and I have to say that I am working less, doing what I love and making more money than I ever have!
And that is what I want for you! More free time outside your business, not falling into the busy trap and that incredibly powerful feeling that comes from knowing EXACTLY what you should be doing each day that will make you money!
You can STOP feeling so stressed about your time and money! You don't have to feel so busy all the time!
Just know that this a baby steps kind of thing! Every day do something deliberate to move your business towards making money AND towards doing what you love!