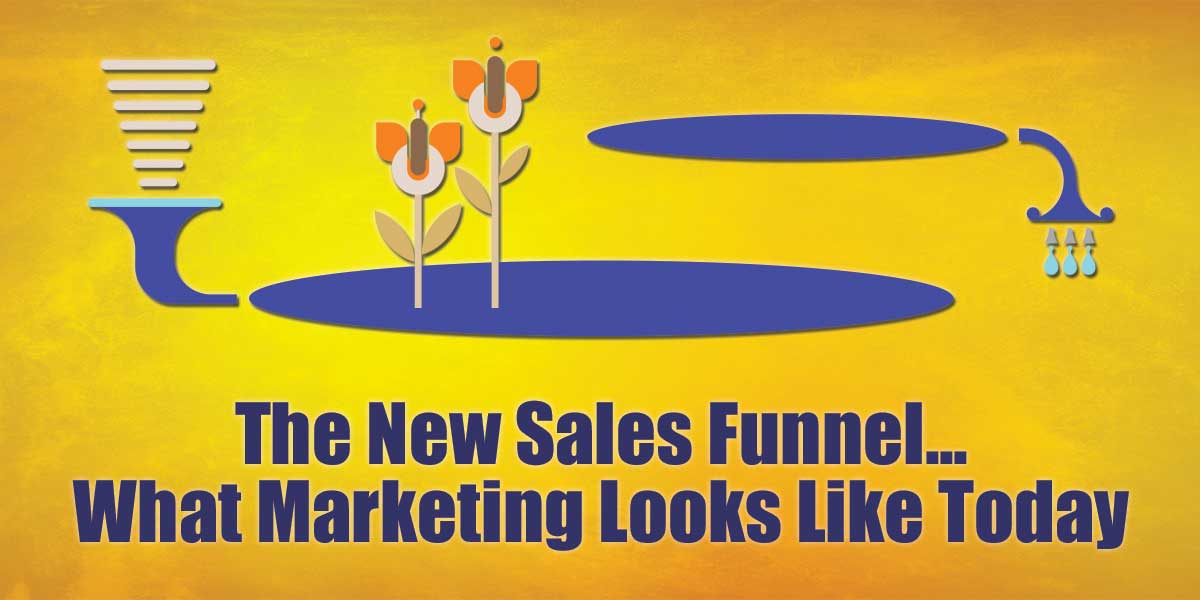 If you are in business you probably have seen a sales funnel before. It is the wide-at-the-top, skinny-at-the-bottom chute that you are supposed to run people through to get them to buy. But today's post is about a little different sales funnel system.
This sales funnel is really tall and has many more step than a normal funnel does. This is because the old model is broken and we will look at ways we can fix it today.
The Old School Sales Funnel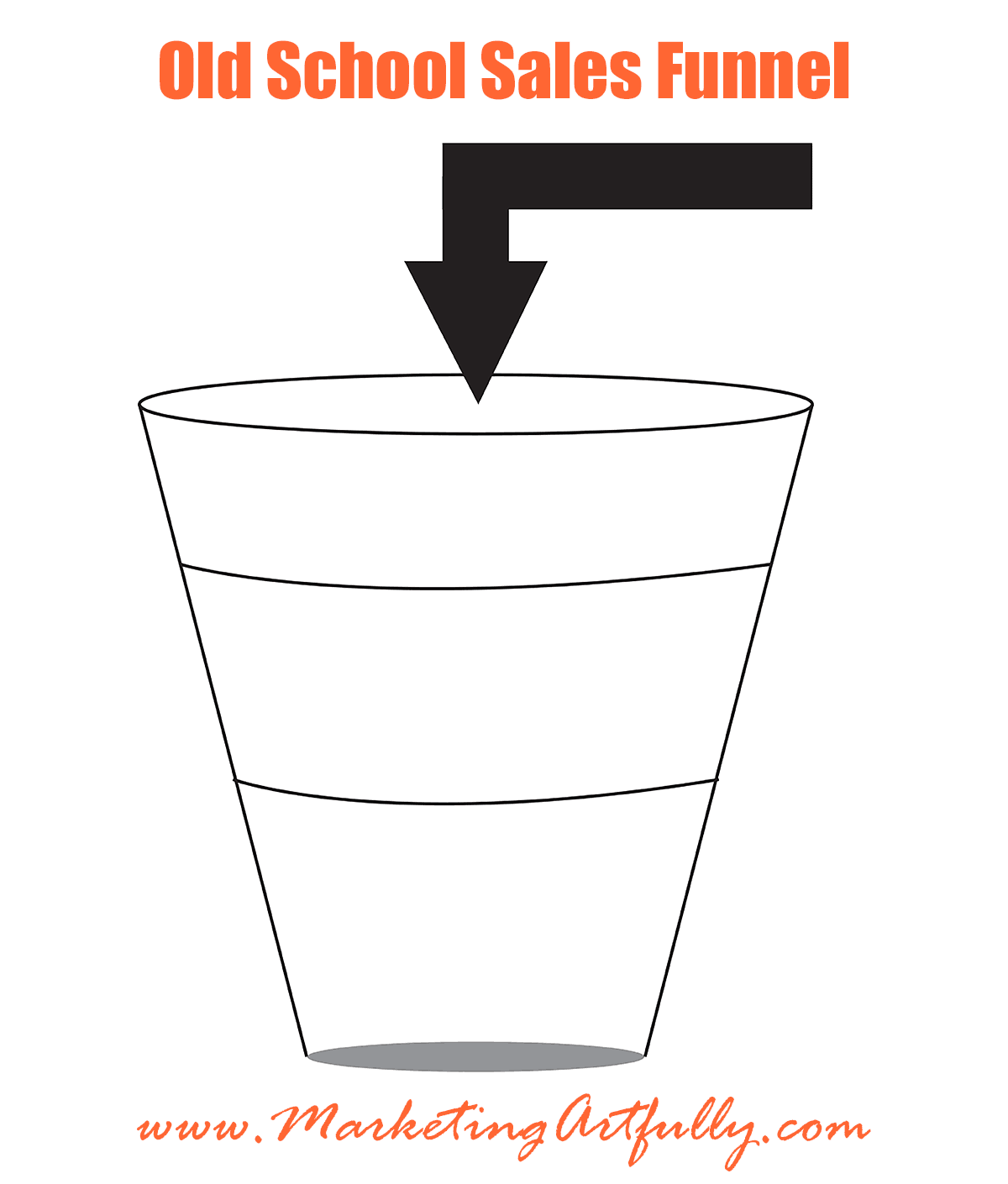 So this is an old school sales funnel that I have used for years when working with my "peeps" on their businesses and for a beginning business, or just to get the concept, it might be totally fine. But out here on the internet were I work it is a little bit different. More steps and not such a straight line for everyone.
Just so we are all starting on the same page, an old school sales funnel has the arrow at the top that is something like a free offer that puts people into your funnel. The next step is to sell them a $7 item, next $97 and finally your big ticket item at the bottom.
Conventional thinking is that if you get them to say yes to the little parts, they will be more willing to spend more money down the back end.
Today's Sales Funnel
So today's sales funnel looks more like something Willy Wonka would build than a solid business tool.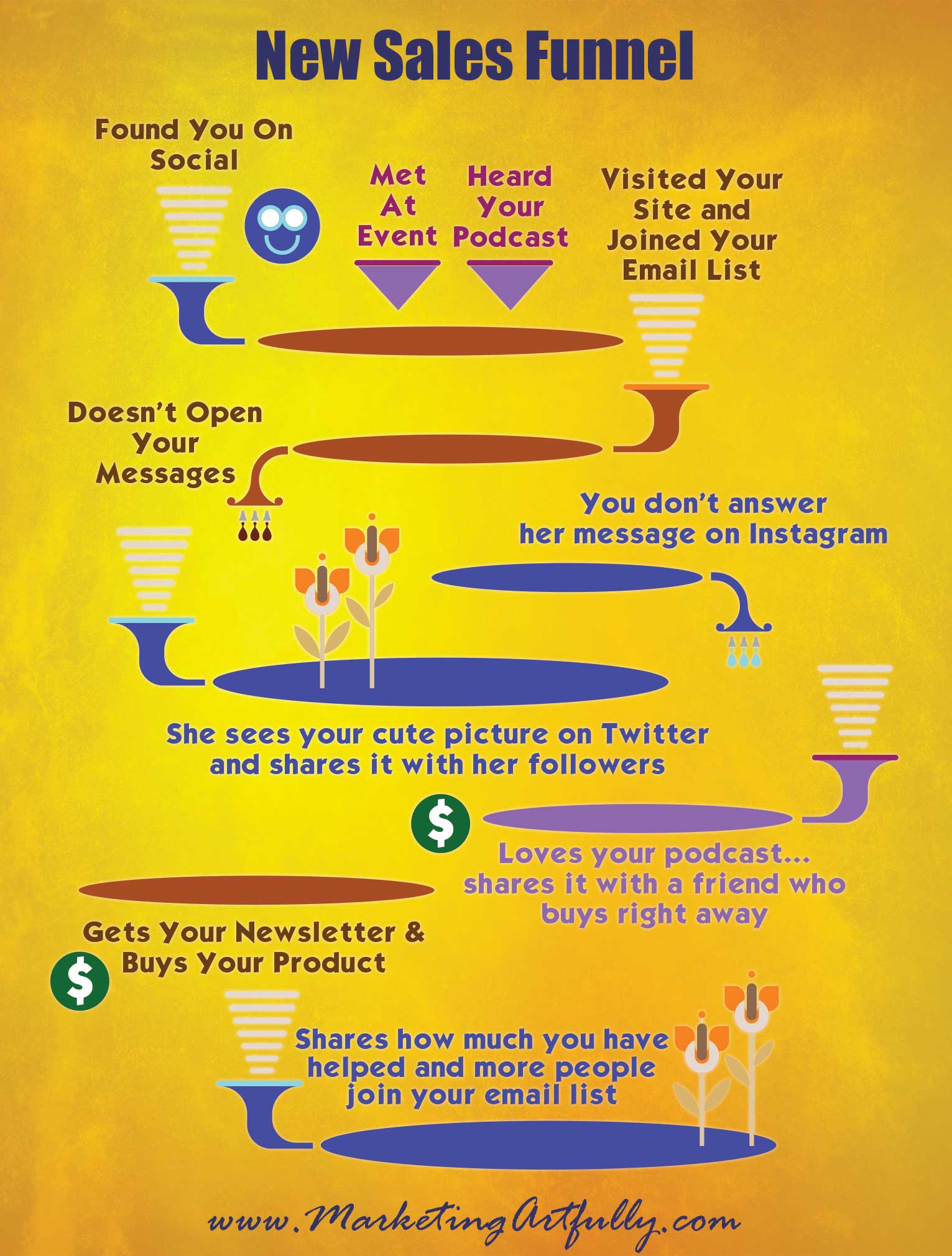 What Sucks Now
Anyone who sees this is (I'm sure) cussing me out right now. Who the HELL could keep up with a newsletter list, Instagram, Twitter, a Podcast and in person speaking events AND stay in business?
Well, unfortunately if you are interested in being in business now, YOU!
You don't have to have a strong presence on all the socials, nor do you have to have a podcast if you don't want to (I don't right now), but if you expect to be in business today, you have to be willing to invest either time or money into growing multiple platforms and ways for people to get into your funnel.
Not so funny story…this reared its ugly head for me almost 5 years ago. We were working with a gentleman who was selling a dog product and he was determined that my social media company had to prove our value by bringing him customers. So one day we had a sale and it was from a lady who had seen the product on Facebook and liked it, headed over to Twitter and DM'd with a question and THEN bought the product.
We were so excited to tell him about the "win" and how well social was working and he EXPLODED in rage. He wanted to know why she couldn't just go to his website and see the product, ask the questions and buy. He thought that this was the dumbest thing he ever heard, we were dumb because we did social and she was dumb because she couldn't "buy right".
Needless to say we weren't a good fit for each other and I hope he went on to sell scads of products right from his website.
What Is GREAT Now!
All the work aside, I am super pumped about how easy it is for people to market their products and grow their sales today. Here are just a few ways that are either mine or my peeps:
Selling on Etsy. Recently I opened a shop on Etsy and boy am I connecting with some new (and fun) people who would never have been a part of my life otherwise.
Instgram. My startup gals, Successfully Social, who are targeting Moms and kids are ROCKING the Instagram!
Podcasts. My dear friend Dave has a podcast for Contractor Marketing and is getting ready to start another one.
Guest posting. Larry has built a big presence by writing real estate investing posts on a popular website.
Sending a popular newsletter. Pat, of Smarter Women Colorado, has built a really good following of people who are on her "Free Stuff To Do In Denver" newsleter list.
YouTube videos. My besty Deb Ward is a video making fool! She has almost 100,000 views on her Clearwater Real Estate channel!
What should YOU do?
So am I saying you should do all that? Nope! But I am saying that just having a website or a Facebook page and thinking you are going to sell a ton is crazy talk. The days of putting your ad in the Yellow Pages once a year are over and if you want to be "in business" you had better figure out something that will work for you.
It should ABSOLUTELY be something you can commit to doing, that you like doing and that will attract the right types of buyers for your products.
For example, doing a podcast if you are targeting seniors might not be a good fit. Using LinkedIn to target new moms might not work either. You need to match your skills with where they hang out!
When are you done?
The last thing I want to leave you with is this…lean in and listen closely because it is important. IT IS NEVER DONE!
Oh my God, I have so many people contact me and want to get their Facebook page set up and then think they are done. Or they get their website "SEO'd" and then think they never have to add any content. Or they set up a link for their newsletter form on their site and then wonder when the rush of signups is going to come.
The new world of internet marketing means it is never done. You will have to post, like, tweet, email, poke or do something for the REST OF YOUR BUSINESS LIFE!
If that makes you sadder than words can say, you have two choices… hire a person or a company to help OR go to work for someone else. This is just a fact of life now and there is no sense being a baby about it.
If you are planning on being "in business" then some kind of massive marketing effort is part of your work.
Wrapup
Well wasn't that a happy little note to end on? Seriously though, I really believe there is something for every company now and that you can find that intersection between what you like to do and where your people are hanging out!
Then really take a look at what your sales funnel is looking like. Are there leaks where it matters and how can dump even more people in the top!
(Visited 120 times, 1 visits today)