Tips and ideas for how to tell the difference between features and benefits in your marketing!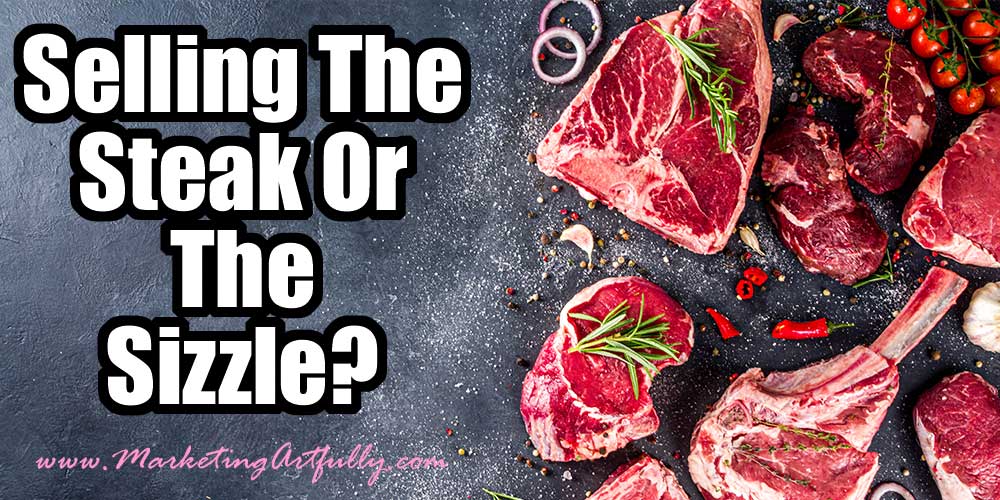 Small Business Marketers are Selling The Steak Instead Of Selling the Sizzle!
What the heck does that mean? Well it means that as humans it is SO much easier for us to sell the features of a product than to figure out the benefits to our target audience.
I saw a BRILLIANT commercial this weekend. You tell which is steak and which is sizzle…
The carefully selected, high quality ingredients in Purinaa® Dog Chow® brand Dog Food Complete & Balanced provide 100% of the essential nutrients your dog needs to help stay happy, healthy and satisfied throughout his long, healthy life.

Contains 23 vitamins and minerals
Formulated with high quality protein
Great Taste
HMMMM…VITAMINS AND MINERALS ARE GOOD, PROTEIN IS GOOD
or
A groundbreaking 14-year study by Purina researchers showed that dogs fed to an ideal body condition** throughout their lives had a median life span of 1.8 years longer – and were considerably healthier – than their littermates.* And although the dogs in the study generally developed the same health conditions as they aged, treatment for those conditions was delayed approximately two years for the lean-fed dogs.
MY DOG WILL LIVE 2 YEARS LONGER? I LOVE MY DOG – I WANT THAT!!!!
Make sure you take a look at your small business marketing, are you selling steak or sizzle? Have a non-industry friend look at your marketing, see if they would be excited to buy you product if they didn't know you!
Post your link on Facebook and ask your online friends if they would buy it. DO NOT be sad if you get criticism – just take that and fix it!