As a real estate agent, I LOVED doing referrals out to other agents. Whether it was one of my listings moving out of state or a buyer lead that I wasn't going to work, there are some super simple things to think about when giving out real estate referrals!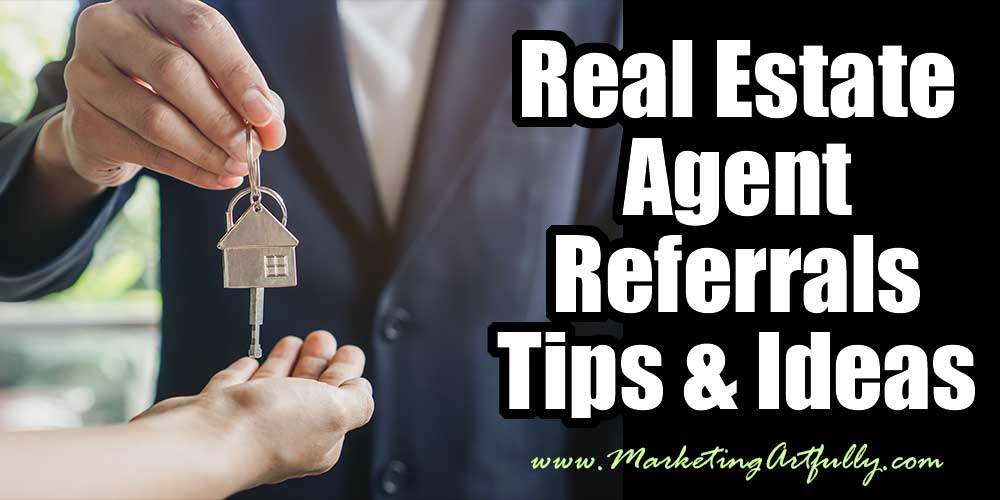 please note :: I often recommend resources, some I receive an affiliate commission for at no additional cost to you! check out my policies here
What is a real estate referral?
A real estate estate referral is when a licensed real estate agent recommends a client to another real estate agent to work with. These can include both home buyers and sellers.
Most times this will involve receiving part of the commission (in my area it was a 25% referral fee) at the close of the real estate transaction.
Why real estate referrals are a great idea!
I was talking with my Dad yesterday about he and his partner selling the out-of-state home they own in New York. They now live here in Florida and have worked with Deb Ward on the sale of my Dad's house and the purchase of their new home.
They love working with her and her team, so they asked her to help them find an agent in the New York area.
THIS IS WHY referrals are such a great idea…
Say my Dad called a real estate office in New York and asked for a good agent. They are going to refer whoever is on "floor duty" that day, meaning it could be a brand new agent or someone who doesn't specialize in multi family dwellings like my Dad is selling. To that office he is just a real estate lead.
On the other hand, Deb can call and talk to the office manager and ask for a few different referrals to agents that might be a good fit for her clients. She can interview those agents and find out if they have the expertise and knowledge to get that home sold fast and for the most money!
Why Real Estate Referral Agents Earn A Commission
So let's talk about WHY Deb should get a commission for referring her valued clients…
First off, she knows them from having worked with our family for years (now that I am not a licensed agent anymore I used her for the purchase of my current home!)
Secondly, by being a referring agent she has the right be an additional advocate for her clients in the sale.
Because she is earning a commission, she can help settle any questions or disputes that might come up along the way. Even if it is not an out of town sale, that makes a huge difference!
For example, as an agent I got a lead for a four-plex. I was a residential agent and not a multi-family agent so I referred it out to a qualified agent who specialized in that kind of property. We all worked together well to get it sold!
Referring Out Buyer Leads
Sometimes listing agents don't work with buyers, so they will refer out their buyer leads to buyers agents, again receiving a commission for the sale.
In this case they are receiving the commission because they procured the lead through their marketing efforts and the buyers agent didn't have to go out and find that client.
If you are a listing agent referring out buyers leads, make sure you have a system for following them up and make find the buyers agents who are the most diligent about contacting those leads and getting the buyers into the car!
If you are a buyers agent, cultivate relationships with the big listing agents in your area and communicate with them on a weekly basis about where you are in each stage of the buyer leads you are given. For example…
Mary Smith – have contacted 3 times and will be showing houses when she comes into town on May 1st
Sam Jones – have left 2 messages, will follow up in a week
Susan Anderson – under contract, close day April 17
By keeping the listing agent in the loop, you can make sure that they give you more buyer leads down the line!
How To Generate Real Estate Referrals
As a real estate agent, you can get clients from other agents by consistently reminding them that you love getting their referrals!
Mike Mendoza from Arizona still stands out in my mind as an agent that constantly sent emails to agents around the country saying that he would love to have their referrals if they had a client moving to Arizona as part of his lead generating. I never referred a client to him but I remembered him over 6 years later!
If you are going to market to other agents for their referral business I recommending using an email database like Convertkit, which is a true internet marketing database.
Then find EVERY business card you have ever collected from other agents and start emailing them about the fact that you accept referrals! Growing this agent network can be a valuable part of your real estate business!
Send fun stories about the clients you have worked with and the success stories that you can share. Also call out every agent that sends you a lead, even if you don't wind up working with that person!
Additional resource : Advanced Internet Marketing For Real Estate Agents
Real Estate Referrals Marketing Wrapup
Hopefully you have gotten some good tips and ideas about why doing real estate referrals is so good for the referring agent, the receiving agent AND your clients!
I personally will feel much better if Deb is involved in my Dad's out state sale than if he just flails around and find just anyone to help him! Helping out your friends and family with referrals is a great idea! Think about who in your sphere of influence you could recommend to another agent.
As a real estate agent, I KNOW you keep the best eye out for your clients so make sure you are helping them anyway you can… especially with quality referrals!