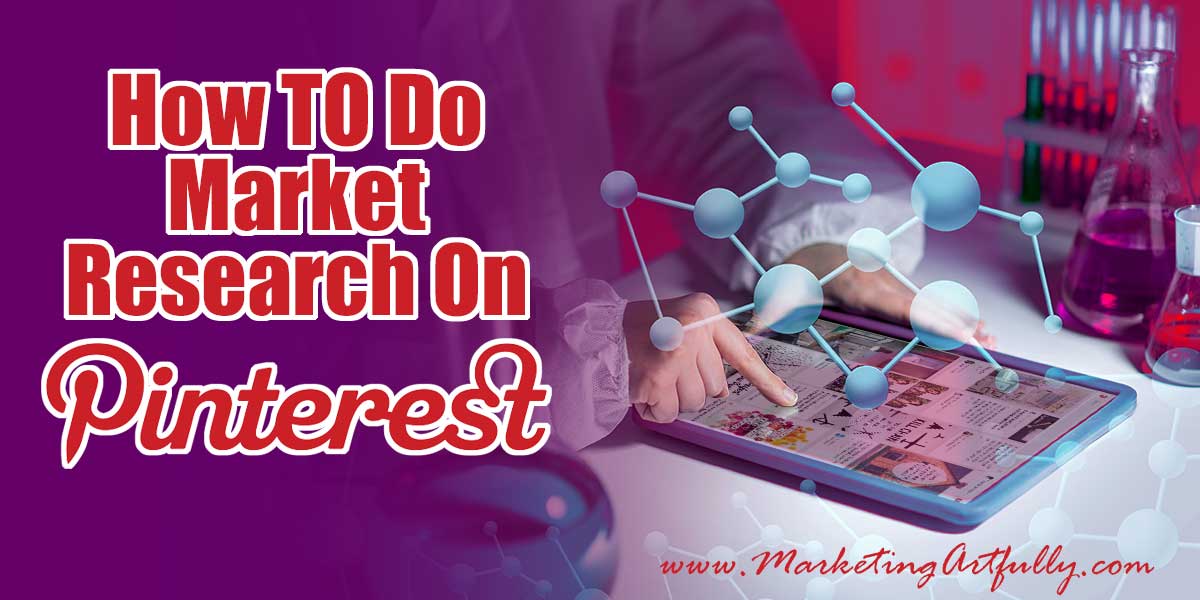 If you are going to spend time marketing on Pinterest, you should take the time to understand how the site works, including some changes that will greatly effect your results. This post is a comprehensive guide to doing market research on Pinterest and how small business owners can use the site to their best advantage.
I am using examples from my feed and account which are relevant to the things that I am selling. I have followed boards that talk about planning and papercrafts to be able to see and share things from competitors and related content for my Paperly People planner product. And the reason that I am doing this market research is because I am getting ready to start pinning some of my vintage products, SoGlamorouslyVintage, that are available on Etsy. I also follow Realtor Marketing and Author boards for other parts of my business.
For this post we are going to be doing market research on how pins and boards are presented to users. If your account does not match what your target market will be looking for, it might be a great idea to start a new account that is focused completely on what your customer would want so you could start to see how they would interact with your marketing message and which companies you are competing with. At the very least, set up some boards that will start to match your audience!
My Feed
As you start to use Pinterest, you will follow boards and your "feed" will be populated by items pinned onto the boards you follow or which have been pinned the people who follow. Each person's feed is different depending on what promoted pins they are shown, the "suggested for you" pins they see, the boards they follow, what interests they have chosen and how popular the content is that other people are posting. Here is my feed: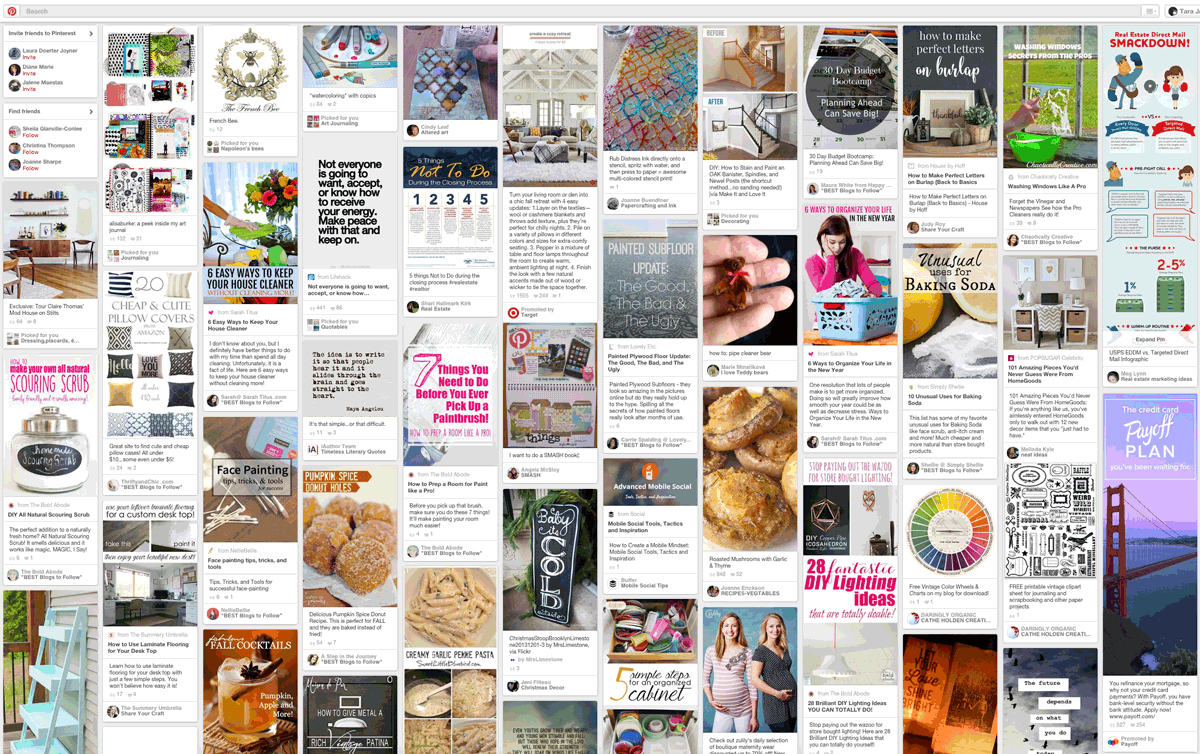 I zoomed WAY out so we can start to see the mix of offerings that Pinterest thinks I might be interested in. Overall, it is okay, there are recipes, cooking and cleaning tips and some marketing posts. And without thinking much, I would probably think that is pretty normal for what the average Pinterest user sees. But since we are doing market research, let's dive in deep and see what is going on behind the scenes.
Promoted Pins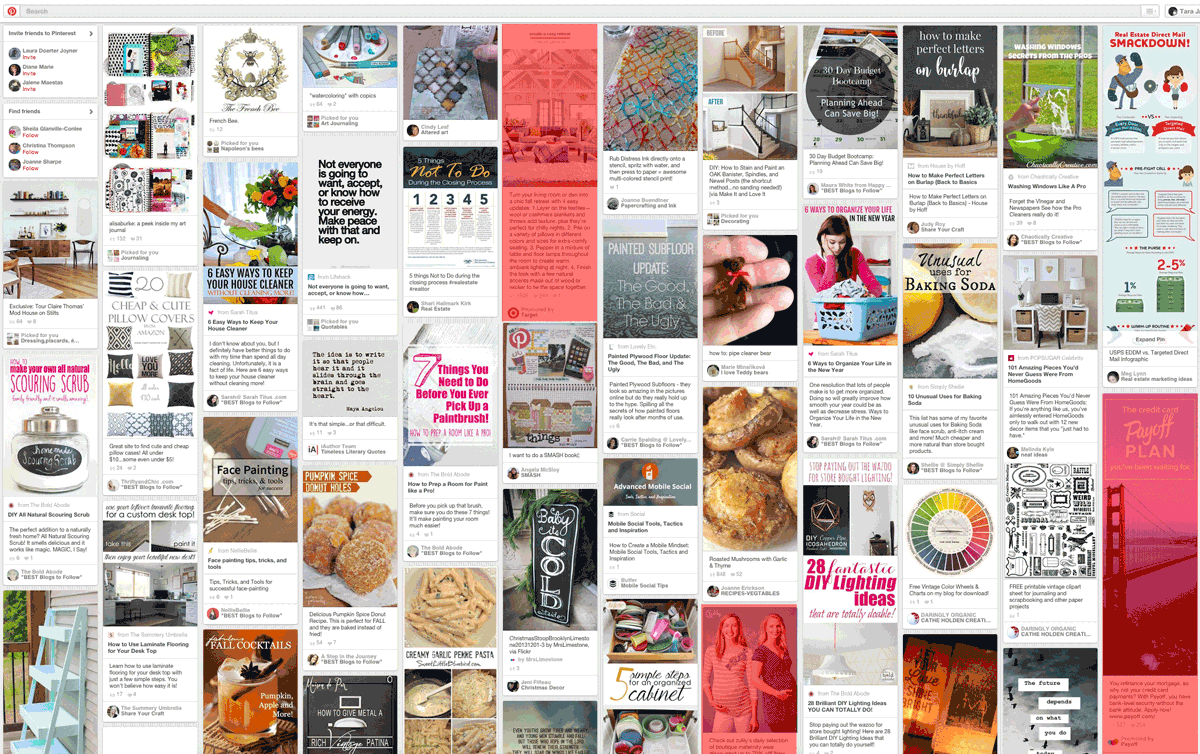 It has 3 promoted pins (colored red). These are pins that are paid for by advertisers and which somehow match my interests. They are 1) home decorating from Target which seems okay, 2) the "pay off plan" from Payoff which does not interest me all and 3) an ad from Zulily which seems to be advertising pregnancy wear which is a little inappropriate considering I am 47 and my oldest daughter is only 17 so I am hoping NOT to be buying her pregnancy tops anytime soon!
To me this is a huge miss for the advertisers who are paying for promoted pins. It is possible to REALLY drill down when picking categories to target with your marketing messages and it is obvious that Payoff and Zulily were not really diligent with their selections.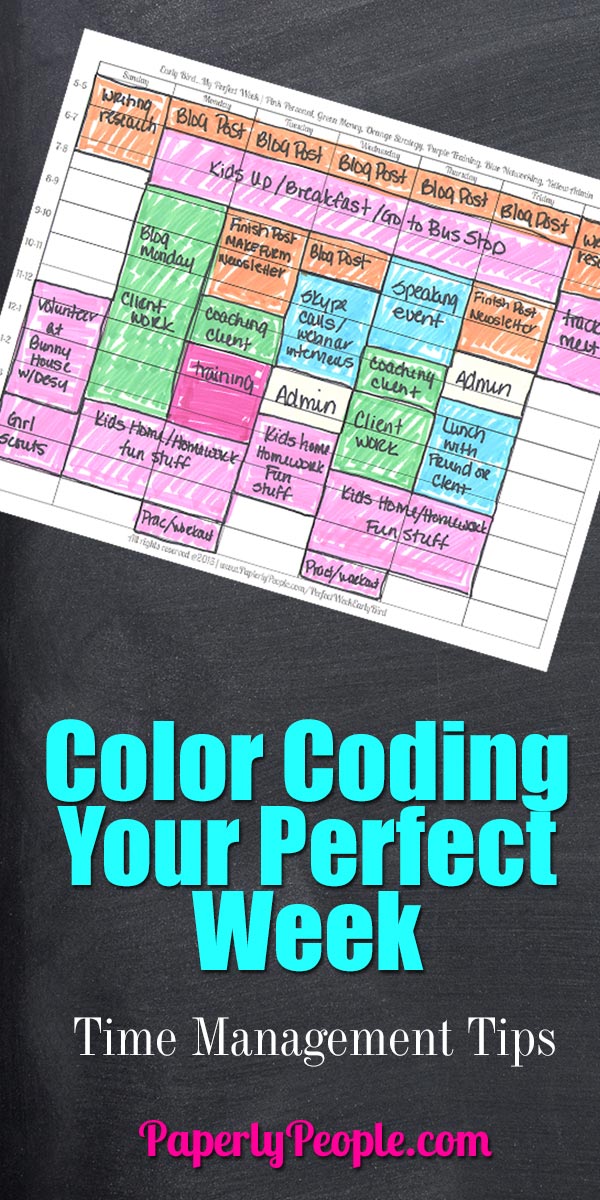 For example, say I was going to promote one of my planner pins and target it to women (gender, female), who live in the US or Canada (location) and who like the terms:
printable planner pages 2018
printables
planner ideas diy
planner ideas
planners and organizers 2018
printable planner pages templates
time management tips
business planner printables templates
printable planner pages
business planner printables
I KNOW that there is a school of thought that you should use marketing to target the types of people who might like your product (like I could target women Realtors who work for Keller Williams) and hope your product will appeal to them, but that doesn't work as well on Pinterest.
People (mostly women on Pinterest) like to see the same types of things that they have chosen to look at. Now, I wasn't offended by the Payoff people, but I definitely wouldn't click and if I am on a tear I might actually say that I don't want to see ANY more ads for them.
I thought you might like to take a peek behind the scenes at how this campaign did work out for me with these keywords: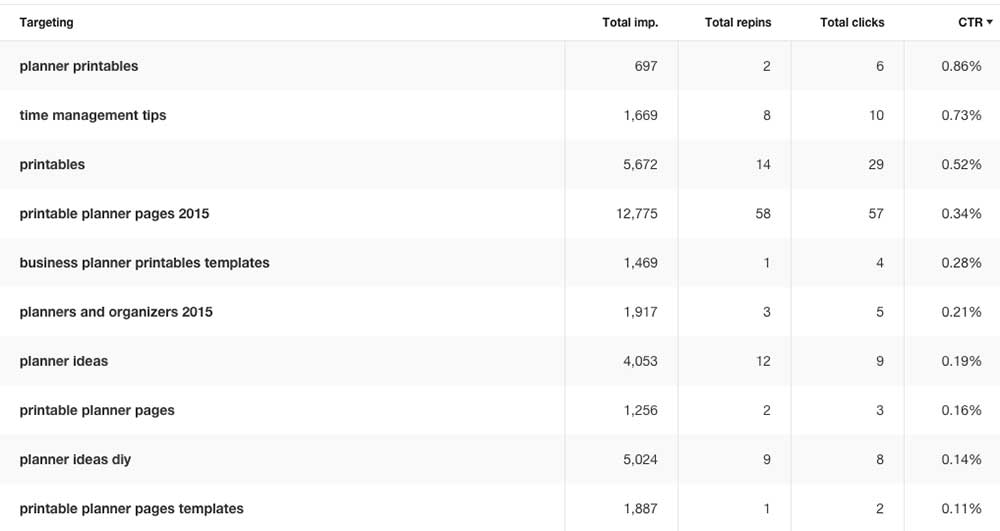 To me the only really interesting bits are the ones with a high click through rate (the fewest views with the most clicks). I have two that are pretty decent, planner printables and time management tips. Those are ones that I might break into separate campaigns as they are not exactly the same!
When Pinterest launched the promoted pins, the response from hard core pinners was less than welcoming but that does not change the fact that Pinterest is a business that HAS to make revenue from somewhere and selling pins is a great way to do it.
That said, if you don't match your products to their interests, you will have an uphill battle on your hands and get some really nasty comments on your pins.
Picked For You Pins
Picked for you, which are pins from people the Pinterest user didn't follow which are selected for them by Pinterest using a computer algorithm, much like Facebook's open graph.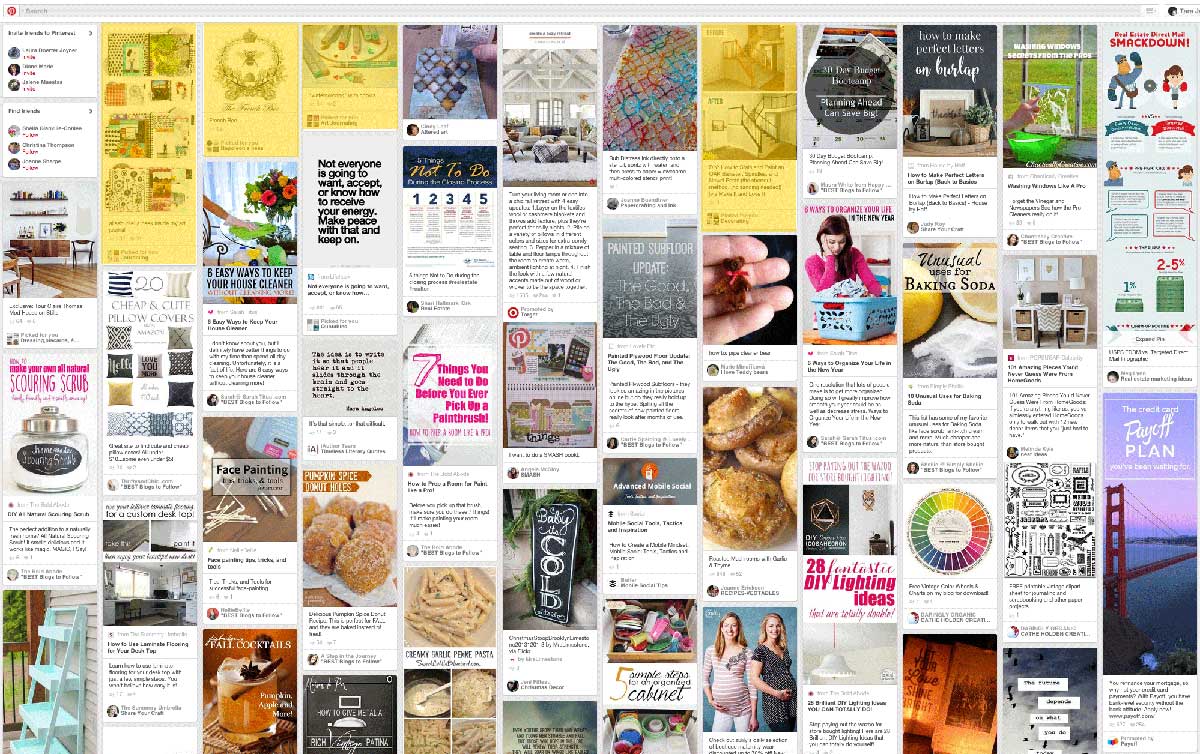 I have 4 "picked for you" pins on my feed. These are NOT paid pins, just things that Pinterest thinks I would like. They are WAY more on track for my interests than the promoted pins were. There are two about journalling and magic markers, one about bees (I love bees) and one about staining a stairway (not my favorite, but at least in the ballpark).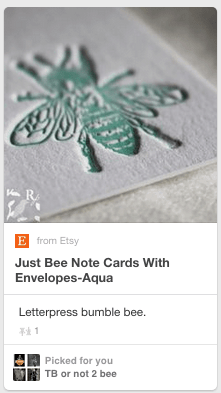 Here is the official word from Pinterest about how they manage the "Picked For You Pins".
We sometimes show you Pins we think you might like in your home feed. These Pins are labeled "Picked for you" and they're inspired by things you already saved on Pinterest.

If you don't like one of the Pins we pick for you, tap the X button that appears on each of these Pins. You can choose to hide the Pin, or hide all Pins from that particular source of inspiration.

While you can't turn off "Picked for you" Pins, you can limit the kinds of information we use to pick them for you.
Pretty banal, I really want to know WHY they have "picked for you pins" when there is already a ton of content on there that is being managed by human beings that I could choose from PLUS promoted pins that advertisers are paying for.
In doing A TON of research, I have not found a good answer. It seems totally random and not something we can target to be included in as marketers beyond having great content and pins. An unsatisfactory answer to say the least, but I just have to let it go!
Power Boards
The last bit I want to talk about today was something that I only noticed when I had done A LOT of looking at my feed. I started noticing that there were A LOT of pins from the "BEST Blogs to Follow" board. But it wasn't until I colored coded it that it became clear just how many pins it was on my Pinterest.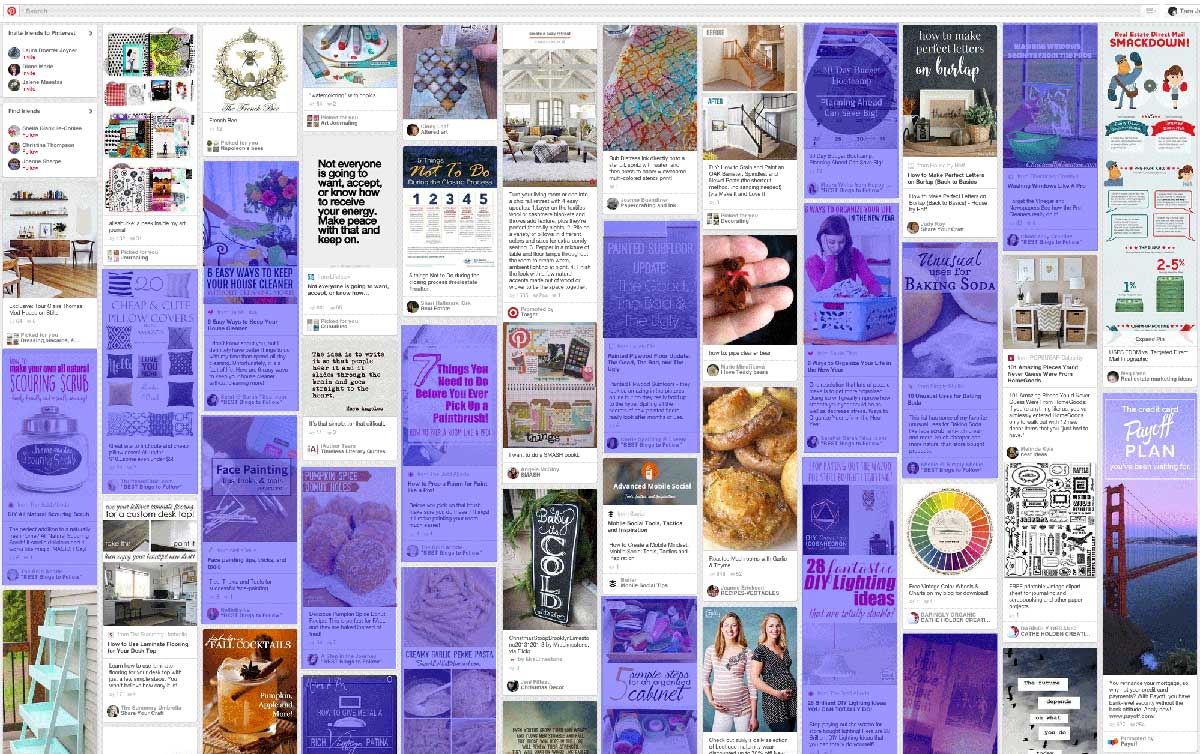 At least half of all of the pins that Pinterest is showing me at any one time are from this board. ACK!
As a user that makes me a little disconcerted that I don't get a variety of pins, but as a marketer that makes my heart SING! It shows that there are power boards that are getting big time exposure on Pinterest and which I would want to be asked to join.
Here is a GREAT post about how to grow and cultivate relationships to get invited to pin on boards like this! http://www.mcngmarketing.com/how-to-join-a-group-board-on-pinterest
What Pins Work
Last but not least, lets look at what pins are working as we review our boards. Going back to my feed (which closely matches what my customers' feeds probably look like), I have found the three most popular posts: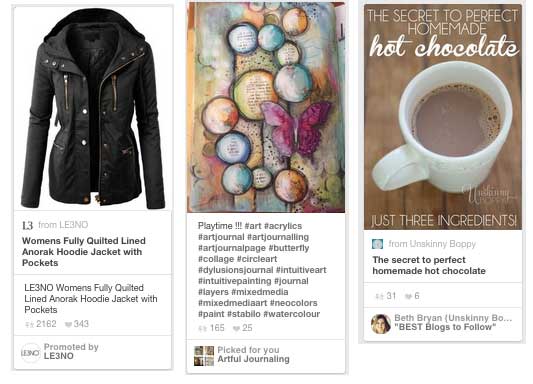 The first is a promoted post by LE3NO which has 2162 repins and 343 likes. It is a pure sales pitch and a really cute (to me) jacket.
The second is a journalling page posted to a board (Artful Journalling) that is curated by one lady. She has 3,700 followers on this board. The pin has 165 repins and 25 likes.
The last is from the "BEST Blogs To Follow Board" and has 31 repins and 6 likes.
Well isn't that perfect for today's post! On my feed right now, the top posts come from all three things we just talked about, 1 promoted post, one great content post and one power boards post.
But the one thing that does leap out to me is that the only one actually trying to sell anything is the one on the left. They are not just posting cute content or trying to drive viewers to their blog, they are trying to SELL something.
Taking the promoted post out of the mix, I have some questions still. Is is better to have:
Lots of repins…but not targeted? The homemade hot chocolate post is a good example of this. They have repins but unless they are a hot chocolate manufacturer, they are not selling anything from this post.
Fewer repins…but spot on to sell? There were very few pure items to buy on my feed, but the ones that were there were listed through Etsy (which makes me happy!) While I definitely do not think that you should have only "buy my stuff" pins, I also don't think it is a crime to post things to buy from time to time.
I tend to use promoted pins for these types of sales, but you can do it right on your newsfeed with a bit of thought.
Market Research On Pinterest Wrapup
Okay, hopefully I have gotten all your little wheels turning about how you can check out Pinterest for marketing your products. I really do think it is important to take a look at what your pins and products will look like in the eyes of your consumers.
Make sure to have your account match your customers, or start a new one that is super targeted to their interests!
Just an aside…I unsubscribed to that one board that was clogging up my feed and now have a much more eclectic Pinterest. BUT don't think you can manipulate your buyers, many may be following a board like that too so you have to know and do what you can to be included on it!
ADDITIONAL RESOURCES