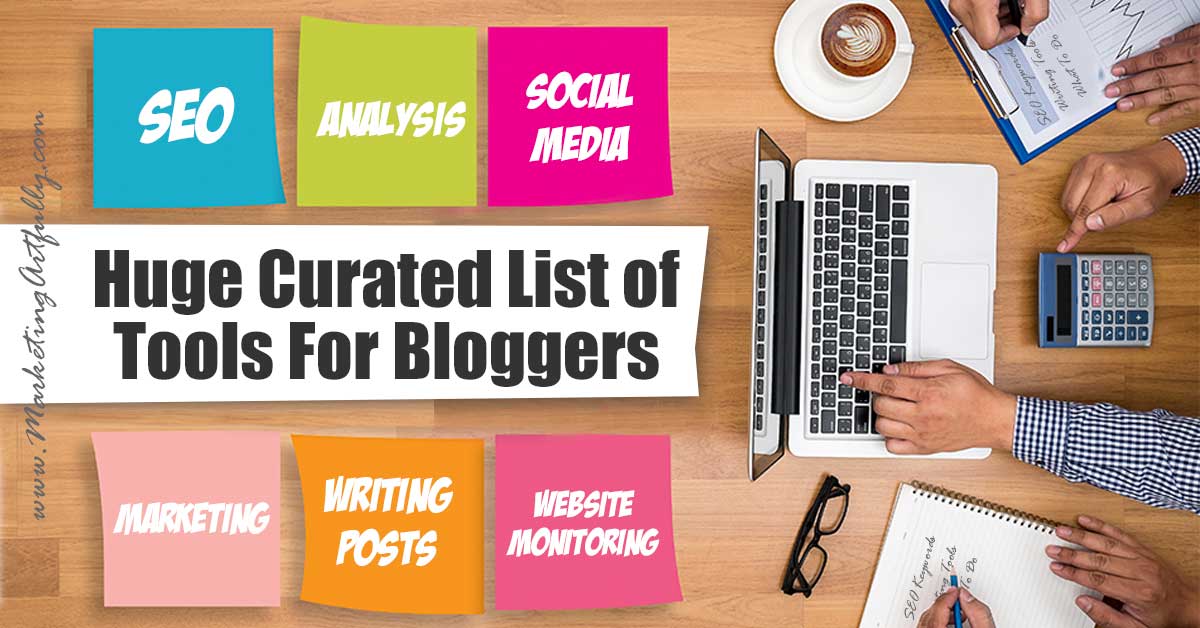 I LOVE finding great new tools to use for my blogs! As with most of my "big lists" posts, I made this one mostly for me and hopefully it will help you too. Instead of having hundreds of bookmarks and having to think, "what was that site again", I just put them all here where I can find them easily!
If you are blogging for business there are some resources that you MUST bookmark! This curated list of tools for bloggers are ones that I use personally or have gotten from trusted resources.
If you have a blogging related tool that you think could help my readers, please message me and let me know!! tara (at) marketingartfully.com
Some of these tools are ones that I use and represent as an affiliate. You will never pay more and might be able to get a little extra discount through one of my links!
SEO Tools
I know, it is easy to think that Google is dead, killed by Facebook and the like, but a good chunk of my traffic is from Google so it is still a place where I spend my time and marketing dollars.

Writing Tools
It is so funny how we can forget that blogging is just actually writing and there are great tools out there that can help us do these tasks more effectively.
Researching Content Ideas
Sometimes staring at that big white box is overwhelming OR you have a great idea but want to make sure that it will be a popular topic to write about! These tools can help generate great ideas for hot topics.
Content Upgrades
I have been hearing for a number of years that giving "content upgrades" was a cool thing to do to increase your email opt in rate. These are the tools that help make this process super easy!
Photo Tools
I won't say as much here as I would like to, but having great pictures will make a huge difference in the social reach your posts get.
Website Analysis
Knowing the "health" of your website before you start is super important. Use these tools to find out if you have any glaring errors you can fix before devoting hours (days) to your blogging efforts!
What Keywords You Already Rank For
Remember back in the good old days when Google told you what keywords you ranked for? Those days are long gone and now figuring that out is a bit of a guessing game!
Demographics
I am a nut for knowing my customer avatar when writing a post so I can talk about EXACTLY what will make their little hearts go pitter patter!
Website Monitoring Tools
Whether it is real time or accumulated date, I love having access to aggregated data about my website!
Email List Building
If you don't have a popup box on your blog yet, leave now. No seriously, stop looking at anything else on this page until you get a way to capture your website visitors.

Link Building
I am terrible about building links, but if I was going to make that priority I would use this tool!
Automating Tools
With just a little forethought you can take some your repetitive tasks and automate them using these tools!
Social Media Tools
If you are going to be blogging more, you have to find a way to share your post on social without making yourself nusto in the process!
Banner Ads
If you have an email popup and are not doing some kind of banner advertising, you have to leave again. Find something that you can effectively promote with banners!
Graphics Ads and Fonts
Making your site pretty should be pretty far down on the list of priorities, but once you have the rest figured out, go ahead and find some great fonts and photos to "go pro!"
Website Speed Testers
Much like the site checkers, this is probably a one time thing to get out of the way before you do any big changes. If your site is slow, you will have fewer views so get this one fixed early too!
Affiliate Marketing
Affiliate marketing is a great way to help monetize your blog! Here are some of the things that I use for my affiliate marketing efforts.
Genesis Theme
Would NOT have a site without this theme!
Heatmaps
Ohhhh so cool to spy on your readers and see what they are really doing on your website!
Competitive Research
This is sometimes hard and discouraging, but finding out who your competition is is such a good use of your time!
Holidays and Traffic Drivers
Knowing how to piggy-back on a great holiday theme is a great way to boost sales or views.
Security & Backup
Please get some kind of security or backup, and then do not spend all your time worrying about getting hacked. I have been hacked before and it sucks but is a little bit the cost of doing business in this day and age!
Misc Tools
Some of these are just easy to fit into a category but I don't want to lose them!