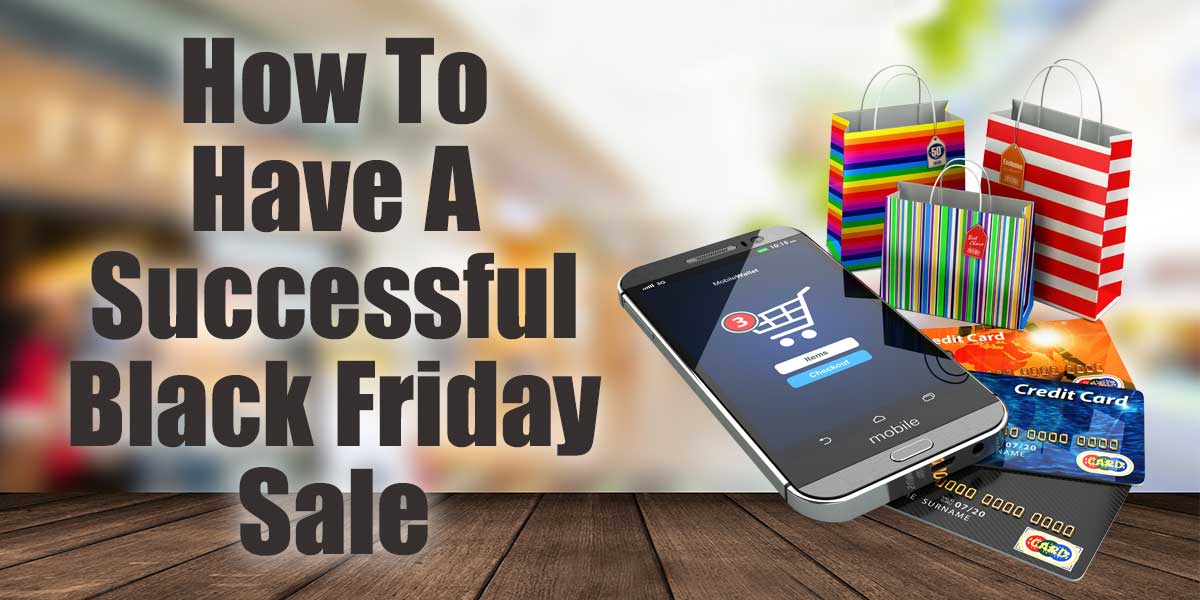 Next week is Black Friday Sales season and I plan on rocking the heck out of this holiday sales-wise. While I was getting all my tips together I thought I would show you my plan for dominating this shopping season!
Part of my Seasonal Marketing Campaign Series!
What Are You Selling?
First off, you want to make sure you know what you are selling. I have two entirely different kinds of products that I will be selling over the course of those 5 days so I have to be really clear about my intentions for each!
1. Digital products from my Paperly People store. My first sale item is a rock star. I can sell as many digital products as my little hear desires so I am going to be super aggressive about advertising this one. Lots of social posts and promotions! I will be offering up to 50% off these products.
2. My vintage products. These are a physical product that I sell. So this one is even more important to keep a handle on. Not only do I have the "cost" of my time to procure them, but I also need to make sure that I cover the cost of the packaging and shipping. That said, they are the most appropriate for Black Friday selling as they will make a great gift!
Get a clear goal of what you are going to be promoting over the course of the weekend…this should be relatively easy so I put it first!
Hashtags
The next easy thing is to remember to use your hashtags for each day's post. I am going to be using #thanksgivingsale, #blackfriday and #cybermonday.
You want to use these on all your social media, focusing most heavily on Instagram and Pinterest (yes, Pinterest allows hashtags again and the are found in the current feed so only use on new pins – Sept 2018 update).
Hashtags let you take advantage of people who are already searching for deals on social sites. It is a simple add-on that can help your post spread.
Black Friday Sales Days To Target
Okay, here is the scoop! I follow a really cool guy who talks a lot about ecommerce on his website Etsy-preneurship.com. He is WAY more techy than I am and found that Black Friday is the best sales day by far (even if you are selling digital products).
So I am going to start my sales on Thursday, have a huge push on Friday, leave them open Saturday and Sunday and then change it up for Cyber Monday so I don't get too stale.
Where To Post
I am going to be doing most of my posting on my Twitter accounts, Facebook pages and Instagram. I will gently post about once a day on LinkedIn because they hate sales and I don't want to make them mad. I am not sure anyone is active on Google Plus anymore so I will be maybe posting there once a day just to be able to say I did.
Sept 2018 UPDATE… Tailwind has added seasonal scheduling looping so you can automate your Pinterest posts… This is a game changer for me since I don't want to have to manage this manually!
If you are a member of Facebook groups that allow sale postings, fire away, but really be courteous and don't spam them every hour.
What To Post
This is where it gets good! You CANNOT post the same sales message, multiple times a day, for 5 days straight without making your followers want to kill you. With that in mind, you need to have a series of graphics that you can use for each day. These are mine!
I went with square ones because they show up well on Facebook and Instagram. I also popped out some wide ones for Twitter because I want to make sure they look good to my gagillions of Twitter followers.
Thanksgiving Day Graphics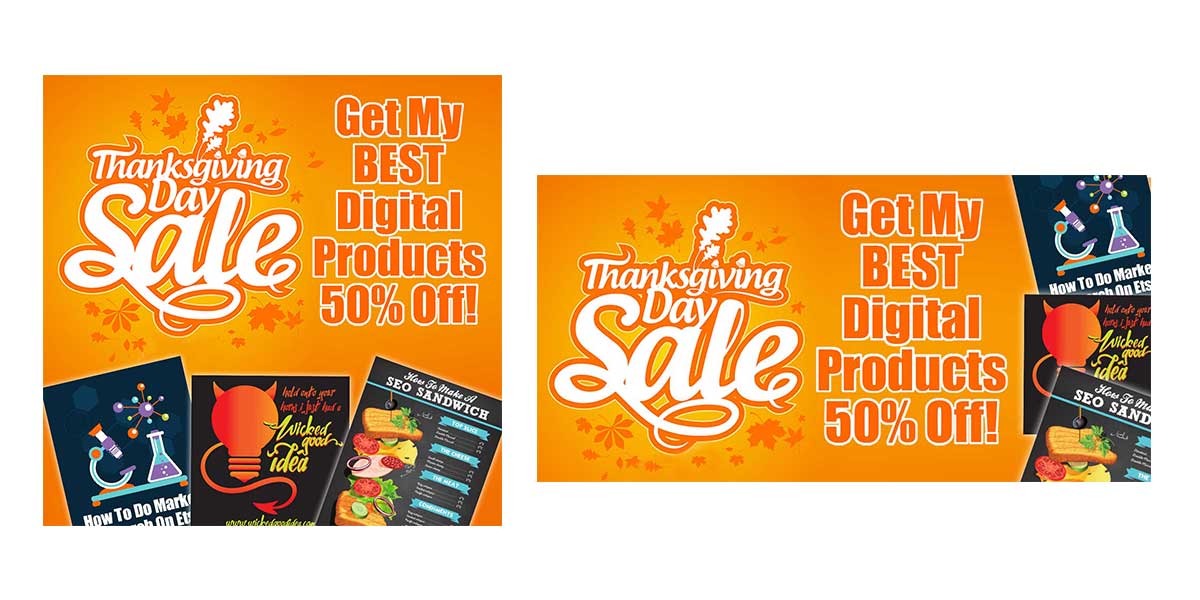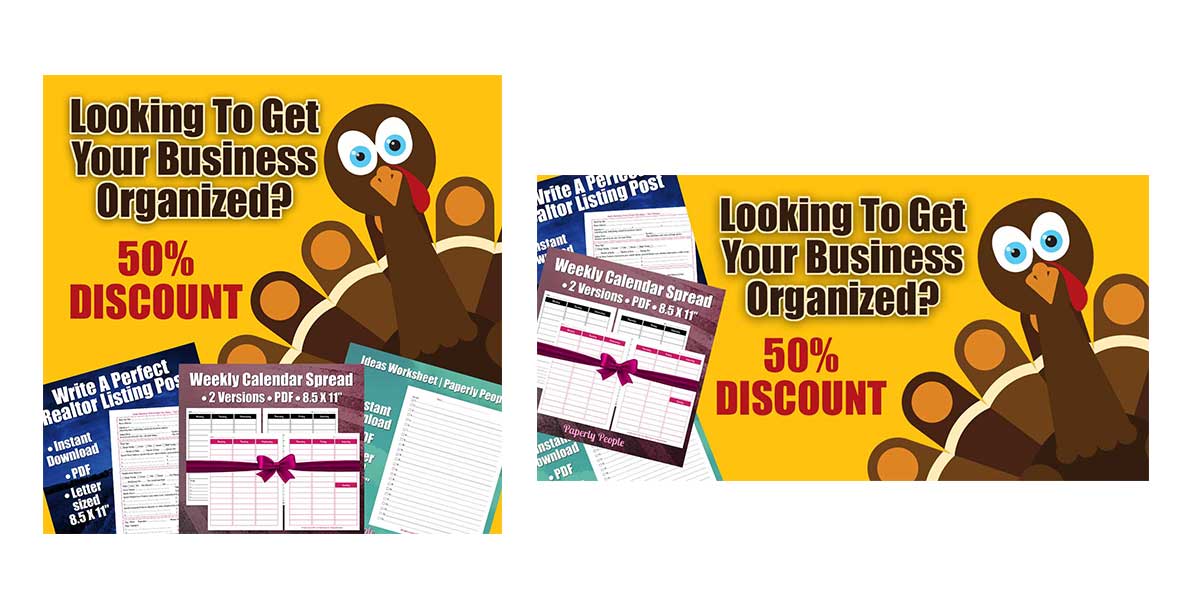 Graphics To Rotate On Black Friday And Over The Weekend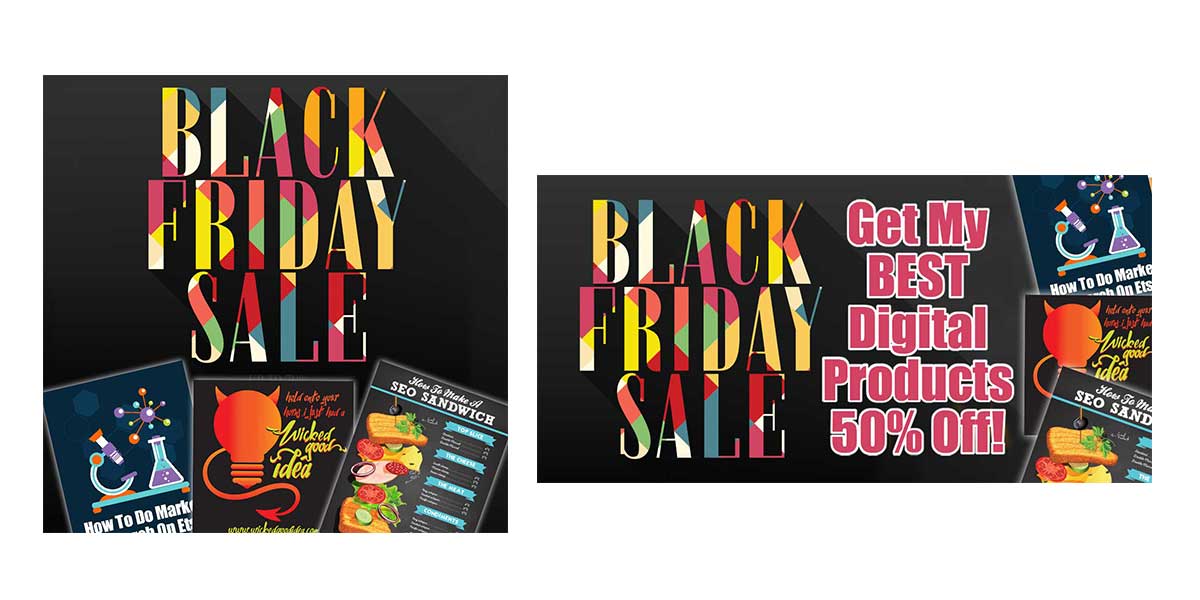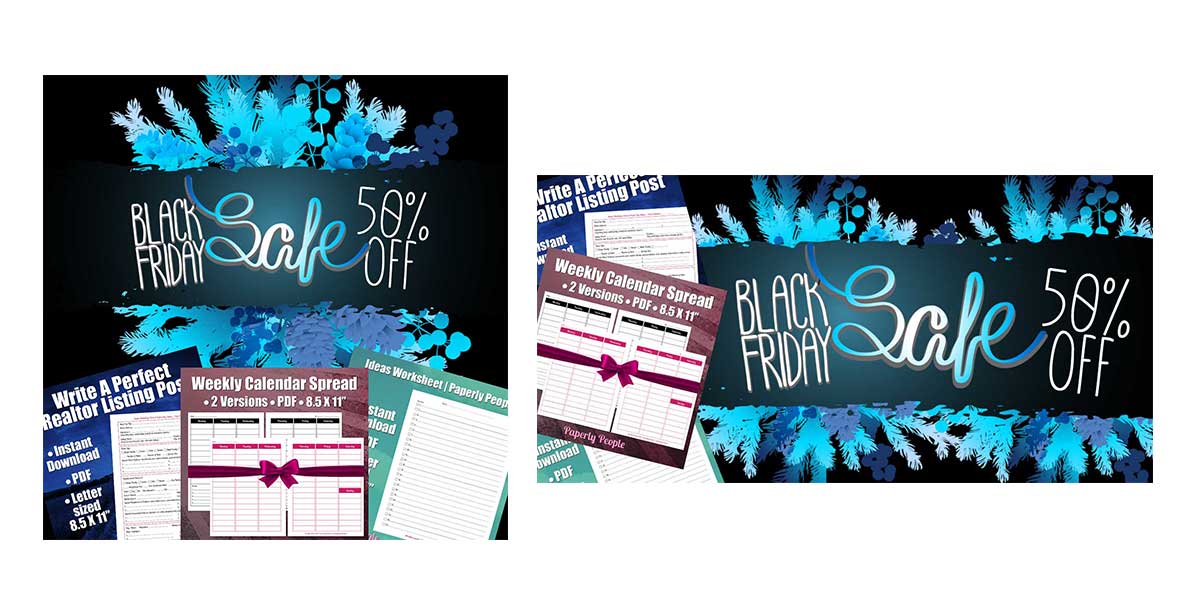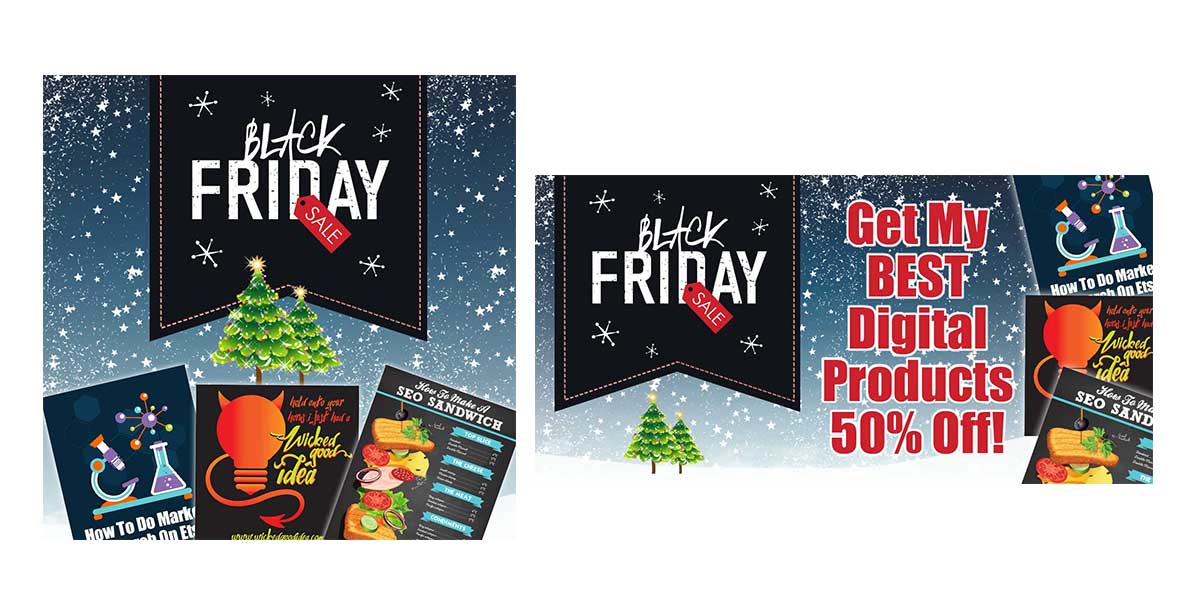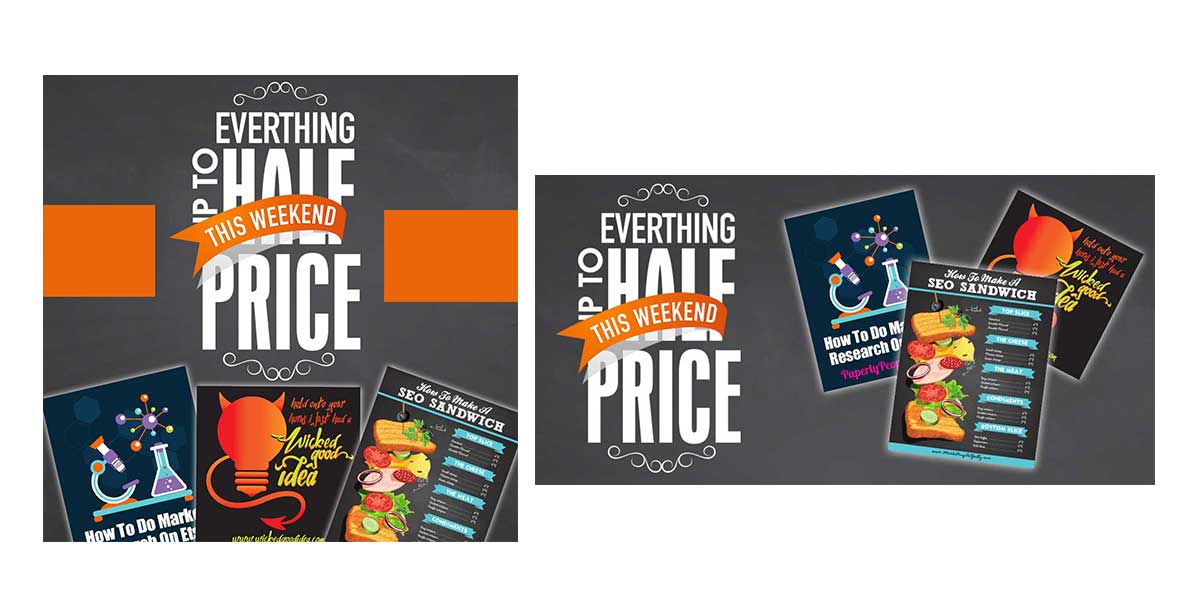 Cyber Monday Graphics
Because I have so many different "looks and feels" my feed should not look too spammy!
Shop, Facebook or Email Banners
Branding your marketing channels with Black Friday or Cyber Monday banners is a great way to visually show that you are having a sale.
I am going to be doing the majority of my marketing through social media channels but you might want to send out a series of sale emails or even pay for some boosted listings on Facebook.
These are the banners I am going to use:
Etsy Shop Banners


Facebook Business Page Banner

Scheduling Your Posts
This is where I got a little crazed! I wanted to schedule my posts (I use MeetEdgar but you could use Hootsuite or Buffer) but I couldn't really get my head around doing a schedule for so many posts, but then I though, "you got this"! So here is how I will be posting:
Thanksgiving Day – 50% off
Black Friday Banner
AM Post – Thanksgiving Creative #1 (all socials)
PM Post – Thanksgiving Creative #2 (all socials)
Black Friday – 50% off
Black Friday Banner
AM Post – Black Friday Creative #1 (Marketing Artfully Socials)
AM Post – Black Friday Creative #2 (Paperly People Socials)
PM Post – Black Friday Creative #3(Marketing Artfully Socials)
PM Post – Black Friday Creative #4 (Paperly People Socials)
Saturday – 50% off
Black Friday Banner
AM Post -Black Friday Creative #1 (Marketing Artfully Socials)
PM Post -Black Friday Creative #2 (Paperly People Socials)
Sunday – 50% off
Black Friday Banner
AM Post – Black Friday Creative #3 (Paperly People Socials)
PM Post – Black Friday Creative #4 (Marketing Artfully Socials)
Cyber Monday – 40% off
Cyber Monday Banner
AM Post – Cyber Monday Creative #1 (All Socials)
PM Post – Cyber Monday Creative #2 (All Socials)
That will be 12 posts in 5 days which should not be heinous for my followers. This is the time of year that they will probably be happy to see that they can get a discount, and they are shopping for Christmas gifts (that schedule is for the Paperly People sale, I will probably have a lighter schedule for the vintage as I can't sell tons of those and ship them before Christmas.
Additional Resources
Black Friday Sale Printable Worksheet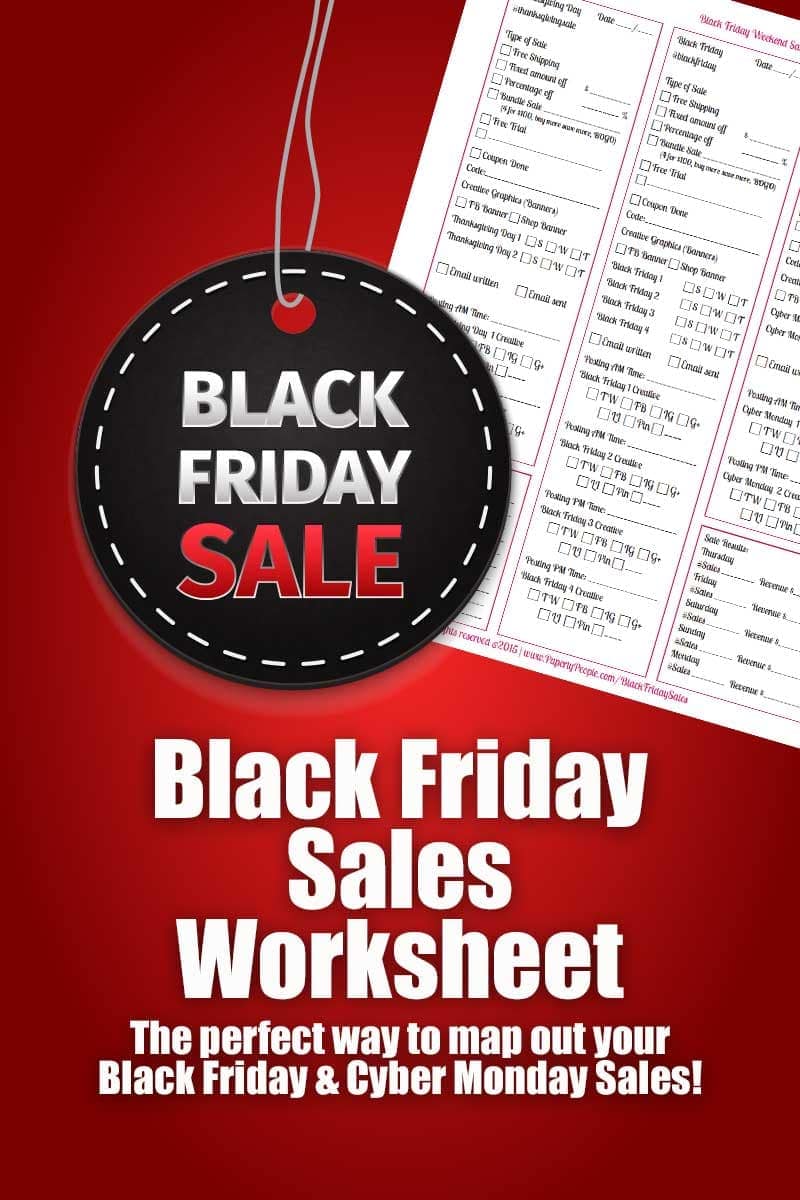 If this is all making your head spin, never fear, a worksheet is here!
I mapped out a great way to plan your Black Friday to Cyber Monday marketing plan so that you can just plug and play your sale into it!
Included:
What To Offer As A Discount
Your Overall Plan
Your Sales Results
Thanksgiving Day
Black Friday
Cyber Monday