Doing a Thanksgiving marketing campaign? Here are my best tips and ideas for how to promote your business or products during the Thanksgiving seasonal holiday!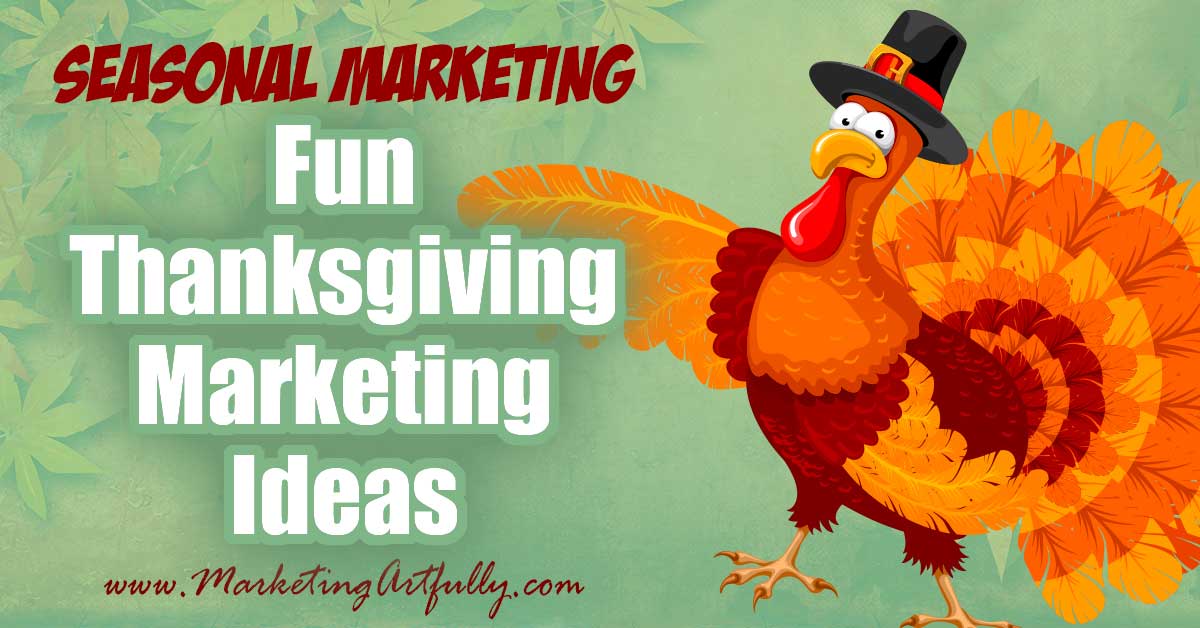 Thanksgiving is a bit of weird outlier in the holiday realm. For the most part it has not be changed to a sales holiday, it remains a relatively pure family and friends time.
Some businesses are even boycotted for opening on Thanksgiving day… so we want to be sure to make it a fun and friendly holiday without over commercializing it (not to say we can't run a wee sale, just not as blatantly as we would for Black Friday.)
This post contains affiliate links. If you purchase anything, I earn a small commission at no extra charge to you. Check out my policies here.
What The Thanksgiving Holiday Symbolizes
Okay, let's take a peek what the Thanksgiving actually IS. It is a United States holiday that occurs on the 4th Thursday of November and is attributed to numerous different feasts celebrating things as diverse as thankfulness to God, ends of droughts and military conquests.
What it is practically for us business-wise is this is the time of year to be grateful for our prosperity and thankful for our customers' loyalty and patronage.
Thanksgiving Themes
Family
Togetherness
Gratitude
Food
Friends
Bounty & abundance
Blessings
Charity
Giving
Sports (Football)
Parades
Travel
Start of the holiday season
Thanksgiving Day Images
Thanksgiving has a very specific color and image profile. Maybe more than any of the other holidays!
Colors
Thanksgiving is all about warm colors, gold, orange, red and brown. These are typical fall colors that bridge the harsh orange of Halloween and the warm tones of fall leaves.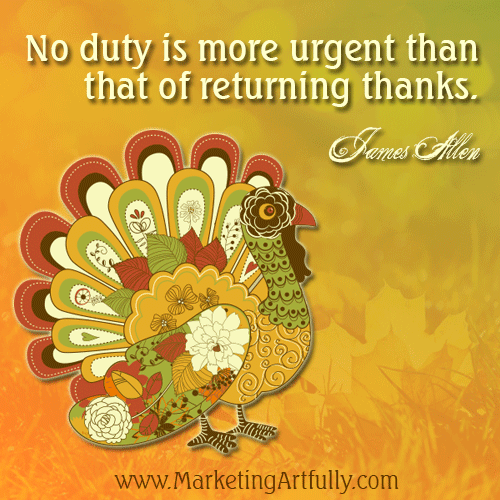 Images
There a wide range of images you can tag for your marketing! Of course, the star, Tom Turkey, but maybe some you didn't really think about!
Turkey
Cornucopia (Horn of plenty)
Fall leaves
Pilgrims
Pilgrim hat
Balloons (Thanksgiving parade)
Football
Sunflowers
Thanksgiving dinner
Pumpkins
Nuts
Snoopy (the Great Pumpkin)
Dried corn
Cranberries
What kinds you use should be dependent on your business! For example, an insurance agent could use pilgrim images to imply that solid work ethic, but a fitness coach might want to use more of the food images and talk about healthy eating.
Don't forget, the images don't have to be so literal. I am not generally a turkeys and pilgrims kind of gal, so I tend to like more bold graphics and quotes from people I admire.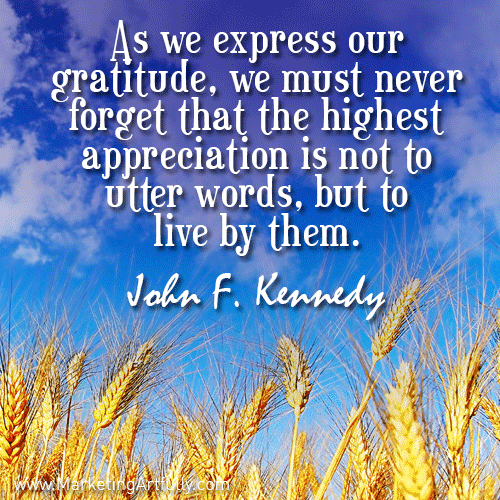 All of your images don't have to be so "folksy" with turkeys and pilgrims. I love the look of this modern Thanksgiving image from Big Stock Photo. Classy and elegant, but still gets the idea across!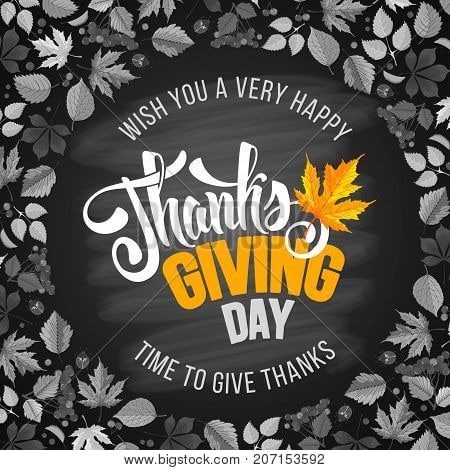 Check out more of the images that I use in the Thanksgiving Quotes For Small Business post!
Thanksgiving Messaging
Alrighty then, now that we know what Thanksgiving LOOKS like, let's think about the sentiment that we should express and where to say it!
General Thankfulness
It is very appropriate to post messages of gratitude and thankfulness on your social media platforms! Things that you can say as your business…
So blessed to have such great sales this year!
Feeling so thankful that our business is successful and able to help so many people live their dreams
Thanking God in all his glory for the blessings in my life and business
Okay, for some of you that last one may have come out of left field for a business owner. That said, it could have been Jehovah, Yahweh, Allah, Ganesh or any other deity that is important to you.
Thanksgiving is a more personal than a sales holiday and it is appropriate to show your faith if that is important to you.
Thanks To Customers
This is where I think business owners and accounts can shine, thanking those that help them earn their income!
Giving thanks now and throughout the year for all of our awesome customers!
Just wanted to say thank you to all the people who have helped support my business this year
THANK YOU! Just wanted to let you know how important you are to me!
In general, if you are expressing a true message of thankfulness for something that is going right, you can't miss. Appreciating the fact that you are a prosperous business owner is the idea, and thanking those who have helped is a really nice thing to do (at Thanksgiving and all year round!)
Scheduling Your Thanksgiving Posts/Emails
Okay, this is super important, DO NOT send your Thanksgiving emails or schedule your social media posts on Thursday, actual Thanksgiving day.
This might come as a shock, but when your customers are sitting down with their families on Thursday, they are not super receptive to reading a message from a business!
So when should you send them?
I suggest Monday or Tuesday of thanksgiving week. That is close enough that you seem to be on point with your marketing, but not butting in on the actual day, or even the day before when most people have "checked out" already!
Thanksgiving Marketing Ideas For Service Based Businesses
A section of my peeps are not "have a sale" kinds of businesses (more about sales in just a wee bit!)
For example, a Realtor can't just "have a sale" like offering to cut her commissions for three days and pack in a whole bunch more listings (or could she? hmmmm maybe something to think about there). An insurance agent can't just do a "flash sale" on Medicare Insurance, nor can a Mortgage Banker offer half price loans.
So how can service based businesses leverage the Thanksgiving week marketing time?
I feel like this is a great time to recognize your customers and clients who have supported you throughout the year! Here are a few things you can consider doing:
Pop by with a bottle of wine and say thank you in person
Send Happy Thanksgiving cards instead of Christmas cards
Call your best buyers or referrers and tell them thank you for your business
Take your best customers out to lunch
Pop over with a grocery store coupon to make their Thanksgiving day dinner special
Email your list and say thanks!
There are a million ways you can express gratitude for the abundance in your business. Your customers will notice and appreciate the effort you put in to say thank you!
How To Have A Thanksgiving Sale
Okay, so am I saying that you CAN'T have a Thanksgiving sale? Nope! But you might want to keep it a little more on the down low and do it with either email or with "dark" Facebook ads. To people who already "know, like and trust" you! OR you can go full out and grab the money before it's all gone. You know your audience so pick the kind that will work best for you!
Subscribers Only Email Sale
This is a great one that I will be doing this year! Instead of promoting a public, hard core sale, you can just do a "Thank you for being a loyal customer" sale to the people on your email list.
In this case you can add some urgency by giving them the highest coupon rate, but limiting it through Thanksgiving day.
This kind of "insider only" sale can do a few things:
Make your current customers feel special
Give you a super strong reason to email your list
Pump up your sales and enthusiasm for the rest of Black Friday week!
Dark Facebook Ads
Okay, here is the scoop, I am NOT a Facebook ads expert by any means. BUT I do follow along enough to understand how they work in the real world and advertising on Facebook can be a great way to boost sales for some businesses.
If you are going to do this there are a few things to consider:
"Dark ads" refer to the fact that they are not boosting or sharing from your public Facebook page posts. These are made in the business/ads manager and are behind the scenes.
For this kind of marketing you would upload your email list and then have Facebook run ads to your current subscriber base, which can reduce the cost of advertising considerably.
It is better to start earlier rather than later and get all the kinks out of the ads. Facebook does reward advertisers by focusing ads based on results and conversions so the longer you run them, the lower cost and targeting Facebook can help you achieve.
I don't have a great referral for anyone who teaches Facebook marketing. If you know someone who does, please let me know and I will check their course out!
Full Out, Get Their Money Before It Is All Gone
Those two suggestions are sort of "behind the scenes" and less salesy. But if you are a super bold marketer and want to bust things wide open, you could go full on, public facing and do a huge Thanksgiving sale!
To implement this I would:
Send out an email about your upcoming sale the Friday before to let your newsletter peeps know it is coming
Send a "the sale is starting" email on Monday morning that goes to a Thanksgiving based landing page
Blast out your sale daily Monday-Wednesday on social media channels
Send a "last day to save" email on Wednesday to your list
As a business owner, there is nothing wrong with sharing a sale with your customers and prospects! If you theme this sale in gratitude for your amazing business and it's customers, you will do great!