I LOVE having a fancy DIY planner with all kinds of different bits and bobs! These planner printables include To Dos, Notes, Goals and Affirmations.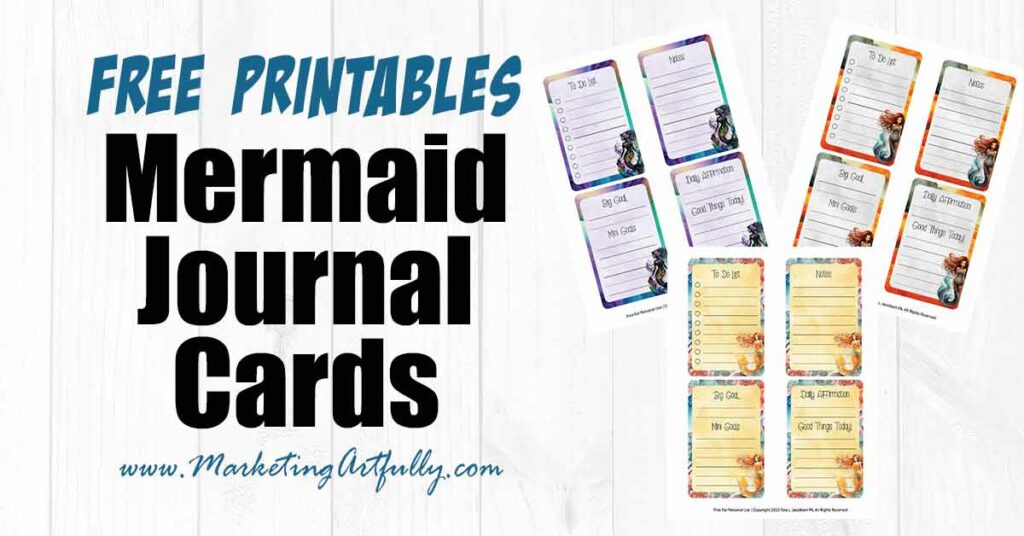 This post contains affiliate links. If you purchase anything, I earn a small commission at no extra charge to you. Check out my policies here.
All The Mermaid Planner Cards
These free printable planner cards are a great way to make a list or a wee note to yourself about how your goals are coming or jot a quick affirmation for the day.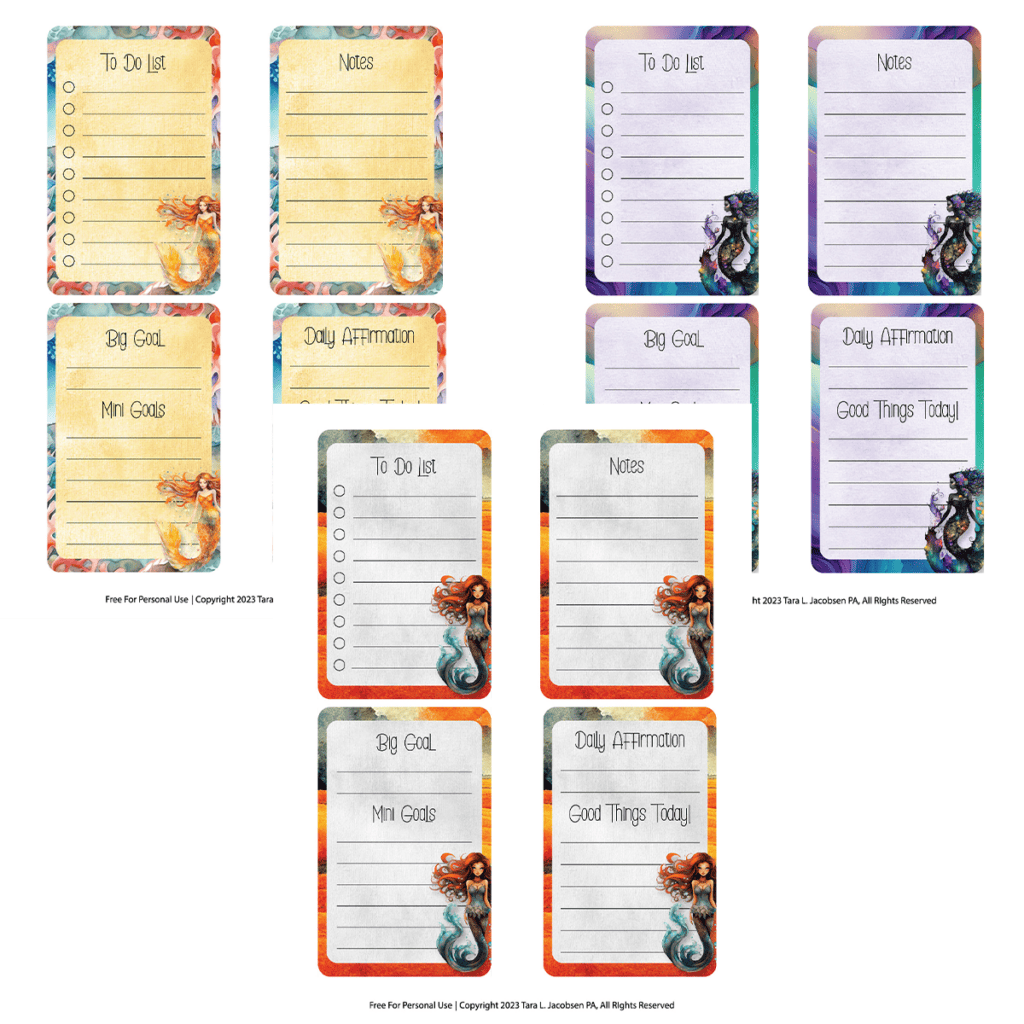 Why Did I Make These?
I have a love hate relationship with my planner! On the one hand my life works so much better when I am on target and on task. On the other hand I am a bit of a rebel and I don't like anyone telling me what to do, including me!
What I have found for myself is that I am way more likely to use my planner if there are "treats" that I can have for myself.
Writing down my big goals is more fun with a mermaid friend than writing them down on a blank piece of paper!
Why Are They Free?
YES! I could sell these on Etsy, but instead I decided to have a bunch of planner printables that you could get for FREE!
I am super blessed to have ads on my site and so I can afford to spend the time to make these for you and me!
I used a combination of images from Creative Fabrica, the Graphics Fairy and my creativity to make these for us!
How To Print The Mermaid Planner Cards
I formatted these to print out on 8.5″X11″ letter sized paper so you can just pop them out at home!
I do like to use a little bit nicer printer paper for my business planner printables, Hammermill is my favorite! It is a little heavier weight and the colors seem to print out much nicer!
How To Download The Mermaid Printables
There is no signup required! You can just right click on any of the printables and choose "save as" on your computer or long click on your phone and choose save.
Personal License For Printing
There is a personal license for these printables meaning you, your family and your team if you are a business person.
If you do want to share them with a friend, just send her a link to this page and she can download them herself!
There is no license to distribute these digitally so you cannot share them on your own website, add them to a Google drive and share the link or send them via email except to your printer.
Free Printable Mermaid Planner Cards
I hope these gals make you as happy as they have made me making them! I look forward to getting things done in a super pretty way with these planner cards!
Purple Queen Mermaid Planner Cards
I love how dark and moody this mermaid is…she looks ready to take over the world with her swishy tail and beautiful flowers in her hair!
(to download right click and chooses "save as" or long click on a phone)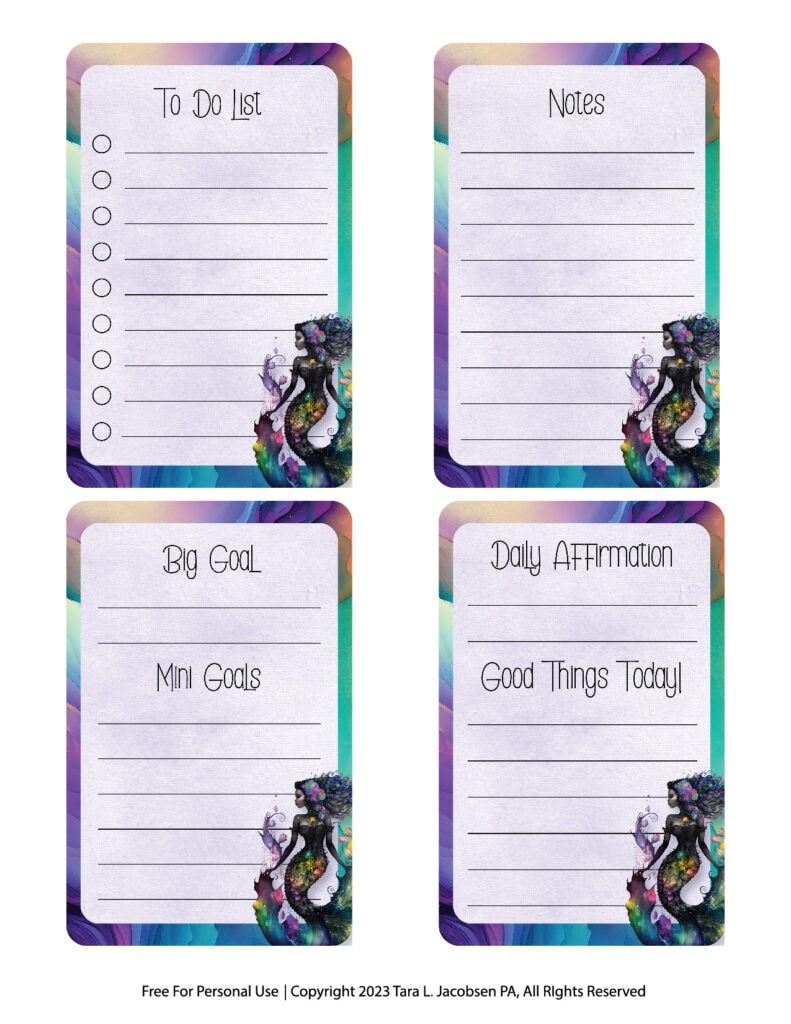 Orange Goddess Mermaid Journal Cards
This gal is so darn pretty and I love how the background of the card is a great border for her loveliness!
(to download right click and chooses "save as" or long click on a phone)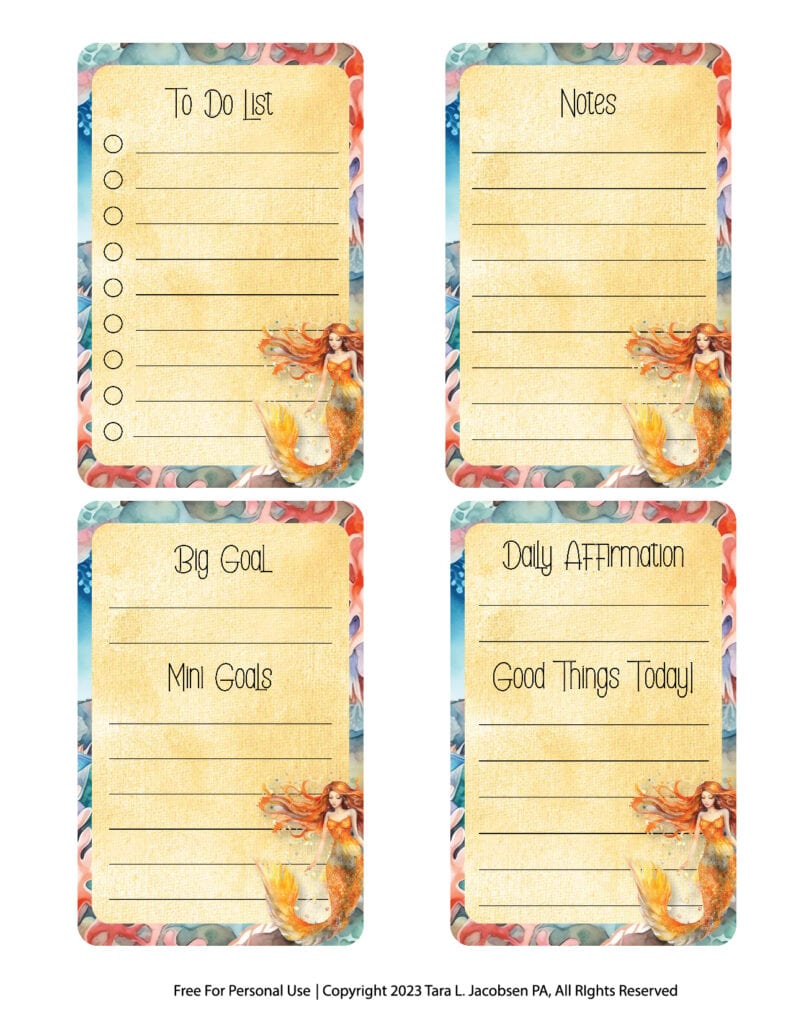 Sassy Red Headed Mermaid Planner Cards
Not gonna lie, this one is my favorite and the one that I have been using in my planner! She is sassy and fun and the orange and blue of the background are my jam!
(to download right click and chooses "save as" or long click on a phone)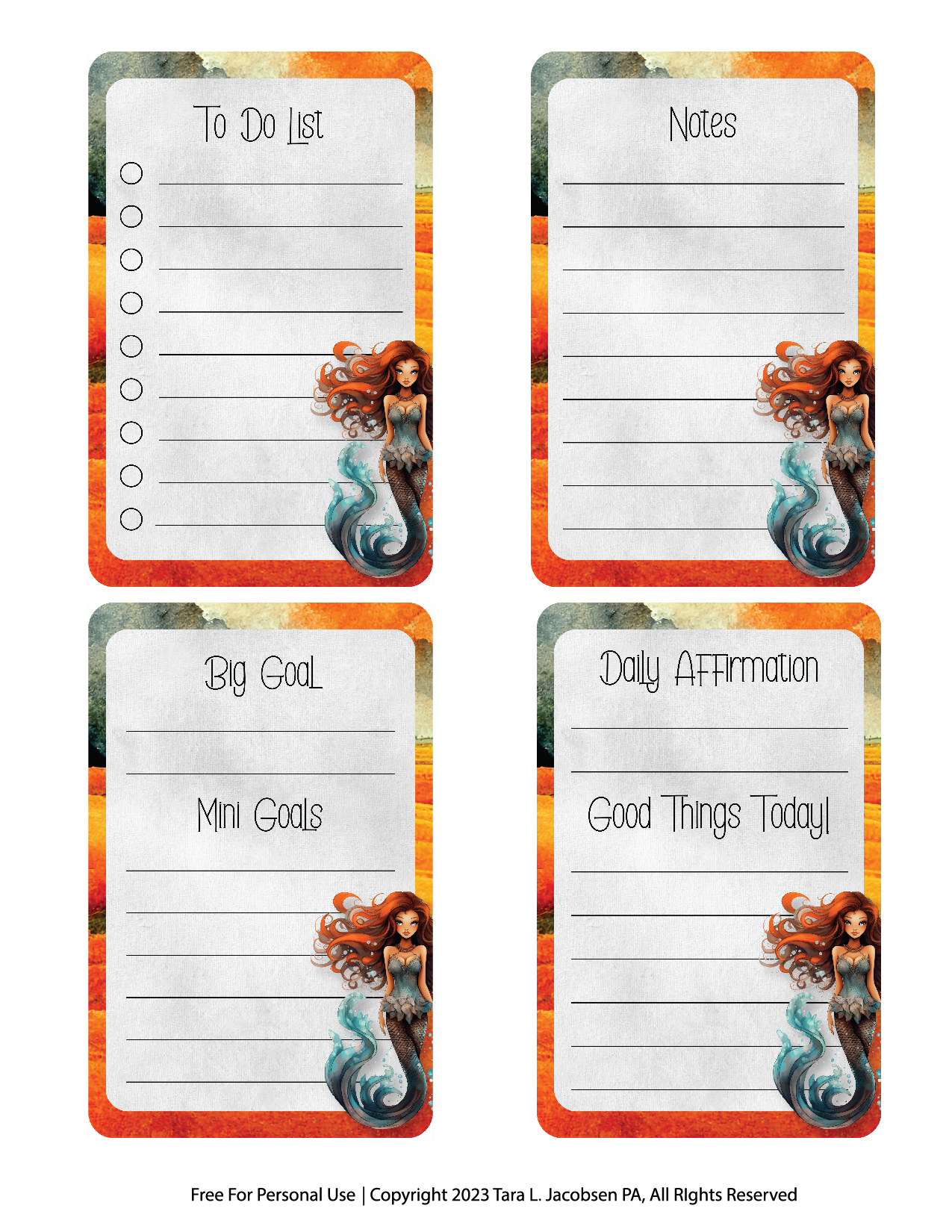 Mermaid Planner Cards Wrapup
Whether you are a to do list kind of gal, a note taker, goal setting genius or affirmation lover, these planner cards will help you stay on track in a super beautiful way!
If you have any other types of planner cards you would like me to make, email me at tara@marketingartfully.com and I will make them for you and me and all the peeps!