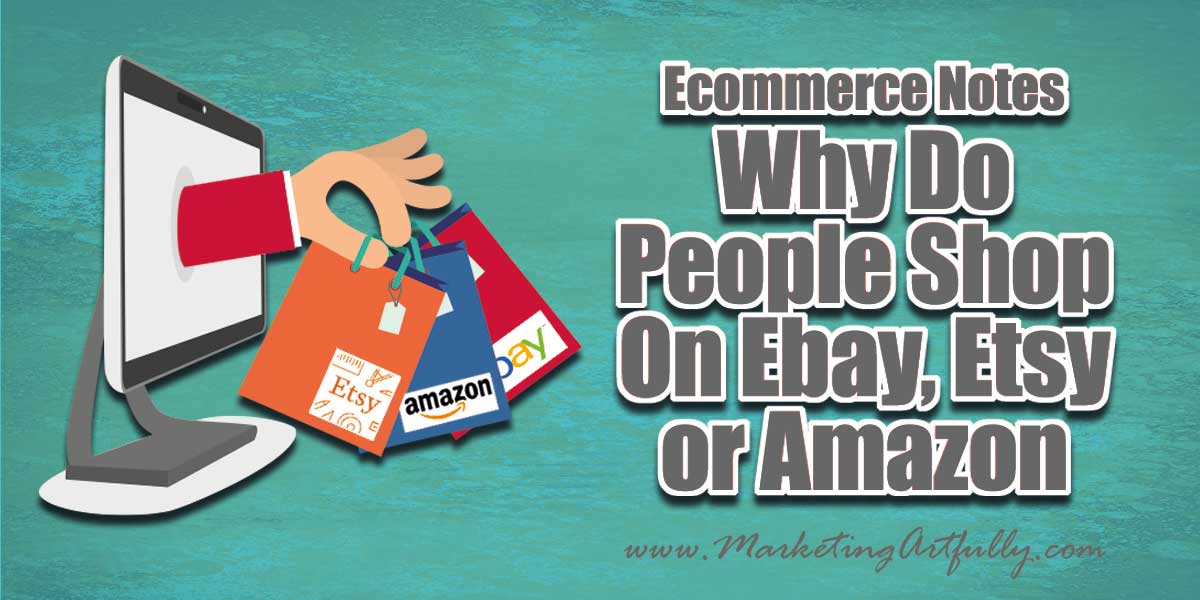 This morning I got to thinking about WHY people to choose to shop on different ecommerce sites. I feel like this is super vital when choosing where to sell and what products to source.
I have an Ebay and Etsy store and have a client I work closely with who has an Amazon store which gives me a great peek at the "back ends" of reasons why people to choose to shop on different platforms.
Why Don't People Just Try To Find The Best Price or the Perfect Items
So the first thing I want to address that is a puzzle is how humans shop. You would think that someone who wanted an item would go to Google, type it in and then buy it. But shopping sites, social media and the internet in general have given us so many choices that we don't do that anymore.
Which makes me sad. I used to be able to be number one on Google for a search term and be the most popular, but now I really have to dig down into the psychology of my buyer to figure out where they would be looking and then what they would be looking for.
Joining A "Team"
Another thing about humans is that we were made to be pack animals. There is an inherent need in us to have interaction and validation of our choices (shopping or otherwise).
With this in mind, we as ecommerce sellers need to know where the majority of people we want to sell to are going to buy something.
Team Etsy
Shoppers on Team Etsy are there because they expect to find unique, handmade or vintage items (or crafting supplies). An Etsy buyer might never shop anywhere else unless forced to by lack of options.
They are more interested in the buying experience and want all the bells and whistles including LOTS of communication with the seller, well packed items (sometimes with extra goodies) and an "experience" of shopping.
The good thing about this is that you can charge higher prices on Etsy than you can on Ebay or Amazon sometimes. I say sometimes because Etsy does get about a third of the traffic of Ebay and worlds less traffic than Amazon so you are getting less views, but the competition is often less also.
Team Ebay
Shoppers on Team Ebay are there because they are looking for something cheap, unique or obscure. They may never shop anywhere else, feeling that they can get the best prices and selection for used or new items on Ebay.
Ebay has been around A LONG time and people who are used to the format are very comfortable with buying, knowing that Ebay will protect them if something goes wrong with the transaction.
One of the best things about selling on Ebay is that shoppers can "save" searches and be notified the moment (almost) you list something that matches their criteria.
Team Amazon
Shoppers on Team Amazon are there because they can find almost anything new, in a box and get free shipping and hassle free returns.
Sometimes it can seem like selling on Amazon is a race to the bottom of the price ladder, but my client sells a product that is not the cheapest one on Amazon and has good sales. Maybe not million dollar sales, but that is not the business that she is trying to build.
Why Sell On One of These Platforms
The next thing I want to address is why sell on one of these platforms? Why not just open up a stand alone store on Shopify or one of the other Ecommerce website builders.
This one is a true conundrum. It seems like it would be best to have your own store where you do not have to compete with anyone else. Where you are the only option and they can't just search for some other product like yours that they might like better.
But there are serious drawbacks to having a tiny little store, sitting alone in the sea of the internet.
Google
Like I said before, shoppers are no longer going to Google as much to search. They are starting with a site they like and only moving off that platform if they have to.
Additionally the competition on Google is far greater than on any of the Ecommerce sites put together.
I have been searching for a wax melt warmer and doing A LOT of searches across many sites. It has been an interesting experience and really opened my eyes to just how fragmented selling has become.
On Google there are 392,000 results for the term "wax melt warmers".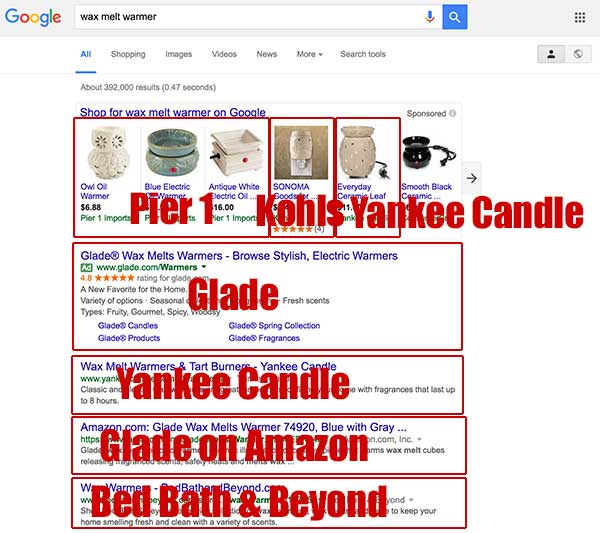 As you can see, the first 10 results I am getting are for big box stores that have HUGE marketing and online spending budgets. I had to go to page two almost all the way to the bottom before I got beyond the big box stores to an actual person's ecommerce store.
I guess you could try to do good enough SEO to rank higher on this list, but do you really have the time or expertise to do that and sell and ship?
I really think that building up your Etsy SEO, Ebay Cassini or Amazon marketing skills would be a more effective use of your time at least until you have MUCH bigger marketing budgets to compete with the big guys.
Etsy Search Results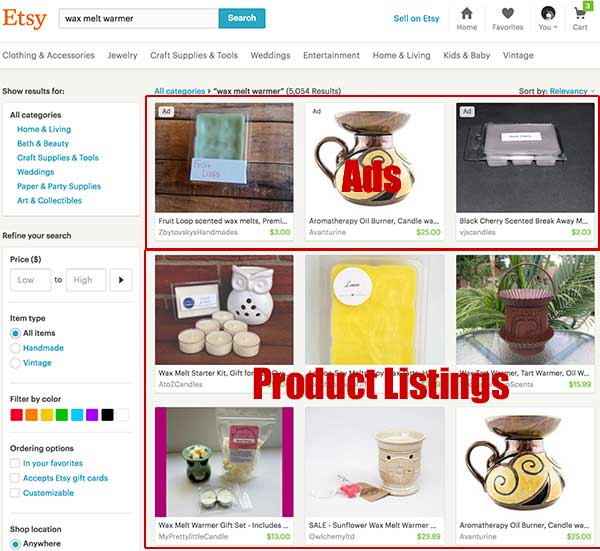 Doing a search on Etsy for that search term, we are competing with only 5,054 listings and three ads (which are also by other Etsy sellers).
This is the reason that many people use Etsy, the fact that search is not dominated by big box stores and conglomerates. I know that is why I shop there!
Ebay Search Results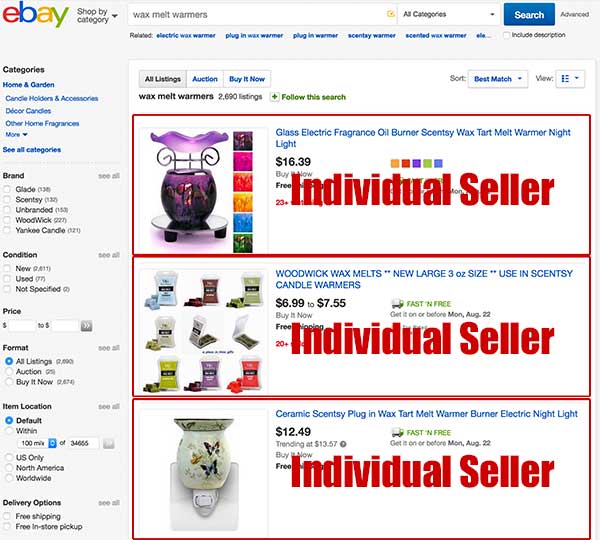 There are 2,690 listings on Ebay and the first three are all individual sellers who are selling new products rather than used or new in box items.
Down the page are a number of used items and resales of big box store products.

>> Get 40 free listings when you




sign up for Etsy

here

<<

Amazon Search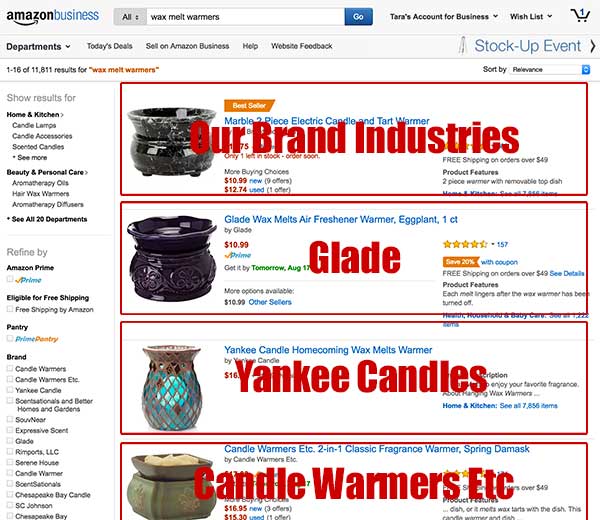 So in the the Amazon search the big numbers are back (11,811 results) and the major retailers like Glade and Yankee Candle have jumped back in the mix as sellers.
Additionally, even though Amazon has been marketing a handmade marketplace, all the items for quite a while are mass produced. Now, that is not a bad thing if you are selling mass produced items, but if you are a handmade or vintage seller, this is not a great place to be.
What Can You Do
So all this is great, but how is it going to help you as a entrepreneurial seller? Here are a few ways to figure out your platform and then differentiate yourself on there.
Sell A Unique Product
If you are a handmade seller, make sure your product is unique in the marketplace. I wound up buying two warmers from a gal on Etsy who seems to have quite a large shop but her designs were impeccable and her reviews were great.
If you are selling something that you did not make but are marketing, then package it up in a new and unique way. My client is doing a bundle of her items targeted to specific markets like car enthusiasts and kitchen cleaners. This will make her item unique in the Amazon marketplace.
Great SEO For The Platform
Okay, you may not want to hear this, but you are going to have to learn what works best on each selling platform.
Even though I am great at Google SEO, I had to dig and research what kind of Etsy SEO works best. And what works on Etsy will not work on Ebay or Amazon.
Each site has a different search engine built in and it is worth your time to find out simple things you can do to make your items rank more highly on that particular website.
Go Long Tail
Long tail SEO means that you stop trying to compete with the big guys for competitive keywords and start doing more detailed SEO on each site.
For example, I started my search looking for "wax melt warmers" but quickly figured out that I was not getting the results that I was looking for. I switched to "hand made wax melters" and "vintage butter melters" to find what I was looking for.
While it would be AMAZING to rank for the highest level keyword for your product, you may find you have more sales if you target the exact buyer of your products you are trying to reach.
Priced Right For Your Shopper
One last thing I would like to talk about is price on the platforms. Yes! Amazon is a bidding war, but Etsy and Ebay don't necessarily reward you with sales for being the lowest price option. And some shoppers automatically assume a low priced item is a low quality item.
For example, if you walked into a high end men's store and saw silk ties on a table for $2.50, shoppers would probably question the quality and opt instead to buy the ones listed for $400 because they would perceive them as better.
If you are a frugal kind of gal or guy, it can be hard to realize that some people buy things BECAUSE they are expensive and are happy to pay a higher price. Don't lose sales or leave money on the table because you aren't pricing your products correctly for the platform you are using!
Why Do People Shop On Ebay, Etsy or Amazon Wrapup
As a seller all the moving parts and pieces of running an Ecommerce store can sometimes seem impossible. When you add the myriad of choices for which platform to sell on things get even trickier.
Some things to do:
Make a list of the attributes of each platform and see which one you will be most comfortable with. One of my Ebay buddies shudders to think about how "touchy-feely" she would have to be to succeed on Etsy. I personally like answering people's questions so that doesn't really phase me and I like doing all the special shipping touches that make the Etsy peeps happy!
Do search to see how competitive each site's other sellers are. If you are up in the air about two different sites then pick the one with the least competition. Just remember, if there is NO ONE out there, then that can be a sign that it is not a good fit for your business. For example, if you sell cozy quilts and want to sell on Amazon, you might find that the buyers there are not looking for as many handmade items.
Be honest with yourself about your level of aggressiveness and effort. If you decide to sell your handmade jewelry on Etsy, you have to know that there are a lot of well established people already there doing just that. You will have to be diligent in creating a large store with lots of items and learning about what it takes to dominate the SEO playing field.
Well there you have it, some thoughts about why people shop on different selling platforms. As an Ecommerce seller, knowing the psychology behind buyers is super important to your success!