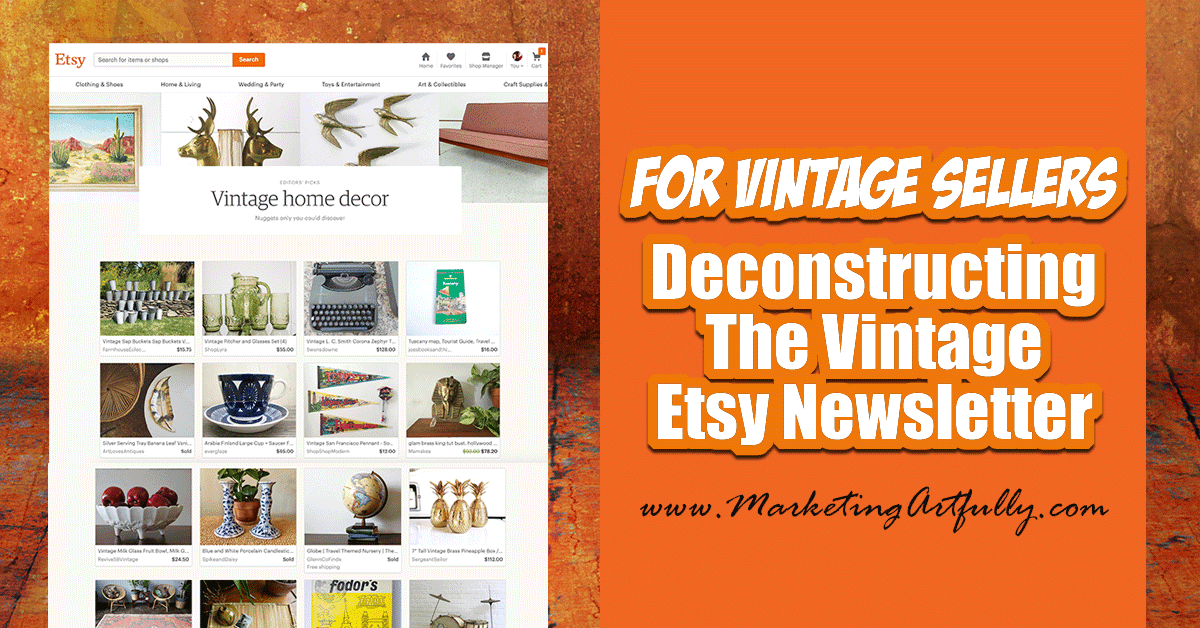 It is fascinating when a company you work with gives you a peek into their soul! For me this happened when the Etsy team sent out a newsletter SPECIFICALLY targeting vintage. There are so many interesting things we can glean from this and today I am going to deconstruct the fun things I found when reading (analyzing) the newsletter!
None of my theories or conjectures have been validated by Etsy, I am simply using 20 years of marketing chops and common sense to figure things out!
The Vintage Etsy Newsletter
As vintage sellers we often feel overlooked by Etsy who talks a lot about handmade sellers and even craft supplies, ignoring those of us who call ourselves "vintys"! (or maybe that is just me and my vintage besties)
A little backstory…. just before this newsletter came out there was a big push to participate in Etsy's first ever site-wide sale, where they didn't have a vintage section and so vintys were flooding the Etsy boards with frustrated messages.
Maybe they got through because not that long after Etsy sent out a full blow, vintage only newsletter that was AMAZING for giving us a peek inside the mind of Etsy and their editors.
Link to the Vintage Etsy Newsletter archived post
Vintage Home Decor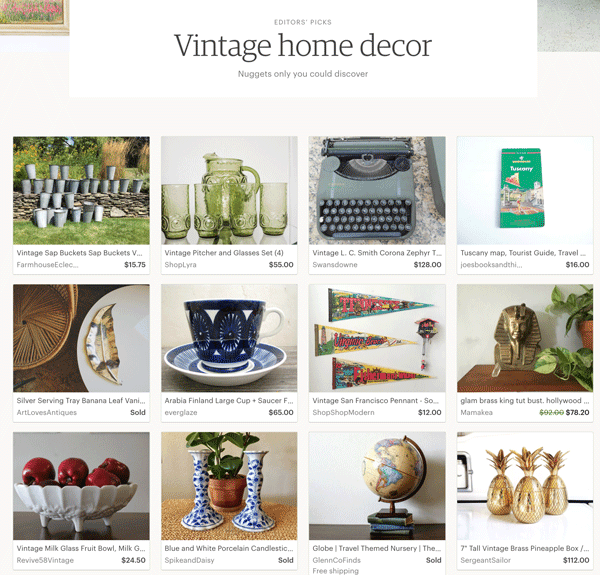 They opened strong with a mish-mash of all kinds of random vintage items. Looking at these it is hard to figure anything out. There are not more lifestyle pictures than isolated shots, not one category or kind of item… kind of a if they did a search for "vintage home decor" and then used results.
As I talked about in SEO For Vintage (and OOAK) Etsy Sellers, it looks like they are doing a "home decor" search with a modifier of "vintage" which they would get from the attributes that we put in when we load our listings.

Okay, having come from a Google search background, MILLIONS of competing listings is what I am used to, but in Etsy, that large a number is pretty un-overcomable to be interesting to me. There are over a million items matching that search, so I am going to down deeper in the newsletter to find more specific things that can be gleaned!
Fresh Trend – Blush Glassware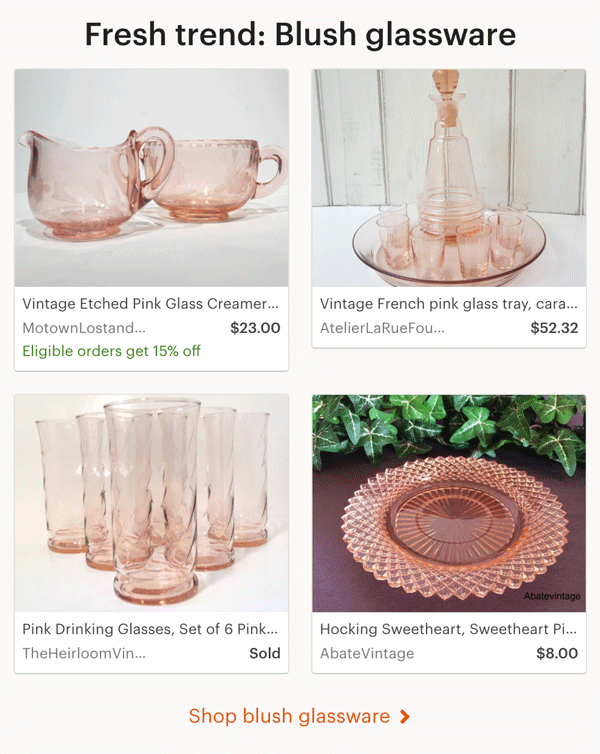 Ohhhh now this is much more interesting. By clicking the link and looking the in the top search bay we can see that they actually did a search for "pink glass" and used the vintage modifier checkbox on the side of the page to find these items.

So what does this tell us?
Pink glass is hot! Etsy is in the business of selling things and has data to determine what is popular on the site. The fact that this is the first category that they chose to put in the newsletter, says that this is a trend we might want to check out and source more of.
We should use "pink glass" in our titles and tags, as well as "blush glassware". We have so much space that it will not take away from our SEO to use a term that may not actually be a "thing" but that Etsy is promoting.
Keep your peepers open for additional terms that cascade down from pink glass! As you can see below, we could pick pink glass vase, dishes, bowl, plates or bottle. Say you had a pink salad plate… you would want to use keywords like "Pink Salad Plate, Pink Plates, Pink Dishes" that are factually correct and could put your item in those additional highlighted categories.

Note: I am a huge proponent of making your Etsy vintage store searchable by having niche categories that you target. I do not like selling glassware so this is not all that helpful to me because I am not going to start sourcing pink glass just because it is cool. Please know your store and which of this things apply to you! BUT, knowing how to quickly figure these things out for your listings WILL help no matter what you are selling!
Luxe Lucite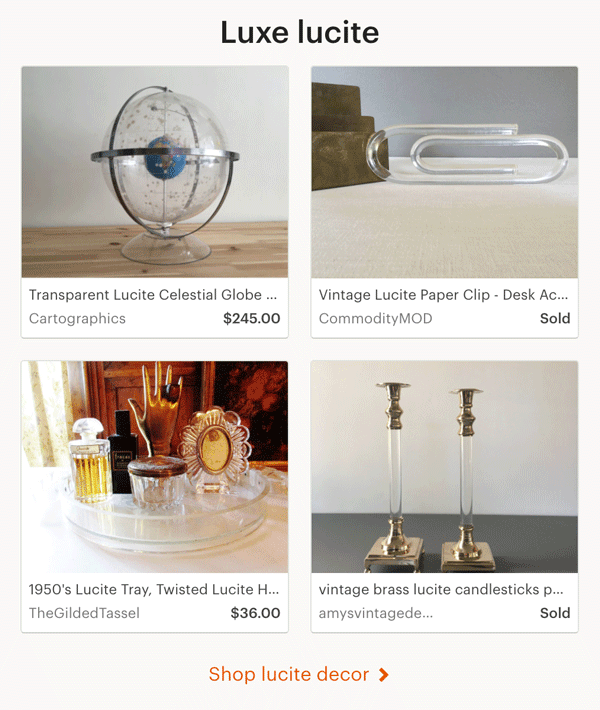 For this "Luxe Lucite" search Etsy used the top level category Home & Living, the keyword Lucite and the vintage modifier. That is important! It may be tempting to put your vintage lucite items in the "right" category, but if more people search for them through the Home & Living rabbit trail, that is good to know!

Generally it is thought that the "under category boxes" are done in order of importance on sites like Etsy and Pinterest. Here it looks like they are doing "home decor", "Jewelry & Accessories > Bags & Purses" and then "Jewelry & Accessories". You can see that they are in different colors and then we just have to go to category links and figure out what they mean. That said, clicking the "lucite bracelet" button takes us to a home and living search.

Note: PLEASE do not take this to mean that you should move all your jewelry pieces to the home and living category or that you are doing all of your SEO completely wrong. Drilling down into these things can help you understand more how Etsy search is working, how some people are selling things and give you a chance to test. If I had two lucite bracelets I would do them as close the same as I could with titles, tags, descriptions and then put one in the jewelry category and one in the home and living category and see which one sold better! This is called split testing and is a useful tool… changing your whole store every time you hear something about SEO is not time productive with our one-of-a-kind items!
So what does this tell us?
Lucite home decor is POPULAR! Furniture, table, tray, lamp and chair came up strong as categories. "Lucite Tray" only has 390 items in the category so sourcing lucite trays seems to be a no-brainer.
Doing a search on Marmalead for "lucite tray" shows that "acrylic tray" is also often used. One thing that was SHOCKING to me is that not many lucite tray sellers are using "Mid Century Modern" on their listings… these scream that look for me!
The newsletter featured more lifestyle pictures of lucite than plain jane pics. That seems to be a trend in their newsletters that I will be watching.
Vintage Travel Guides

This link goes to a blog post on the Etsy blog where a writer is talking about her love for vintage travel guides. Hmmmm… interesting!
So what does this tell us?
If your shop if full of things that you love that are a specific category (the lady who has all cute, kitschy knick knacks comes to mind) you might approach Etsy and see if you can write a blog post about those things.
The blog post is FULL of outbound links to Etsy categories like fashions of the day (which is really an editors pick page of vintage clothing) , colorful maps (really "vintage maps"), and bingo cage. If you have a blog you could tell stories and link your shop categories, that way if the specific item you are talking about sells, they will still be directed to your shop rather than being sent to "items like this" once yours expires or sells.
"One of my greatest scores, unearthed at Mid Mod Collective in Knoxville, Tennessee, was a trio of cool Vista Series guidebooks from the late 1950s and early 1960s." Oftentimes we wonder who the heck is buying our vintage things. This lady loves guidebooks so much that she gets all giddy. Think maybe that one of her relatives might be searching on Etsy to find a great Christmas present for her? We could use keywords like "gifts for travelers, travelers gifts, etc."
Vintage Planters and Stands

This search was Home & Living, Planters with a vintage modifier.
There were A LOT of different high level planter categories…

The one that is the most interesting to me is the "succulent planter". Succulents are HOT, HOT, HOT right now in the decorating world! Functionally ANY container can be a succulent planter because you put rocks and sand in the bottom and make sure not water it that much. These sellers have taken advantage of a design trend and included these keywords in their listings.
So what does this tell us?
It is easy to think that only old, fuddy-duddys are looking at our vintage things, but sometimes we are actually part of a hip trend. I use the Texture App to read a million different design magazines and see what is trending.
Sometimes it is worth thinking about specific uses our products could have to niche down into a popular trend.
ALL of the picture are lifestyle photos with a plant in them! If you want to be competitive in this category, you better plop a plant in your planter!
Shop By Style
Oh, oh, oh, this is maybe my favorite part of the newsletter of all! It has everything… trends, styles, keywords… squee!!!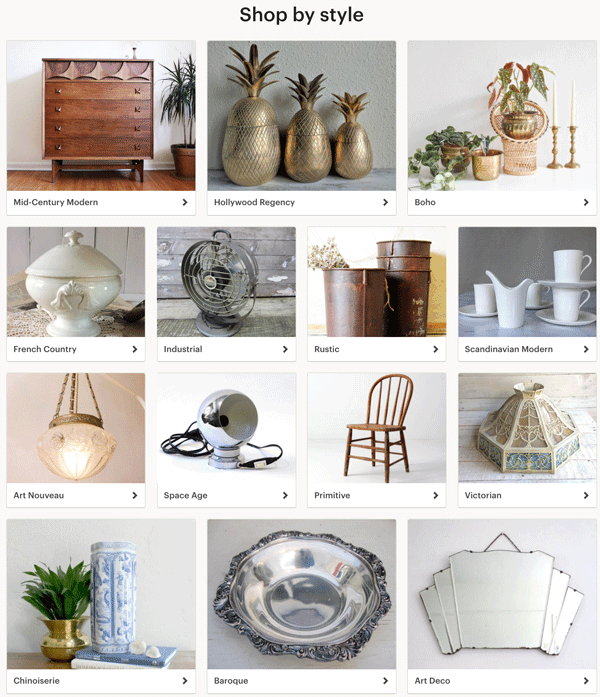 If you have been around for a while, you might know that some of these categories used to be attributes we can pick and they are coming back on and off depending what you are listing. It is SO worth finding out about these kinds of decorating styles, especially if you are going to sell a lot of home decor in your vintage shop.
I know that I tend to use words like barogue or primitive when I am looking for decorating for my own house!
Interior designers will for sure be using them when they are shopping for clients. You can raise your prices if you pieces are in perfect condition and can be included in one of these of these categories!
What they are saying that are cool vintage styles:
So what does this tell us?
We should use these exact keywords in our titles and tags!
Interior designers and people that want these styles in vintage products are willing to spend more for them thank we sometimes think to sell them for.
We should be sourcing items that fit into these styles unless they are a poor match for our store's brand (I will probably NEVER sell a "space age" piece!)
Make sure to list items from these styles first… I have a few death piles that have all kinds of things I COULD list, but I will be focusing on listing these kinds of things first!
Final Thoughts On Deconstructing The Etsy Vintage Seller Newsletter
Please remember that Etsy makes money when we make money. When the editors send out information like this, take the time to review it and discover what clues you can use to help your business.
Vintage is a huge category, but only some of these things should apply to your and your store. Get a firm store brand, figure out what you are good at selling and sourcing and get back to work!