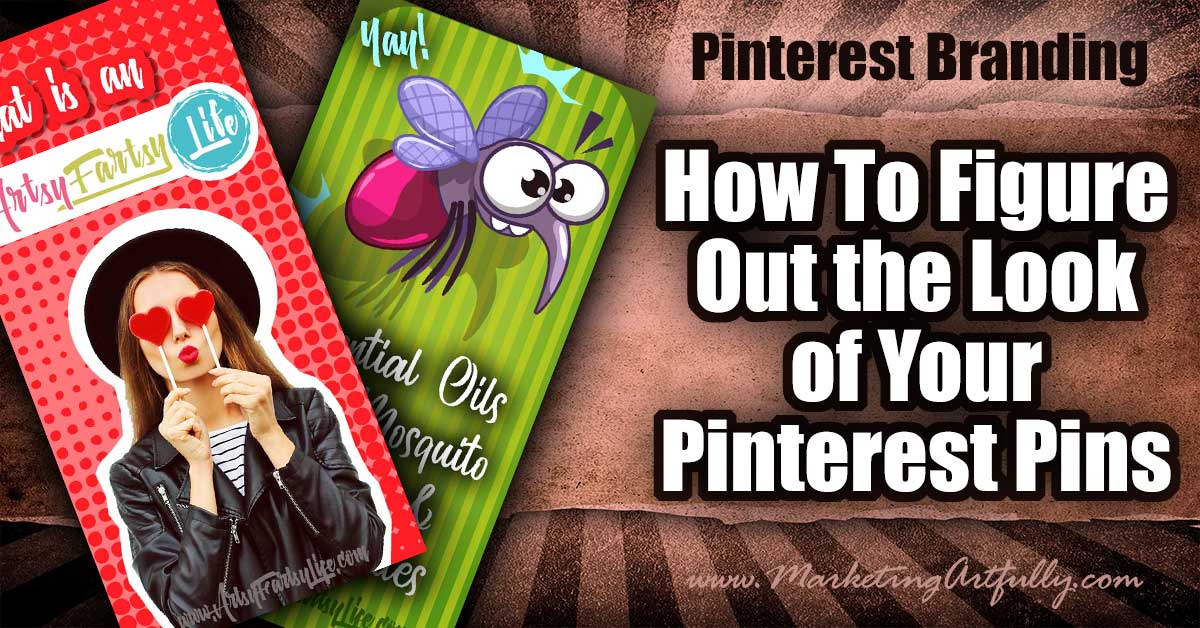 There are tons of great articles about Pinterest Branding, sort of "your pins should all look the same" articles . And I do think that there is something to be said for consistency in your branding. But I don't agree that EVERYONE has to have a super strict branding packing or that you can ONLY have one style of pins.
Why Do I Think You Should Vary Your Pinterest Pin Design?
So here, in my post about figuring out "your look" I am going to say that I have NO IDEA what look the people on Pinterest will like.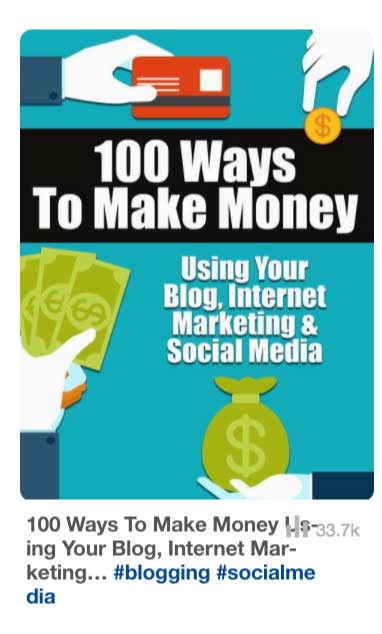 This pin has over 33K repins … it is an illustration and very little branding. It is nice and the content it links to is great, but there is no real reason it should have been shared that much more than this pin…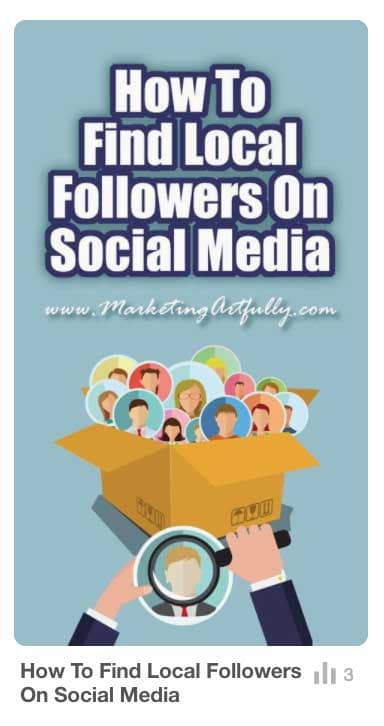 …which is also an illustration, with very little branding that got 3 pins.
I have been around a very long time and have popular pins and popular blog posts on Google. I have written great posts that flopped and horrible posts that drive gobs of traffic to my website.
I have read hundreds of articles about how to make viral pins, videos, blog posts, etc. that all come from people who accidentally did a viral something and are now walking back the cat the cat to tell us how to do that exact set of steps.
And none of those things really makes sense. What does make sense is to make LOTS of pins, in all different styles you like and then find out from split testing, which ones do the best!
Split testing… making a couple of different styles of pins for the same content and seeing which one gets more repins. 
What Do Your Current Graphics Look Like?
Next thing about making a "style" for your pins based on what is popular today or what all the "cool pinners" make is that it might not match your branding.
If I tried to do those neato, hip pins like Rebekah Radice with all the orange and the fun ladies…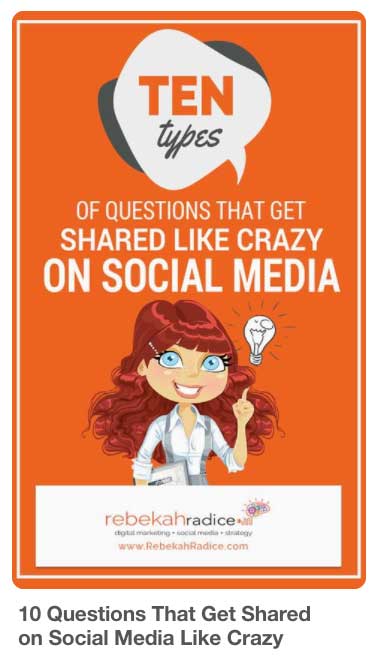 … then I would wind up looking like a copy cat, and confusing people once they got to my colorful, creative website.
Or if I did the "every pin looks the same" like Beth Anne, Brilliant Business Mom…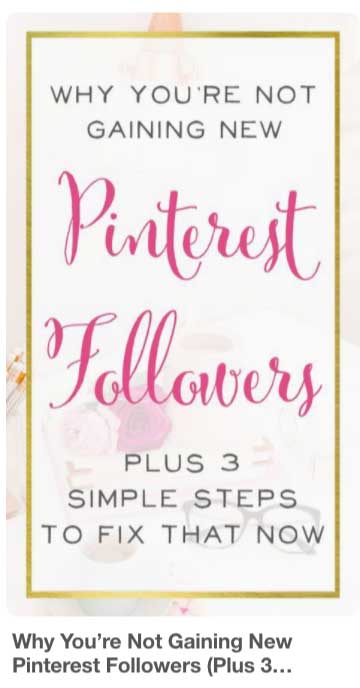 …hers are always feminine and pretty with lots of pink and gold. But that is not what I want my pins or my site to look like!
So stop right now and pull out your current branding. Print out your website, your business cards and your brochures. See what they look like. Are there similar colors, do you use illustrations or photos, are they dark or light, what colors do you use?
Additional Resource: If you would like to make consistent branding for your pins, here is a great article … How To Brand Your Pins On Pinterest 
Fonts
One thing that I am totally on board with is using fonts to help show that your pins are your pins! You can pick a funky font that is hard to read or a bold font that jumps off your pins.
I love the way that Lena from What Mommy Does uses a large, scratchy numerals in many of her pins. This lets you recognize her pins without all looking the same!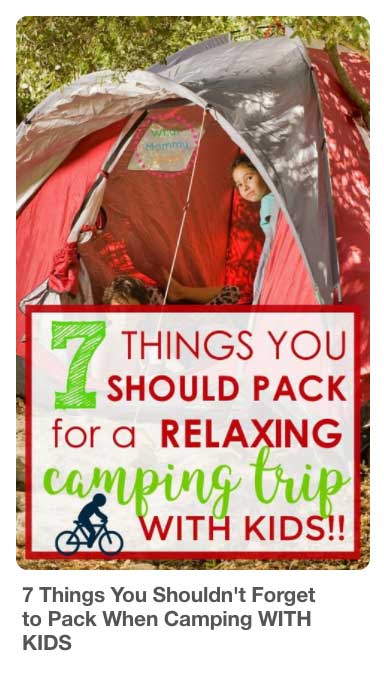 As you can see she mixes the scratchy number, clear writing and a scripty callout.
What Is Popular In Your Niche
Okay, now that we are down with being a little creative with our pins (maybe that is just me, but it IS my post… ha!) we need to stop and see what is "normal" in our industry or topic.
I am starting up a fun, new creative site and I was checking out pins types for my three segments.
Organizing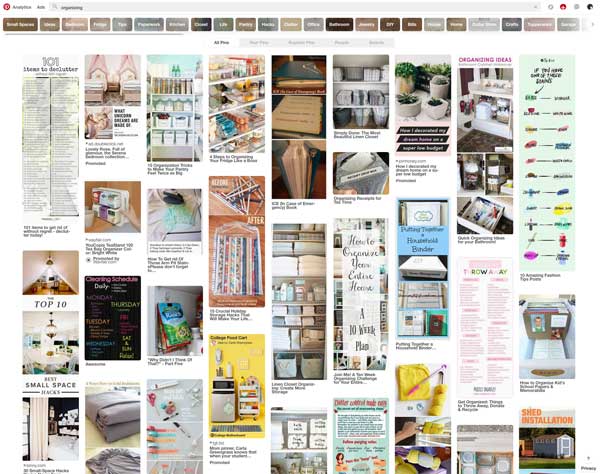 What I found from looking at a bunch of pins in the organizing space is that popular pins have "real life" pictures. The organizing peeps are not interested in pretty, stylized pictures, they want to know what ladies are doing in their homes.
Essential Oils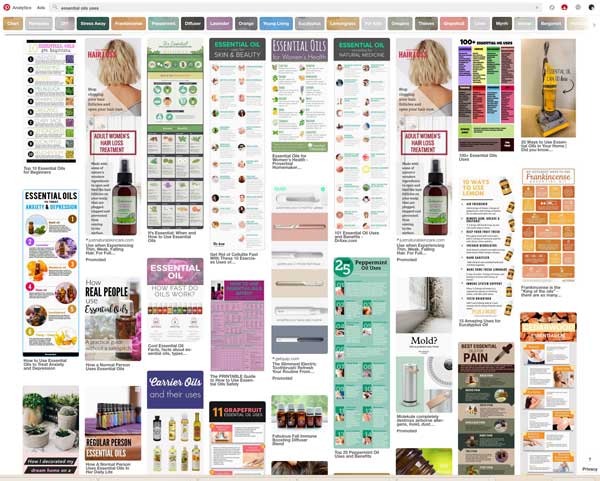 Okay, the essential oils peeps are creeping closer to what I am used to with professional pictures and LOTS of infographics.
Creativity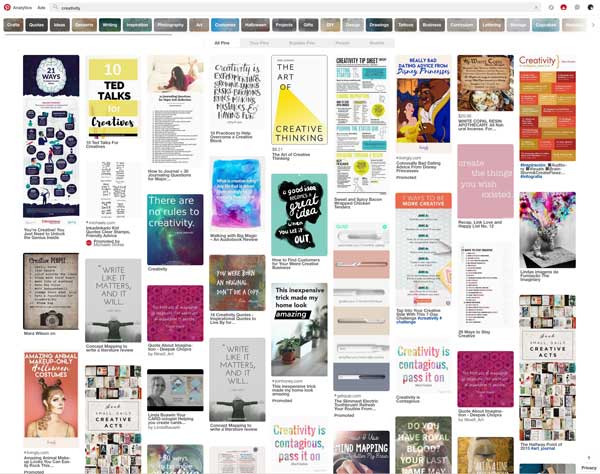 Last but not least are the creativity bunch.  Whew, these are my people. Lots of bold colors and color blocking (big colors all in one place).
Your niche… so go spend some time on Pinterest looking at your niche's standards and norms for pins AND THEN find the intersection of that with what you like to make!
I settled on a couple of different styles for my new site based on the styles in the creative genre: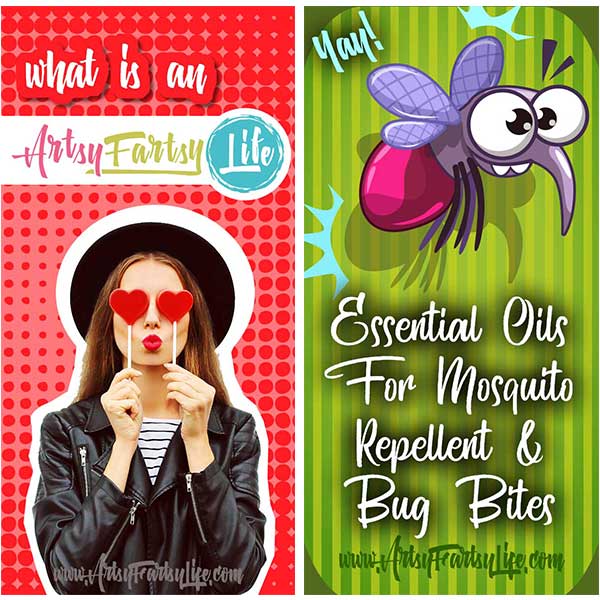 I am going to test and see which ones do the best! I like the color blocking of the creativity peeps but wanted to pair that with a bit of photography and whimsey I like.
Getting Started, Just Start
Now let's talk about when you get "serious" about your pin design. It is VERY tempting to fiddle around and wait until you have the perfect design. To do research and try to make your pins absolutely stunning, to get your style down pat before you start… but that is a HUGE MISTAKE!
First off, nothing ever gets better until you try it and second, you can always swap out pictures or delete pins if you are not happy with what you came up with.
When I first did a blog post on my new site I did a style like I thought matched the essential oils crowd. And it just sat there, staring at me, looking icky. So I left it for a bit and then swung back around to and changed it out when I had finalized my look… from this to this!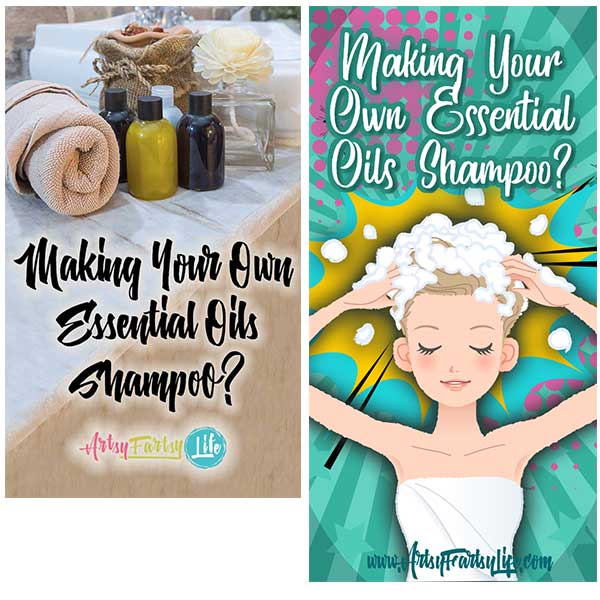 The first one wasn't bad, and I will still upload it to Pinterest to split test, but for my site it wasn't the cool look I was going for!
You Can Have Multiple Pins
Don't forget, you can have multiple pins for the same post! I made three different pins for one of my posts that are pretty different, to appeal to different people.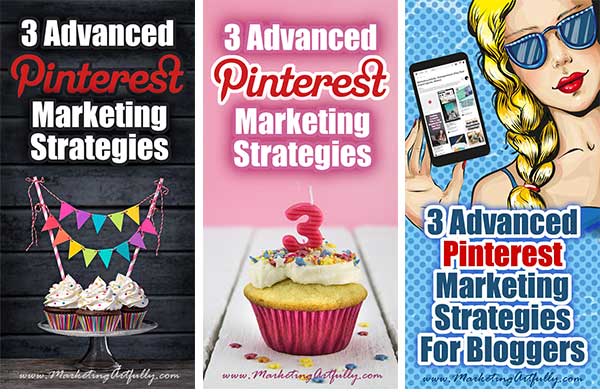 This is a great idea if you are going to do promoted pins so that you can try to see which works the best (gets repinned the most!)
As you can see, I used a very similar look and feel and just swapped out the pictures on the first two… which leads me to…
Making Templates
If you are going to become a Pinterest ninja, you have to start to get some level of expertise at making pins. Now, you may be shocked to hear, I do not have a graphics design background… I have a Bachelors of Psychology… no art, no design, just going on 20 years of trying and failing.
I use Photoshop for my design in conjunction with Adobe Illustrator. That is WAY to much for most people!
If you are just getting started with designing pins I suggest using Canva. It is a free online service that has templates built in.
Once you get a little bit better I recommend going to Photoshop (or the free alternative Gimp). The nice thing about using Photoshop is that you can use any fonts you have on your computer and make yourself some templates that you can use all the time.
I have a template set up for every different kind of pin I make. I just open it up, add a photo or two and then save it again. The templates include things like logo, website address, fonts and size.
Additional Resources
There is a good and affordable ($5)  Pinterest Course on Creative Live that was pretty darn helpful! #ad
I LOVE Beth Anne's course on Pinterest Brilliant Pinning #ad