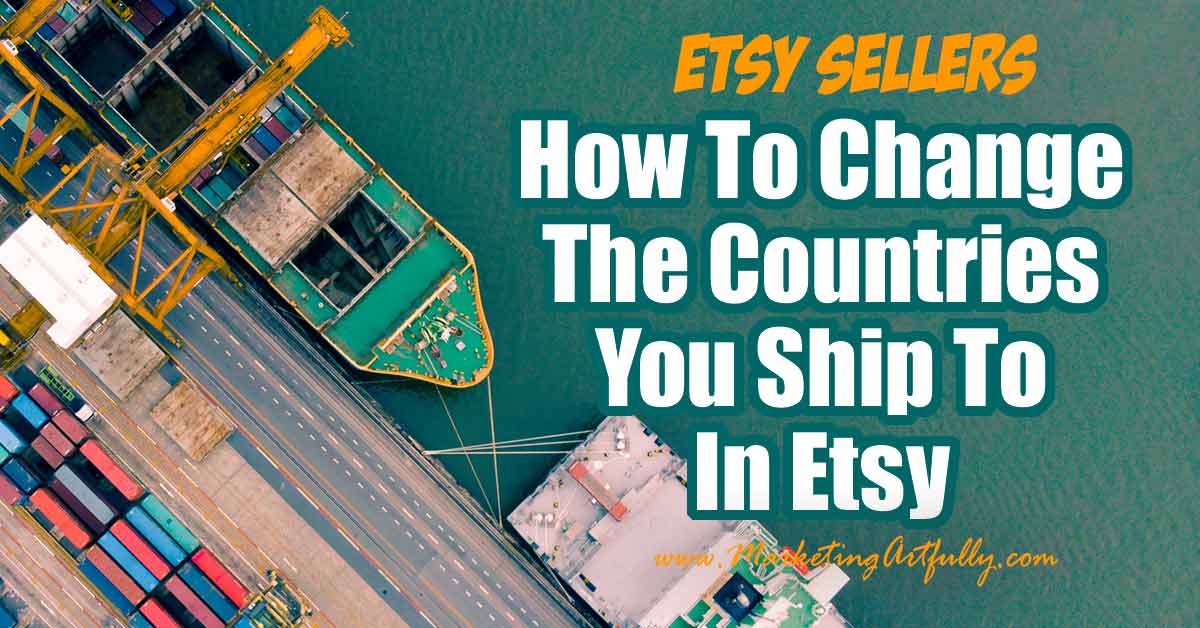 With all the changes in shipping laws around the world, you may want to change the list of countries you will ship to for your Etsy shop listings. This brief tutorial will show you how to change your settings in your shop manager.
Log Into Your Etsy Shop Manager & Click On Your Listings Tab
To change shipping you might be thinking you would go to the "orders and shipping" section, but shipping countries are located in each individual listing!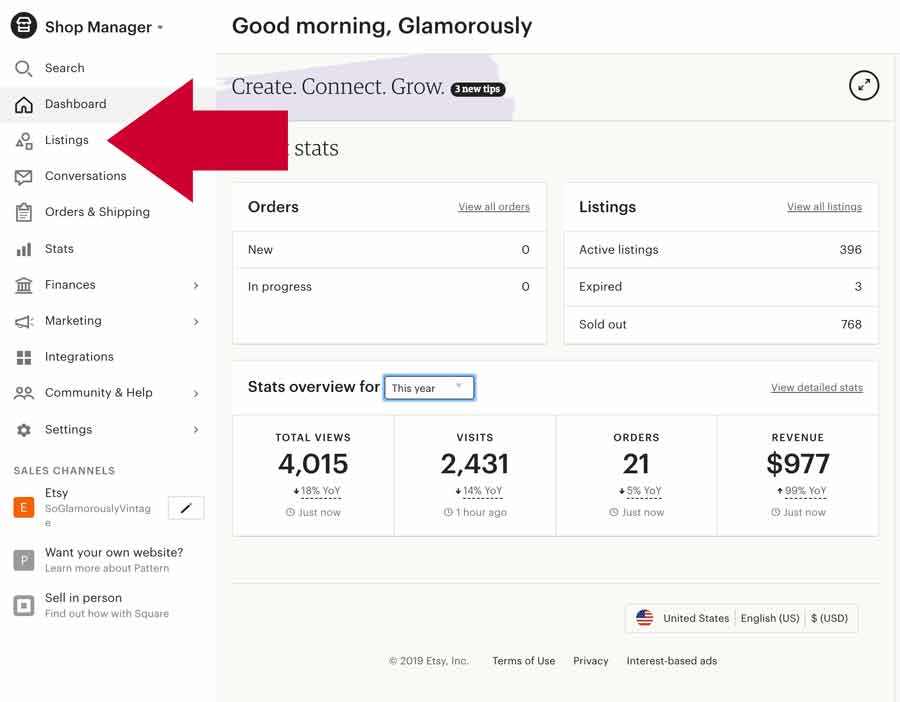 Scroll Down To the Shipping Section > Where I Will Ship > Countries
By default you will have all the continents and countries chosen to ship world-wide. You may even need to click on the "all countries" to get the continents to expand down.

You Can Toggle Off Entire Continents or Areas
Say you are like me and want to avoid problems shipping to Europe because of the VAT tax many countries there have, you can toggle off entire continents or regions.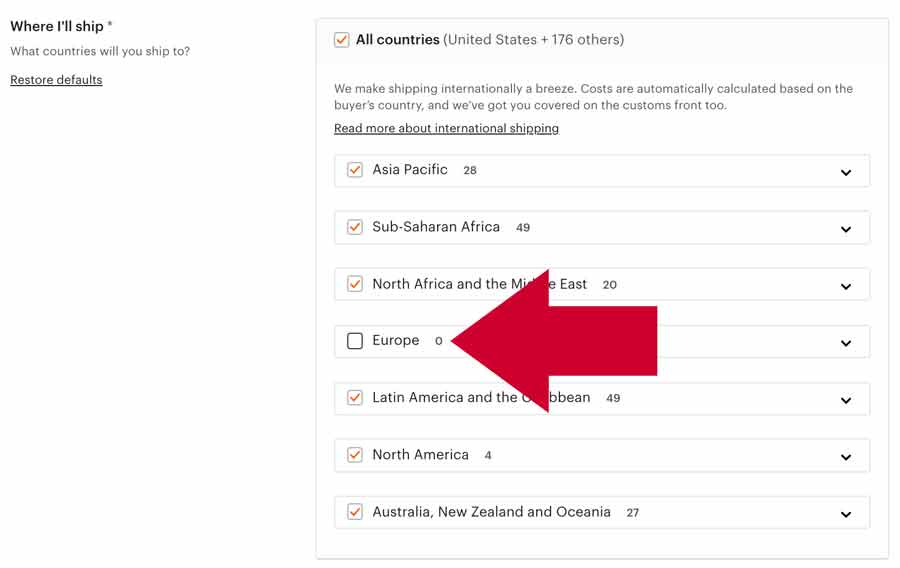 You Can Toggle Off Individual Countries
But say you just want to stop shipping to Germany, but are willing to ship anywhere else in Europe, you can just pick Germany (or any other country) to exclude!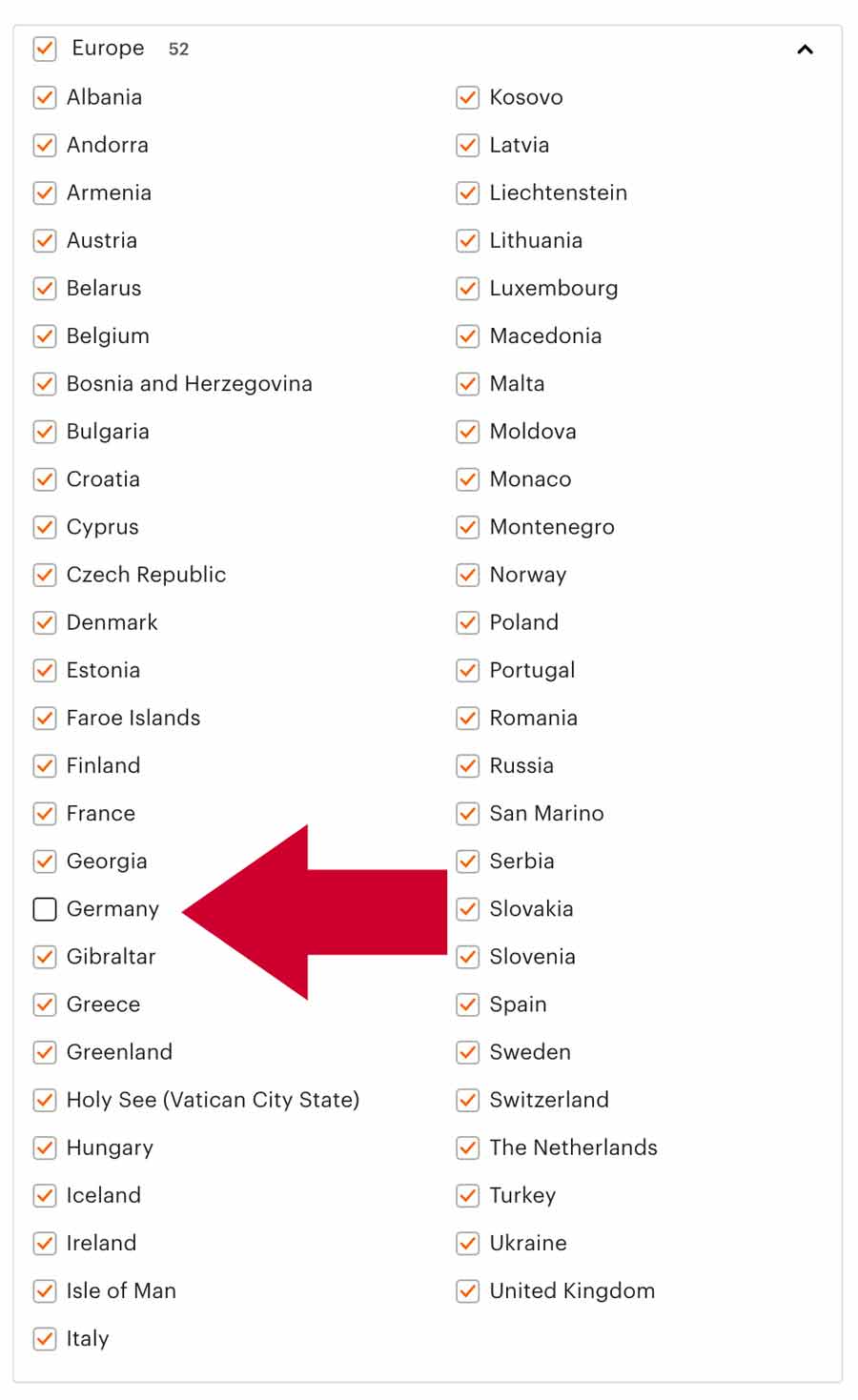 Changing Shipping Profiles In Etsy
One part of Etsy shipping that I don't use is Etsy Shipping Profiles. They are great if you sell something that is always the same size like small jewelry pieces or even big heavy signs.
With shipping profiles you can set up your shipping settings and then choose a profile for each listing.
The nice thing about using shipping profiles is that instead of having to into each listing to change the countries or shipping costs when there is a price hike at the USPS, you can change it once for all the listings that have that same profile in one easy step!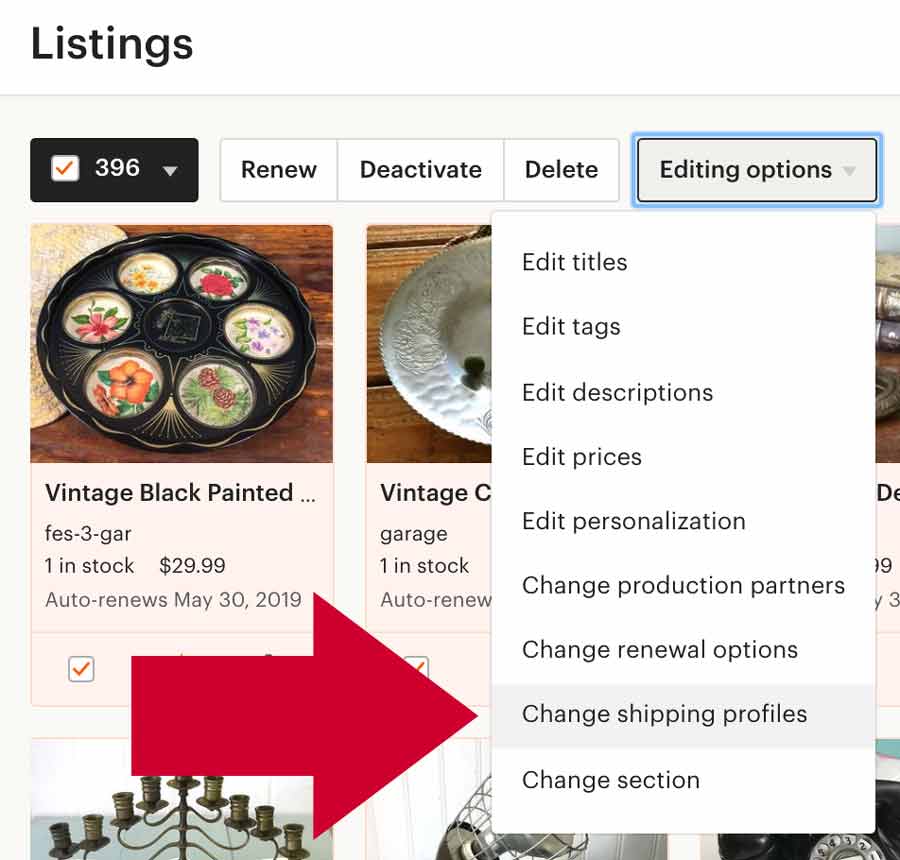 If you were thinking about setting up Etsy shipping profiles AND you might be thinking about taking Germany or Europe off the list of countries you will ship to, it might be worth taking the time to set up profiles now and add them to your listings so the next time everything changes you don't have to change them one at a time again!
NOTE :: You may need to create a new shipping profile excluding Germany and then save all the listings with the new profile!
Changing The Countries You Will Ship To In Etsy FAQs
You may be wondering why you would ever want to change the countries or regions you ship to (I know some of the gals in my Etsy Facebook Group were asking that!)
Please remember that some of these are how I run my Etsy shop and are my choices. Yours might be different depending on what you sell and your sales volume to other countries!
Should You Ship To Europe?
I choose not to ship to Europe as I have had so many packages returned because of the VAT (Value Added Tax). This requires your customer to pay an additional duty when they get their package on the other end.
I had a few packages sent back because the buyers didn't collect them and so I decided to skip Europe in my sales. You may have great luck with your buyers or sell something lower priced that is not taxed. Here is a great article that explains VAT tax better than I can!
Should You Ship To Germany?
There has been some talk lately about Germany rejecting packages, even from small sellers who have not complied with the German Packaging Act requirements. These seem to be quite extensive and since I haven't sold many items in the past to Germany I will not be shipping there going forward. Here is a great article about this new requirement.
Should You Ship To Africa / Nigeria?
I also choose not to ship to Africa or Nigeria because of credit card fraud that is rampant in some of those countries. As I had never had an order from there before ceasing shipping, I don't think this has affected my shop sales, but it might have.
Additional Etsy Shipping Resources