If you love Alice In Wonderland AND planning, these are the printables for you! Includes notes, goals, to dos and affirmations… the best things to track in your planner on cute little journal cards!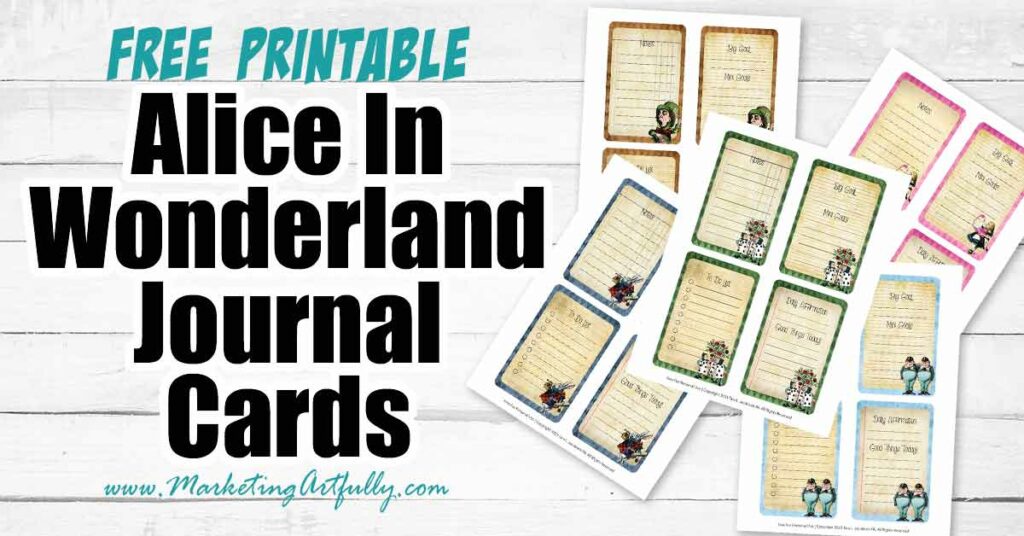 This post contains affiliate links. If you purchase anything, I earn a small commission at no extra charge to you. Check out my policies here.
All The Alice In Wonderland Printable Journal Cards!
I know I like to get to see what I should choose all in one place! I am a sucker at all times for the mad hatter, but I think in this case I would pick Tweedle Dee and Tweedle Dum to hang out with all day!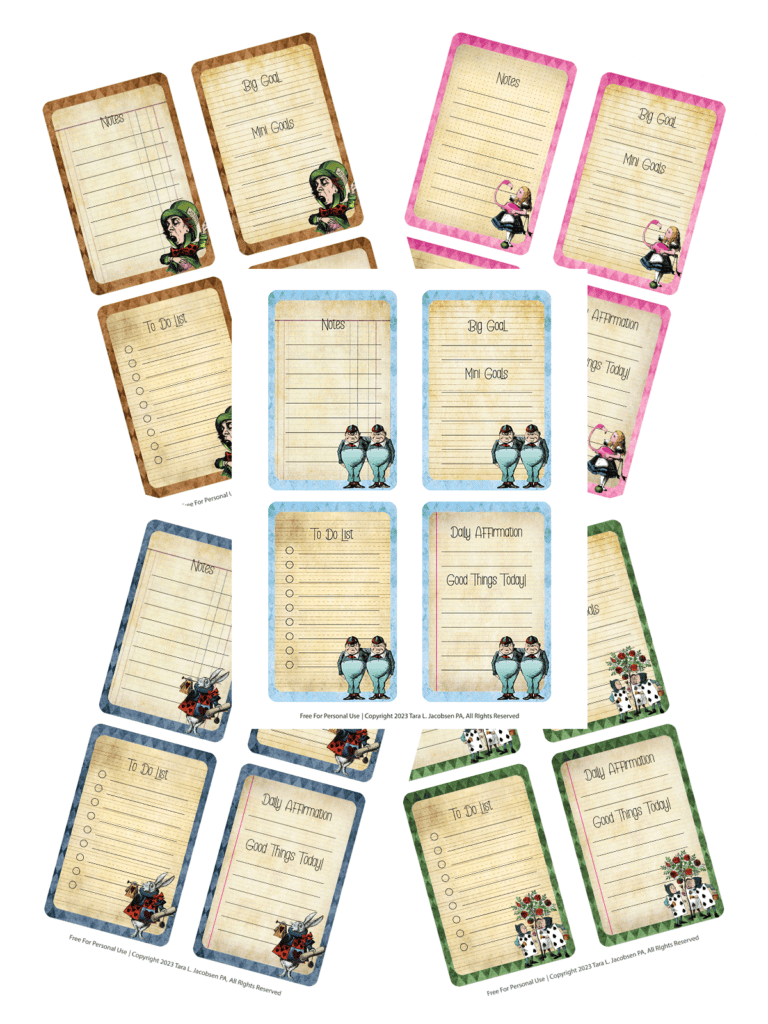 Why Did I Make These Planner Cards?
Years ago, right after we adopted 3 kids at the same time, I had a time management breakdown! I felt like I couldn't get everything done (because I couldn't) and ordered a planner that wouldn't come for weeks in the middle of the night.
After I got over that trauma, I decided that I would start making planner pages that I could just print out at home whenever I got freaked out about time!
I used my version of the public domain images from Alice In Wonderland, Creative Fabrica backgrounds and my own creativity to make these!
Why Are They Free?
I KNOW, these are so darn cute and I could probably sell them on Etsy or even on my own site, but I have found that I like the messages I get from people who say that my freebies make their day!
Also I have ads on my site which allow me to get paid a wee bit when ever anyone stops by so that affords me the time to make freebies for us to use in our planners… whoo whoo!
You don't have to do anything to help with the ads, but if you did want to help, share this page with your favorite Facebook group or Pin it to Pinterest!
How To Print These Planner Cards
For a quick use little card like this I like to use just regular copy paper. I don't like when I make mistakes so having a bunch of them printed out so I can just swap one in anytime makes my heart so happy!
Now I have a color printer, but before I would just print them in black and white and they worked just fine!
How to Download The Alice Cards
You do not have to sign up on this page to get the Alice Planner Cards!
Simply right click and choose "save as" on your computer or long click and choose "save" on your phone. Don't worry I will remind you again later.
Personal License
These have a personal license for printing so even if you send them out to a local printer you can print a fair number of them.
I consider personal to be your family, your business team if you have them or any person who can't print them themselves like an elderly relative!
There is no license to share these digitally anywhere but here.
Free Alice In Wonderland Printable Planner Cards
Oh my gosh… these turned out so darn cute! I just love how colorful and bright they are!
Alice In Wonderland Journal Cards
This pink dream features Alice holding the flamingo as a crochet mallet! Includes Notes, Big Goals, To Dos and daily affirmations!
(to download right click and chooses "save as" or long click on a phone)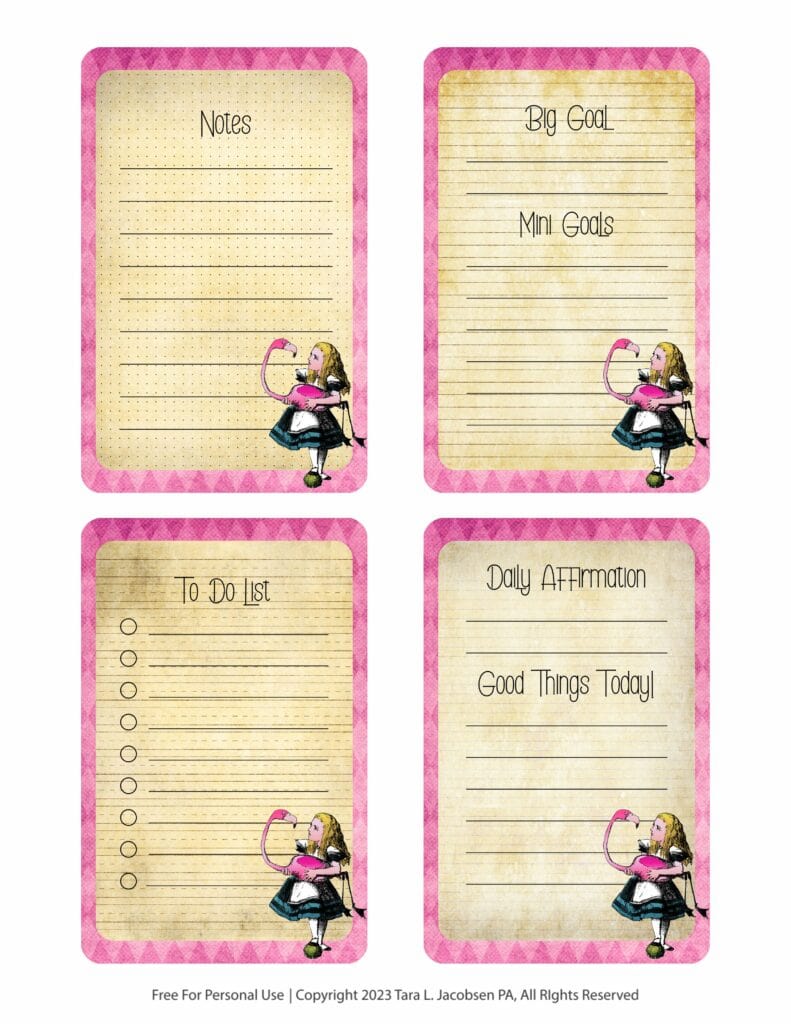 Free Printable White Rabbit Planner Cards
This set of planner cards feels a little more serious with blue border and white rabbit tooting his horn! Alice Wonderland Magic!
(to download right click and chooses "save as" or long click on a phone)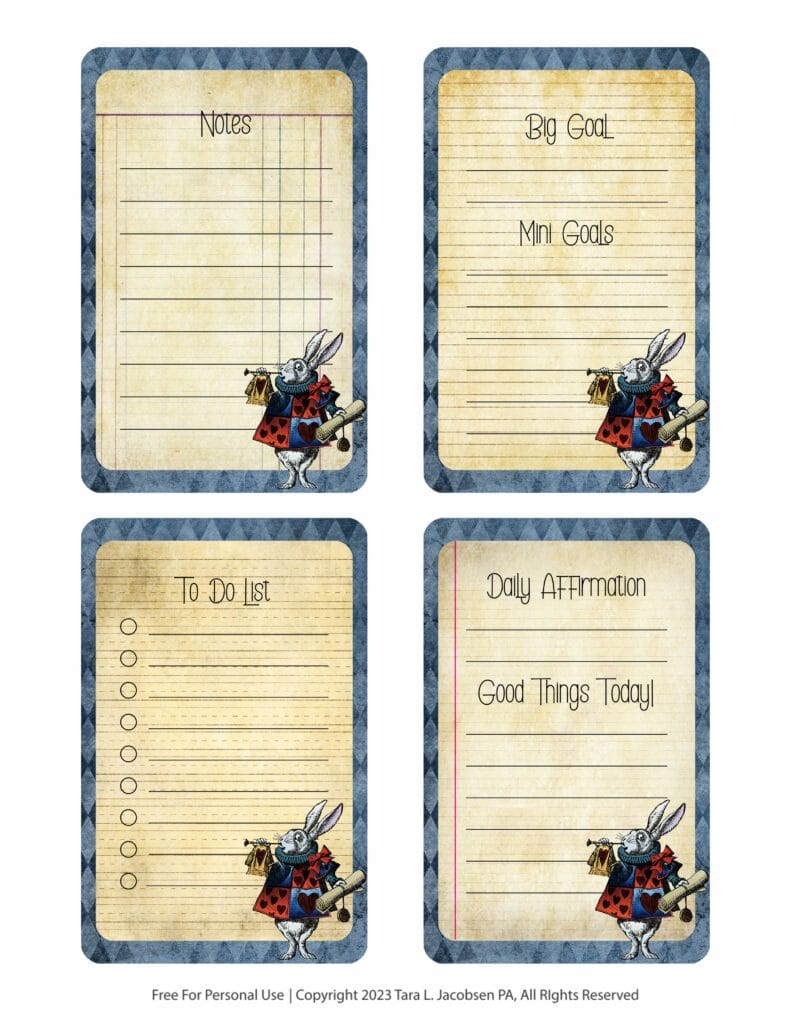 Mad Hatter Journal Cards
I have to say, the Mad Hatter has always been my favorite Alice In Wonderland character and this journal card set is just so cool and fun!
(to download right click and chooses "save as" or long click on a phone)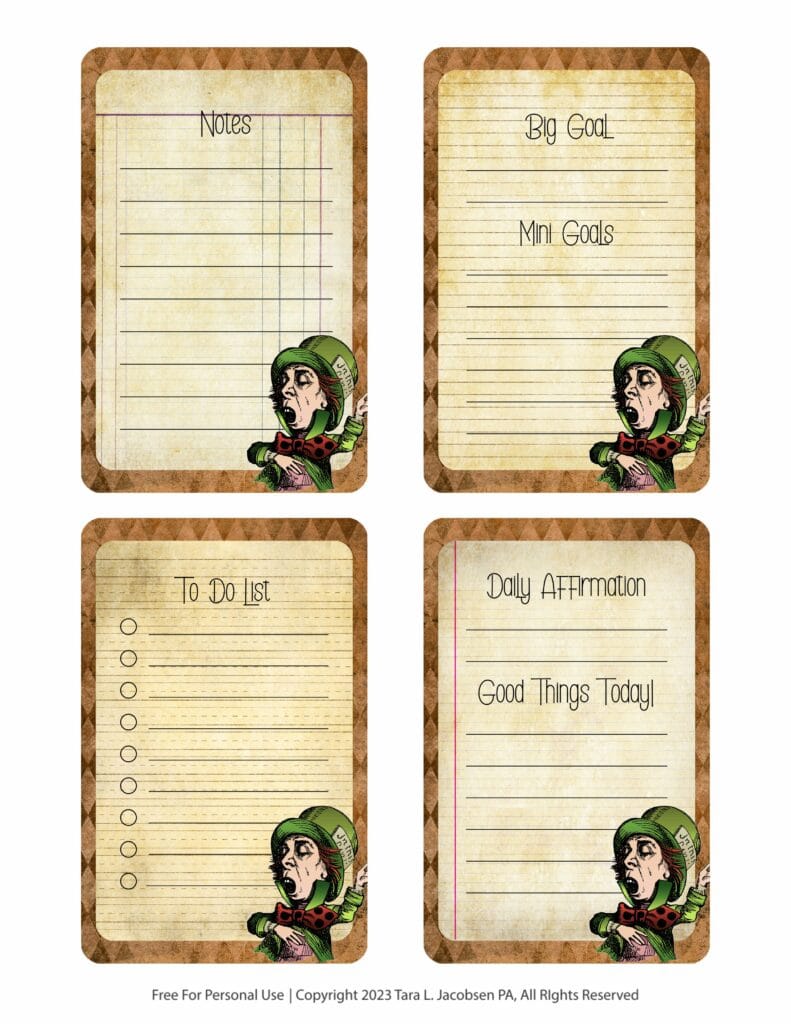 Tweedle Dee and Tweedle Dum Planner Cards
In the regular Alice In Wonderland world I like these guys well enough, but since I did them "my way" I love them even more. The teal and red mix just makes me smile every time I see them!
(to download right click and chooses "save as" or long click on a phone)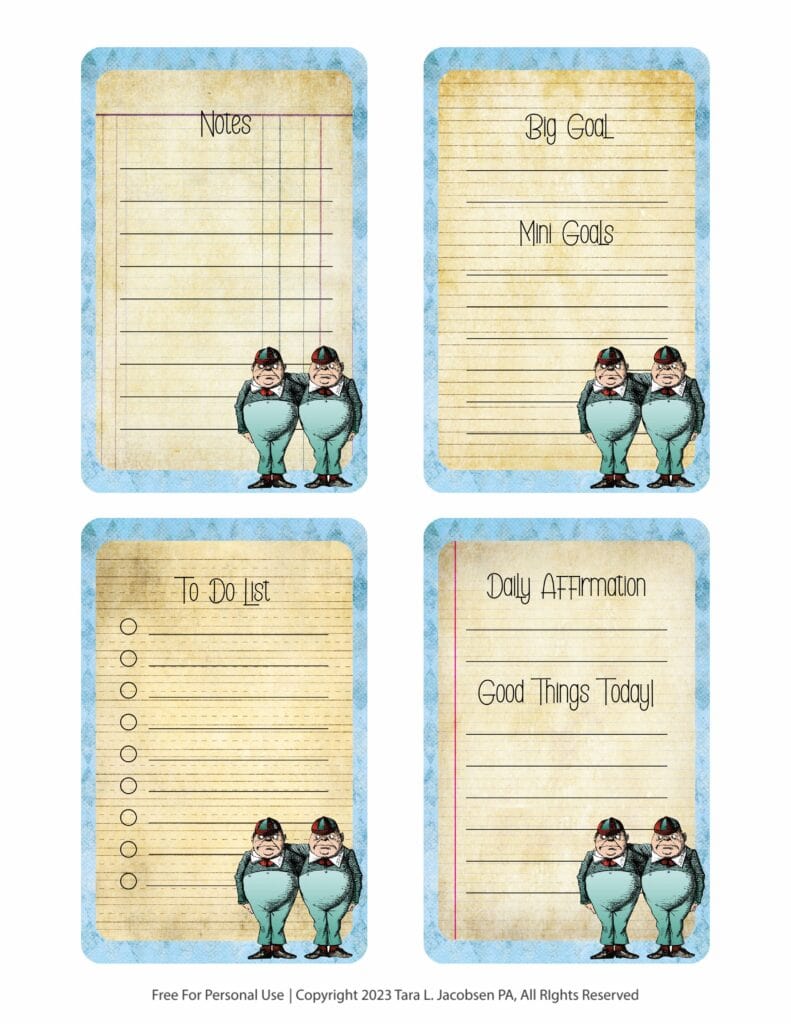 Queen of Hearts Guards Journal Cards
Sometimes I have fun with my Alice In Wonderland friends in ways you would know unless I told you! I LOVE gambling so this one reminds me of the cards tables and I made the border green to remind me of money. If you are doing money affirmations, maybe choose these ones!
(to download right click and chooses "save as" or long click on a phone)
Alice In Wonderland Free Printables Wrapup
I hope you loved these as much as I do!!! Blending my love with planning and my love of all things Alice made me so happy!
If you have any suggestions for other planner cards you would like me to make, send me an email [email protected].