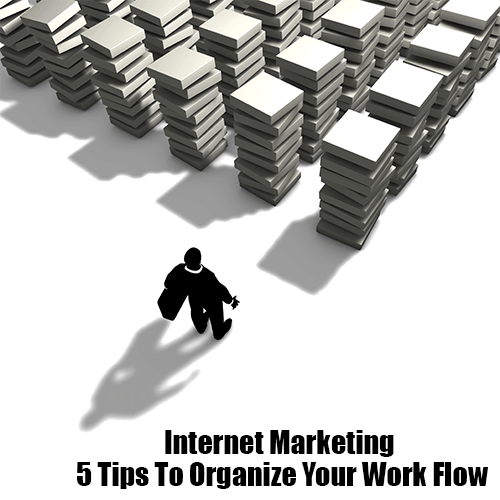 Sometimes when I make myself crazy because I am not the most organized gal in the world, I think, what would I tell my peeps to do and then implement that….FORCING myself to create systems. This post is like that!
Here are my top tips for things to make your life a little easier – Internet Marketing 5 Tips To Organize Your Work Flow
So what the heck is work flow? It is the fancy term for the way you accomplish tasks! I am not an organized person, BUT I HAVE to do certain things to keep my internet empire running like a well oiled machine. Then every once in a while I will notice that there is a little hitch in a gear…here is what those may look like:
It might be that I am doing something and have to switch back and forth between folders a thousand times
Could be that I feel like I will "lose" something if I don't do it right now (even though I am doing something else)
Sometimes it is that feeling that you KNOW you should be doing something BUT you are not inspired right at that minute and so it doesn't get done
Now, there are a million organized people in the world who will tell you their systems for getting things done using folders, colored tabs and paperclips, but they just make me want to cry. Where it the organizer for a visual person, who likes to keep it loose but not make herself crazy…oh well, this post is not for the organized, it is for schmoes like me! Don't try to copy my way of doing things, just take an idea here and implement it!!!
Tip 1 – Have a delete me folder
This is one that I have used for QUITE a while and which is brilliant! Anything that doesn't have to be saved DOES NOT go on my desktop, it hits the delete me folder. These things can include:
Pictures that I am just passing onto social media to include in a post
Documents that I am printing out but don't have to save to my computer
Zip files that get opened to somewhere else
Basically all the flotsam and jetsam that comes with doing business on the internet!
What a delete me file is NOT, it is not a second garbage can that you "store" stuff in. You have to be willing to "select all" and delete the whole shebang every now and then. No looking, no going through it one last time. Otherwise you are just making yourself a big dumping ground of unorganized stuff that you have to look through later!
Tip 2 – Have an editorial calendar
SOOO sorry that I am using so many terms, but it is that kind of day! An editorial calendar is a pre-planned outline of what you are going to do each week, month or year. It tells you what you need to be doing when you are stuck for ideas AND because you thought it out in happier times, it is probably a good reflection of what you SHOULD be doing to increase your business rather than what "feels right" today!
The huge bonus for this is that the planning doesn't have to be heinous! Sit down with a glass of wine and your marketing besty and brainstorm the whole year first. Go month by month and figure out what you "theme" is for each month. Before the first of the upcoming month, fill out the sheet that tells you what you need to do for the next 4 weeks.
A couple of questions came up…YES we re-write the annual stuff every month, things change and we may have to move some bits around. NO you don't have to do everything we do, but why not try for a couple of months and see how much you can get done!
Tip 3 – Make yourself bookmark folders of things you do often
This is a biggie for me. I tend to be a little loosey goosey with my day unless I have all my time locked down. Social media is a huge time sucker if not done properly so I make sure that I can progress through it easily without having to think too much.
With that in mind, I have a bookmark folder on my Chrome browser that has a tab for:
Facebook
Twitter
LinkedIn
Google Plus
Klout
Pinterest
Blog Lovin
Buffer
As I "walk" down the tabs I am able to quickly accomplish everything I need to do to "check in" on social media without having to think about it. I post something to FB and like a couple of friend's things, check and see if anyone talked to me on Twitter, take a quick peek at LinkedIn, post on my Google Plus profile, hand out some Klout to influencers I am targeting and my friends, and check Bloglovin to see if there are any good articles available to "Buffer" for posting later and I am out.
If I am busy and don't have the time to dink around, I can do all of this in less than 15 minutes.
Tip 4 – Get Evernote  or Pinterest to save "stuff"
One of the problems with the internet is that it is so interesting and HUGE. When I have some time and start researching things, I have blog posts, articles and videos that I want to see or read, but not a 16 hour day to consume them all.
If you are not a huge "sharer", you can absolutely use Evernote to capture them all for consumption later. I tend to use the incoming folder as a dumping ground…don't do that! Set up a "to read" folder and when you have read it, move it to either the trash or if you need to keep it, to a labeled folder.
I LOVE using Pinterest for this type of thing. When I find an article that looks interesting I will "save" it on a Pinterest board so that I can go back and see it later. The benefit to using Pinterest rather than Evernote is that Pinterest is public and when people see your boards they will want to follow you, growing your influence.
Bonus…when you have a Pinterest board that is popular, you can intersperse your posts and videos in there and get more website traffic or video views.
Tip 5 – Take the time to get it right
It drives me absolutely insane when I hear someone say, "I don't have time to get organized" or "I try but nothing I do helps". It literally took me over 5 years to get my calendaring system down to a science. I tried at least 4 different day planners (different sizes, different pages), a couple of online calendars, task lists and a whole host of other "solutions".
Eventually I did figure out the right strategy for me. I use the Apple iCloud calendar that sinks on my phone, laptop, iPad and the internet (so my assistant can schedule appointments for me).
Had I given up and just resigned myself to missed meetings, stress and confusion, I would absolutely not be as successful as I am today. LESSON: keep trying until something clicks for you!
You often hear, "stop working IN your business and start working ON your business". This is VERY true. There is no magic time fairy that makes extra time for those of us who have systems. We just know that spending a couple of hours now can save us weeks in the long run. LESSON: Unless you have rock solid systems in place, your first goal today should be to STOP and get your business in order. No emails, social media, getting quotes out, making phone calls or meetings until you at least have a framework for a plan to systematize your work.
There you have it, my top internet marketing tips to organize your workflow!
Incoming search terms:
marketing social media
twitter marketing
google calendar synchronization
how does the internet organize your work
how to organize an internet marketing
internet marketing work flow