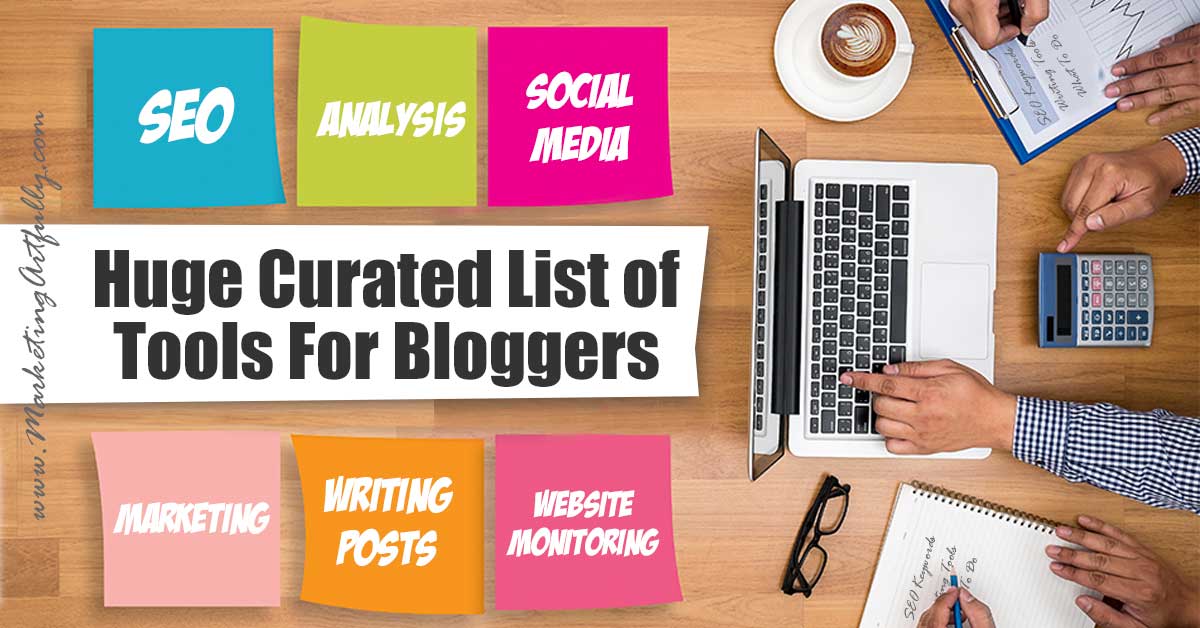 I LOVE finding great new tools to use for my blogs! As with most of my "big lists" posts, I made this one mostly for me and hopefully it will help you too. Instead of having hundreds of bookmarks and having to think, "what was that site again", I just put them all here where I can find them easily!
If you are blogging for business there are some resources that you MUST bookmark! This curated list of tools for bloggers are ones that I use personally or have gotten from trusted resources.
If you have a blogging related tool that you think could help my readers, please message me and let me know!! tara (at) marketingartfully.com
Some of these tools are ones that I use and represent as an affiliate. You will never pay more and might be able to get a little extra discount through one of my links!
SEO Tools
I know, it is easy to think that Google is dead, killed by Facebook and the like, but a good chunk of my traffic is from Google so it is still a place where I spend my time and marketing dollars.

Writing Tools
It is so funny how we can forget that blogging is just actually writing and there are great tools out there that can help us do these tasks more effectively.
WordPress Editorial Calendar – I use this for my blog! It is a great way to set up a publishing calendar that makes sense for your site!
Paperly People Editorial Calendar – While I love using an online editorial calendar in theory, I do so much better with paper than I do online! I made this calendar for me to use and hope it helps you too!
Grammerly – Some writers REALLY care that they are grammatically correct! This is a world class tool to proofread and check plagiarism. I play it more fast and loose but my grammar nut friends LOVE this thing!
Words To Use – They have clumped words together by meaning rather than by type the way a Thesaurus does.
Emotional Marketing Value Headline Analyzer – Kind of neat tool that shows you how emotional your headline is, tells you how it compares to good copywriters.
Researching Content Ideas
Sometimes staring at that big white box is overwhelming OR you have a great idea but want to make sure that it will be a popular topic to write about! These tools can help generate great ideas for hot topics.
Content Upgrades
I have been hearing for a number of years that giving "content upgrades" was a cool thing to do to increase your email opt in rate. These are the tools that help make this process super easy!
Beacon (made by App Sumo) – Super easy way to covert your blog posts to an ebook. This is great for making a content upgrade (where you have something special extra to give away on a post). I found this super easy to use!
Photo Tools
I won't say as much here as I would like to, but having great pictures will make a huge difference in the social reach your posts get.
Website Analysis
Knowing the "health" of your website before you start is super important. Use these tools to find out if you have any glaring errors you can fix before devoting hours (days) to your blogging efforts!
What Keywords You Already Rank For
Remember back in the good old days when Google told you what keywords you ranked for? Those days are long gone and now figuring that out is a bit of a guessing game!
Google Webmaster Tools – (Search Traffic > Search Analytics > Click the CTR and Position boxes) This will allow you to see terms that Google sends you traffic for and the position in search that you rank for those terms. I use it to see if I can get a better conversion click through rate for the terms that get shown but not clicked (fix description on post).
Google Adwords – (Tools > Keyword Planner > Search for new keywords using a phrase, website or category) Simply enter your "landing page" (URL) into the box and Google will tell you what it thinks your website is about. When I did SEO work for peeps in the past I always did this first and then reverse engineered why Google might think that. You can do this for your category pages or individual pages too!
Demographics
I am a nut for knowing my customer avatar when writing a post so I can talk about EXACTLY what will make their little hearts go pitter patter!
Ads.Twitter.com – (Analytics > Audience Insights) You can find out interests, occupation, income, marital, buying styles. Such cool data about your followers!
Google Analytics – (Audience > Demographics & Interests) Good way to find out high level interest categories for your site's readers. Oh and all the other great data you can get… OF COURSE you need analytics!
Website Monitoring Tools
Whether it is real time or accumulated date, I love having access to aggregated data about my website!
Get Clicky – I only signed up for this to make sure it was cool for you… and then I fell in love! It is such a cool little tool to obsessively track fun things on your website! Have to add code to make it work.
Email List Building
If you don't have a popup box on your blog yet, leave now. No seriously, stop looking at anything else on this page until you get a way to capture your website visitors.
Leadpages – The tool that I use for my landing pages and popup box. I love that it is easy to use and does so much all in one tool!
Hello Bar – A super neat tool to put on the top of your site to capture email addresses. I have used this in the past and it was really a good, solid workhorse.
Drip – A super neat, easy to use email marketing platform by my friends at Leadpages!
Link Building
I am terrible about building links, but if I was going to make that priority I would use this tool!
Ninja Outreach – I tested this out a while a go and thought it was a really good tool for finding and managing your outreach efforts.
Automating Tools
With just a little forethought you can take some your repetitive tasks and automate them using these tools!
IFTTT – There are all kinds of cool tasks that you can schedule automatically for your WordPress site and social media.
Zapier – Super neat Zaps that made especially for WordPress.
Social Media Tools
If you are going to be blogging more, you have to find a way to share your post on social without making yourself nusto in the process!
CoSchedule – Integrate your social media and your blog (I haven't used it but have heard great things about it from other people!)
BoardBooster –  This is my FAVORITE Pinterest tool! It makes it super easy to save and schedule pins. I use this one myself almost every day!
Tailwind – A great, Pinterest approved tool for scheduling your Pinterest posts. I found this one a little harder to use than BoardBooster.
Meet Edgar – I use MeetEdgar for my social media scheduling. I love the fact that I can make "libraries" of content that just automatically send themselves out. It was super hard to set up the first time because I have a lot of content, but now it is just a well working machine. Buffer and Hootsuite are great (and cheaper) but they have to be "fed" over and over.
Banner Ads
If you have an email popup and are not doing some kind of banner advertising, you have to leave again. Find something that you can effectively promote with banners!
Moat Ad Search – The most amazing archive of banner ads for many different products… I use this when I am doing new banners for affiliate products!
Graphics Ads and Fonts
Making your site pretty should be pretty far down on the list of priorities, but once you have the rest figured out, go ahead and find some great fonts and photos to "go pro!"
Creative Market – Awesome place to find great fonts and layout comps for your banners and category pictures. (sign up to their mailing list to get a free font weekly!)
Website Speed Testers
Much like the site checkers, this is probably a one time thing to get out of the way before you do any big changes. If your site is slow, you will have fewer views so get this one fixed early too!
Google Page Speed Insights – As I am mostly worried about page speed to rank in search, I feel like the best place to find out about my page speed is right from the source, Google.
Pingdom – A super cool speed testing tool that gives you A LOT more information about why your site is slow.
Affiliate Marketing
Affiliate marketing is a great way to help monetize your blog! Here are some of the things that I use for my affiliate marketing efforts.
Share A Sale – Start selling high quality products that match the content of your website. This is the site that I use the most.
Pretty Link – Great way to make "cloaked" URLs! I use this in my affiliate marketing a lot and for pointing URLs to my content.
Google Trends – If you are focusing on making money from your affiliate links, checking the trends is a super good way to make sure the product category you pick is on the way up rather than down! Also good for scheduling when you should do promotions based on holidays, etc.
Genesis Theme
Would NOT have a site without this theme!
Genesis Theme – I use Genesis for all my WordPress sites. I have gone back and forth over time and tried other themes but Genesis is so well supported and easy to use that I would not use anything else!
Genesis Simple Sidebars – I KNOW, more and more people are using phones to access websites but 64% of my readers still use a desktop to access my website (maybe because I am in business and so my posts are so darn long!) I LOVE that I can segregate my website and give my readers an experience that is perfect for them! resource: How To Segregate A Multi Niche Website | Advanced Blogging
Heatmaps
Ohhhh so cool to spy on your readers and see what they are really doing on your website!
Hotjar – Really good site heatmaps. I have used this and the only complaint I have is how many records it made in my hosting account.
Crazy Egg – The industry standard for heatmaps… definitely a high sell web page so watch out!
Competitive Research
This is sometimes hard and discouraging, but finding out who your competition is is such a good use of your time!
Traffic Estimate – Check and see estimated traffic volume for your competitors sites.
SEM Rush – Check out a wide range of metrics about any site on the internet (including yours). SEM Rush has been around a LONG time and they are really reputable and a great provider.
Holidays and Traffic Drivers
Knowing how to piggy-back on a great holiday theme is a great way to boost sales or views.
Holiday/Seasonal Advertising Dates – Coming soon (I couldn't find a good one!)
Security & Backup
Please get some kind of security or backup, and then do not spend all your time worrying about getting hacked. I have been hacked before and it sucks but is a little bit the cost of doing business in this day and age!
Wordfence – I LOVE this WordPress tool. It scans your site and allows you to fix bad files easily. I have used it on all my sites for years now and I couldn't recommend a tool more.
Hosting Backup – I have to tell the truth, I am not a techy girl and I have found that it is much easier to pay my hosting companies to do automatic backups rather than using a plugin or other service. On Linode (where all my little sites are) it costs $2.50 a month to back them all up and GoDaddy has a great backup built in that I pay for and use for this site.
Backup Buddy – I have heard really great things about Backup Buddy as a WordPress plugin although I have not used it myself (I did get it one time and it seemed to work okay but I never had to use the backups so I don't know if it actually worked).
How To Remove Malware From WordPress – I used this method when my site got hacked and it worked perfectly.
Misc Tools
Some of these are just easy to fit into a category but I don't want to lose them!