Today we are going to debunk a new claim I heard that being a Multi Level Marketing rep is the same as being a Realtor. This is part of my continuing series of what MLM is not like, including not like affiliate marketing.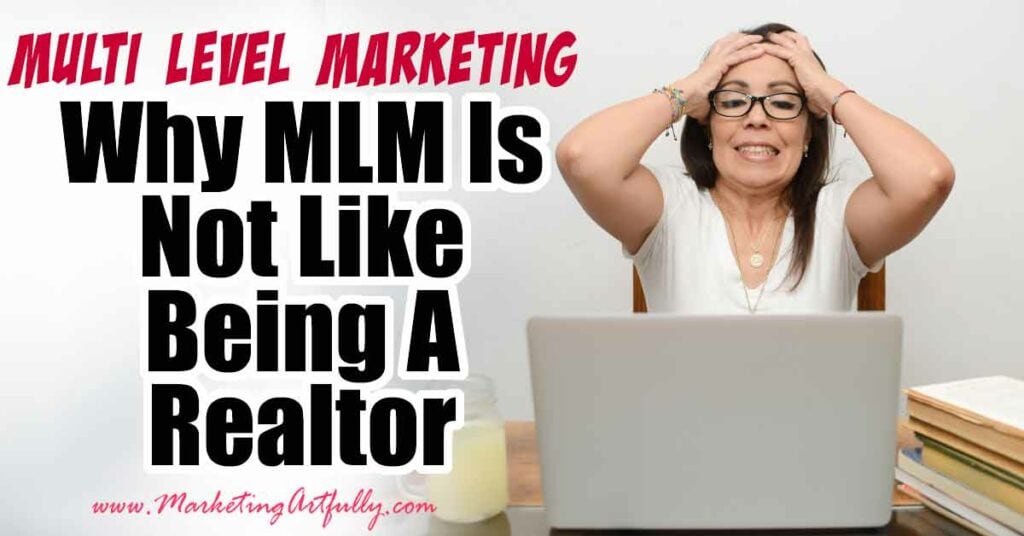 This post contains affiliate links. If you purchase anything, I earn a small commission at no extra charge to you. Check out my policies here.
My Real Estate Story
Just so you know my credentials for talking about this, I was a licensed Realtor for about two and half years in the state of Florida, from 2007-2009.
I carried an inactive license and got referrals for about 10 years after that. I am not currently licensed in the state of Florida.
Where this crosses with MLM is that my accountability parter for the last 12 years is in two MLMs so I know the background and ins and outs of that business model very well.
I write A LOT about Realtor Marketing if you would like to learn more about this actual profession!
Why MLM Is Not Like Being A Licensed Real Estate Agent
So today I am going to break down ways, with facts, about why being a real estate agent is not like being a multi level marketing rep.
1. There Is Required Education
To just get a chance to take the test for your real estate license you have to take a 63 hour course and pass it.
The information in this course includes the laws and requirements to represent clients in the state of Florida. All states require agents to take formal training for this profession.
The cost to take this training is between $100-200.
MLMs have no training requirements to join, other than having enough money to buy a starter kit, which often times is in the $99 range.
2. You Have To Have A License
In the state of Florida the DBPR (The Department of Business and Professional Regulation) tracks all real estate licensees and makes sure you have the proper training to represent clients.
The annual cost of the license is around $65, which is comparable to the website or back office fees of MLMs.
Here are some requirements to get your license:
Prior to sitting for the state exam you must show proof of course completion of Florida approved 63 hour pre-license education for sales associates.
The examination is given by Pearson Vue.
Pay the required fee as provided in the application.
Fingerprints… an applicant must have a background check as part of the licensing process.
source My Florida License
There is continuous oversight of real estate agents by the state. MLMs have no oversight except by their companies.
3. Fiduciary Responsibility
Part of the requirement of being a real estate agent is "fiduciary responsibility"… meaning that licensed agents HAVE to act in the best interests of their clients…
Under Florida law, the relationship between a real estate agent and a client is considered special. The relationship is known as a "fiduciary relationship" – (the real estate professional) is a fiduciary of the "beneficiary" (the buyer or seller).

Fiduciary relationships under the law exist when there's a relationship based upon education, influence, expertise, or power.

About Florida Law
I feel like this is the place where being an agent is the most different from being an MLM rep.
An agent is REQUIRED to act in the best interest of their client, MLM is based on acting in the best interest of the people recruiting new reps.
MLM pay is predicated on building a "downline" of people who provide a continuous stream of income for the people above them in the business.
There is no requirement that the "upline" act in the best interest of their team.
4. Power Differential
The reason that Realtors have such a strong requirement for fiduciary responsibility is the power differential.
The agent has knowledge about the home buying or selling process that the general public does not.
In MLM the people who have been in the business the longest (the tops of the upline) have knowledge about how things work.
Here are a few ways that I have seen MLM manipulate that power differential:
They can "stack" new reps in their downlines in ways that benefit them.
They can encourage their downlines to purchase products to fulfill monthly sales quotas.
They can make false income claims about how much a person can make selling the products.
If you have more ways, please leave a comment below and I will add it to the list!
5. Contracts
There is a legally binding contract for payment signed when a seller lists a house (and also sometimes when a buyer agrees to work with an agent).
For a fixed period of time an agent is guaranteed to be paid for their work if they complete the required goal (selling the house).
This contract protects the agent AND the seller. The agent can't change the commission amount they will be paid in the middle of the process and the seller can't refuse to pay the agreed upon commission if the sale is completed.
There IS a contract with MLM, but it is purely benefiting the MLM company and can be changed at the company's discretion.
I wrote my first post, how MLM is not like affiliate marketing, because a company changed their rules and hurt one of the Youtubers I liked.
This MLM company randomly changed the rules so that their reps couldn't make money any other way than directly selling their products.
6. Oversite
Agents who pass the test and earn a real estate license are called sales associates. They have to work under a broker who has additional training and licensing.
This provides another level of protection to the agent and the general public.
In MLM anyone can recruit a new rep, regardless of their knowledge of the business!
For example, Roberta Blevins of Life After MLM and Lula Rich fame recruited her first downline person before she even had received her first shipment of clothing.
Obviously she did not have knowledge of the company or process as she had never actually DONE the sales herself.
There is no requirement that a reps upline have any special knowledge to help them be successful.
BONUS… Financial Help
I was listening to Josey, Not The Good Girl, on Youtube and she was saying how she got hit with a HUGE tax bill for not paying quarterly taxes on her income.
She was super successful at her MLM and getting a lot of income, but had never received any training on how to manage her income and expenses from her MLM.
I was super confused because, as a licensed agent, I had been told to get a business banking account and set up my business as a PA (Professional Association)… which is a kind of corporate structure that is specific to Florida. Other states might recommend a C Corp or an S Corp for their agents.
This is to protect our own personal property in case we get sued as well as to help manage the tax implications of getting large commissions.
It seems to me that because so few MLM reps have any kind of business training they don't know how to counsel their downline and are not getting that education themselves from their MLM company.
Why MLM Is Not Like Real Estate Wrapup
I wrote this post and the last one because the MLM reps are making me grumpy.
They throw around random sayings without any knowledge of what they are talking about to try and rope in new people to their business.
I wrote this post so that anti-MLM people, who might not have the knowledge of real estate licensing can have a good rebuttal for this latest fabrication!