This workbook is a comprehensive marketing guide from Tara Jacobsen that covers all aspects of marketing, walks you through setting up your systems and makes "doing marketing" fun and easy!
After you complete this workbook you will have an entire marketing plan! What to sell, how to position it and even the best marketing channels to use to get the word out about your fabulous products or services.
Made for small business owners, not marketing gurus, this guide is an advanced look at marketing currently.
But how can you say it is the "LAST" Book?
Marketing Is Always Changing!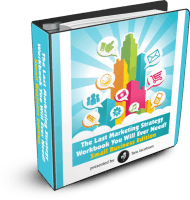 Whoa did I get a backlash when I showed the workbook cover to my friends and family. For heavens sake my Dad threw down and said, " If this the last book…then you're out of business. Markets and communication technology will change, and so must the strategy."
Well he is ABSOLUTELY right, but this workbook is not the end, only the beginning! Each month you will receive updated sections reflecting changes in the marketplace.
At first I had thought of writing this as a book-book, but realized quickly that it would be out of date before it hit the shelves. That is why it is meant to be printed out on plain old copy paper and put into a binder. That way you can just pop out the old and pop in the new when something changes!
The Scoop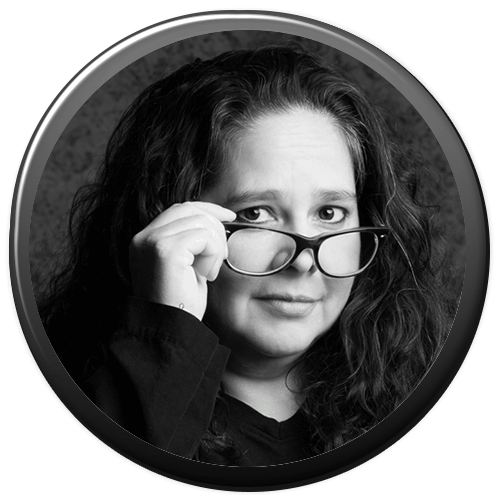 Hi there, my name is Tara Jacobsen and I have been obsessed with marketing for almost 15 years now. I read (and write) marketing books, watch marketing videos, buy marketing products and do marketing all day long for myself and my clients. I LOVE figuring out all the ins and outs of what works and what doesn't and one of my true pleasures is sharing all of this luscious marketing info with my "peeps".
For years I have made videos, written blog posts and taught different classes about how to do this or that in marketing. Maybe hitting on how to do Video Marketing or teaching about Social Media. I have spoken about speaking for fun and profit, SEO, blogging and goal setting, but nowhere did I ever help to bring it all together in one big, cohesive package wrapped up in a bow.
This marketing planning and strategy guide takes everything that I have taught over the years and makes the process of doing your marketing easy. After talking with nearly 1,000 small business owners, I have found that there are some universal problems they face that have easy solutions once they know exactly what to do. Once you have a handle on the basics, making all the moving parts work together is simple!
Some of the topics that are covered in the marketing plan workbook include:
Picking a niche
Customer Demographics
Unique Selling Proposition
Product Development
Sales Funnels
Goal Setting
3 Squares
Affirmations
Facebook
Twitter
LinkedIn
Pinterest
Google+
Social Media Tools
Instagram
Google Local
Yelp
Foursquare
YouTube
Podcasting
Writing Books
Speaking
Website
SEO
Email Marketing
But wait, there's more!
This is not a static document! As things change and we find new social networks, tools or courses that will help you keep on top of your marketing you will get an update monthly FOR FREE!
Each month you will get a newsletter containing a new case study, updated modules to stay current and the top new products that I find and use to help grow my business.
A couple of people have asked how long the updates will come. Of course I can't say forever, but know that marketing is my life's work. I have been doing marketing daily for almost 15 years now and I don't see a time anywhere in the near future that I will stop loving marketing and take up something else like say, knitting.
My model for this workbook is based on Gary Halbert who wrote a newsletter in 1990s about sales. You can plainly see that they are type written and well thought out and they are still referenced today. Unfortunately Mr. Halbert died in 2007, but at least every couple of months someone mentions his name. THAT is the kind of legacy and quality that I strive for with this product!

What You Get
100+ pages of:
Worksheets that walk you through setting up every aspect of your marketing from the very beginning right down to who to target on Facebook
Explanations of the strategies that you can use for each and every social media channel, video marketing, websites and SEO PLUS offline marketing like speaking, writing books and more!
Ongoing updates on what is working in the marketplace today
Videos that will walk you through some of the more complex concepts on an ongoing basis
Questions…oh the questions! If you have questions I will have answers…you will have almost unlimited access to my email to ask your questions!
Modules
Business Strategies & Foundations
Goal Setting & Motivation
Internet Marketing
Social Media Marketing
Offline & Local Marketing
Marketing Plans
Case Studies
Additional Education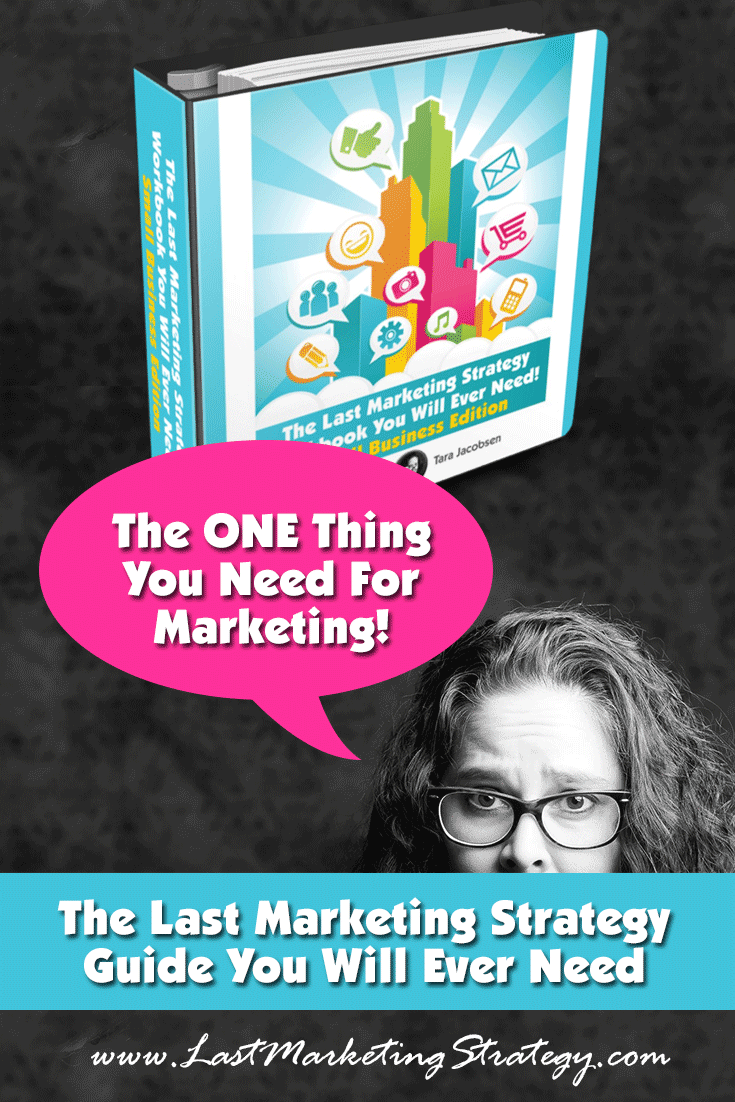 One of the reasons that I never developed a workbook like this before was that it would be too hard to create the specific training sites or videos for each and every area that I talk about (although you get strategy, bonus videos and specific to-dos for many sections with the workbook). I knew I couldn't do justice to each of the marketing channels and could never figure out how to get around that hurdle. Well duh, I buy marketing programs and have some amazing referrals that I can make for people who truly masters of the programs they teach. Throughout the workbook there will be links to my videos, free resources and paid options that you can be assured are going to help you with whatever type of marketing you are doing.
Updates
The only thing that we can guarantee about marketing is that it will change (often). Because my company is built on marketing and doing a marketing plan strategy for small business, entrepreneurs, manufacturing and realtors updating the workbook on a regular basis is a given! Each and every month this guide will be updated with the latest new marketing information and you will get the specifics of what has changed and what you can keep the same!
What About Questions
A workbook is great you think (YOU LOVE WORKBOOKS) but what if you have a question that is not covered…how will you get help? Never fear! I regularly makes videos for my workbook and blog readers showing them the answers to their questions. If your question is super specific, you might want to consider a one-on-one marketing strategy session (anyone who purchases the workbook will have the cost credited to their first one-on-one coaching program)
30 Day, 100% Money Back Guarantee

Not for one second do I want you to have a product that is not working for you. I do ask that you fill out the entire workbook before requesting a refund, but to get your money back all you have to do is call me and I will be happy to refund your money in its entirety! (727) 415-9165

Praise for the workbook
So, I am reading through your workbook, in fact, I may just sit around and work through as much as I can tomorrow since I have time!!! and I must say, so far, IT'S FANTASTIC! It has become my new marketing bible. – Tara Westra
Tara Jacobson is the best! Helping us all to understand this strange new world of social media. Pinterest is my favorite now! – Glyn
Your training sessions today were so terrific – like I said that is the 1st time I've been at a seminar or training session that I didn't put on my sunglasses even once (to take a quick snooze)!!!!! Also, I'd like to thank you for the personal help you gave me afterwards – that meant so much to me because it would have taken me forever to figure out what you did so quickly & effortlessly!!!!! You're quite a gal & I feel very fortunate to have met you!! Keep up the GOOD WORK!!!!! – Helen
We grew 323.98% in the 2 years after executing your marketing ideas – Cyndee
You are AWESOME…Thank you for coaching me yesterday! I am getting organized and already feel like you've given me more time and have structured my next 3 months! You should see my calendar-so pretty with all the different colors LOL.
Love that we can always count on you! – Mimi
See all of Tara's testimonials here
Unbelievable Bonus
So you are thinking about getting the guide, but still haven't hit that buy button. Maybe you ALWAYS come down here first to check out the price or see what the "real scoop" is. Well I want to reward your impatience!
Not only do you get the best Marketing Strategy Guide EVER, but you get FREE access to any of the Marketing Mini Courses that I launch. These are for Entrepreneurs, Social Media peeps, Realtors and Writers. Oftentimes they include ebooks, videos and even more worksheets to help you do just one thing well. Check them all out here before you sign up… Marketing Mini Training Courses.
So what are you waiting for? Go ahead, click the buy button and start rocking your marketing today!