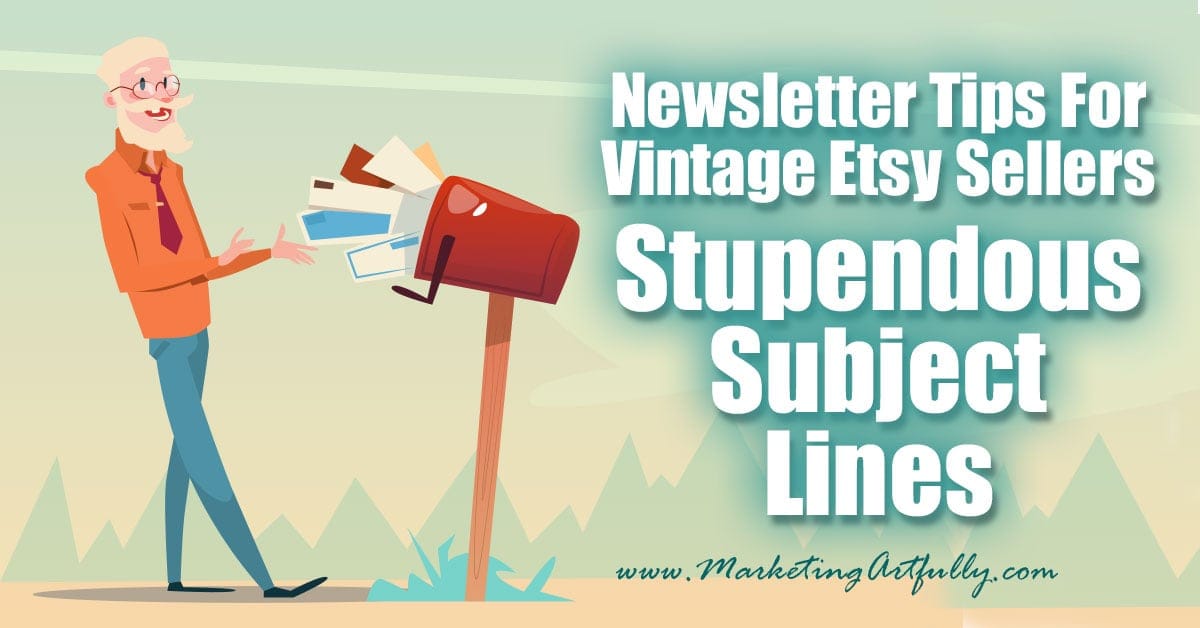 So I was hanging out in the Got Vintage Shops Dealer Support Facebook group today and a gal asked question about her email newsletter. She said she had about a 14% open rate but was worried that she was losing more subscribers than she was gaining.
Sigh. I feel like we can all relate to that!
So she sent me her newsletter and it was AWESOME! So something was wrong…hmmm asking what the subject line was, she said "Vintage News from (her shop's name).
Wah, wah! The light came on and I know one of the reasons she is not keeping her subscribers.
Her title is the same every week!
There is a saying that for emails and blog posts that you should spend 80% of your time on the title and 20% of the time on the content.
Sending the same subject line every week does nothing to entice someone to open your messages.
Another problem I see is subject lines that are factually correct but not interesting. 
No one has the time to read boring emails and something like, "New items in my shop this week" is not going to make someone eager to open.
You have to write something that will catch their eye and COMPEL them to open your message.
You HAVE to remember that we are all running on the WIIFM channel (What's in it it for me?)
So your subject line has to be snazzy to jump out of that whole list of emails they got this morning.
Yes! Some people will read your emails because you sent them, but I promise you more are "saving" them to read "later" because there isn't a strong call to action that makes them open it now.
Curiosity
Curiosity is a normal human trait. It used to help us survive in the caves but now figuring something out gives us a hit of dopamine (happy juice) in our brains.
Having a curiosity based subject line will almost compel your readers to open it and find out what the heck you are talking about.
Holy Moly….I thought I would never figure out what this thing was..can you guess?
Have You EVER Seen One of These? In 20 years this is a first for me!
Do you know what this is…it took me 3 hours, 2 phone calls and a Google search to figure it out!
Facts
Some of these will feel a little weird if you are a "serious writer" so I wanted to make sure I had some less effusive ones for you too!
Did you know that this kind of china sells for HUNDREDS of dollars? I was shocked!
I just learned that there were only 5 of these radios ever made…so cool
Sothebys just sold this for 3 Million dollars, check out this awesome painting
Excitement
I have heard from lots of people not to use exclamation points in your writing. They are not "proper". But in the written word, nothing conveys excitement like a few of those little darlings.
Think about it, if you are not excited about what you are writing, who is going to be excited about reading it!
I was so happy to get this message from a buyer!!! You have to see what she said!!
Oh, oh, oh… wait til you see this amazing little doggie I got at the auction last night!!!
My BEST…FIND…EVER! You have to see this one!
Oh The Feels
We all love a feel good story! Using a great feeling in your subject line will help people to want to interact with you.
Personal note… I think there are enough problems in the world. I ALWAYS watch videos of shelter dogs getting rescued, veterans getting makeovers and kids beating cancer. Anything you can add to the happiness of the world would be appreciated by me!
I almost cried when I found this, I knew that Agnes had been looking for one of these for so long!
Whoo whoo…. I couldn't stop smiling when I saw this little guy!
I wish you could have met the dear old lady I talked to today….
Social Proof
As humans we are conditioned to want acceptance by other people. If something is popular we want to jump on the bandwagon, join in the fun or just get that "included" feeling.
You can use your subject line to show your readers trends or popular items that you have that they might want to buy.
Paperweight lovers, did you see this spread in Coastal Living? They had the neatest one on the side table!
I posted this on Facebook and people went nuts!
All the designers are using these in their kitchens this year
Humor
I admit it, I am not all that funny. So don't kill me for how lame some of these are!
Had to share this weird painting with you (who would buy this?)
This will go perfectly with all the other old bits in your home!
Who needs stainless steel when you can have this amazing old tarnished silver
Tips To Help Them
Since your buyers love vintage, they probably run into some of the same problems we do in getting things clean or fixed up. Share some tips about how to care for vintage products.
This is the neatest trick for getting stains of linens without hurting the fibers
Did you know that vinegar eats rust? Neither did I, but it works a treat!
The best cleaner for getting spots off of silver…I can only find it at estate sales
Stupendous Subject Lines – Newsletter Tips For Vintage Etsy Sellers Wrapup
Well hopefully that helps get your wheels turning a little bit about writing awesome subject lines.
Sometime last year I started doing this with my newsletter and it really increased my open rates. I found that the more excited I was about my messages, the more people opened them and responded back.
But wait…. there's more!
I almost forgot! Another thing that will help your emails is to have people respond back (it makes your email provider think you are sending worthwhile messages).
So make sure to ask a question in each of your emails. For example, for the "did you ever see this" kind of email, you could ask your peeps to tell you the weirdest one of those they ever saw.
Yes, it takes to time to answer email questions, but the value you get from actually talking to your subscribers is invaluable!