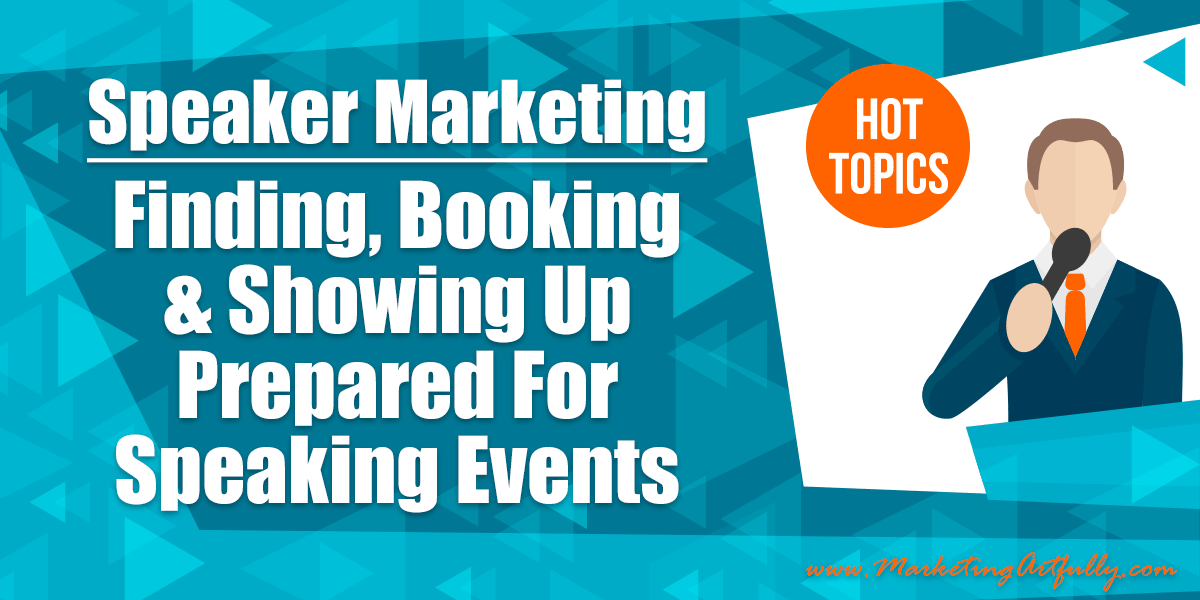 If you are a speaker (like me) and want to get more speaking events, this is the post for you! Today we will cover a bunch of different speaker marketing topics and have a little resource at the end!
You would be amazed how many people I talk to who say they are speakers but who never actually speak. I am not sure if they are just unsure of what to do to get started or have fear that they won't be good enough or maybe just don't have a plan for their speaking, but that all ends today!
What Counts As Speaking Events
Okay, first off let's talk about what counts as a "speaking" event today! I am by no means an "A" level speaker but I have been the opening speaker at national conventions and have spoken extensively over the years. This year one of my goals is to get more opportunities to speak so I am thrilled that a reader, Pat of Smarter Women Colorado, asked for this post and worksheet!
1. Keynotes – The holy grail of speaking is to get asked to keynote a national event. I know we can all think of Seth Godin or Donald Trump keynoting a super big conference, but I think you would be surprised at how many smaller events need speakers and keynotes. Now, unless you are speaking regularly at a high level, there is little chance you will be asked to be the primary speaker at an event, but this is definitely something to aspire to! Usual Pay – $10-40,000
2. National Conferences Main Speaker – Almost every national association, trade group and industry has annual conferences. While it is a little work to find these kinds of gigs, they are out there and getting them is not all that hard to do! Usual Pay – $2,500-10,000
3. National Conferences Workshop Speaker – These are the "breakout" sessions at conferences and are fun to do because you get to meet people more intimately! Usual Pay – Free – $5,000
4. Local In Person Speaker – This could be anywhere from visiting a local office for a lunch and learn, speaking at a local association meeting or even at a Rotary or Lions club. All it takes to get these gigs is a little hustle and letting them know that you are available to speak. Usual Pay Free – $250 an hour
5. Paid Webinars – For this I am thinking about doing a Joint Venture with a company where they promote you and you split the compensation with them. This is a super fun way to make money AND grow your database. I have this kind of relationship with a staging association and we have had some killer webinars. Usual Pay $50 – $800+
6. Podcasts – Okay, this is where I am going to focus my efforts this year! Getting asked to be a guest on a podcast is a super big deal and opens you up to new audiences who would never of heard of you otherwise! While you don't get paid, you do get the opportunity for exposure to a potentially huge audience! Usual Pay Free
10 Ways To Find Speaking Events
The easiest way is to tell everyone you know that you are speaker. Do this after every speaking event or anytime you get a chance to introduce yourself.
Email your list and let them know you are looking for speaking events. Your current fans could be a great source for leads!
Social Media…include it on all of your social media profiles, in your descriptions and as a separate job in LinkedIn.
Post your availability on Facebook at least every other week.
Have a speaker page on your website. I rank #1 for Denver Marketing Speaker which gets me gigs just because it is sitting there!
Offer to speak on podcasts. This is a super hot new area for speaking events…the beauty is that you can do it from your home without all that travel!
Search Twitter for "Call for Speakers"… just looked today and there are amazing opportunities there right now
Set up a Google Alert with "Call for Speakers"
Join a speakers bureau who will help you get gigs
Call every service club in the area and ask if they need speakers for their events!
Booking Your Speaking Event
Once you have gotten the call, you need to be super organized to get the gig! Event organizers are looking at you from the moment they first find you so making a great impression is super important.
You will need to have some kind of "media kit" that will include all the details the organizer will ask for!

1. A fact sheet. The fact sheet is a one page document with bullet points about what makes you amazing and different.
2. Biography. A strong biography is another important ingredient of your media kit. Limit this also to one page and list only your most interesting highlights.
3. High resolution professional photo of yourself. (also known as a "headshot").
4. Web Links. Your site and also any links to any social media presence that your company/project may have (like Facebook, LinkedIn, Pinterest, Instagram, or Twitter). Also include links to your work (audio, video, images or texts).
5. Web-Ready Graphics and Banners. Include any graphic you might have that would be relevant to a great story about you or your business.
6. Endorsements. If you've been mentioned on popular websites or blogs, share that. Include any awards you've received. Have you worked with recognized names? If you have raving fans include links to their video testimonials.
7. Contact Details. It is important to include your complete contact information, and especially, make sure they can email you directly from your media kit. The more convenient you make it for them to easily connect with you, the more likely that they will.
Preparing for the Event
It is really weird that one of the comments I always get from organizers is that I am extremely prepared. Really? How hard is it to show up with yourself all pulled together? Well it must be because they are always impressed! Here are some things that you might want to have ready to go when you are getting ready for your event:
1. Powerpoint – most big venues require all of the speakers to submit a powerpoint. Believe me, if I can avoid it I do, but generally it is a "must have" item.
2. Printed Materials – I LOVE having printed materials instead of a Powerpoint. First off, they never "don't work" like the projector sometimes does and second they give you and opportunity to leave something with your audience that they can refer back to!
3. Sales Sheet – Sometimes you can have an offer to give to your listeners. If it is not okay, then don't do it, but if you are doing a free talk or the organizer allows it, then sell away!
4. Webpage – It is always great to have a custom page made for your listeners that lists all the resources you talked about, maybe a free offer to get them to sign up for your list and even your sales offer. Make it easy to remember using a custom domain name like tarajacobsennotes.com or even use the Pretty Links plugin to make a shortened version like marketingartfully.com/spp.
5. Business Cards – Yep, they still work and people will ask for them. I like to make custom cards if I am speaking at a big event but either way, make sure to have your contact information on them and a reason to call you!

Speaker Marketing Worksheet – Speaker Domination
Whoo whoo! You have decided to start doing speaker marketing and start getting some gigs…Yay you!
Unless you are a super professional speaker for a living, you are probably like me and speaking 4-6 times per month, sometimes in person, sometimes on podcasts and occasionally at big events that you have to travel to. I made this worksheet to keep all of my speaking opportunities in order!