Looking for a great weekly printable planner page with a bit of inspiration and motivation! 7 free fun and colorful weekly planner pages.
This is part of my series building a motivational planner! Check out the free motivational daily planner pages, monthly planner pages and to lists too!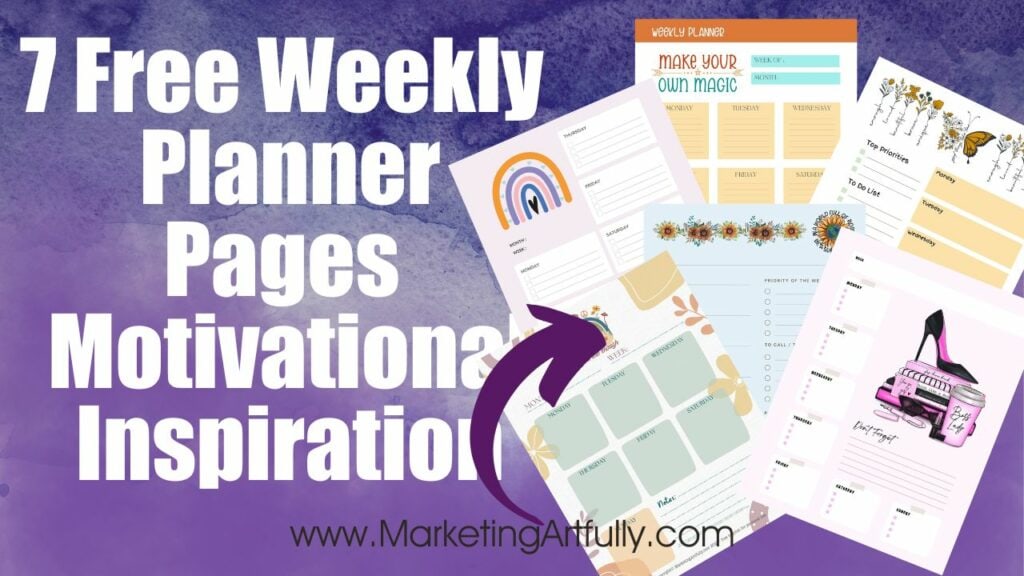 This post contains affiliate links. If you purchase anything, I earn a small commission at no extra charge to you. Check out my policies here.
All The Weekly Planner Pages
I thought I would put a picture of the planner pages up here, in case you want to check them out and make sure you find one or two that you will LOVE!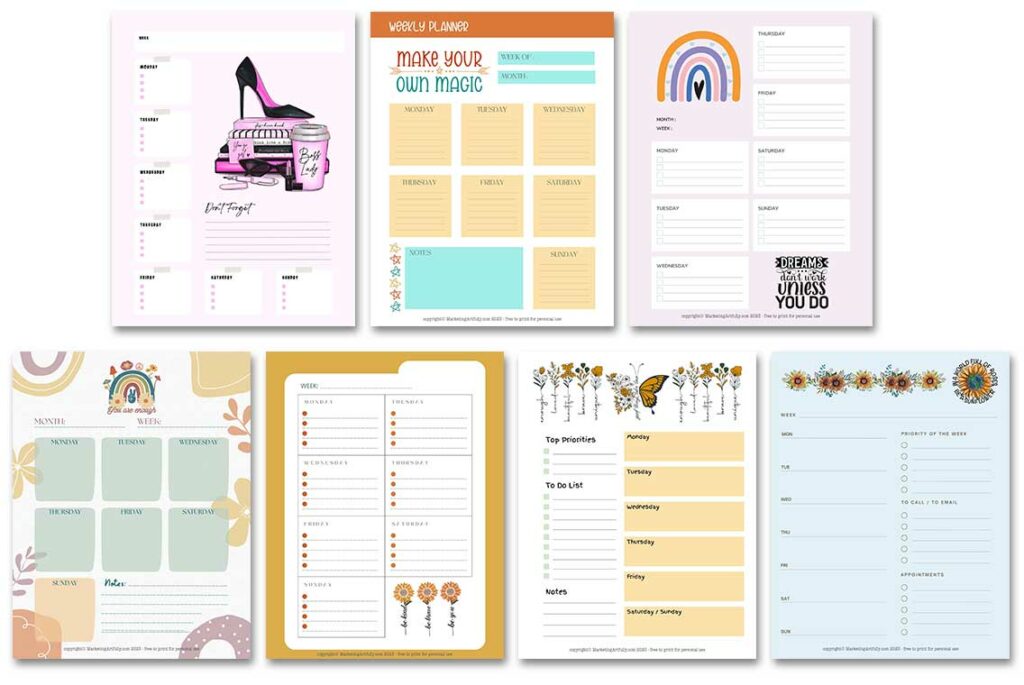 Why Did I Make These Free Planner Pages?
First off, I am a big old planner nerd! I love to find a great planning solution that works for whatever my week holds.
I have spent YEARS figuring out what kind of planner page solutions work for me and all my peeps!
Also, I am fortunate to have ads on my blog so I earn a small commission every time someone visits my pages (and NO you don't have to click them to help, just being here is enough!)
If you would like to help, please share this page in your favorite Facebook groups or pin it to Pinterest… it helps more than you will ever know!
How To Download And Print These Weekly Planner Pages
Each image you see is a full page (8.5″X11″ letter sized print) that you can just right click on and pick "save as" to your computer, or hold click and save on your phone.
You can print these on your home printer or have them printed at a copy center like UPS or Kinkos, the copyright on the bottom will let them print them for you personally.
The personal license includes you, your family, an assistant or even a small team. If you want to share it with anyone else, please just send them to this page to download them themselves.
7 Free Weekly Planner Page Printables
I hope you love these printables as much as I do and that they help you get to be more organized and efficient!
Make Your Own Magic Weekly Planner Page
This weekly planner page has it ALL… week, month, daily tasks, and even a note section to keep you organized!
(to download, right click and pick "save as")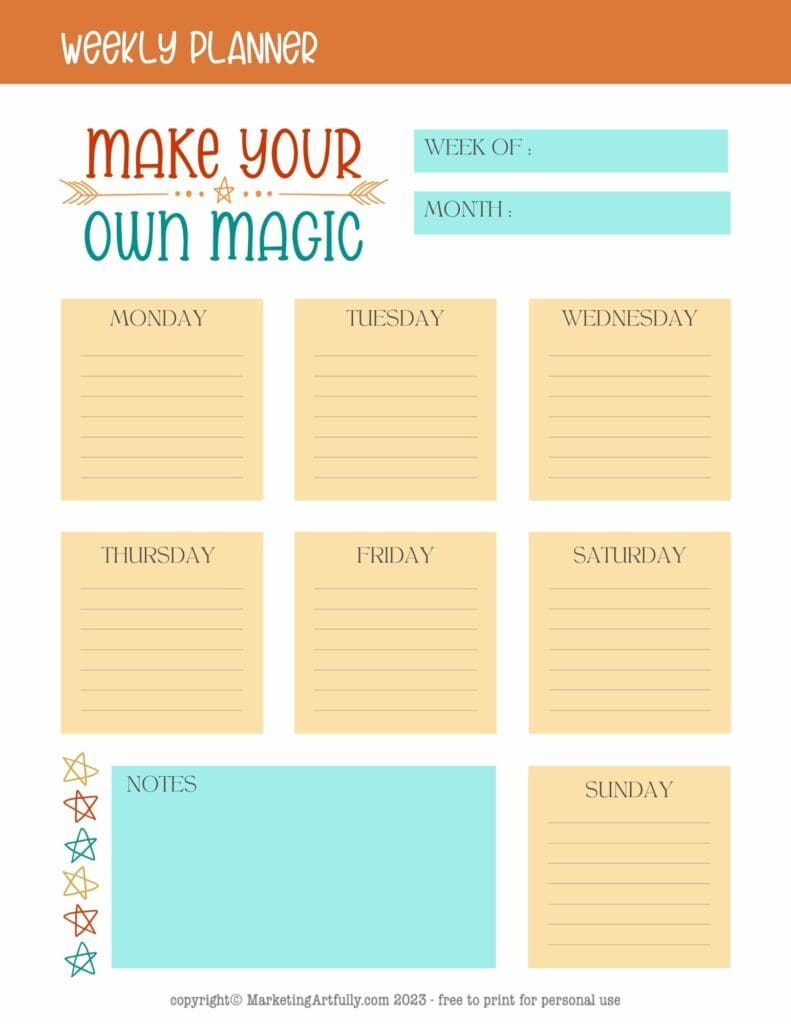 Boss Lady Free Weekly Planner Page
If you are rocking your business like a boss, this is the planner page for you! Week with date, daily tasks to do and then overall "gotta get dones" to make your week run perfectly.
(to download, right click and pick "save as")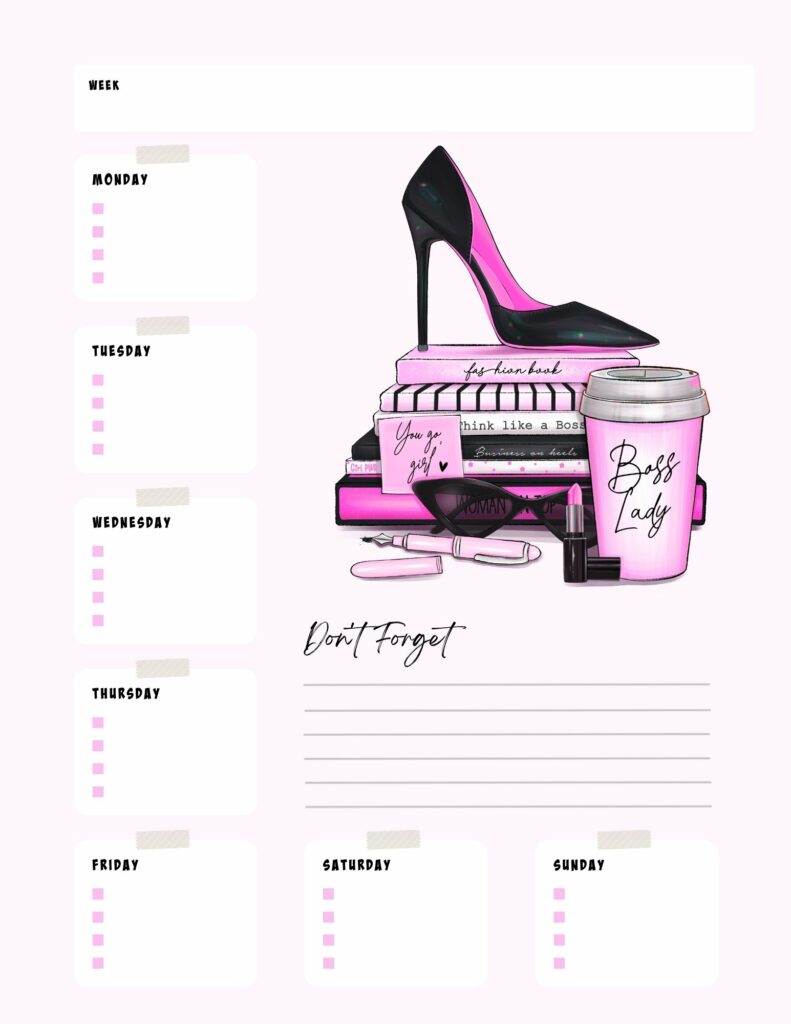 You Are Enough Weekly Planner Page
Ohhh this one brings the calm and serene into planning! I love the "summer of love" vibes with a mix of practicality!
(to download, right click and pick "save as")
Dreams Don't Work Unless You Do Weekly Planner Page
A fun and practical weekly planner page that includes daily to dos, week and month dates, and pretty rainbow design.
(to download, right click and pick "save as")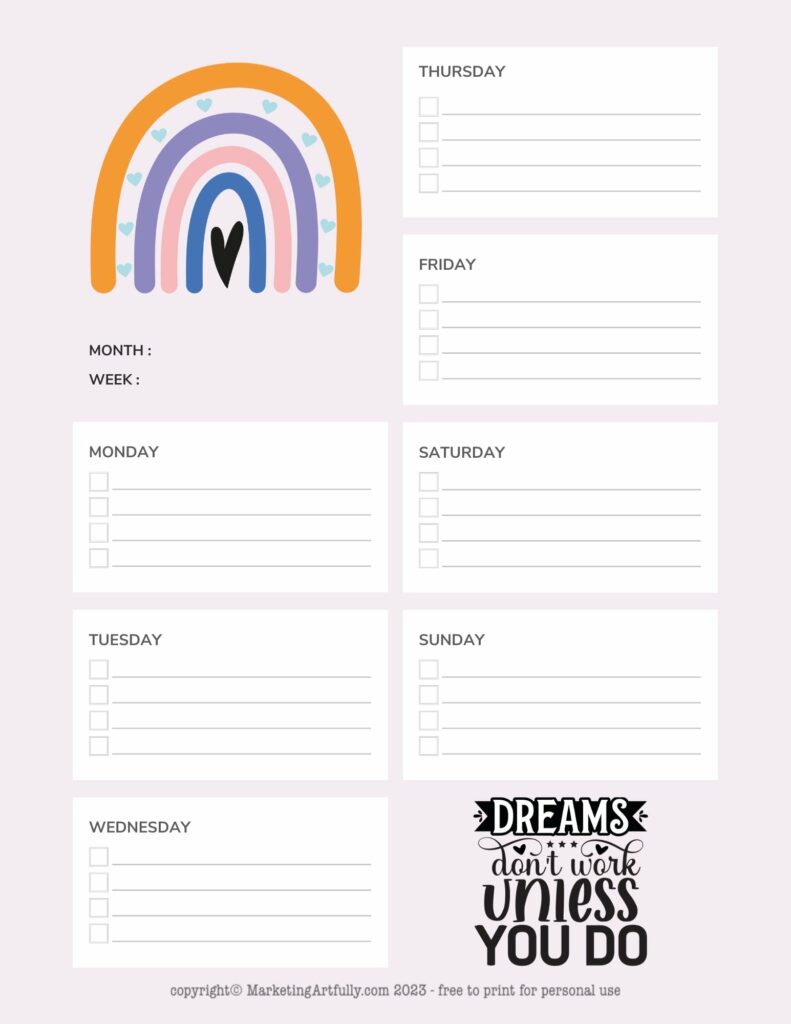 Be Kind Inspirational Weekly Planner Page
This weekly planner page is practical and functional… with just a hint of whimsey! Week, daily to dos and some sunflowers to brighten your day.
(to download, right click and pick "save as")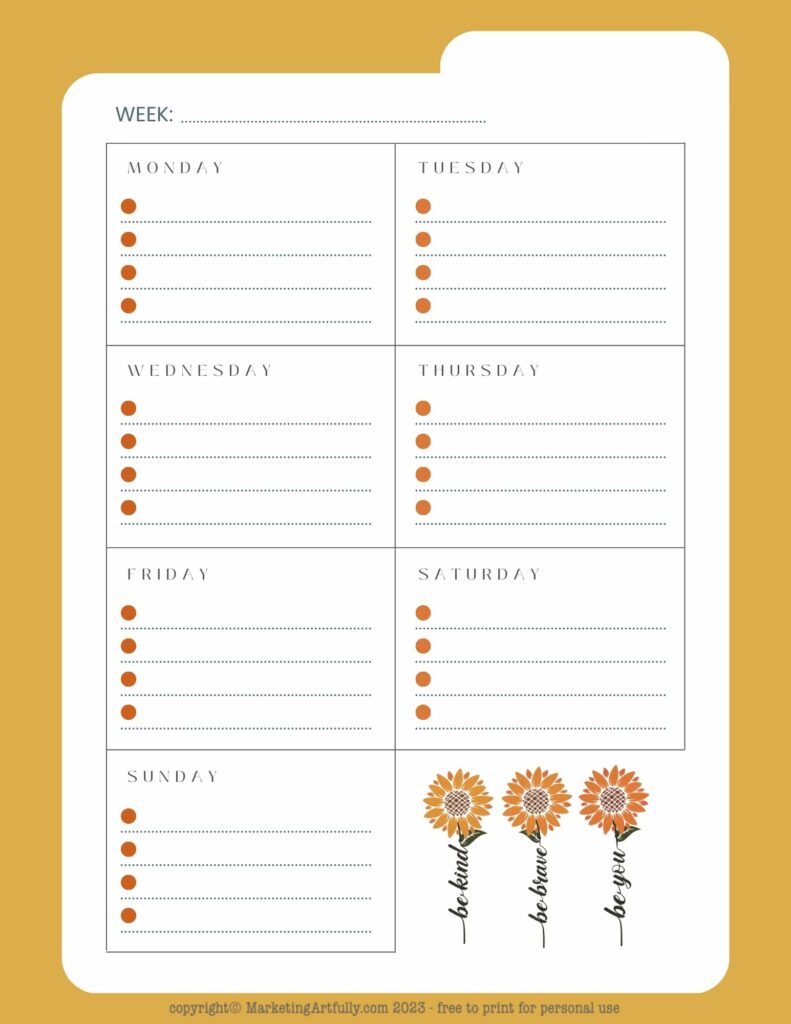 In A World Full of Roses Be A Sunflower Weekly Planner Page
I LOVE when my daily and weekly pages look a bit different so I can see where the week begins and ends! This weekly planner page has it ALL! Priorities, who to call, appointments and even places to put daily tasks you need to get done.
(to download, right click and pick "save as")
Butterfly Weekly Inspirational Planner Page
I love how playful and fun this planner page is! With a place for your top priorities, weekly to dos, notes and even a place for daily bits, this weekly planner page is great for organizing your life!
(to download, right click and pick "save as")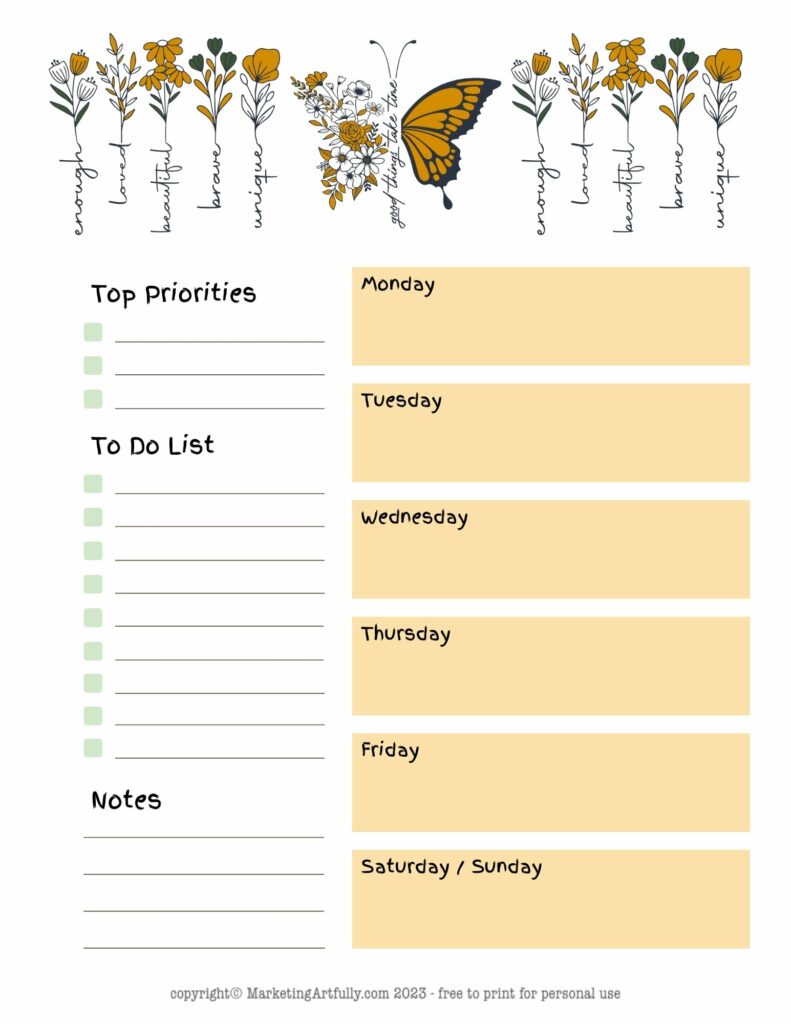 Motivational Inspirational Weekly Planner Pages Wrapup
Whew, this is getting fun! We have the inspirational to do list, the motivational daily planner pages and now the weekly planner pages. How fun is that?
I love having fresh ideas for planner pages you might want… if you have a great idea email me tara(at)marketingartfully.com to let me know!