Today we are going to be looking at how we can use "internal SEO" and SEO keyword research to get more Google traffic to your online retail store! There are some seriously easy ways to find keywords that are easy to rank for AND you can boost your own SEO… whoo whoo!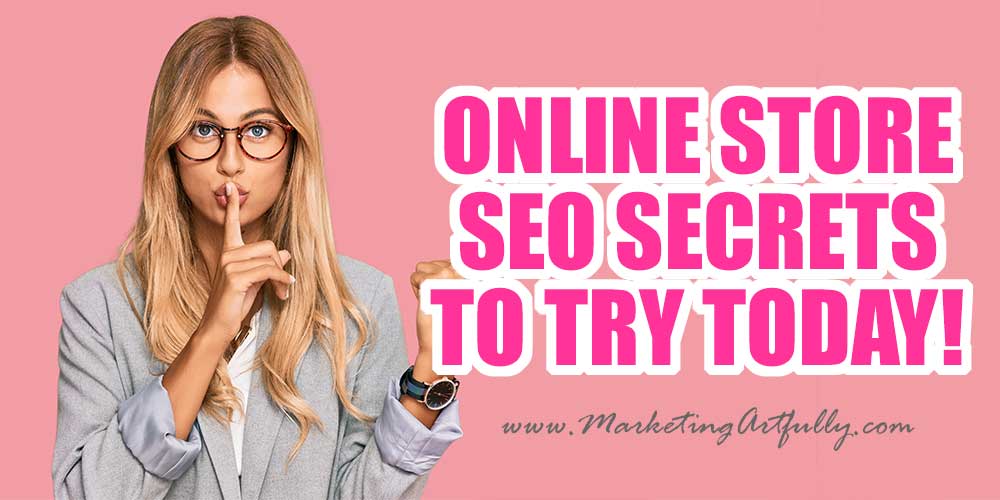 please note :: I often recommend resources, some I receive an affiliate commission for at no additional cost to you! check out my policies here
Which Products Should You Target?
Before we jump into ideas, let's talk about your products and which ones you should focus your SEO efforts on!
First… your top 10 best sellers for sure! You know that pesky 80/20 rule? Well about 20% of your products will be your top sellers and those are the ones that you should be focusing on!
Second… high priced items! This will be a bit of work and doing all that for a $3 item will eventually burn you out. Try to make a bundle or package deal if you don't have something that is going to be "high priced" enough for your time and effort.
About the examples… I am going to be using Charles' site today, Copper Centaur Studios. Charles is always up for tracking and testing!
How To SEO Your Online Retail Store Like A Blogger Full Video Tutorial!
How Google Works
For those of you who are not obsessed with Google like I am, I just want to pop in real quick and tell you how they pick which pages to rank on the search results pages.
One of the main ways Google ranks pages is by how many links the pages have to them. This can be from within your own site or from outside (say a blogger like me mentions your site in their blog post!)
AND, here is the cool thing, they use the words in the link to determine what the page you are going to is about… whoo whoo.
So if Charles says …. check out our other Knitting Needles and links that to his knitting needles page, he has "told" Google that that category page is about knitting needles.
NEVER link to "click here" because we are trying to make Google understand the words to click through to.
BUT don't go crazy using the same words all the time! Charles could link to "best knitting needles", "needles", "needles to knit", etc. If you do them the same all the time, Google will think you are a spammer.
How To Make A Link
Okay I am going to be talking A LOT about making links, so here is what I mean… select your text and then add a link.
Then put in the https: page that you are linking to!
1. Picking HUB Products or Categories
Some of your shops might have strong category pages that you can SEO and sometimes you will have a single product that is strong in your shop.
What you want to do is pick at 3-5 HUB products or categories!
For example Charles might pick these category pages as his "HUBS":
Crochet Cotton
Cross Stitch Patterns
Knitting Needles
Depending on his shop setup, he may or may not be able to add more words to the category pages, but no matter what he KNOWS that he is going to focus his SEO efforts on those three main categories (this could also be his best product!)
TO DO: Pick 3 Categories or Products that you are going to be thinking about the rest of the way through this lesson!
2. Internal Linking
Now let's talk about "internal linking" which is fancy-pants way of saying you are going to make your own links that Google likes!
On his home page Charles has this list….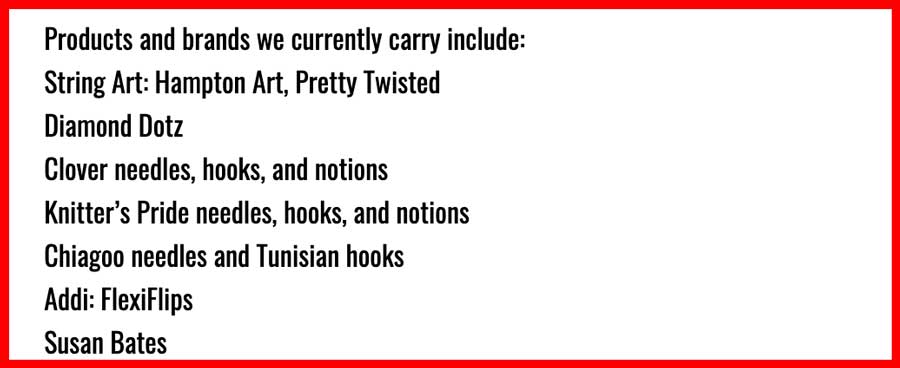 EACH of those words should be a link to the corresponding product or page!
But even on his description pages he should make links… like on this product he could link to his HUB category, knitting needles.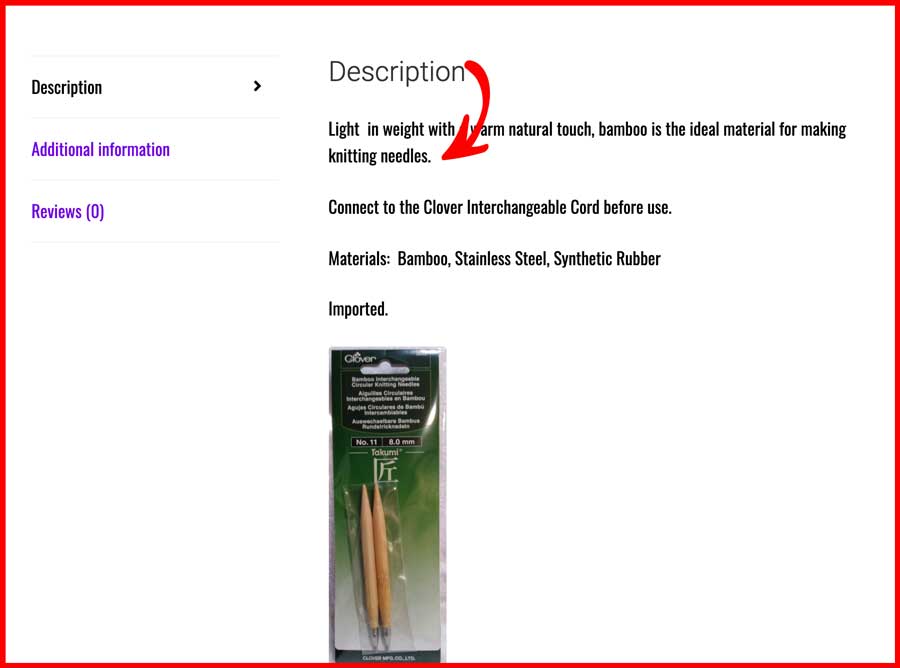 Yes, eventually we are going to talk about how to make your best product descriptions better, but even on dorky little products that you sell rarely, you can use this trick to show Google your HUB pages!
TO DO: Start noticing where you can link to your HUB pages. Look at old listings and make sure to add those links when you make new listings!
3. Write Better Descriptions
Okay, now we are going to get a little more techy for a wee minute.
Another way that Google ranks pages or products is by how detailed the information on the product listing is. So the product that Charles has above would never rank on Google because there are not enough words there to attract Google's attention.
Note: This is about what GOOGLE thinks, not what humans are interested in. So first we are going to check and see which keywords Google likes for a that listing.
You are going to use the Google Chrome browser for this and add these two extensions…. Keywords Everywhere and Extract People also search phrases in Google. Just click those links and add them to your Chrome.
Now we are going to search for "Circular Knitting Needles, Tips" in Google to see the keywords Charles should use in his listing: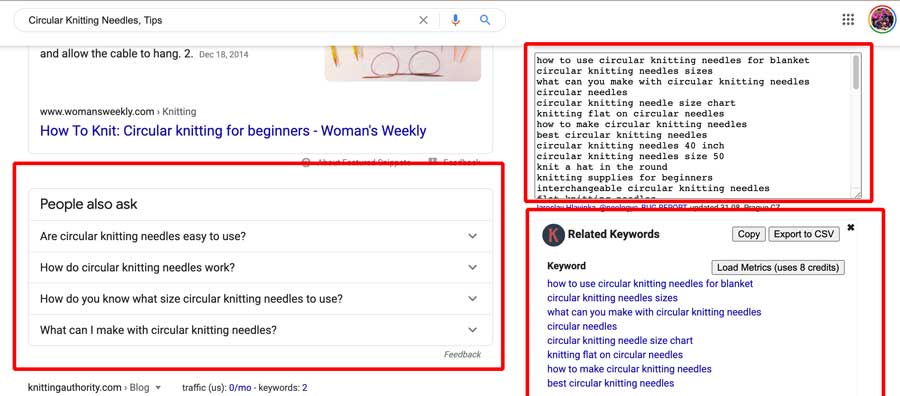 Keywords will show up in 3 places and these are the ones I would add to category pages or listings:
Are circular knitting needles easy to use? (that could be a blog post in your shop)
What can I make with with circular knitting needles? (that could be a blog post in your shop)
How do circular knitting needles work? (that could be a blog post in your shop)
Best circular knitting needles
Circular needles
Now, please don't put those keywords into every listing the exact same way. That won't work! But we could add some of these keywords to Charles' Circular Knitting Needles listing….
Description

Light in weight with a warm natural touch, bamboo is the ideal material for making the best circular knitting needles.

Connect to the Clover Interchangeable Cord before use.

Materials: Bamboo, Stainless Steel, Synthetic Rubber

Imported.

What can I make with with circular knitting needles? Generally circular needles are used for blah, blah, blah.
Again, this isn't meant to be a super hard thing on your normal listings, it is just being aware of when you can use keywords in your listings!
4. Advanced : Do Keyword Research For Low Competition Keywords
Okay, now we are getting a little more in the advanced part of the keywords! Yes, there is a technical name for your products, but there are also ways that you "trick" Google into ranking your shop for these terms.
Note: This will probably only work if you can put extra content on your category pages.
I use a tool called SEM Rush to do this research. They have a free 7 day trial that you can use to do your research and then cancel if you if you don't have a bunch of research to do after that! Since this is a blogger tool, you won't have need for as much different research!
Step 1, do keyword research for a huge site in your product's niche. For Charles I used Joann farbric!
They rank for almost 700K keywords… that gives us a lot to work with!
Then you are going to sort their rankings this way..

You get results that look like this…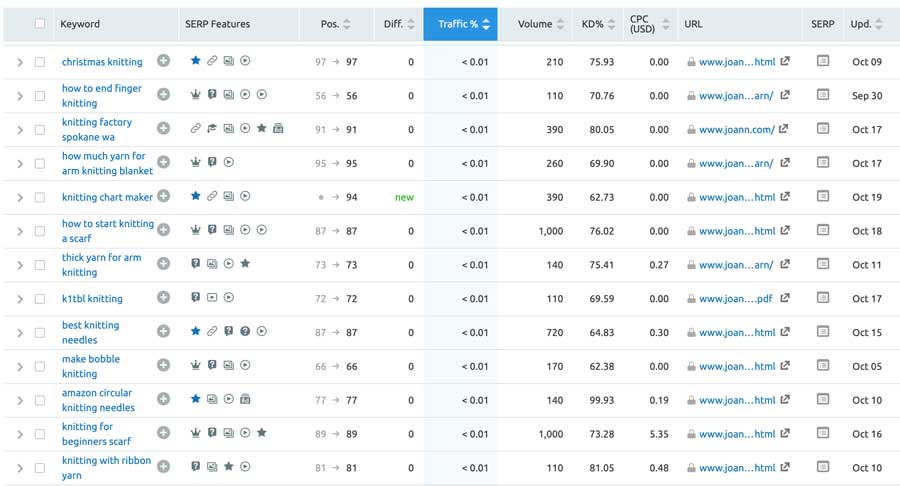 And we see our "best knitting needles" there. It "only" gets 720 searches a month and Joanns ranks #87 for it so it is a search term we have a chance of ranking for!
And since Charles is yarn guy, we see a cool term, "how much yarn for an arm knitting blanket". That would be GREAT to include on a product description page for that kind of yarn!
5. Advanced: Write Blog Posts
Okay, now that you know how to do the keyword research for your products (you can use the simple method or the advanced method), you can think about writing product blog posts.
Now these are not regular, chatty, friendly blog posts, but factual and keyword rich blog posts!
Let's say that Charles does write a blog post called "How Much Yarn For An Arm Knitting Blanket?"
He could include all kinds of links to his patterns, yarn and even shop categories in his post.
AND because they are "low volume" search terms (meaning that not many people search them each month), the big bloggers won't be competing with your little shop blog!
Blogger SEO Secrets For Online Shops Wrapup
Whew that turned into a lot, but if you take anything from this post, remember that some of the SEO you can do is super simple and will help your store get more listings in Google.
Sometimes it is the super little things that will make a huge difference!