So I am usually all marketing this, marketing that, blah blah blah…:) Well today is a fun day Sunday!!!
I am in love – I know I am married and can't fall in love all willy-nilly, but is okay, Markus Pierson doesn't know I exsist! Here is how it happened – I was out teaching one night and the location was The Blue Coyote – a FABULOUS social club in Fort Myers which features the works of Markus Pierson.
I looked across the room and saw my new love – The Coyote! My absolute favorite piece that I have seen so far is "Know Limit" which features the following quote:
"Like everyone else I was told my future had no limit. While it was true for some, for myself – I knew better. So instead I simply set out to find it. And once I had, to push against it and try my best to move it. More like a bull than an eagle, just stubbornly plodding along. Looking back now, I can't believe what I've done, where I've been. So I say to you these two simple words; not no limit – but KNOW LIMIT."  Markus Pierson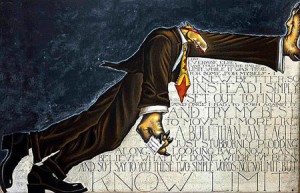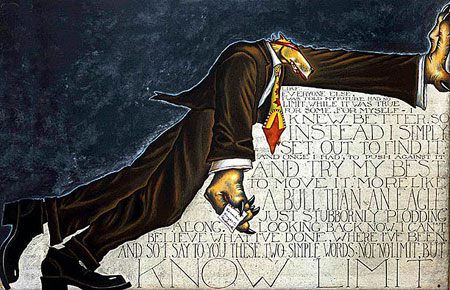 WOW! So I decided to find out how to get some of his stuff. Well, come to find out Markus Pierson is an Artist Artist who has orginal works and then really high end prints only (I found a couple of posters available but I like the concept of waiting to buy a really good piece of art instead of having just "stuff"). The one that I like is $6,000 – sigh. I will be saving up to get some prints and will ultimately own KNOW LIMIT someday – mark my words!!!
In the meantime I will have started a site dedicated to The Coyote and Markus Pierson, chronicling my journey. 
HUGE NOTE ABOUT RESPECT!
I will be having photos on my site with the coyote (unless Mr. Pierson asks me to take them down!). They will be LO-RES and are NOT for stealing. Mr. Pierson makes his money by selling his art and I ask everyone to respect that and not copy his work without his permission.