Tips and ideas for how to start and grow an email list as a fiction writer! Includes EXACT details of what to do (and not do) to grow a list of passionate readers.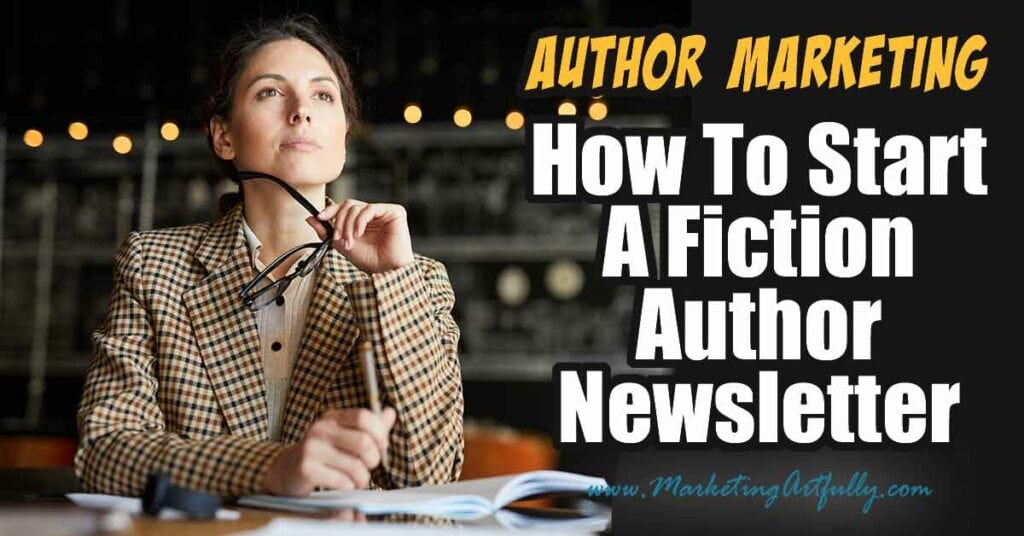 My friend Barb has a pseudonym, Bonnie Cavaliere who writes light, humorous mysteries. Barb wants to grow a brand new list of people to read her fiction books under that pen name.
We were hanging out on Zoom, brainstorming ways for her to grow a fiction author email list and I figured we could share it with you so you can grow your list too!
This post contains affiliate links. If you purchase anything, I earn a small commission at no extra charge to you. Check out my policies here.
Why Should You Listen To Me?
I HATE when people write a blog post and don't give their bona-fides about how they know these things work! So here are my credentials for helping you today:
I have been in marketing since 1999 and have seen some things over the years
I have an email list of 8,000+ people that is super responsive and who buy things from my weekly emails
Some of my list has been with me for over 10 years
I am friends with some great fiction peeps and have hung out for years with fiction writers so I know some of their unique marketing challenges!
What I Think Most Authors Get Wrong About Their Email Giveaway
When Barb asked me about starting an email list, she said all bright and cheery that her free giveaway was going to be a sample chapter of her novella.
Luckily she is a super good friend because I immediately said, "no one wants that" and changed what her signup page was going to say!
What I meant by that is that is unless people already know you are a great writer, a free novella might not be a tempting offer. OH and since she plans to have multiple series, that is problematic too!
What fiction readers want in general is to find great authors they can fall in love with, in the genres they like to read about.
For example, I am a cozy mystery reader. I like Ellery Adams, Rita Mae Brown and Carolyn Hart. I am always on the look out for a great new series to try.
So I recommended that Barb offer her readers an amazing email that helps them to find fiction recommendations AND chronicles the writing of her books!
Overview of What You Need To Start An Author Email List
If you are not super techy, I just want to start with a general overview of what the email process for fiction writers is:
1. Form with a fun reason to sign up! (I send an amazing weekly email full of great fiction recommendations and updates about the life of Kasey McCormick, my main gal protagonist!)
2. Landing page after the newsletter signup (this is where Barb can give away the free novella!)
3. What Barb is going to send each week… links to fun articles about fiction. Could be a great article she read about John Grisham or a good interview she saw about Ellery Adams she saw on Good Morning America…. or even a cool true crime story!
4. Blog posts to link to... Barb is going to write a half an hour a day for 2022. She is going to publish whatever she writes on her blog each day. That will give her something to send each week to her email readers. (we want to use her newsletter to drive traffic to blog where she can have affiliate offers too!)
Exactly What You Need
If you are just starting your email newsletter, the pieces and parts can seem overwhelming! Here are the EXACT STEPS you need to take to start a newsletter!
1. An Email Provider
First off, you need an email provider, I recommend Convertkit (and that is what all the examples are, you could use something like Mail Chimp or Constant Contact if you are familiar with that already!)
Long gone are the days when you could use Gmail or Outlook to collect email addresses, you have to use a dedicated mailing list provider for your list!
NOTE: The nice thing about Convertkit is that it is FREE when you start! So you can get a feel for the program as you build up your list! Oh, and there are tons of tutorials on YouTube about how to do anything you might come across!
2. Form For Your Newsletter Signup
You need a form where readers can sign up for your email list. You don't even need tohave to have a website, most email providers will offer a way to host the form with them!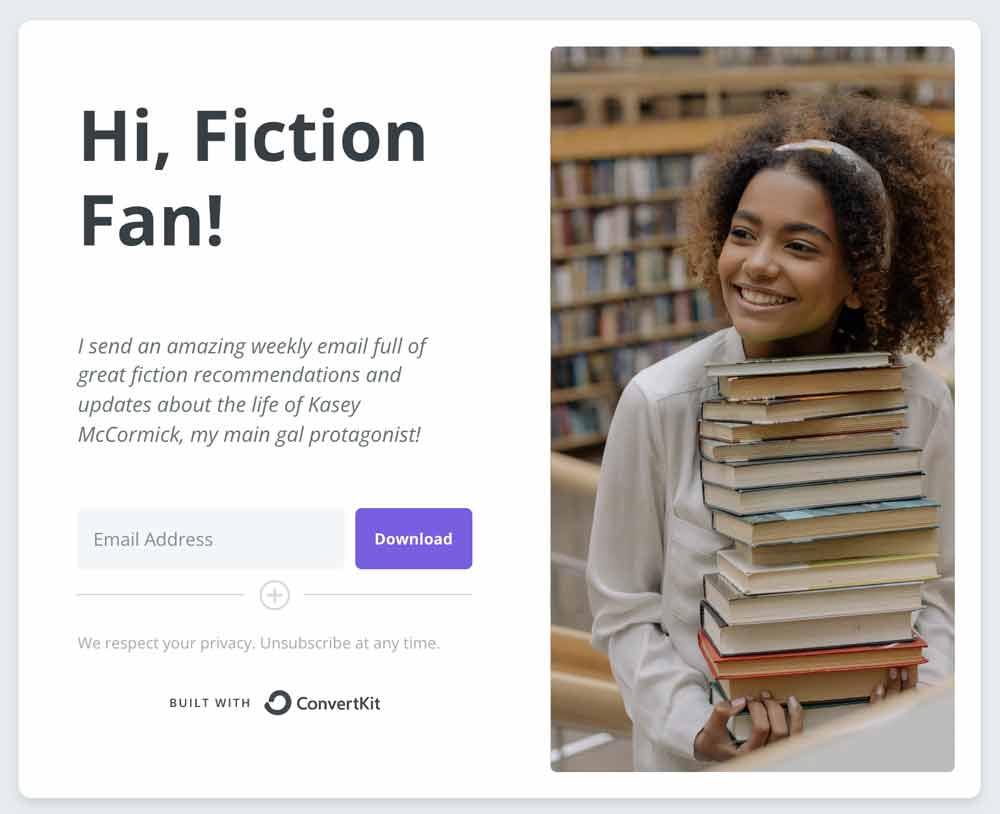 3. Landing Page For Your "Thank You"
Once they sign up, the next place they will go is a "landing page". This is a great place to say thank you for signing up and also to offer something more of value that they might like!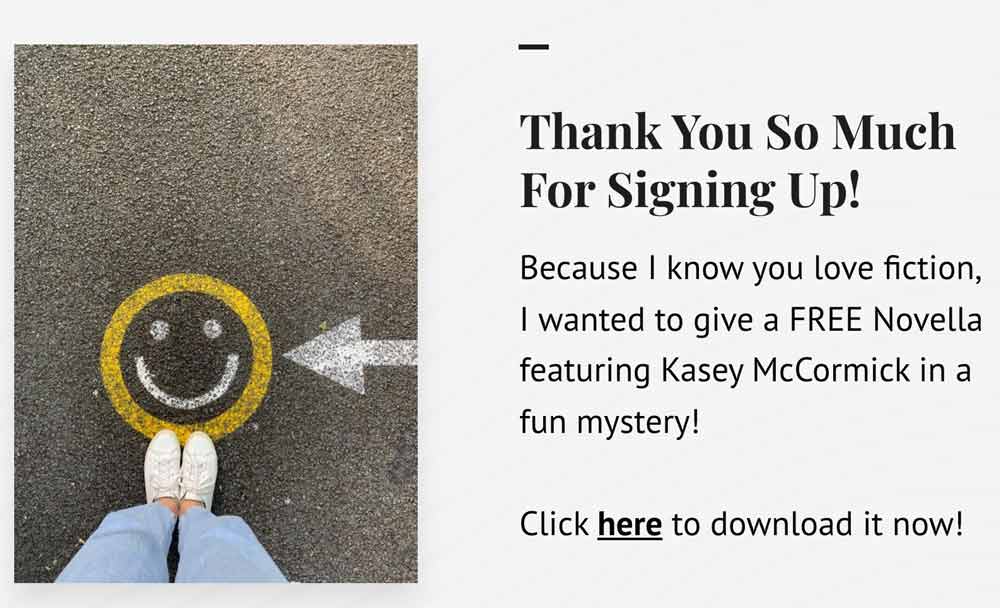 4. Onboarding Emails To Introduce Them To Your Characters
This is an example of an "onboarding series" that Barb could send. Functionally this is a way to introduce yourself to your readers!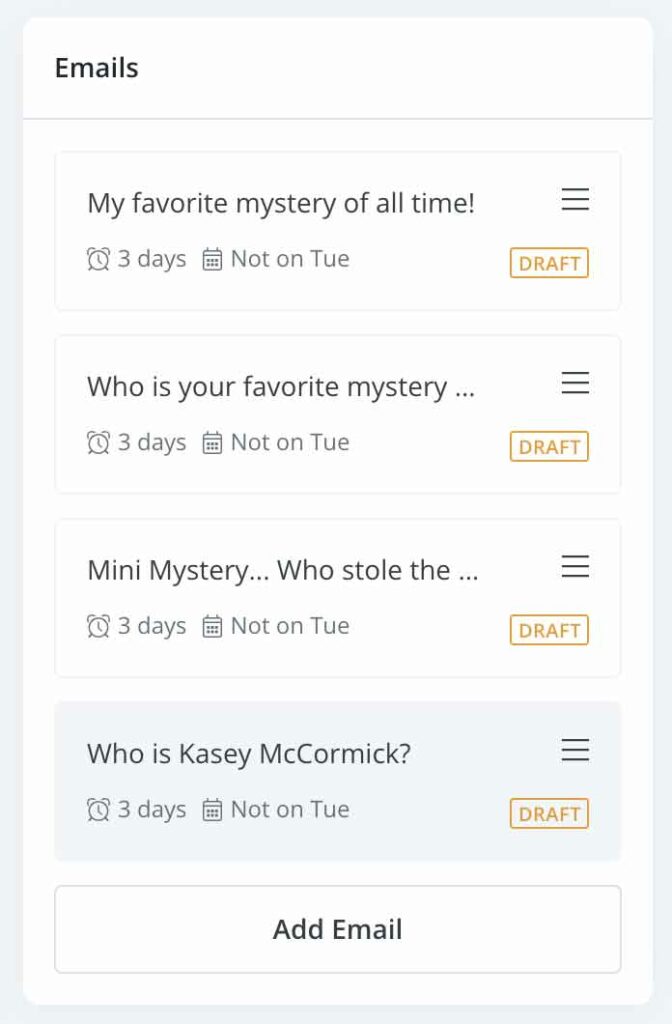 As you can see, they are sent out on 3 day intervals and NOT sent on the day that Barb sends her email newsletter.
That way you avoid losing subscribers because you are sending two messages in one day!
5. Write Blog Posts That You Can Link In Your Outgoing Emails
As an author, one thing you want to do in addition to growing an email list is to build up your website traffic.
With this in mind, I am recommending that Barb do her "daily writing" in public on her blog. She is committed to writing for 30 minutes a day anyways, why not grow her blog readership and have something to send in her newsletter at the same time!
And in case you think this is CRAZY, here is Andy Wier, author of The Martian, who wrote THAT BOOK online, one chapter at a time!
6. Collect Interesting Articles and Videos That You Can Send To Your List
Finding things to send can be overwhelming at first. But once you start cruising the news, Facebook and Google, the algorithms will kick in and you will start to see all different kinds of cool info you can send out.
Additionally, your readers will start sending you things and asking if "you have seen this", which is lovely and makes the process of gathering things to send so much easier!
7. Weekly Email To Send Out
Here is what a possible email newsletter could look like:
—— Start Example Email —–
SUBJECT > Some super fun links and another Kasey Kaper!
Dear Reader Name,
I found some amazing fiction new this week for you to peruse… but first the Kasey Kapers!
Monday – Kasey was doing this (LINK ALL TO BLOG POSTS)
Tuesday – Kasey was doing that
Wednesday – Trying to figure out the plot twist
Thursday – Had to go back and add a sidekick
Friday – Does Kasey get the donut?
FICTION FILES (see all the links here) – optional*
Amazing Interview With Ellery Adams…. (LINK)
John Grisham has a new book out that is a twist of Serial Killers and of course a lawyer! (LINK)
COUNTDOWN TO THE NEXT BOOK!
Regards!
Bonnie
PS – If you have any questions about Kasey or any of my other fun characters, hit reply and let me know!
—— End Example Email —–
*NOTE : since the links to books for sale in Barb's newsletter, they CAN'T be an Amazon affiliate links, we are going to have her make a page that is a running tally of all the links on her blog that CAN be affiliate links!
Make sure you are talking to only one person in your email! There are not a gang of people reading your emails on the other end, just one reader at a time.
8. Answer Your Replies
People are always shocked when someone answers back! Not only will you build a better relationship with your reader, but you will get great ideas to include in your upcoming books!
Fiction Author Email Newsletter FAQ
I asked Barb what questions she had about starting an email newsletter… here are her questions and my answers!
Why Would You Recommend Other Fiction Writers In Your Newsletter?
There is an old writing saying, "They can read faster than you can write."
If you are helpful and give out great information about the genre of fiction that your reader likes, you can become their go-to person for weekly fun fiction topics.
Also, there is nothing worse than a fiction writer with an email list that sends out 0 emails for months or years, but then tries to warm up a cold list to launch their book.
You want to have a list that is super invested in your info and writing BEFORE you get ready to launch your next book!
Can You Have Multiple Series?
Barb was worried that it was too "Kasey" centric, but she can have Kasey Kapers AND Emily Endevours depending on which protagonist she is working on.
For example Ellery Adams has MULTIPLE series of books about Pie Shops and Antique Shops and Bookshops and as readers we follow multiple series so knowing what she is working on right now would be a super fun glimpse into her writing process!
What If You Are Using A Pen Name?
Barb is using a pen name, and asked if she needs to talk a lot about her author's persona or "fake life".
This goes back to the fact that no one cares about us! Barb's readers are interested in reading and finding great fiction, NOT about the author, per se.
Barb can include real facts and stories about her life, as if they were her Pen Name's experiences when appropriate, BUT she doesn't have to create an elaborate fictional life for her pen name!
Should She Write About The Writing Process?
I think this could be one of Barb's daily blog posts. Instead of writing her book that day, she might have one day a week were she talks as herself, the author of the book.
For example, Monday-Thursday she could be writing her novel, Friday could be the day that she wraps up everything in a nice bow talking about how she did the world building or how this week was character development.
Is There A Better Day To Send Out A Newsletter Than Another?
Barb already sends out her "regular" newsletter for her author marketing business on Friday. Which I have found to be a great day to send newsletters.
I have two newsletters, one is for my marketing peeps and one for my Artsy peeps. I send the second one on Tuesday.
I have found that for business peeps that Monday is a TERRIBLE day to send newsletters because people are just getting into the week.
I would think Tuesday, Wednesday or Thursday could be good. Also for a fiction writer, one of the weekend days may work because people will be home with more time to do fun reading.
That said, the day you pick is not as important as the fact that you send it on the same day each week like clockwork so that your readers come to expect it and look for it in their inboxes!
My readers email me complaining if I haven't sent out my Friday newsletter. (that could look like them saying… "I think I am not on your newsletter anymore" rather than asking why I didn't send it!)
People Like To Be In Your Character's Inner Circle
As I said, it is really funky when an author only sends emails when they are trying to launch a book!
Having a fun email newsletter to send year round is a great way grow a connection with your readers during the times between your books!
Think about it, as a reader it is really fun to get reminded of their "friend" (your protagonist) while you are writing away on your next book! This long term relationship could lead to lots of people buying your next book (and maybe a bestseller!)