You hear it all the time… "find your passion, find your passion"… but maybe you are wondering how the heck to find your passion when you have no idea what that could be! Today I am going to give you some tips and ideas for how to find your passion from someone who has found hers!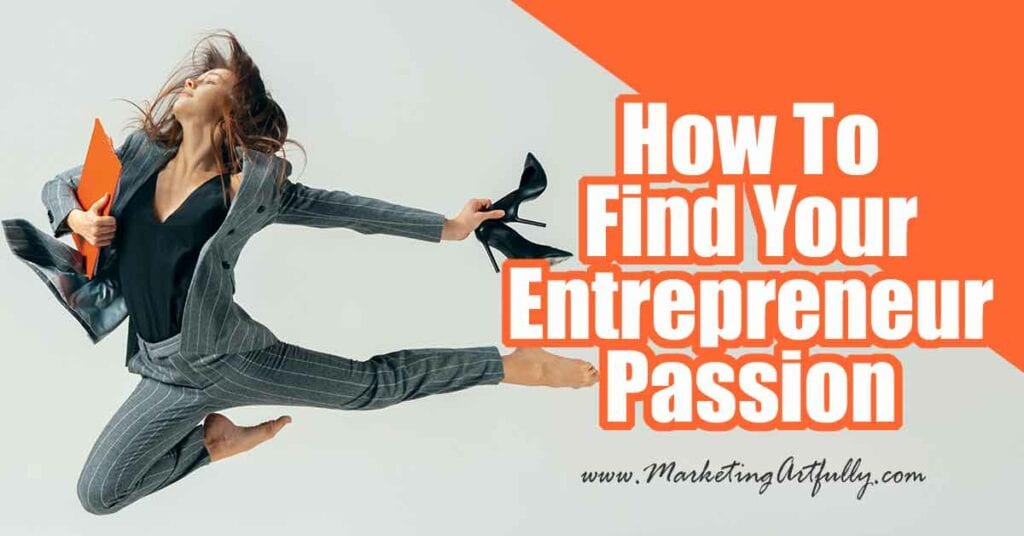 This post contains affiliate links. If you purchase anything, I earn a small commission at no extra charge to you. Check out my policies here.
This is a super long post, and if you are wondering about the "sales pitch" at the end, there is none. I am just laying it all out here for you! My passion is to blog, not make courses or be a coach, so I am giving this all away for free!
My Passion Saga
Okay, going WAY back, I was a website designer with a tiny marketing company in 2001 when I got laid off from my tech company job (my last "job", I have been unemployable for quite a while now!)
Then from 2007-2009 I was a successful Realtor but HATED everything about except the marketing so I went back to my first love marketing and opened a social media marketing company that I had successfully until 2015.
And then in 2015 I had a coach who changed my life!
I asked him, (my first problem… asking a MAN!) what I should do with my business and he said…. only do realtor marking forever and always… ONLY REALTOR MARKETING!
Don't get me wrong, I love real estate agents and my besty is a Realtor, but thinking about ONLY doing realtor marketing for the rest of my life set my whole entrepreneurial business off on a totally different track!
So I started thinking… what would piss off "real marketing" people the most… hmmmm… Etsy! I am going to open up a little Etsy store and sell necklaces, yeah, that is the ticket, selling necklaces.
Crap… come to find out I HATE making necklaces too!
So now I know I hate making necklaces and hate being a realtor… but I did love figuring out marketing an Etsy store! So from 2015-2018 I had two Etsy stores, one a digital products store and one a vintage products store. And I was successful because I am good at marketing… whoo whoo!
But at the back of my mind was always the thought, I could be good at marketing my own "stuff"… but what is my stuff?
In 2018 my Mother In Law with dementia moved in and I started the Artsy Fartsy blog and the rest is history! I am blissfully happy and make buckets of money (ALL TRUE), but not the whole story…
I have discovered how to start finding your passion by spending time talking to 100s of entrepreneurs about their long term career paths and how they are for sure not doing what they want all day, every day!
Why Finding Our Passion Is So Hard
If you had asked me at any point in that process, "what is your passion", I would have had no freaking idea! I hadn't found it yet! I was just feeling stuck in the mess I was in!
Another great "passion" story is my besty Rebekah.
About a year ago I showed her how to use Canva, the free graphics design tool. It was just a normal day for us… chatting about marketing and I did a 20 minute demo showing her how to use it and then went on with my day!
Little did I know now much she was paying attention to that day!
Well a year later she has made over $14 THOUSAND dollars in less than a month selling custom Christmas ornaments AND she made her own font to use on them… wait what?!?!?!
A 20 minute demo of an online tool turned her entrepreneurial life around? Yep!
So if you are having a hard time finding your passion, I guarantee that you just haven't stumbled across something yet that makes your heart go pitter patter!
But no worries, I am going to give you some concrete steps to finding your passion today!
Gary Vaynerchuk and Passion
I think I knew about "having a passion" for you work because I met Gary in person at a small, 50 person venue before his Crush It book became an international phenomenon.
I followed ALL his talks about finding your passion (he said that you could even make money and have a great career if worms were your favorite thing!)
One of the things that struck me most was his Q and A's were SO MANY people asked "but what if you don't know what your passion is?"
He got me thinking years about the question I used to ask my coaching peeps…. "if you could do just one thing, all day, every day for the rest of your life, what would it be?"
Maybe Part of What You Are Doing Already Is Your Passion!
Maybe you have a tiny bit of it already and you don't have to scrap everything and start over again!
Maybe you are a real estate agent who LOVES working with first time homebuyers but everyone says there is no money in that… write a book helping your first timers make smart decisions! Start a YouTube channel and do your own "house hunters" version of helping your first timers and make some ad revenue money!
Or say you are "stuck in a job" at the airport, but one of your perks is to get free airfare. Start a travel blog and use those miles to visit all kinds of cool places and take videos of your travels!
I am NOT a "burn the boats" or "jump and the parachute will open" kind of gal. I want you to find your passion and SLOWLY turn your ship so you get there whole and happy!
Turning The Titanic
I have to say that getting to where I get to do my passion all the time was like turning the Titanic!
I KNEW in 2018 that I wanted to make money blogging and that I didn't want to work with coaching or marketing clients anymore, but I still needed to be able to make money.
So I started stalking the Mommy bloggers. I figured if people with no marketing or technical skills could figure this out I could too!
And over the next 3 YEARS I let clients fall off and didn't add new ones. As I made more with my blogs, I could AFFORD to work less one-on-one with people.
It is fun to think about getting to do your passion all the time, but build it up gradually rather than trying to jump in without a net!
What If Your Passion Is Knitting?
So one last thing before we get to finding your passion… this is the question I get the most when I ask people what they love to do… "but what if it is knitting?" How would I make any money if what I love is knitting?
I am not sure why people pick on knitting, and I don't have a great example of a knitter, but I do have one of a great quilter.
Jennie Doan is a lady who liked to quilt and started a YouTube channel with her son. She was just showing people how to make quilts and has now grown an empire in her little town of 14 quilting shops, a restaurant and 3 hotels!
Not that you have to have those kinds of aspirations, but this is what can happen when you get to do what you want!
Here is a super cool podcast, Without Fail, which is where I first learned about Jenny!
How To Find Your Passion
Whew, FINALLY we are to the "real" part of the post! That said, I don't think we can even take the first step towards finding our passion without knowing that it is possible!
What Would You Do All Day, Every Day?
I have a worksheet (that is free) to help you figure out what you would like to do "What Are 3 Things You Like To Do"
Functionally you need to ask yourself just one question… if you could only do one thing, all day, every day for the rest of your life, what would it be?
And be SUPER specific!
For example, when started thinking about this I thought that I would pick being a writer. But then I wrote books and ICK… I don't HATE writing books, but I LOVE blogging so much that I pick that to do all day, every day! Tra la, tra le!
Don't fret, you get to pick 3 things you like to do (I am a helper, not an entrepreneurial monster!)
Oh and don't get picky with yourself! One of my things is "boss people around"…. so I make videos telling people what to do.
What Would or Do You Do Now Without Being Paid For It?
Now let's think about what you would do (or are doing now) that you would do all day, every day without being paid to do it.
This one makes me really mad because there is so much fear and dis-information thrown around about it! So let's talk about that first!
What I hear is that you "shouldn't ruin your hobby by making it a business".
So let me get this straight, you have found something you LOVE to do and you can't make that a business? Even though having a business doing that would be an unbelievable dream job?
I kept my blog a hobby for a long time… actually not a hobby, just how I did lead generating by telling people how to do marketing.
I spent all my time at work teaching marketing and had one precious day, Tuesday, that I LET myself have as a treat to do blogging.
Looking back now that is CRAZY! I am entrepreneur dammit! I get to say what my work is and I was letting the world tell me what was feasible to be my job!
Writing Down What You Do
Okay, here is another thing you can try if you haven't gotten your "thing" yet!
Spend a week writing down everything you do. For me this looks like…
Blogging
Cleaning the house
Loving on my happy dogs and cats
Dealing with my teenagers
Driving my Jeep
The ones with links are ones that I blog about! Now, it didn't start that way….
I started a business blog in 2008 and learned how to do it and started my Artsy blog in 2018 when my mother in law moved in and I became a caregiver.
When you start, you can only pick one or two things that you like to try to see if you could make it a business!
You Just Don't Know YET
If you STILL don't know what your passion is, you haven't found it yet!
My friend Rebekah had no way of knowing that Canva of all things would be her passion! She LOVES making designs and doing marketing for her personalized products.
Just a year ago she had NO IDEA that one 20 minute tutorial could change her whole life!
So if you have no idea what your passion is, you are going to have to try all different things until you find it. Here are some suggestions for things you can try…
Take a gardening class at the local nursery
Watch Youtube videos about things you are interested in
Visit a college and ask about career counseling
Take an online class
Call up friends and ask them about their work
Here is what NOT to do….
Do not hire a coach! If you don't even have an inkling about what your passion is, you sure as shit don't want someone else to pick it for you!
It was super tempting to me to have someone else help pick what I should do. I spent $3,000 on that coach who told me to work with Realtors only.
The problem with having someone else bestow your passion on you is that their advice is colored by their world view not your desires!
What Do Your Friends Think?
Okay, at least a few of you have gotten down here and you don't even know where to start searching on Youtube… you are totally lost about that damn passion!
In that case you need to email or text 10 people (friends and family) and ask them what they think you are good at doing. Here is exactly what to say…
"I am trying to figure out what I am good at and need your help! Can you please send me 3 things you think I am good at?"
That's it. Don't try to tell them it is for your business… just let them tell you whatever THEY think you are good at.
Here are the kinds of people you can ask:
Your besty
The people at your church
Past or present clients
Your mom friends
Your drinking buddies
Anyone who knows you well
Sometimes we can't see the forest for the trees! We are just not good at figuring out our own strengths!
Tally up all the nice things they said and see if there is a thread you can start pulling in there!
Books About Finding Your Passion
I have read SO MANY good books about finding your passion and being true to your calling. Here are some that I recommend!
Big Magic by Elizabeth Gilbert…. I was going to say that this one is good for creative people, but I think everyone is creative so make sure you read it!
The Gifts of Imperfection by Brene Brown… Brene is AMAZING at helping us to understand vulnerability and how we push our dreams down because we are scared of failing.
The One Thing by Jay Papasan and Gary Keller… when I was a crazy entrepreneur picking just one thing was TERRIFYING. But now that I get to spend all day doing the one thing I love it is so much better!
Crush It by Gary Vaynerchuk… this is my origin book! It was written a while ago, but much of it is still just perfect for thinking about what you might like to do with your passion.
That Little Voice In Your Head (Or The Big Voices Outside)
I want to conclude this talk about how to find your passion by telling you that there will be resistance!
That little voice in your head will tell you that you are not good enough at what you love to make money at it. Or it will tell you that the market is overcrowded or that you don't have enough technical knowledge. Getting out of your comfort zone is hard!
Don't listen to that little voice, she is a liar!
The big voices outside your head will be hard to fight against too.
Imagine my husband, when I told him I was going to stop have a marketing company making over $100K a year and start doing a cute little blog and making art (I make MORE than that now doing what I love, but he didn't know that could happen at the time!)
Don't forget… you aren't going to throw away what you are doing right now! You are just going to start turning that Titanic towards your passion in life that you feel excited about!