Today we are going to be SEO'ing a bracelet from Yolande Webster of the KabiuBoutique shop (in the video I go over Etsy SEO for rings!). She was kind enough to say that we could use her piece for product photos and blog posts!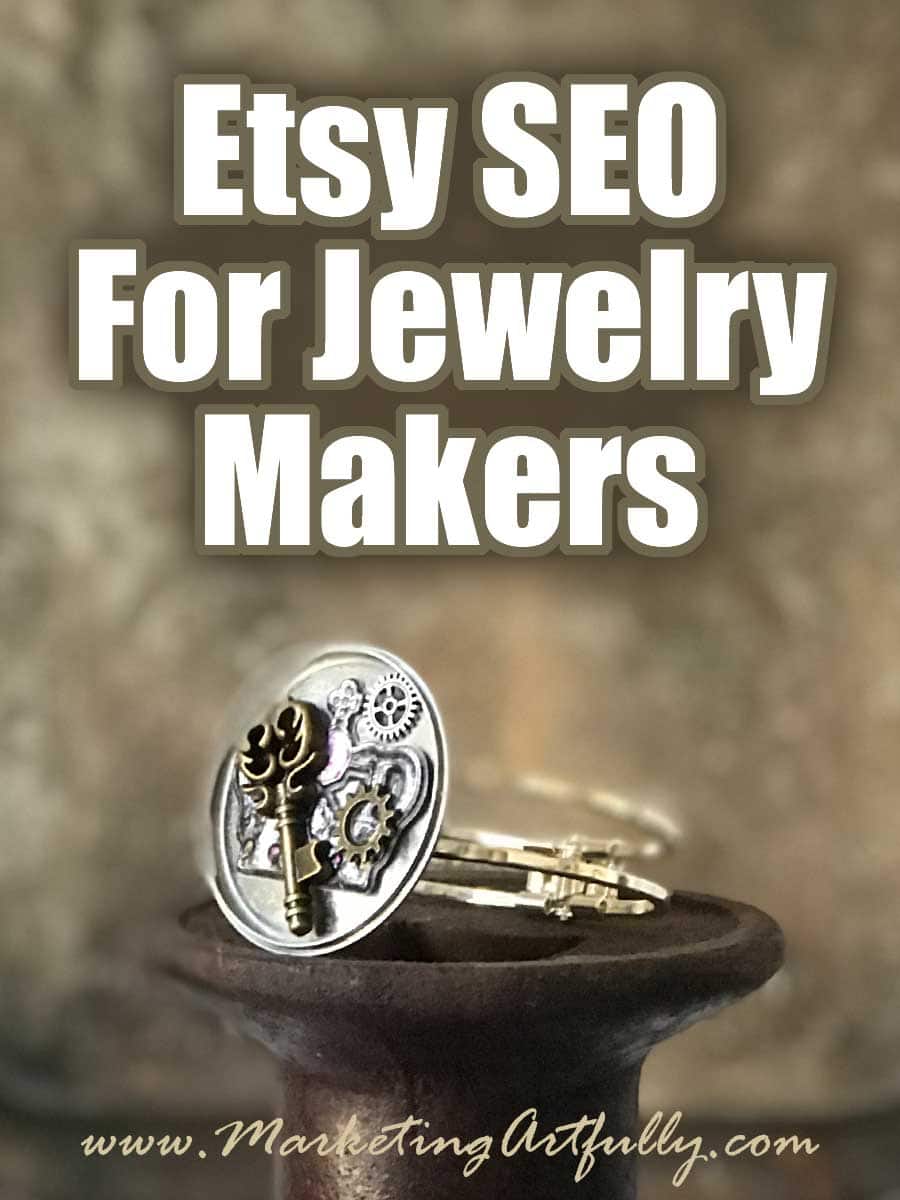 Finding Google Keywords That Will Rank In Etsy SEO
As a jewelry seller, you need to remember that you are deep in the woods on your keyword terms. You might be thinking of the kinds of metals you use, the design process or even the technique you use to craft your piece, but you need to start by backing WAY up to what the item is!
For this example we know that this is a "bracelet", duh. But what does does Google think bracelets are called?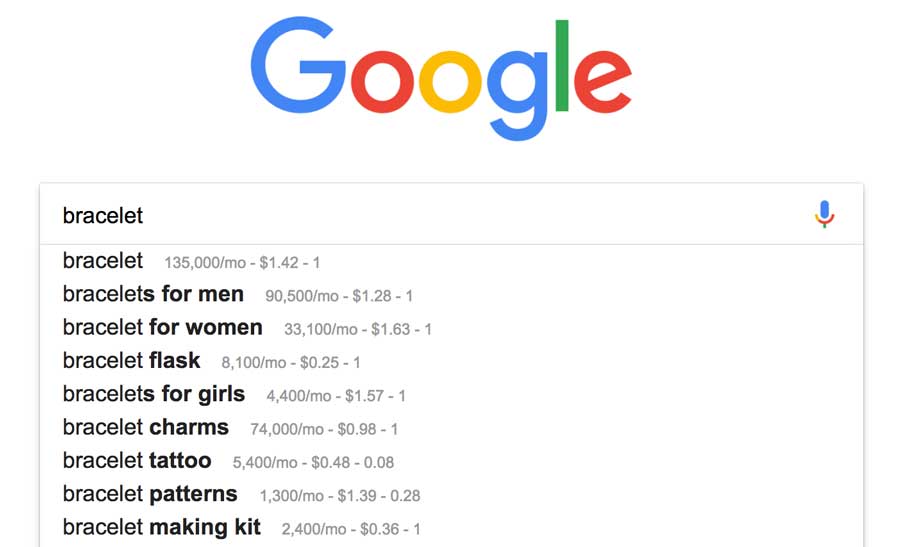 I am using a plugin for Chrome called "Keywords Everywhere" so I can see search volume.
In this example it shows that bracelet (singular) for women is highly searched, but what about that cool one right above that, "bracelets for men"? If you are a jewelry maker that is for sure something that I would note down and think about for my product development queue!
So now we have "Bracelet", and "For Women" as keywords we could use as keywords and here is one more as we drill down in Google and see that we for sure should add "silver"… so now we are "Silver Bracelet for Women"… I probably won't keep that "for women in there forever, but we are just gathering keywords that are appropriate.
Checking Pinterest For Etsy SEO Keywords
Now let's move over to Pinterest and see if we can find anymore keywords that will work for our listing. Doing this search we see that Pinterest gives us "hints" with those extra search buttons right below our search term.
I know they are hard to see there but some that jump out for this product include:
Handmade
Silver
Fashion
Cuff
Jewelry
And drilling down one more time on the "cuff" we get:
Pro Tip: It doesn't matter what you make, you want to make sure that when you drill down into the search that your product matches what the millions of people on Pinterest THINK your item is. For example, my gal might think her bracelet is a charm bracelet, but if she gets to that search and all the bracelets have dangling charms, she will be SEO'ing her listing for the wrong keywords!
So now we have … "Unique Silver Cuff Bracelet, Metal Fashion Jewelry For Women"
One last Pinterest search! Because we are smart and it is easy to see that this bracelet would fit perfectly into the "steampunk" style, I did a search on Steampunk bracelet. As you can see it is the right place for her listing AND we got some more great words!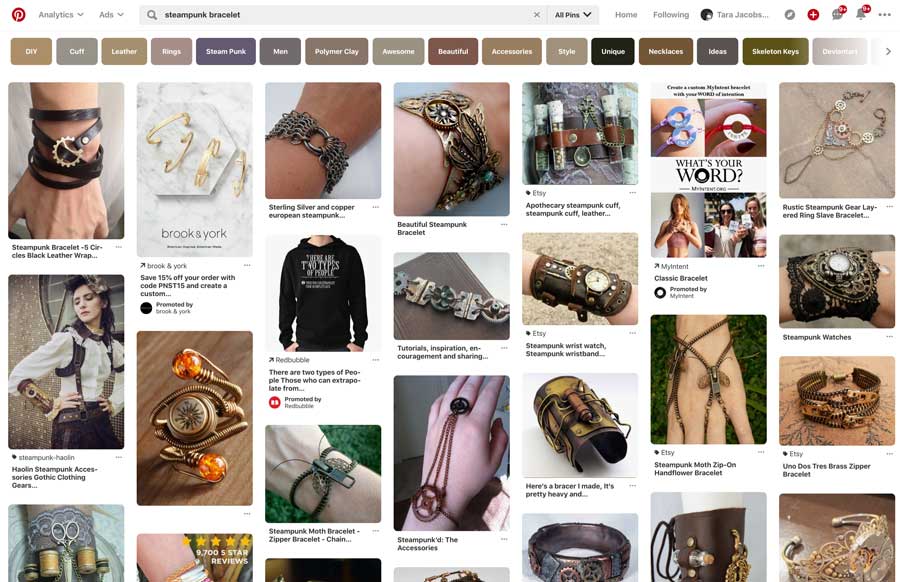 Steampunk
Steam Punk
Awesome
Beautiful
Accessories
Skeleton Keys
So now we have … "Unique Silver Cuff Bracelet, Steampunk Skeleton Keys, Awesome Steam Punk Accessories, Metal Fashion Jewelry For Women"
If we did nothing besides this we would be ahead of 80% of the Etsy sellers out there! But wait, there's more!
Etsy Search For SEO
Now that we have a good idea of what we are doing, we are going to head over to Etsy! Doing that same bracelet search we get these in the dropdown…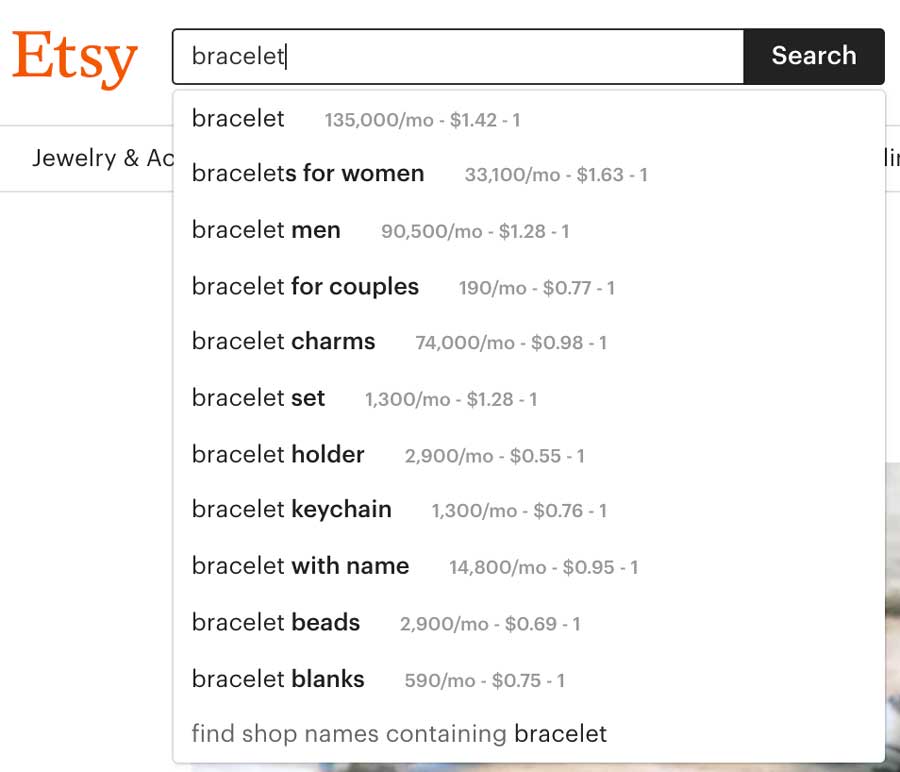 Meh, nothing stupendous happening here, but when we go through the bracelets for women (plural) we see…

So now we have … "Unique Silver Bracelet, Steampunk Skeleton Keys, Awesome Steam Punk Accessories, Metal Fashion Jewelry Silver Cuff Bracelets For Women"
We want to get that exact long tail search phrase in there exactly the way that Etsy told us about it!
Using The Same Keywords Over and Over Again
Now we have to stop and talk about something important. When I started doing Etsy SEO a few years ago you could kind of "game" the system by using exact phrases over and over again. For example you might have written…
Silver Cuff Bracelet, Silver Cuff Bracelets For Women, Steampunk Cuff Bracelet (DON'T DO THIS!)
That worked because Etsy search was not as smart as it is now! Now they want you to use as many different words as you can so they can help buyers find your product to buy!
Using Different Keywords In Your Title and Tags
This is enough to get going and help to find lots of different keywords you can use in your listing! That said, you may have some "leftovers" that don't fit in your title. You can put these in your tags! Etsy searches both your tags and title when finding products to show searchers.
If you have lots of words, use the most important ones in your first part of your title and the less important ones later or only in your tags.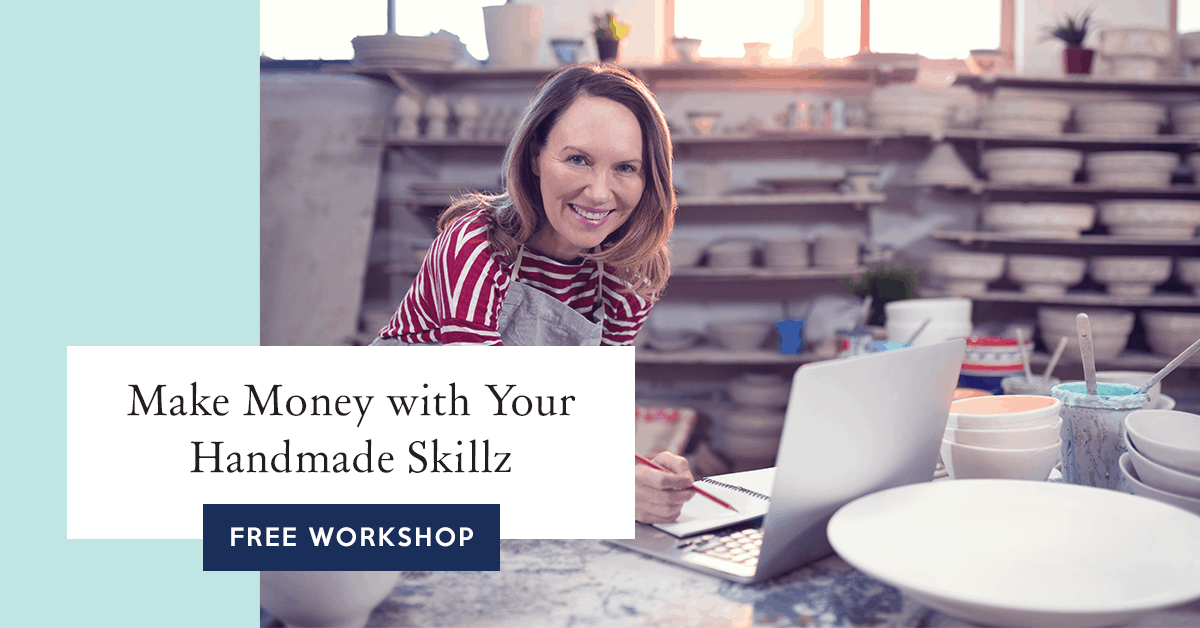 For example, I don't think that "fashion" is that important. If I ran out of room in my title I would move that down into the tags.
Factually Correct Etsy SEO Keywords
One of the things that I think sellers miss is the factually correct parts of the product.
This listing is a cool steampunk bracelet, but it is also has… gears, key, crown, pink, gold, rhinestones. Those are all search terms that buyers might be using when looking for a product.
Advanced Etsy SEO Research
Being a professional Etsy seller, I use other tools to make sure my listings are optimized for the most searches. My favorite tool is Marmalead which is a paid tool, but worth its weight in gold for checking what ACTUALLY buyers search for on Etsy. #promo
There were a few keywords that I had a question about which to use… Steampunk and Bracelets just to name a few!
Doing the comparison search in Marmalead I see that I should use "bracelet" and "steampunk" since the search volume is so much higher!

You don't NEED to use a tool like this, you could do your own keywords and then watch your stats to see which receives more clicks and adjust accordingly. I like it because it saves me time when I am cranking out my Etsy SEO research!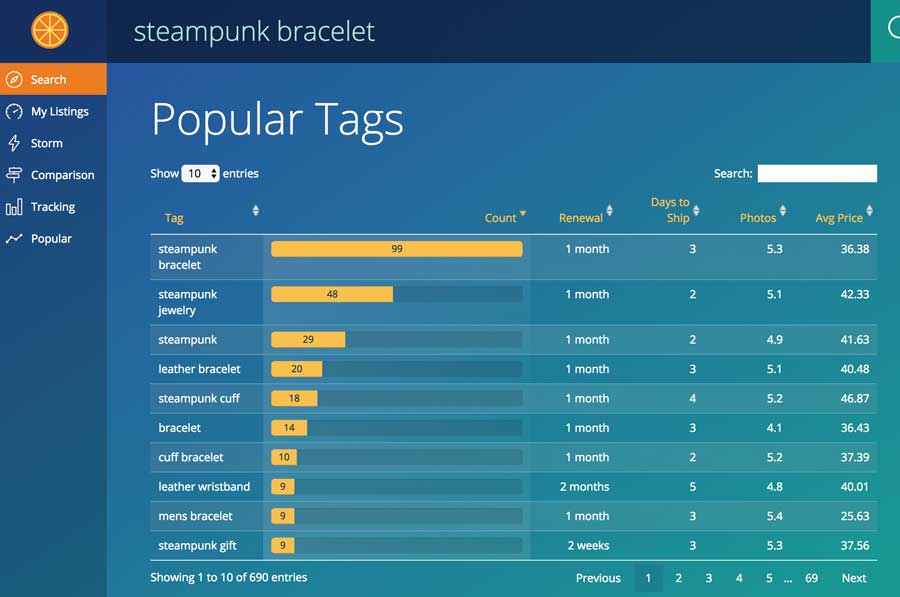 I also like how they give me other keywords that I could use. If you are looking for additional keywords, this is an easy way to find them!
Pro Tip: I would definitely add "gift for teenager, girl, neice" and "stocking stuffer gifts". This is not a super expensive bracelet and would appeal to a younger audience who are looking for cool and hip, not boring and traditional!
Additional Resource :: Marmalead, Etsy SEO Search Term
Etsy SEO For Handmade Jewelry Markers Wrapup
Learning just this much about Etsy SEO for handmade jewelry sellers will get you a long ways towards increasing your views and sales.Once you get these basics down then you can start to go deeper and start checking your stats to see how they correlate with your views and sales.
If you have any questions, please feel free to email me tara (at) marketingartfully.com.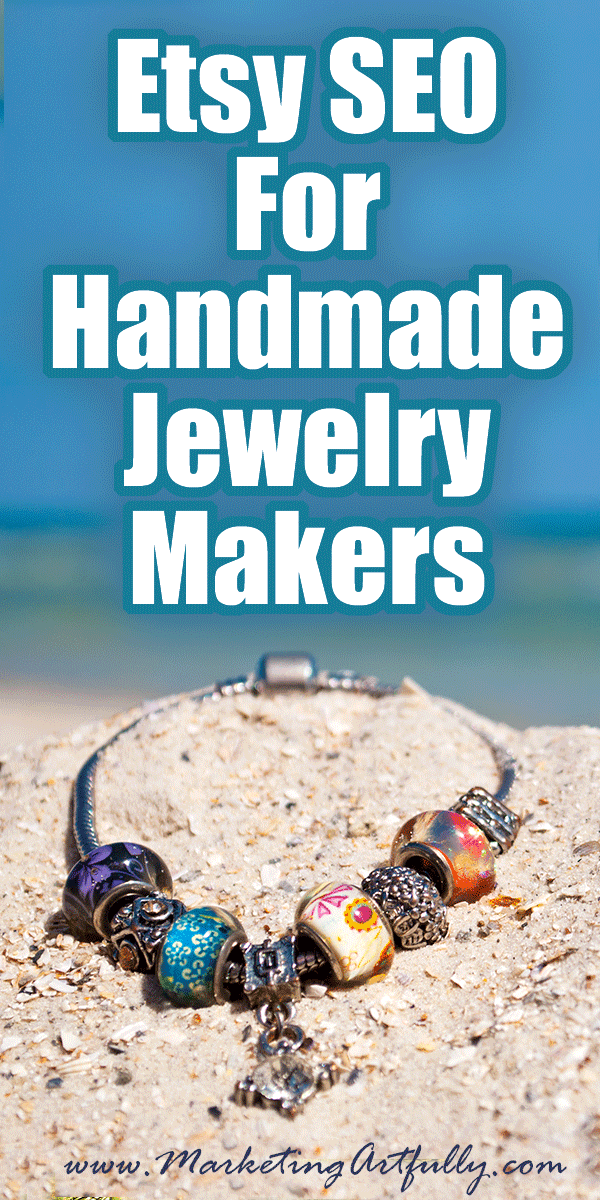 As a handmade jewelry seller on Etsy you know the competition is fierce! Having the right Etsy SEO including keywords in your listing and tags is the only way you are going stand out in the sea of other products on there!