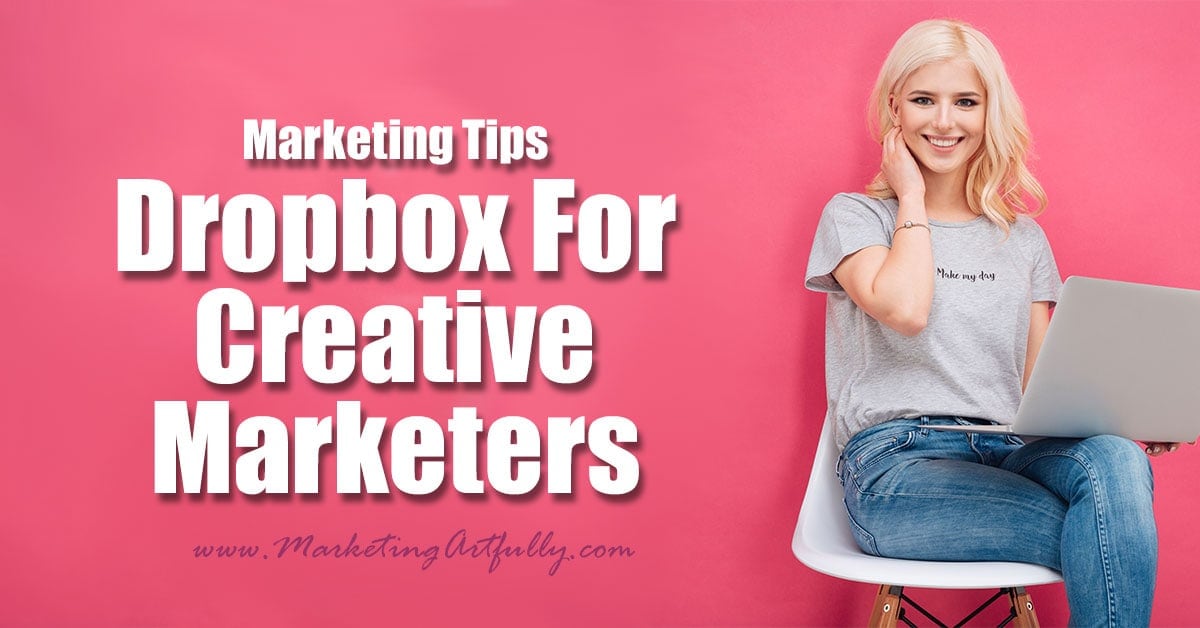 I get a lot of questions about how I am using Dropbox with my team. Or rather I get questions about how the heck to move all those big files, keep track of client work and find our internal marketing pieces easily.
As a marketing pro I have to juggle A LOT of digital files and luckily I have developed some really effective work flows over the years. More about some GREAT best practices we have developed later. 
Hopefully this post can help you whether you are doing client work or just managing your own creative assets!
My Internal Files
So first let's talk about my own marketing files. I have all kinds of pieces including:
Blog post pictures (that I or my team needs to share on social)
Ads for my products (ditto)
Ebooks that I give as lead magnets
Digital files for the products I sell
Some of these are not so important (like the blog pictures) and some are SUPER valuable to my business (like the digital files for my products that I send to customers).
Pro Tip #1 – First off, I love using Dropbox for these files as a backup. Yes, I keep them on my laptop and local drives in my home, but if anything ever happened I know that I have a copy off-site that is safe!
Virtual Workers
I have 4 people who work with me in my business. My amazing admin gal, Shell, Donna who helps with social for my clients and who does my Facebook ads, a designer who does some of my graphic files and Suzanne, a writer who helps do the client blog posts.
If you haven't gotten help yet, having this kind of support will be the next step to leveling up your business for sure!
While having a virtual team is GREAT, there are some problems that come along with having to manage people in various places (my graphics guy is in the Philippines, my writer is in Massachusetts, my admin is here in Florida and my Facebook gal is in Denver).
At first I worried about not having people locally, but the ability to share files easily makes it all work!
Pro Tip #2 – At first it seemed weird to constantly upload my files, but now that it is part of my workflow, I just save them all on my laptop and then onto Dropbox so the rest of the team can access them.
The best part about having the files in one place for all my peeps is that I don't have to keep emailing new versions around. Instead of worrying that they are using the wrong marketing pieces, I just upload updated files and my team always has the most recent version!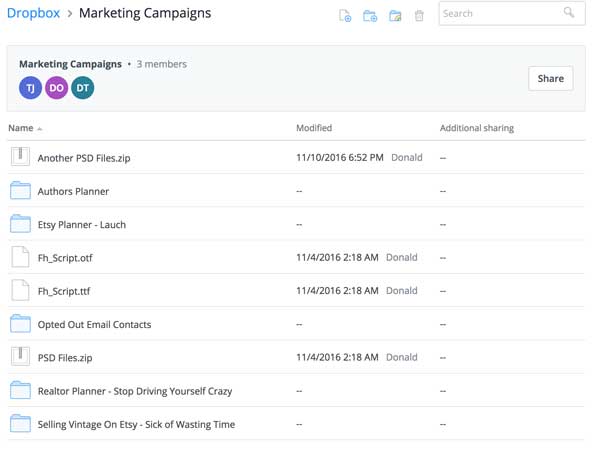 As you can see here, my Facebook gal and designer have access to this folder. It is super neat that I can see everything and then just let different team members have access to different folders instead of everyone seeing everything all the time.
These are my marketing campaigns. Some of those PSD layered files are HUGE! I can remember using services that let us email those kinds of files and no one ever figured it out. I wasted SOOOO much time doing technical support instead of working… bah humbug!
Now my peeps can just upload them to Dropbox and I can pull them down to work on them easily. I also leave some of them up there, knowing they are safe and sound in case I need them later.
Client Files
In addition to my marketing files, we do work for clients! While it is important that my stuff go out correctly, it is VITAL that we don't mess up on the client files.
Many of my clients work with other marketing peeps (like their own designers, writers or interns) and that used to be a nightmare! We would be wondering if we had the right files, if they could actually get the big files to us and a myriad of other problems.
The cool thing about Dropbox is that I can just make a shared folder and then everyone can work out of it.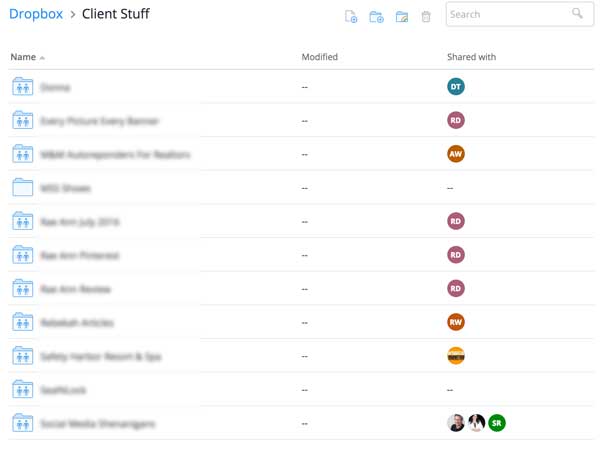 Dropbox shows plainly who each file is shared with. It is neat how the different clients accounts are color coded so I can see at a glance which ones go together!
Clients are able to see everything we are doing and approve work right from the folders and I know we are using the right versions!
Dropbox and Workflow Tips
Over the years we have come up with some great best practices to use for managing my files. Here are some of my top tips!
Naming Conventions
One of the most important things for managing your files effectively is to have super strong naming conventions. For example, we name our ad files with the concept and size so we can easily find the one we need!
etsy-garden-planner-1200-X-628.png (facebook post)
etsy-garden-planner-600-X-900.png (pinterest post)
etsy-garden-planner-600-X-150.png (in post ad)
This makes figuring out which one I need to use super easy.
We also use revisions and final files. So the first file is normal – realtor-seo-worksheet.pdf. Then each subsequent revision becomes rev1, rev2 until we get to the final file… realtor-seo-worksheet-final.pdf.
Being clear with how this workflow goes means that we are never working off an old design or version.
Being Clear with Requirements
Another thing that I do for every project is to make the team a requirements document that includes:
Project Overview
Any Special Notes
Graphic Requirements and Sizes
Due Date and Timelines
Sometimes this seems silly to do on little projects, but over the years I have come to realize that I have it clear in my head, but I spend MUCH less time emailing back and forth with questions if I just lay out what I expect right from the start!
Moving Files Through the Process
I can't take credit for this one, my super organized right hand gal came up with this one!
Instead of constantly renaming files for our blog posts, the gals just move them to different folders. For example they have these folders…
Sent to writer
Received from writer
Sent to client for approval
Approved by client
Published
They don't have to talk about where they are in the process, they just move the files to the appropriate folder.
Fun Client Requests
Last but not least, let's talk about clients. It is amazing to me that clients don't keep the work that you have done for them, but honestly, they don't.
We have had clients request files YEARS later (I am looking at you Gary!)
The neat thing about using Dropbox for archived files is that I don't have to have lots of old files on my hard-drive. I do put them on a backup drive at my home, but I also save them to Dropbox and when clients ask to get them, just send a link to the files!
Dropbox For Creative Marketers Wrapup
When Dropbox approached me to do a post I was THRILLED to be able to say YES! Using this service has helped our team in so many ways that I could not wait to share some of the tips and best practices that we have developed over the years.
It is funny how simple things become when you have a system set up and it makes me feel so secure that Dropbox has been around forever.
This is a sponsored conversation written by me on behalf of Dropbox. The opinions and text are all mine.