Tara Jacobsen is writing this series in response to an internet troll who published defamatory statements about her, her business partner and her businesses.
If you have been lied about on the internet, you need to do everything you can to get it taken down. But there are also things you can do mitigate the damage, even if you can't get it removed. Today I am going to talk about reputation management and how to use the internet and algorithms to your advantage.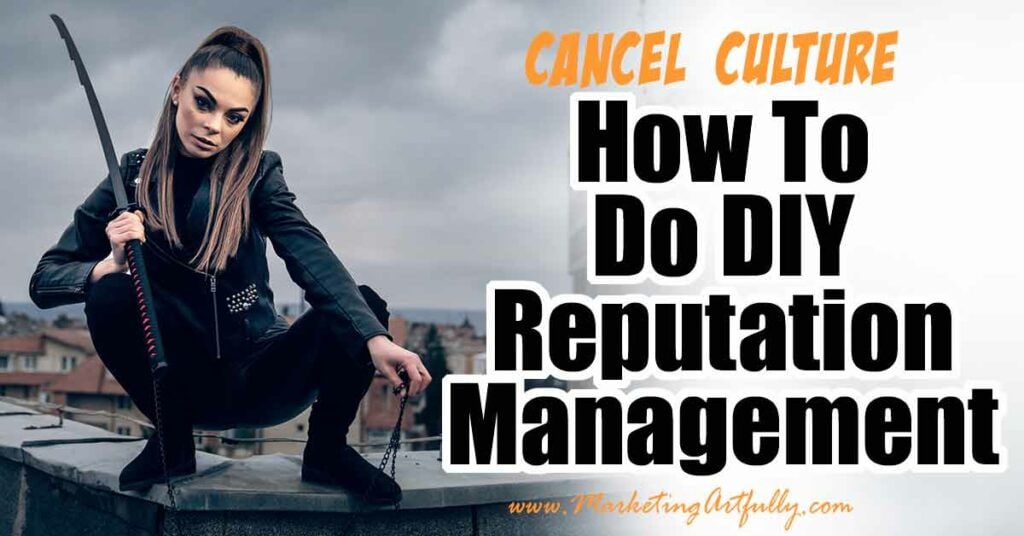 This post contains affiliate links. If you purchase anything, I earn a small commission at no extra charge to you. Check out my policies here.
Disclaimer
I am NOT an attorney! I am a marketer on the internet who has a deep knowledge of how search engines and algorithms work.
I am sharing this information because someone may have lied about you on the internet and you don't have the money or knowledge to fight back.
And ohhhhh, I am fighting back!
My Defamation Story
Real quick, because I told the whole story in the link above… a woman posted a defamatory post that included false allegations (lies) about where we found the content for a form we were selling online in our store and shared links to it on Pinterest.
She used our names in the title and also numerous times in the content, which means that Google and Pinterest could show that post or pins to people who search for my name online.
With that in mind (because she won't take down the pins) I need to go into full reputation management mode, making sure that it is clear to the internet that I dispute her claims AND that when someone searches my name her pins don't come up because I have so much else for the search engines and Pinterest to see.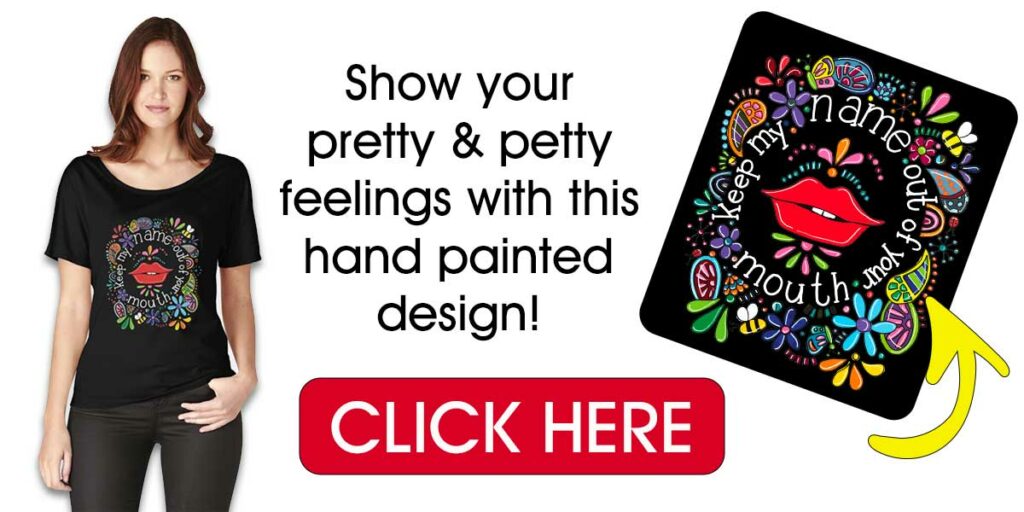 DIY How To Reputation Management
Here are some things you can do to help mitigate false information about you online!
1. See If Their Posts, Videos or Pins Are Indexed Online
This is the hardest one, because you can see the damage they are doing to you in real time.
I did a search for my name on Google in a Incognito browser and whew, we got the post down before it was indexed in Google.
You want to use an incognito window so you can see what the general public will see, not what your individual search results are.
Then I headed over to Pinterest and yep, there is that damn Pinterest pin she refuses to take down that comes up when you search my name.
(I have blurred all of her identifying marks for my safety, please do not contact her or anyone on the internet about this, I am dealing with it through the courts)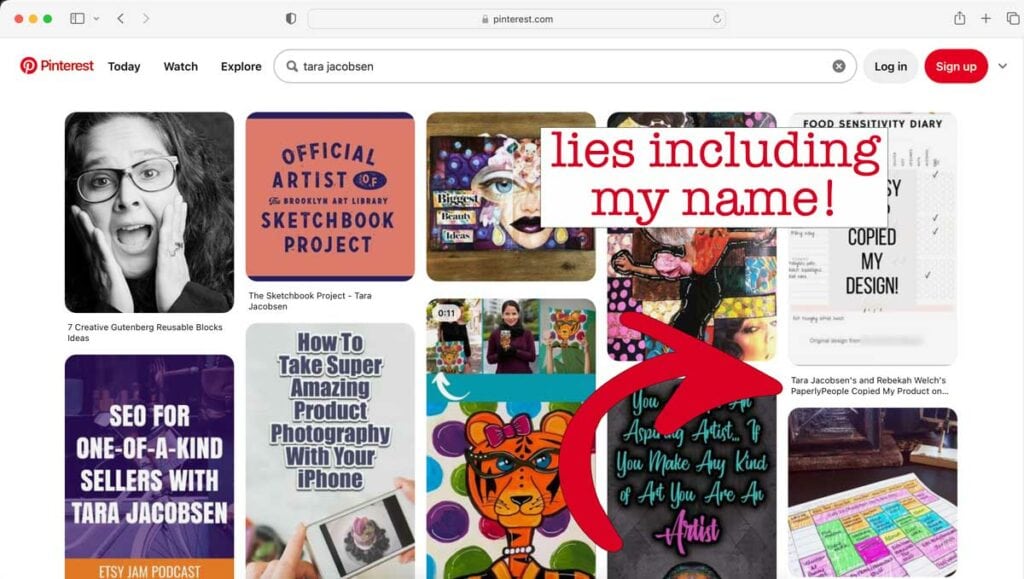 That Pinterest pin comes up because she included my name in the title of her article.
The way that most algorithms work (how the internet indexes pages and posts) is that if they use your name in their title or description, the site will notice that and return their post or pin.
So now I have to battle her on two fronts… first to deny her allegations and second to try and flood the search results so that hers gets "pushed down" in the listings.
2. Denying The Defamation
So my first step in this process was to show each of the things that she had said about me that were libelous and deny her claims. We also provided her with the source of the template that we had legally purchased from a third party vendor.
Save Your Receipts (get screenshots)
For this you are going to need to have "receipts" in the lingo of the cool internet kids!
Receipts are just screenshots of the things that had been said or spoken about you. I have a mac so it is easy to screen captures (command+shift+4), if you have a windows and can't do screen captures use your cell phone to take pictures of what has been said.
These are going to be important later if you want to show the damage that was done to your reputation in court.
Share Your Side (with your name)
Now this is going to get a little weird, like "talking about yourself in third person" weird!
As you can see, I started this post with "Tara Jacobsen is writing this series in response…" Generally I don't talk about myself in the third person, but I HAVE to use my name to get it into the proper algorithms.
So in the pins I am posting to Pinterest I am also including my name in the title!
The post I link to refutes all her lies and I even included a screen capture of what the pin looks like because then they might show up side by side in the search results. This is a mockup to show what they could look like if they both came up in search… my pin I posted today probably won't show up in search results for a week or so…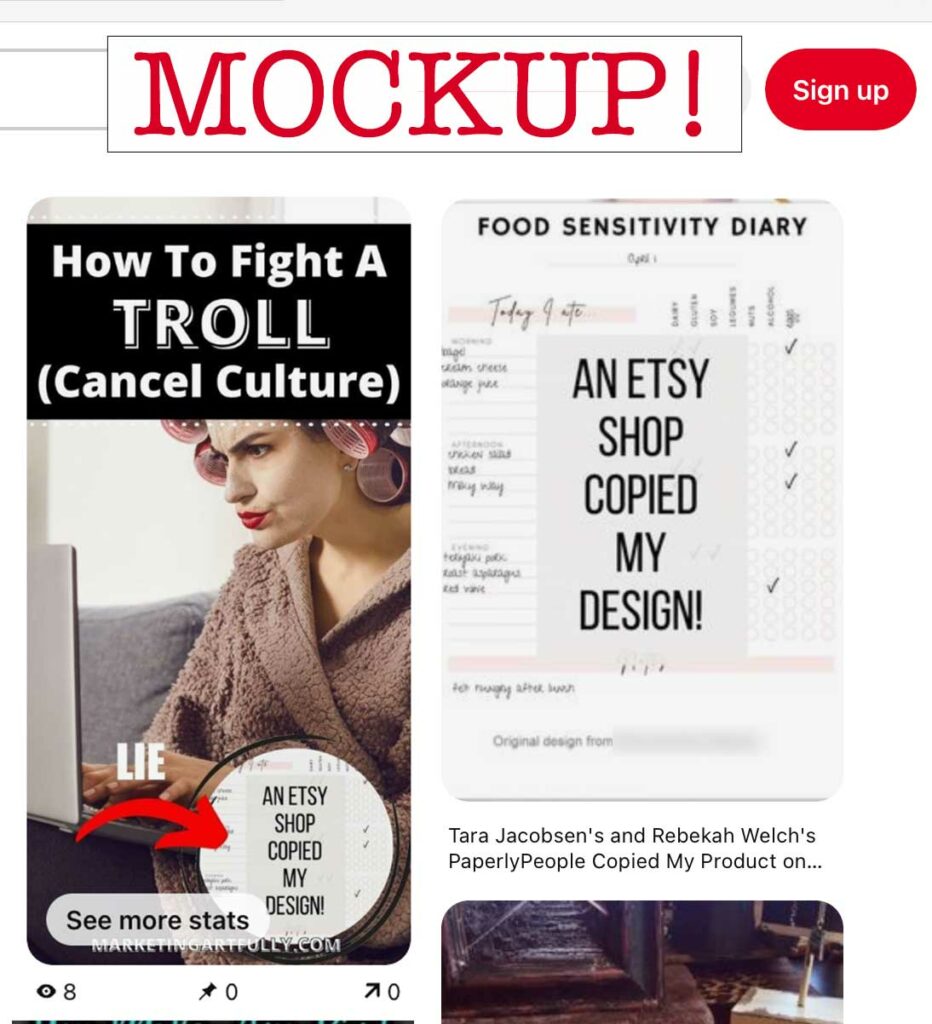 Please remember, this is about clearing your good name, not stooping down to the level of the troll! With that in mind, I blurred out ALL of her identifying information on everything that I am posting publicly.
Being from Pennsylvania I have a ton of great sayings… one going through my head right now is… lay down with dogs and you get fleas! (no dogs were denigrated in this post!)
You can do this on any of the social sites… just make sure to use your full name in the title of the post so it gets indexed that way.
Advanced Note About Fighting Defamation on Pinterest
This is ONLY for Pinterest, I don't know how the other social sites index pictures, but Pinterest for sure "clumps" pictures that they think are the same content.
That is why I included a screen capture of the pins that she has up about me, so that Pinterest might recognize the layout of her pin and "clump" my fight back pin with it in the search results as I showed in the mockup above.
Note About Posting The Hate
When I was speaking about this to my attorney, he said I might want "synopsize" (his word NOT mine) what she said and put it in my blog post instead of including the screen captures.
As an SEO (search engine optimization) expert I disagree emphatically! If you type out what they wrote, the search engines can't distinguish that from fact and you will be adding to your problems.
Instead post your screen captures with an addition of a caption showing what you claim… I have used the word lies, libel, defamation, etc. on EVERY one of pictures that I have used to refute her claims.
Once my attorney understood how the search engines work, he agreed that I should NOT write out the words again.
Note About Trolls
I am not a confrontational person at all… I am a freezer when people yell at me or there are big loud crowds.
That said, I am a fighter to protect my good name and reputation.
I also know that what I am doing now, fighting back, could make her madder and she could come back at me again. You definitely want to take that into consideration when you are deciding whether to fight back or to just let it die down on its own.
The only reason I am so adamant is that she defamed my name in a way that will hurt me financially (I sell original artwork) so I can't just let it be.
3. Flood The Internet With Your Good Stuff
Okay now on to step number 3… putting your good name out there on the internet for all to see!
I have HUNDREDS of things that I can share on the internet… my art, my blog posts, etc. The only reason that pin comes up when you search for my name is that, in the past, I didn't include my name in the title in the past.
But now I will!
How To Post LOTS of Good Things About Yourself
I use a program called Tailwind to schedule my Pinterest Pins (it works for Instagram too). My business partner LOVES Social Pilot and Later (which works on more sites than Tailwind does).
So the first thing I did was to go to a variety of my blog posts, pictures and put them into the scheduler.
You can add a little button at the top of your browser so you don't have to manually add each item…

Here is what it looks like when I have all my pins put into the Tailwind scheduler. I did 20 pins which is 10X as many as she has about me.
As you can see, I don't have Tara Jacobsen in the title (I did a VERY bad job of SEOing these in the first place… they are just for funsies, but will be helping me now!)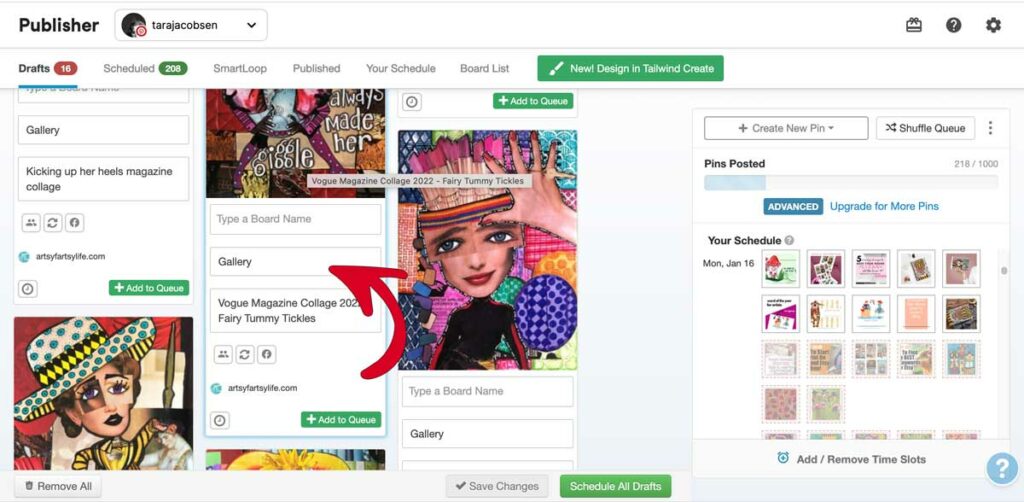 So now I need to go in and add my name to each of the titles of the Pins I am going to post. You could do this with any scheduler and any social media websites.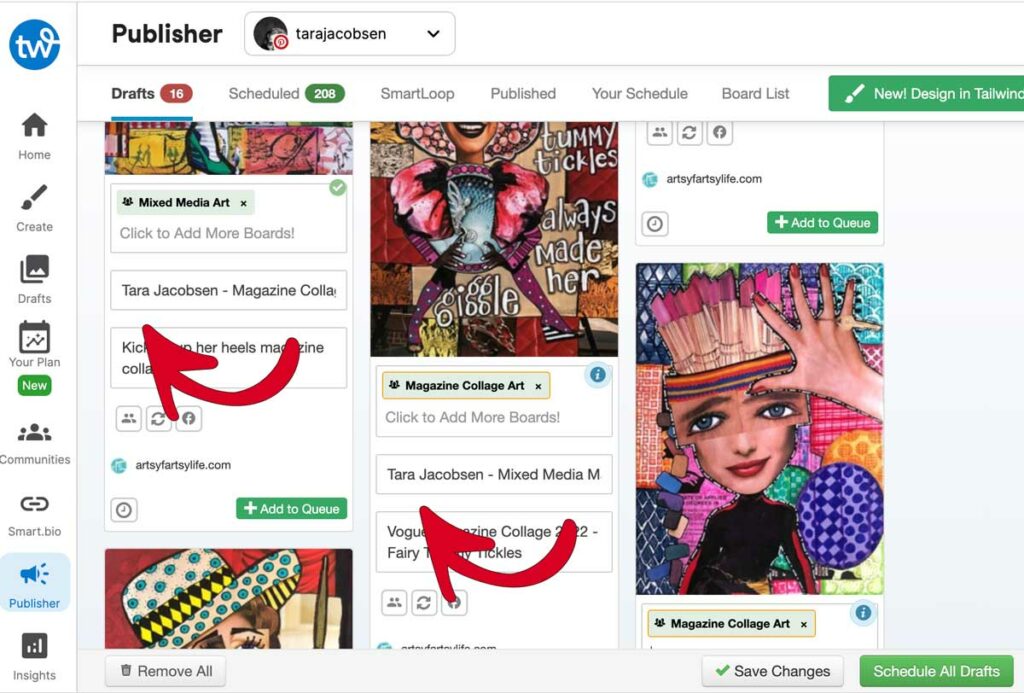 I made sure the title starts with my name! The reason her pins show up in search is that I haven't been putting my name in all my titles up until now.
The way that you push the defamatory posts or pin down is to make sure that there are things that you want seen to show up in the results.
Note About Being A Spammer
I KNOW, you want to do this right this second, to make the troll's post go away fast, but you need to drip these pins (or social media posts) out over time.
If you dump them all at once you could be looked at as a scammer and they might not want to list your content in the search results.
How To Do Reputation Management On Google
Fixing your reputation on Google is much harder than on social media accounts. Improving your reputation will take writing blog posts, being featured on podcasts or making videos with your name in the title.
What you want to do is get favorable things about you ranking higher than any negative comments or negative reviews you may have.
The way that search engine results turn up is like this…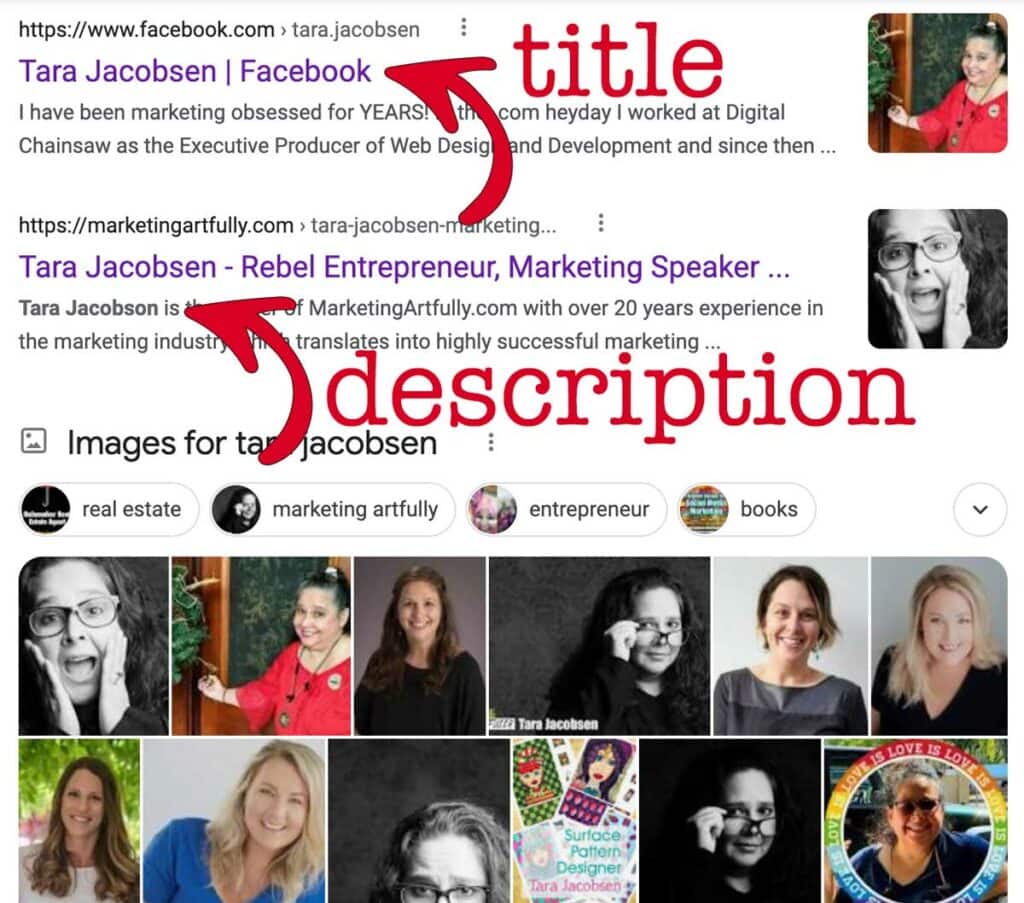 You can put your name into the blog post title or description, having it in both is even better!
DIY Reputation Management Wrapup
Public perception about your business reputation is super important and most people will check online first to see if they want to work with you.
One thing that I hadn't done before was to set up a Google Alert for my name. Thank goodness I didn't have it on Christmas Eve when my troll posted about me, but now for sure I have an alert set up so I can make sure no one else is defaming me (and that the troll is not at it again!)
Unfortunately, managing your online reputation is something you have to actively do. There are trolls that will target you for absolutely no reason whatsoever.
Stay tuned for my next post… How To Manage Your Emotions When You Are Attacked By An Online Troll