Oh my gosh, this is the BEST free motivational planner! This pink, boss lady daily, weekly, monthly and to list printable makes planning your day a breeze.
This post contains affiliate links. If you purchase anything, I earn a small commission at no extra charge to you. Check out my policies here.
Why Did I Make This Free Printable Planner?
A bunch of my peeps are true boss babes and I thought that they could use a fun and motivational set of planner pages!
Also, I am both a planner nerd AND a graphic artist so I find that making planner pages is calming and fun for me to do while watching junk Youtube videos.
Lastly, I can remember the day I broke down in tears because I NEEDED to find a way to keep my time in order after adopting three kids from foster care. I was so stressed I ordered a $100 planner just to make myself feel better, but that day I vowed to find the right planner to fix me.
Come to find out, there is no one right planner. Some weeks I have lots of things and use a daily planner page, some weeks I less and just need a weekly planner page to keep me on track.
The beauty of a printable planner is that you can just print out what you need and not spend eleventy billion dollars for an already printed planner.
Personal License
I use images from Creative Fabrica to make these planners, adding my own spin to the design and layout!
With that in mind, I have the right to sell these OR give them to you for free! Whoo whoo!
These planner pages are free for personal use meaning you, your family and your business team if you have one. The copyright on the bottom will allow a reasonable number of these to be printed out at a commercial printer like Kinkos or UPS.
The only thing you can't do is share these digitally (online, website, email, etc.). If you want to share these with a friend, just send them the link to this page!
Why Are They Free?
There are two reasons they are free… first because I LOVE giving things away to help my peeps! I am starting to have a pretty cool library of planner printable freebies that I give away!
And second because I am blessed to have ads on my site so I make a little bit of money when you visit this page! YAY!
No need to click the ads, simply being here is enough. BUT, if you would like to help, please share this page on your favorite Facebook group or pin it to Pinterest… that helps so very much!
Boss Lady Free Printable Planner Pages
You can print these pretty planner pages on any home printer or send them out to your favorite print shop.
All of the pages are formatted to print 8.5″X11″ on letter sized paper.
Boss Lady Free To Do List Printable
I absolutely LOVE this to do list! I don't want to have to reprint my to do list every day… I like to have multiple tasks that I can mark off with the check boxes as I accomplish them. This full page to do list goes perfectly in a DISC bound planner or binder planner.
(to save just right click and choose "save as" on a computer or long click on a phone)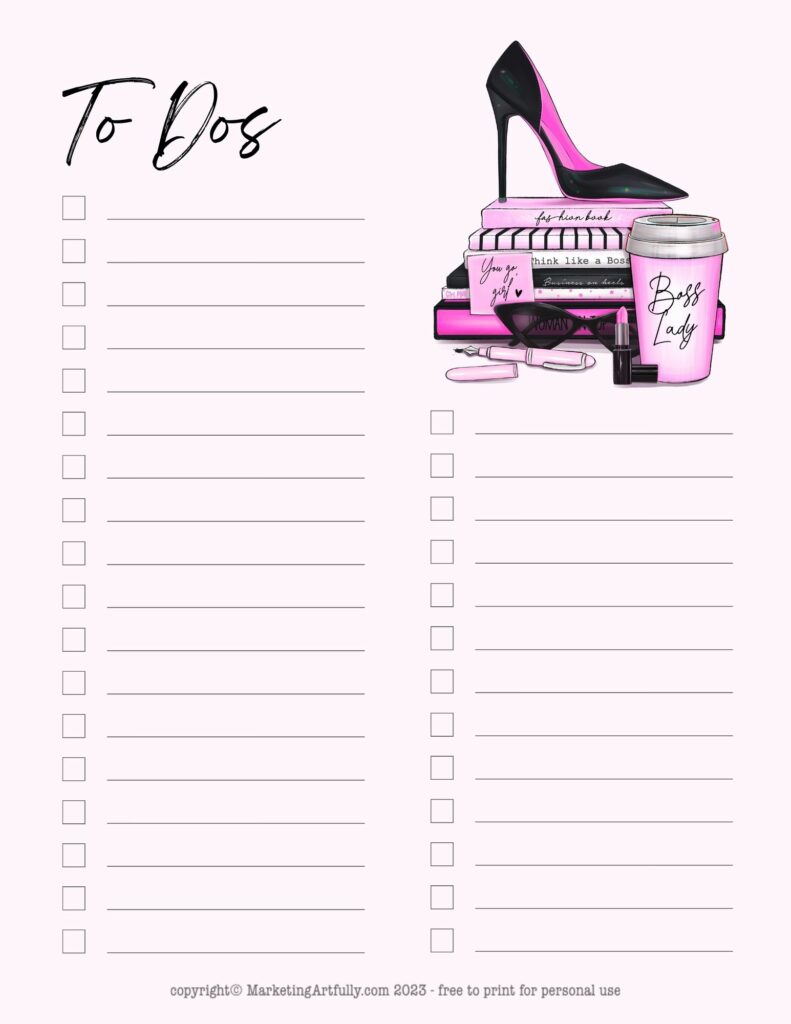 Boss Lady Free Daily Planner Page
I absolutely LOVE this daily planner page! There is a space for the date, your schedule for the day, top priorities, a mini to do list and even a space for tasks for tomorrow.
While I don't have appointments anymore, I do use the time slots to block out my time and make sure everything gets done.
(to save just right click and choose "save as" on a computer or long click on a phone)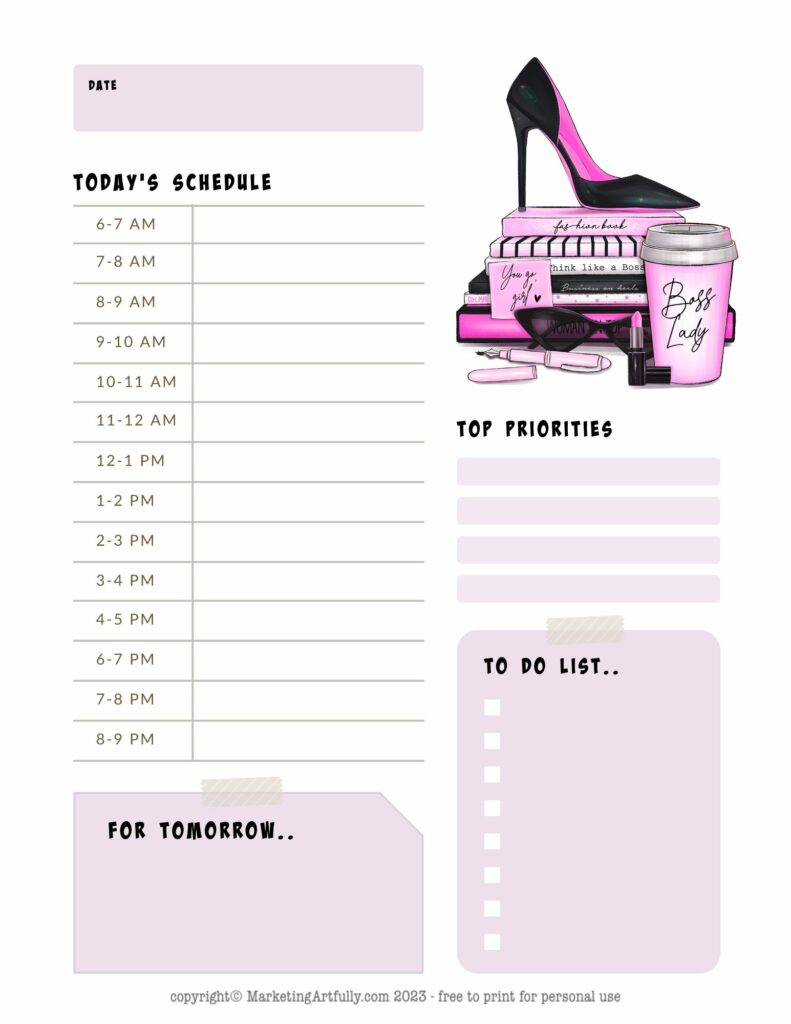 Boss Lady Free Weekly Planner Page
Not going to lie, I love a weekly planner page the best and this one is amazing! There is a space for the weekly date, to do checkboxes for daily tasks and a "don't forget" space for weekly todos or things you need to move on to next week.
(to save just right click and choose "save as" on a computer or long click on a phone)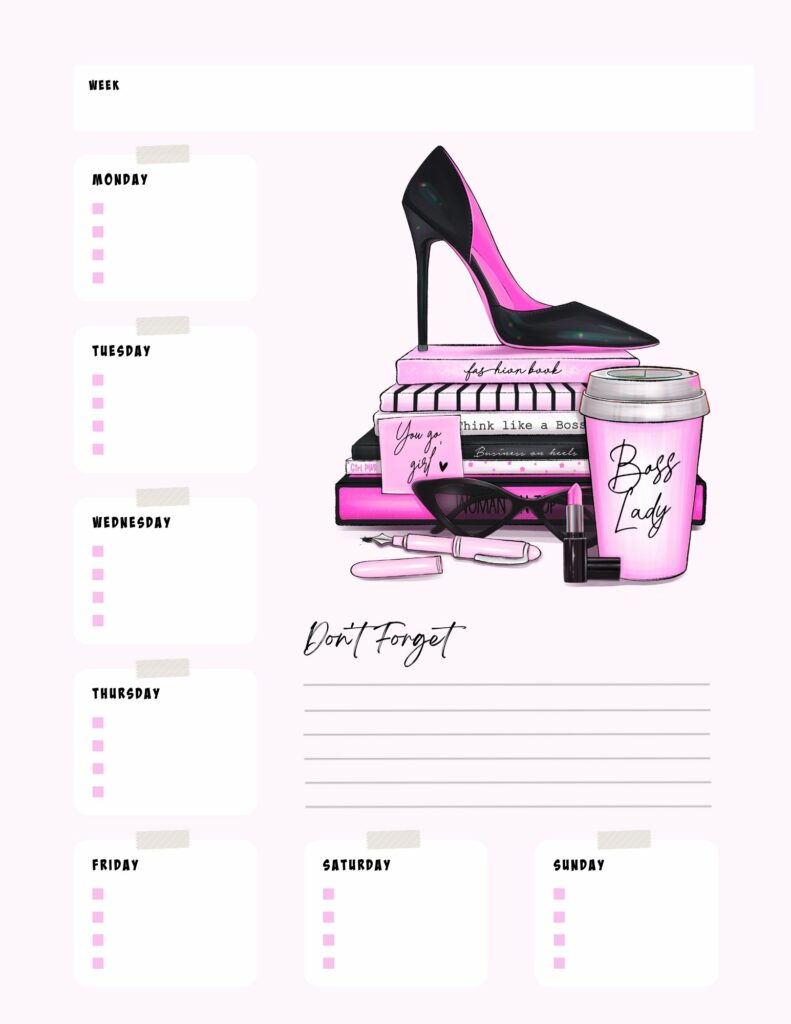 Boss Lady Free Monthly Planner Page
I use a monthly planner page to block out all the things that I HAVE to do like appointments, webinars, kid's sports and even when I am going to exercise or clean!
(to save just right click and choose "save as" on a computer or long click on a phone)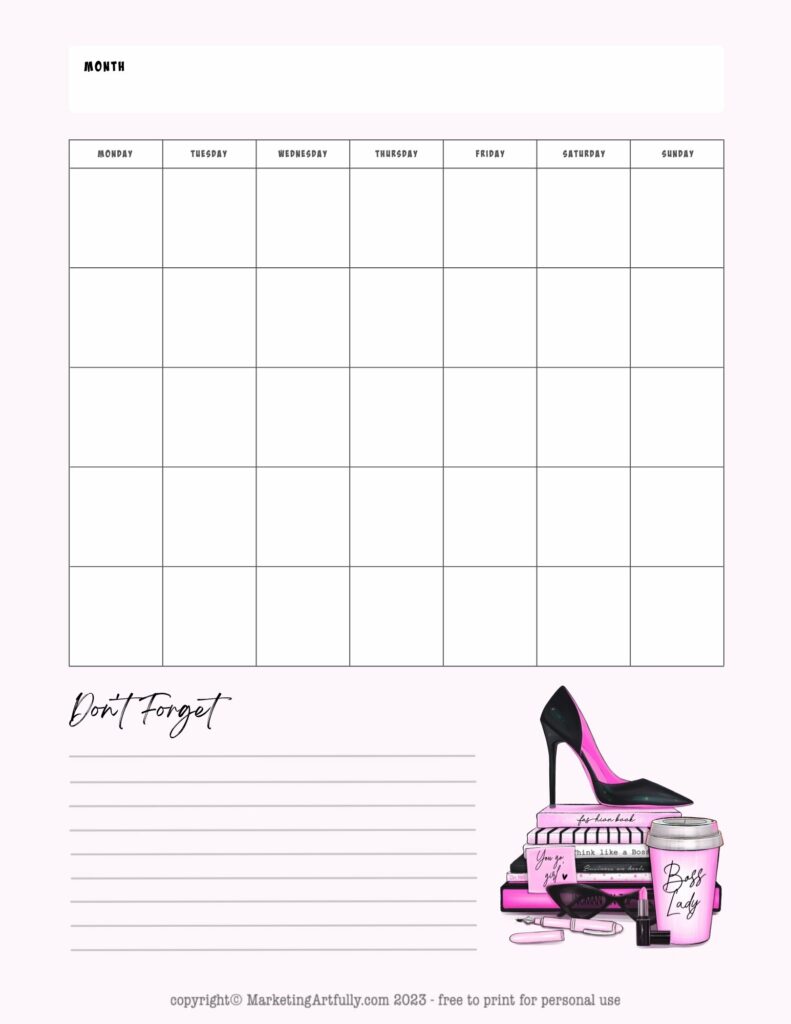 Free Printable Boss Lady Planner Wrapup
I am so pleased with how this planner turned out! It is pretty and fun… but practical to use day to day for your time management.
If you have any good ideas for new planner printables you might need, please email me… tara (at) marketingartfully.com and let me know! I might make one based on your suggestion!