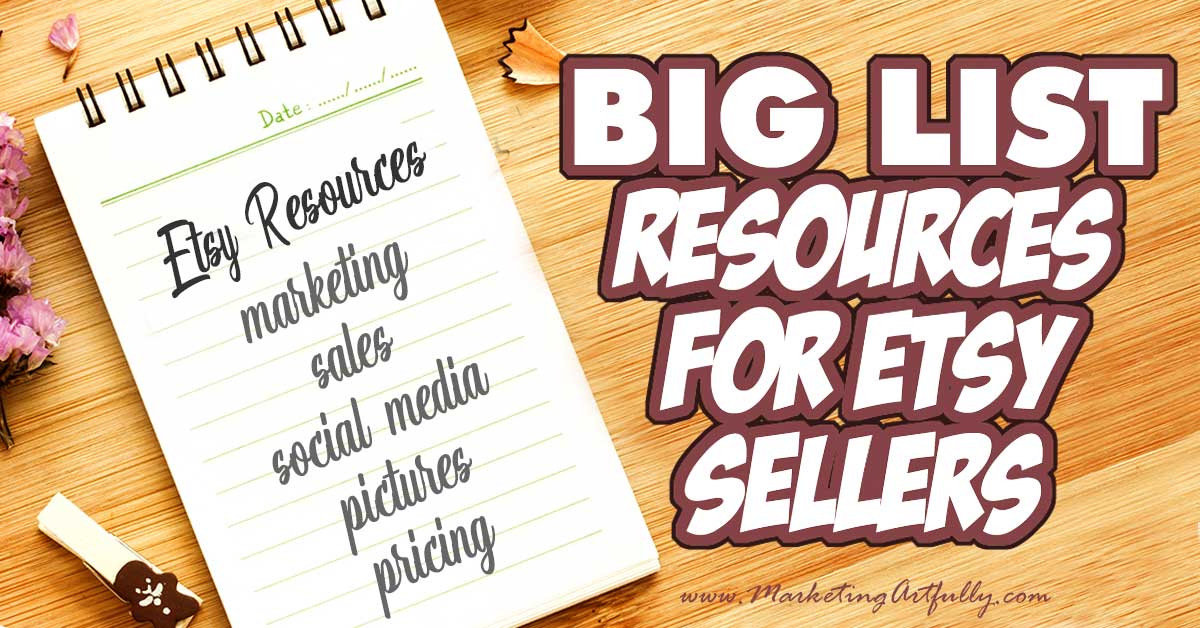 I love finding great Etsy tools and resources that can help me and my peeps really rock our Etsy shops! I put a call out in some of the groups that I follow and am sure that I will get more and more suggestions as this post goes along!
Updated 12/28/2018
If you have a Etsy related tool that you think could help sellers, please message me and let me know!! tara (at) marketingartfully.com
Some of these tools are ones that I use and represent as an affiliate. You will never pay more and might be able to get a little extra discount through one of my links!
Etsy SEO
Doing SEO for your listings is a vital task. If no one can find your listings, no one can buy it!
Research & Stats
I spend A LOT of time making sure that what I am selling is something that people are going to want to buy!

Pricing
Figuring out the perfect price can sometimes feel like shooting in the dark… some of these tools make it a bit easier!
Sales
Sales can help drive sales! Sometimes giving a discount can make a big difference in your bottom line.
Bulk Editing Tools
I have gotten some great feedback on these multi-listing editing tools!
Photos
Having great pictures is SO important to your sales. These apps and sites can help you make the most of your photography efforts.
Social Media Scheduling
Social media is important, but should not be the only focus of your business. These tools help Etsy sellers do their social posts in bulk beforehand.
Social Media Tools
Doing some research on your social media can help your efforts become more laser focused and less random!
Link Shorteners
Sick of having ugly links in your social posts. Not only can you get prettier links, but you can also track the click throughs of those links!
Automation Tools
If you can get your head wrapped around setting up automation practices, it can save you HOURS a week on your social media tasks.
Color Theory
Color matters in your marketing and your product development. Make sure to stay on top of color trends!
Email Lists
Having an email list puts you in charge of your own destiny. While this is not the first place I would start as a new Etsy seller, it should be on your radar of to-dos.
Marketing Pieces
I like to include branding pieces in my shipments. I have a super cute business card that I send out with all my packages giving them contact information and a discount code.
Shipping
Shipping is one of the hardest parts to figure out! These are some of my best helping tools.
Blog Tools
I love blogging and know that some Etsy sellers are with me in that! Here are some tools that I use or that have been recommended by other sellers.
Inventory and Accounting Software
I am so fortunate to have a bookkeeper in the family, but if you don't have that yourself, here are some services recommended by my readers.
Etsy Monitoring
Keeping an eye on Etsy and what they are doing is vital! Here are some ways to keep track of what the "mother ship" is doing!
Vintage Sourcing
You know I love me some vintage and here are a few resources that you might find helpful!

Popular General Shopping For Research
It is vital to keep up with what is actually popular in the "real world".
Popular Fashion For Research
If you are a handmade seller, tracking trends is vital to making sure your products are well received!
Cool Tools
Doing my research I found some things that are not "categorize-able". I put them here because I don't want to lose them!
Etsy Tools & Resources Wrapup
As with many of the "big lists" I make, I really just started this list with bookmarks of things that I wanted to keep track of for my Etsy business. Then that folder became unwieldy and I was looking for a great way to organize it. Hence this page!
I really am interested in knowing about tools that are a good fit for Etsy sellers! Some of these are free and some are paid, but all have been vetted either by me or someone who follows my site. A few are affiliate links because I believe in them so much that I am willing to spend my time and influence to promote them!
Companies… if you would like me to include your product on this list feel free to contact me, but a request does not guarantee placement. I will be verifying your product and if it clashes with something I love will not include it.
All opinions are my own.
ADDITIONAL RESOURCES FOR ETSY SELLERS