Tara Jacobsen is a sales and marketing speaker, author and consultant that you will not forget. She brings with her a true, hands on sales, goal setting and marketing strategy focus, and yet energizes her audience with full on content and interactive participation.
Webinar and Podcast Guest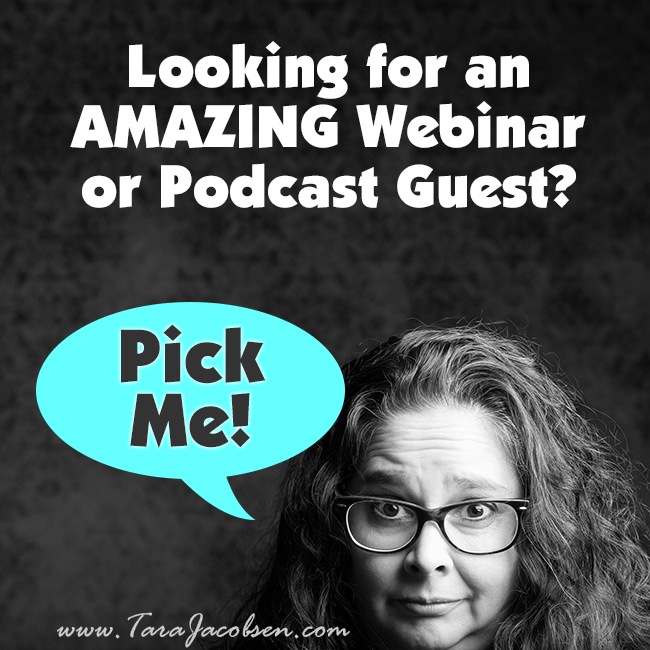 Tara is a fun and entertaining podcast or webcast guest. No prima donna with a huge list of requirements, Tara is happy for the opportunity to be on your show and is more than willing to promote your show and share her recording with her large network of social media and email contacts. If you need an emergency guest, Tara is happy to serve as an "on call" interview (as long as she is available!)
A sampling of past shows:
Just a few of the comments that Tara has recieved:
Wow…great webinar. Thank you so so much! – We'll circle back with those questions. – Paolina, YP.com
Awesome webinar yesterday! "100 Free Marketing Ideas" – Cynthia
Thx for the AWESOME 100 Free Marketing Ideas Webinar, A TON of GREAT ideas, very useful! @rebornskincare
gr8 webinar and tips today – @CRE8VEbunch
thanks for a great webinar – many resources I had not heard of before – @MHAWestchester
enjoyed the webinar today! Thanks! – Ten31Marketing
Industry Marketing Speaker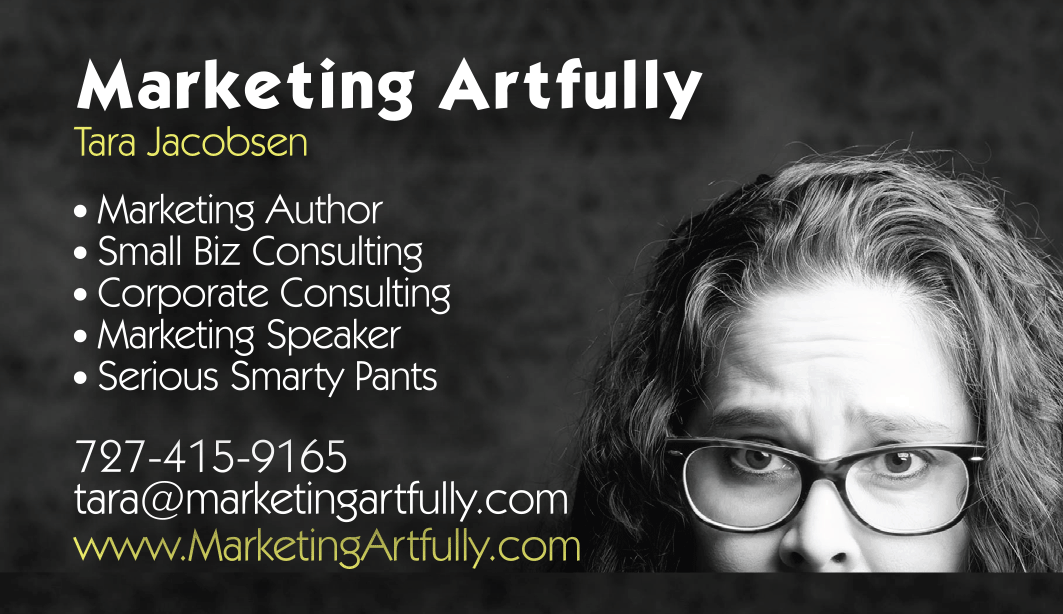 If you are looking for amazing marketing speaker with a wealth of marketing knowledge and a great attitude, you have picked the right gal. Tara is a sought after marketing presenter known for her "tell it like it is style" and giving 100 miles-an-hour presentations that will keep your audience engaged and taking notes the entire time. No boring old rehashed marketing ideas from years past, Tara is actively working with small business, Realtor, manufacting and entrepreneur clients on a day-to-day basis, implementing the latest cutting edge marketing tactics that work today. She will give your audience concrete strategies that can be implemented immediately!
Tara is the founder of Marketing Artfully, a fifteen year old marketing company that creates cutting edge marketing strategies for small businesses. Tara's primary responsibilities are speaking with small business and Realtor groups, conducting workshop trainings, helping with meeting facilitation and mediation and consulting with clients. With a Bachelor's Degree in Psychology and 15+ years of "in-the-trenches" marketing experience, Tara's background prepared her for helping small business owners grow their market share and profitability with "real life" marketing ideas and lead generating tips.
With her writing partner, Rebekah Welch, Tara was even presented with a coveted "Innovation Award" at a Western Regional Industry speaking event.
A sampling of past talks given:
SEO For The Trades (Opening Speaker) – United Association of Mobile Contract Cleaners, Orlando Florida
Marketing Planning Day – ASID American Society of Interior Designers, Denver CO
Lunch & Learn, Real Estate Marketing To A Farm – Coral Springs FL MLS Board, Coral Springs FL
Social Media Marketing Panelist – JV Alert, Denver CO
Online Marketing Panelist – Affcon, Denver CO
100 Free Marketing Ideas – Colorado Leads Group, Centennial CO
Marketing Like A Maniac – Dunedin Rotary Club, Dunedin FL
Call Tara Today To Schedule Your Next Event (or to get more info!) 727.415.9165
Government and Education
Tara has worked with a variety of state, local and educational institutions, crafting specialized programs to help them convey the exact information or structure that is needed.
Taking the Bored Out Your Boardroom – Moderator Woodland Park CO Downtown Development Authority, Woodland Park CO
Social Media Marketing For Real Business – Pasco County FL Economic Development Council, New Port Richey FL
Sales Funnels and Product Development – Metropolitan State University of Denver
It was wonderful to see the way that you engaged my class yesterday when you spoke. You had them at "Hello". Your lively and personal approach to speaking was wonderful. Thank you for the great information and for its relevancy to entrepreneurship. I certainly picked up new information and viewpoints from you, and the class was enthralled with the new ideas. It was a joy to meet you. – Nancy Long, Metropolitan State University of Denver
Call Tara Today To Schedule Your Next Event (or to get more info!) 727.415.9165
Customized Programs
Custom Keynote Programs are one of Tara Jacobsen's strengths. She will work with you and your colleagues before the event getting to know the theme, the goal, and all the details of your event, so that Tara can put together a spectacular presentation or workshop exactly fitting your specific needs!
Meeting Facilitation and Mediation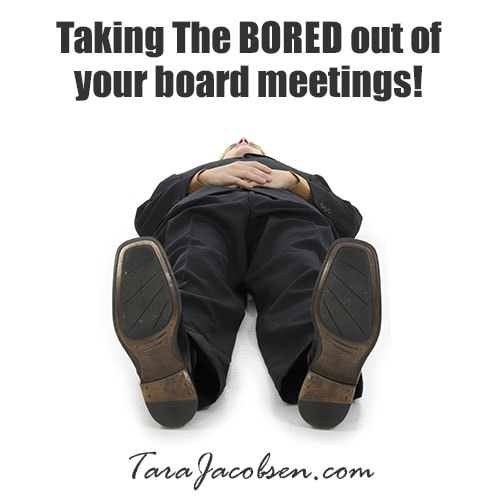 Tara has been approached by a number of local agencies and small businesses who are looking to "take the bored out of their board meetings". Tara is a great meeting facilitator and mediator, keeping things moving along at a non-stop pace and getting things done! One of the reasons that having a public speaker at your event is that she has no dog in the fight and is an impartial third party who can keep things lighter and on track! Some of the areas that are asked about:
We will plan and design the meeting process together, with input on what has worked before from Tara
Clarifies the purpose of the meeting, how the agenda will progress and determines what a favorable outcome will be
Clarifies the attendees role in the meeting and their role in deciding the outcome
Keeps the group working together using specific goal oriented tasks (and a dash of humor in cases of tension between parties)
Makes everyone involved feel heard and acknowledged
Can help with "crowd control" and keep old antagonisms from bubbling up
Works through any issues to end the day with actionable items and assigned roles and next steps
Speaking Topics
When you are looking for a speaker for your business event, Tara brings an energy and enthusiasm that is rarely matched. Some of the small business marketing topics she covers are:
Marketing Strategy
Based on her Marketing Strategy Workbook/strong>, Tara can speak about any of the topics including:
Business Strategies & Foundations
Goal Setting & Motivation
Internet Marketing
Social Media Marketing
Offline & Local Marketing
Marketing Plans
Tara has such passion for what she does! She draws you in with her enthusiasm that you can't help but leave any training session with a renewed outlook on your business! She spends time speaking one on one with you before and after training sessions which leaves you feeling truly 'cared for' in her sessions! If you haven't been to see her speak, put it on the top of your TO DO list! – Tanya
100 Free Marketing Ideas, Building Your Business Without Breaking the Bank
This is a "hold on to your seats, wild ride" of a presentation! Join Tara Jacobsen as she flys through 100+ ways to market your small business without spending a dime. With a handy dandy handout and real world examples, there is something for everyone during this presentation. Tara covers offline and online options, internet techy and easy to implement old school ideas.
Have you ever wondered if you are throwing money down the drain using expensive marketing techniques?
Now that the old standbys like the yellow pages and radio have stopped working, what SHOULD you be spending your marketing dollars on?
Isn't there any way to do marketing faster, smarter and cheaper?
The answer YES, YES, and YES! There are literally hundreds (if not thousands) of new marketing ideas for you to use to spread the word about your products or services.
Join us to find out how to make the most of your marketing budget!
Daily Goals and Affirmations
A worksheet and action plan pinpointing what you are trying to achieve for your business and what you should put your attention on to succeed. We will be going through YOUR business goals, affirmations, strengths and helping define concrete tasks to do for the coming year!
Pinpoint your EXACT target market so you can stop wasting time and money marketing to the wrong people
Know what to do to move your business ahead every day
Set yourself up to win instead of always feeling like you are behind or doing the wrong thing!
Your sense of humor grabbed everyone and your use of everyone's name made a strong connection (even with Phil) and you told it like it is. Very refreshing. Christine Metzger – Upscale Plus Consignment, Wheat Ridge CO
Teach my group – Many small business owners want a more intimate learning environment than they can get during a workshop training session. I am happy to come out to teach to groups of 10 or more at a cost of $100 per attendee in the Denver and Boulder or Clearwater Tampa areas. This is the same great training you get from my regular workshops, just on your timeline! If you would like me to come out and speak, please give me a call!
Realtor© Marketing Speaker
Tara works with brokers and MLS boards to provide quality keynotes for annual meetings as well as shorter, lunch-and-learn type settings.
Speaking fees are affordable and negotiable depending on the topic and group.
If you are looking for a great hands-on Realtor© marketing workshop, we can tailor an event focused on Realtor© marketing, internet marketing, social media or how to service your sellers.
Your training sessions today were so terrific – like I said that is the 1st time I've been at a seminar or training session that I didn't put on my sunglasses even once (to take a quick snooze)!!!!! Also, I'd like to thank you for the personal help you gave me afterwards – that meant so much to me because it would have taken me forever to figure out what you did so quickly & effortlessly!!!!! You're quite a gal & I feel very fortunate to have met you!! Keep up the GOOD WORK!!!!! Helen L. Maday Realtor©