Small Business Social Media Marketing Like Facebook, LinkedIn and Twitter Are Not Just A Fad!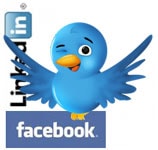 Every Small Business Owner knows that social media marketing SHOULD be part of their marketing toolbox, but who has the time to spend weeks (or months) getting it set up? What if I told you that you could have your Facebook, LinkedIn and Twitter marketing empire set up quickly, with step-by-step instructions and expert help to make the process painless!
Discover the easy and fast way to…
get your Facebook, LinkedIn and Twitter accounts set up the right way
learn the free tools that you can use so that your social media marketing takes minutes instead of hours a week
deal with just ONE friendly teacher instead of half a dozen "experts" who focus on just one of the networks
take advantage of the FREE marketing opportunities social media offers
enjoy increased revenue from customers who can now find your products or services on the internet
get lifetime access to the newest information about social media marketing so that you can stay ahead of your competition
At last, you can find out how to use social networking from an expert! No more chasing around after so called Twitter and Facebook internet gurus who are selling get rich schemes, not working with "real businesses". This is not an "easy way to internet riches ploy", just real solid information about how small business owners and entrepreneurs can succeed with Facebook, LinkedIn and Twitter. Keep reading to learn about the only program that helps you to get in place and stay up-to-date…at a small business owner price point.
It would be great if creating your small business social media marketing system came in a box, like old-fashioned cake mix! You could just "add water and stir." Our "Small Business Social Media Videos" comes very close to doing just that.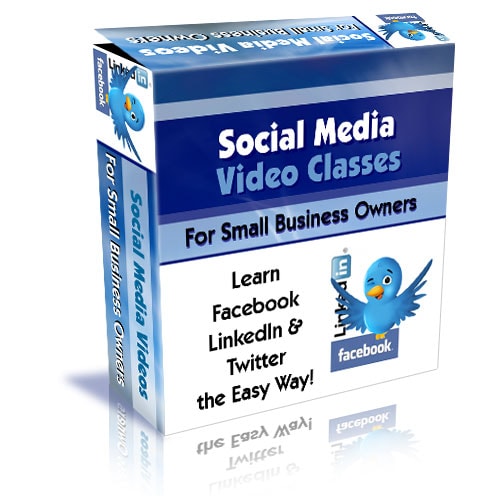 Social Media Videos For Small Business
A REAL Marketing Plan: "No ready, shoot, aim"
Find out why it matters to google that your business be branded online
Learn how to have a focused plan to your networking so that you can achieve maximum results
Keep up-to-date on what small business owners should do next to succeed
Facebook: "A personal brand and a professional outlook"
Make sure your Facebook personal profile is set up correctly
Build your Facebook business page so that you can get more prospects and clients
Use FREE tools to update your profile and pages regularly
Ensure that your Facebook presence is professional and effective
Post your events for free AND invite as many friends as you like
Share your small business marketing message with the click of a mouse
LinkedIn: "Connections and opportunities"
Set up your LinkedIn accounts in minutes
Learn how to get more connections without having your account banned
Sign up for groups and grow your sphere
Post your events for free
Twitter: "Tweet and go"
Twitter account(s) set up to attract your targeted prospects
Set up auto-tweeting so that other blog owners help you tweet
Tips to create tweets that communicate your value (so you avoid wasting time and inadvertently drive away prospects with the wrong message)
Set up free tools that automatically message and follow people who follow you
Find clients and prospects who live in your neighborhood, city or state to market to
Set it and forget it – schedule your tweets once a week and then get back to your "real" work
Your lifetime connection to new social networking information
Many social networking gurus teach you one thing and then expect you to pay again when things change (as they ALWAYS do on the internet!) When you purchase the Social Networking Videos for Small Business, you always have the secret password to find out what to do next. Our support is delivered in business-speak, not techno-geek. You get:
Unlimited lifetime access to the online videos which walk you through each process, step-by-step
Workbooks that you can download and print out
Periodic updates to the videos (this is our second edition and you even get access to the archives!)
"Ask a question" feature – if you have heard of something new and think there should be a video, many times we are able to produce one if we feel it will be beneficial to all our members!
Get started today!

Having known Tara Jacobsen professionally for over ten years, I can sincerely and unequivocally vouch for her high-standard work ethic and her 360-degree expertise in all marketing strategies. In today's Net world, Tara offers impeccable knowledge in all forms of social media and beyond.  If you are a small to medium size business, there is no question that Tara can offer realistic and productive solutions to every company to increase their ROI!
Stacy Hansen, Personalized Marketing
A Seasoned Internet Pro! Tara Jacobsen of Marketing Artfully
These days you can't afford not to have a strong Internet presence. Today's 21st century customers will go to your web site before they buy from you. They begin business relationships on the Internet. They keep up with business associates on the Internet, via Facebook and Twitter.
BUT creating a profit-generating web marketing plan and site requires an investment of time, money and energy. When you are already working full time and more, just to keep your business going, you may resist the idea of spending your time learning hundreds of hours of internet marketing technology.
Unfortunately, many small business owners I talk with just give up, leaving hundreds of thousands of dollars on the table. Others spend thousands of dollars to create web sites that just float around gathering dust in cyberspace.
It doesn't have to be this way. I've helped hundreds of business owners transform their online profit picture in as little as 30 days, using Internet techniques that geared to small business owners NOT techy types! And I've packaged this program to make it easy and affordable for just about any business that's serious about getting on the Internet. Here's what just one client said:
"My business grew exponentially…"

Tara has been helping me build my Real Estate business on line though her incredible knowledge and experience with SEO and what she calls 'breadcrumbs:" blogs, social networking, multi media and fresh content. When I follow her guidance, I see results. My online business has experienced tremendous growth since I hired Tara and adopting the Artful Marketing mindset. I don't understand exactly what I am doing but with her guidance and persistence with me (a non tetchy client), my online business for lead generation has been experiencing tremendous growth!

Deborah Ward, Deborah Ward and Associates
Why Marketing Artfully is the ONLY Company That Can Deliver the Small Business Social Media Videos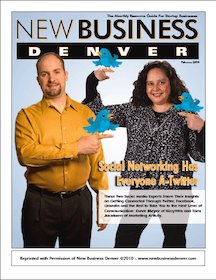 Tara Jacobsen of Marketing Artfully, has a Midas touch when it comes to marketing, on an off the Internet. She has worked with and taught hundreds of small business owners to help them learn to use social media to grow their businesses and increase their ROI. She teaches in-person and online classes which help to bring some sanity and understanding into how to make social media work for your small business. Recently Tara was featured on the cover of New Business Denver for her social media expertise!
Okay, Tara, what's this going to cost me?
As you can see, you get all the pieces of the social media puzzle when you sign up for your lifetime membership. We have spent literally hundreds of hours learning WHAT and HOW to do for social networking success. We have taught hundreds of small business owners these systems "in-person" and know that they work!
We have tried to make this video series affordable to all small business owners…if you hired Marketing Artfully to do this same setup for you the cost would be somewhere between $300 and $500! If you order the lifetime social networking videos today the cost is just $47 for lifetime access!!!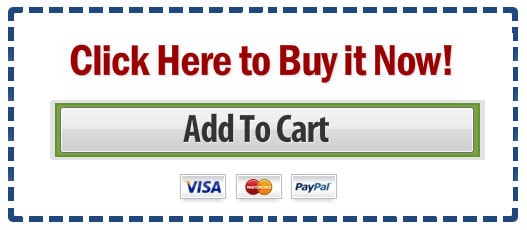 I honestly don't know how long I will be able to make this offer, as we add more and more videos the cost WILL go up. However, you will be grandfathered into this program when you sign up now. Lifetime membership to the Marketing Artfully membership site guarantees that we will make all content online today available for at least 3 years following your signup.
Incoming search terms:
teach business owners how to use social media