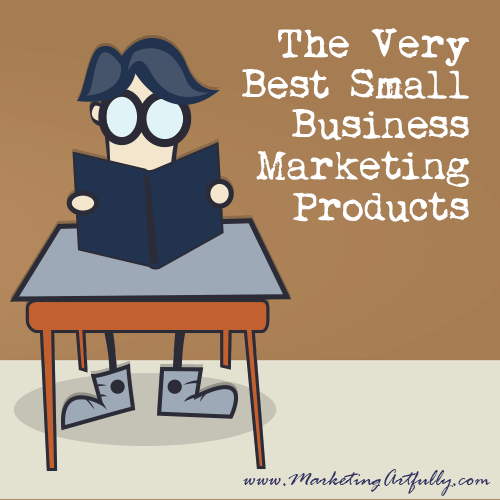 Looking for the best small business marketing products? I have been in the marketing business for YEARS and can absolutely say, there are some GREAT marketing products that are worth your money (if they are paid) or worth your time (if they are free offering). In fact, I have developed some products that I think are pretty fantastic myself!
This page is a list of small business marketing products in all price ranges, from free to very expensive. What I can tell you is that I have personally either made them or tried them out BEFORE they hit my site.
Free Small Business Marketing Resources
We have a bunch of resources that we recommend personally because we think they are great. Some are ones that we have developed personally and some are from other trusted sources. Don't worry! None are pure sales pitches (we don't roll that way!) All are truly something that we feel can benefit your business.
The Best Darn Free Email Marketing Course EVER!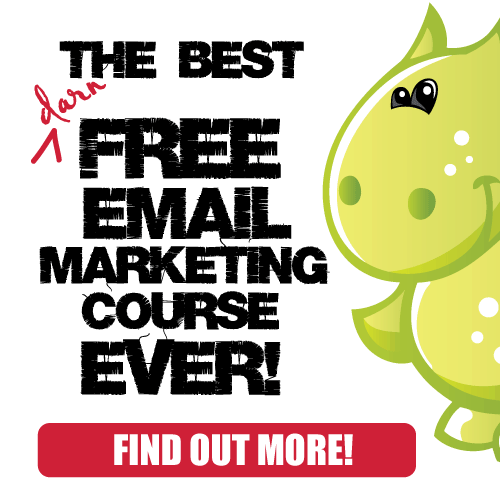 One day, not that long ago, my marketing besty, the Media Monster and I were sitting around talking about what was wrong with email marketing today. We were actually dishing about all the things that we had seen that made us sad for our clients, customers and peeps. With that in mind, we decided to make a course on email marketing, but not just any course! We wanted to address the things that regular small business owners were struggling with day-to-day with their email marketing efforts.
Some of the things that we cover include: promoting your own events, how to brainstorm for writing content, conversion tactics, analysis and optimization, where do you get your email addresses, effective responses to use on social media or email inquiries received from prospective customers and a TON MORE!
This is a TOP NOTCH email marketing course that covers real world, up-to-date concepts. It is not a rehashed re-sell of old bad ideas! The Marketing and Media Monsters made this free email marketing course just for their "peeps" to try and combat some of the bad info out there.
Find out more about The Best Darn Free Email Marketing Course EVER!
Amazing Email Newsletters That Get Results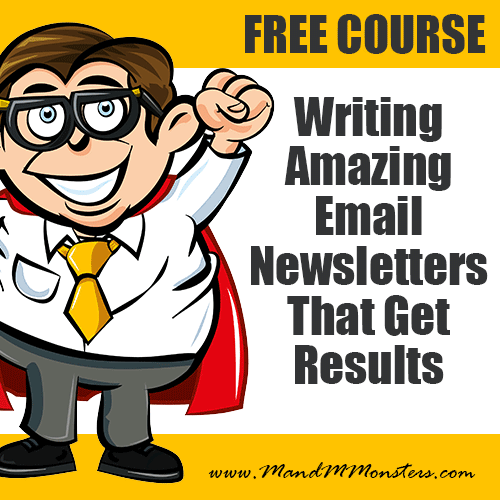 We have spent the last five years hearing about how email marketing and especially email newsletters are DEAD! If you listen to the "marketing experts" you should throw away your email list all-together and jump on the new-fangled social media band wagon.
The truth is that there is no more effective means of communicating with your prospects, customers and advocates than an email newsletter!
That said, with all the email flying around during the day, you KNOW you have to do something to make your newsletter stand out and make an impact. The goal for your email newsletter is to be seen, but more so you are looking for a response. Having an email newsletter can help cement your current customer relationships AND move people down your sales funnel from prospect to sale. Our AMAZING Email Newsletter Course will ensure that your email newsletters get opened – and GET RESULTS!
Check out the FREE MARKETING COURSE: How to Write AMAZING Email Newsletters That Get RESULTS!
Twitter Resources
Since you are on my site, you know that I have a little obsession with Twitter! I really spend a lot of time researching what works and what doesn't, cutting through the clutter to find out what you have to do to be successful on this interesting complex social media platform. Here are two of my favorite Twitter resources that I developed for my team to use!
Twitter Cheat Sheet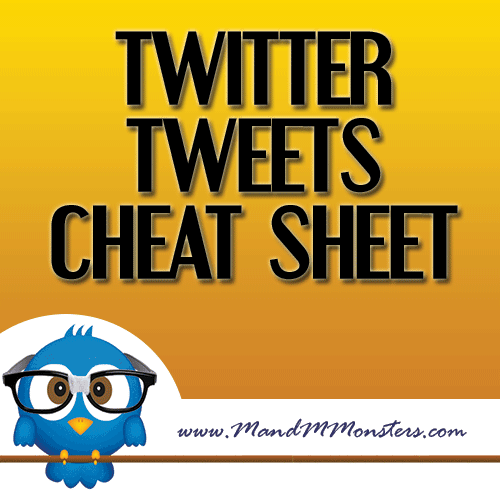 Tweeting is not just about posting "stuff" in 140 characters. How you present your tweets is a big part of whether they attract attention (clicks and retweets) or if they just fly by with nary a second glance.
There are myriad ways to make your tweets stand out like special characters, labeling and using hashtags. Print this out and keep it beside your desk for a handy reference!
One of my favorite tools for crafting compelling tweets is my Twitter Cheat Sheet
Twitter Tweet Generator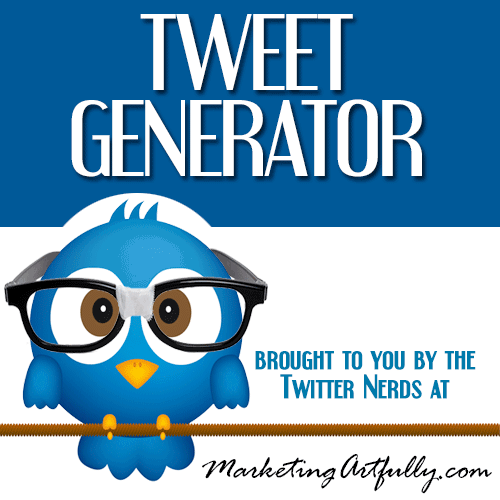 Another great tool for Twitter is the Tweet Generator. We get a lot of feedback that business owners don't understand why we would use such a "spammy" tool, but that is not the purpose of it at all!
We made is so you can craft messages that will resonate with with your followers, without boring them to death by posting the same stale tweet over and over again (we use it the most for our events!)
Check out the Twitter Tweet Generator
Recommended Small Business Marketing Products
As a marketing pro, it is really easy to think, oh I should make a course on that (in fact I have done just that in the past. But then I come to my senses and just figure out who in the marketplace has the best knowledge of a subject that I kinda, sorta know about. These are my best recommendations for exceptional training!
Facebook Ads Insider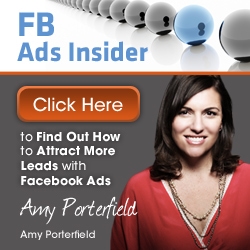 We first saw Amy Porterfield speaking at a national conference and fell in love with her "tell it like it is" style. She gave such value in her "free" talk that we thought, "what the heck will we get if we pay for something".
Well we were blown away by her Facebook Ads Insider course! I have paid for MANY Facebook courses and I can say that this is the only one that I recommend. Her practical application and real world examples actually help to get you up and running, without wasting all your money screwing up your campaigns…an overwhelming endorsement!
Find out more about the Facebook Ads Insider Course
Reel Marketing Insider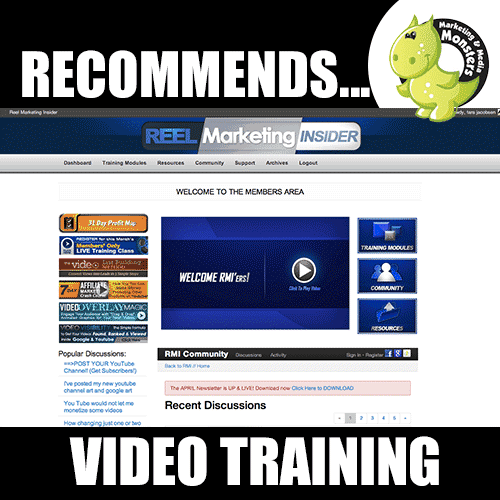 Okay, I was not all that gung-ho about doing video marketing. I don't especially like seeing myself on the "big screen" and frankly the mechanics of it seemed convoluted and hard.
Luckily I found James Wedmore pretty early on! He is amazingly knowledgable about video marketing and he is wicked funny so you don't spend the whole time learning wanting to stick a sharp stick in your eye! Most of the "video marketing experts" are really only technical experts who have no idea how to do video AND make them marketing pieces and productive. James does both!
Find out more about Reel Marketing Insider – James Wedmore
Social Media Marketing Services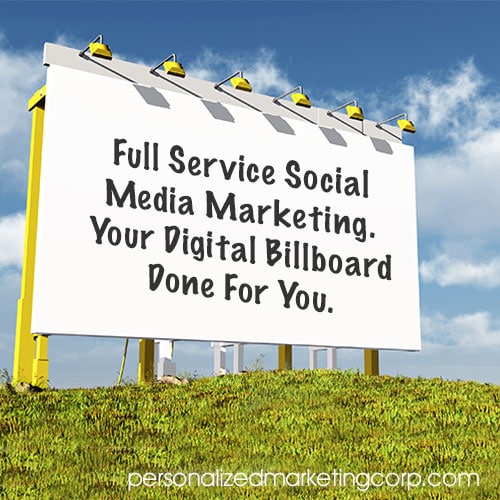 Social Media Marketing Services
Small business owners are under siege! Everybody and their brother says you should be doing social media marketing BUT you have a million things on your plate and no time to learn Facebook and Pinterest and Twitter (heck you might even be thinking to yourself, "what the heck IS Pinterest?") If you have looked into hiring a social media marketing company, you may wonder, "do these guys even know what marketing means?" Mostly, NO! There are too many companies operating as professionals who have taken a 4 hour course into how to sell social media marketing WITHOUT learning a bit about what real marketing is!
Our social media marketing chops extend combined over 30 years! Back when websites were just starting and Facebook wasn't even a gleem in Zuckerburg's eye! Find out more about our social media marketing services for small business today…
There you have it…my top picks for the best small business marketing products available today. If you know something great that I haven't checked out yet, please drop me a line and will absolutely consider taking a peek!
Incoming search terms:
business marketing products
marketing products for business
Small Business Advertising Products
marketing items for small business
advertising products for small business
business advertising products
small business marketing products
marketing supplies for small business
business marketing supplies
marketing supplies for business