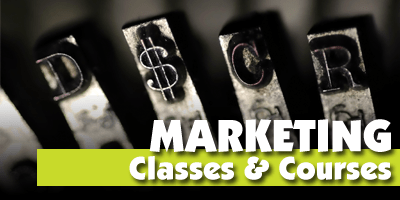 We are offering some SUPER exciting Denver and Boulder area marketing classes and courses! These are designed to help small business owners make the most of their marketing time and budgets. If you would like to find out more about these or custom marketing classes held on YOUR location for YOUR customers, please give us a call today! 727-415-9165
Winter 2012 Denver Boulder Marketing Classes and Courses
Take one or all of these real world marketing classes. Taught by two local marketing powerhouses (Tara Jacobsen of Marketing Artfully and Rebekah Welch the Colorado Connector), these are not rehashed versions of marketing programs from years past, these are real-world strategies and techniques that they are using today to get more customers and prospects for their businesses and customers!
These two hour classes feature a workbook, marketing course instruction and question and answer sessions so that you can get your burning marketing questions answered on the spot!
Buy Multiple Marketing Classes and SAVE!
Because we know that having a little bit of knowledge can be a dangerous thing, we are offering these courses individually, in packages according to your skill levels and needs and as a whole. We have also made the pricing to take them all irresistible so make sure you sign up early (we will be selling these out!)
Get 3 Marketing Basics Classes for $99 or (almost one class FREE!)
Get 3 Advanced Marketing Classes for $99 (almost one class FREE!) or
Take All 6 Classes for $159 (a savings of $123)
Find out more about multi marketing class offers…
Marketing Basics Series
Laser Business Focus For ROCKSTAR Results
A 3 Step Action Plan pinpointing what you are trying to achieve for your business and what you should put your attention on to succeed. We will be going through YOUR business goals, strengths and helping define concrete tasks to do for the coming year! class cost $47
Wednesday, February 15, 2012 from 9:00 AM to 11:00 AM (MT) – Corporate Office Centers – Denver Tech Center 4643 S. Ulster Denver, CO
WHAT THE HECK ARE YOU SELLING? If you don't know WHAT – HOW can you make any money?
We will cover product development, pricing and how to use your sales funnel to get more leads and SALES! class cost $47
Wednesday, February 29, 2012 from 9:00 PM to 11:00 PM (MT) – Corporate Office Centers – Denver Tech Center 4643 S. Ulster Denver, CO
100 NEW Ways To Market Your Business in 2012 With NO MONEY!
More than just the what to do, in this class we tell you HOW to use free marketing tools to get more prospects into your pipeline! class cost $47
Wednesday, March 21, 2012 from 9:00 AM to 11:00 AM (MT) – Corporate Office Centers – Denver Tech Center 4643 S. Ulster Denver, CO
Advanced Marketing Series
Authority Marketing Workshop: How to Get Recognized as THE Expert in your field TODAY
Learn how to position yourself as an expert. We will cover online, offline, speaking and in-person branding to make you an expert in your field. class cost $47
Wednesday, February 22, 2012 from 9:00 AM to 11:00 AM (MT) – Corporate Office Centers – BROOMFIELD – 12303 Airport Way Suite 200 Mountain View Center Broomfield, CO 8002
Networking That PAYS! Stop collecting – and start CONNECTing!
Interactive presentation designed to help you stop collecting business cards and contacts and start truly connecting with people who will buy from you or refer you business! class cost $47
Wednesday, March 14, 2012 from 9:00 AM to 11:00 AM (MT) – Corporate Office Centers – Denver Tech Center 4643 S. Ulster Denver, CO
ADVANCED Marketing Techniques to position your Biz BEYOND 2012!
Success can happen quickly with the right tools, but sustaining that success requires having effective systems in place from the beginning that can adapt to accommodate your growing business. We will cover database marketing, email marketing, business card design and more! class cost $47
Wednesday, March 28, 2012 from 9:00 AM to 11:00 AM (MT) – Corporate Office Centers – Denver Tech Center 4643 S. Ulster Denver, CO