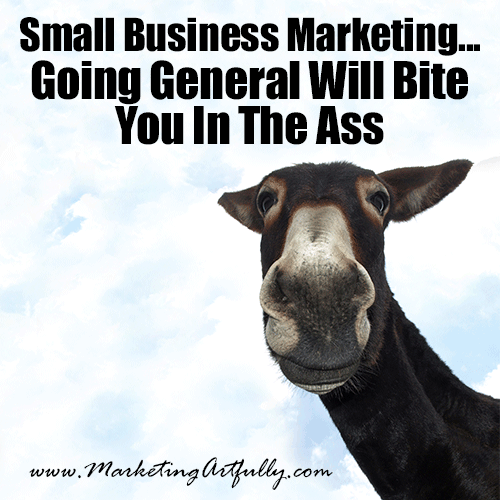 Entrepreneur marketing is not about throwing up a site, getting some followers on social media and selling your heart out. In today's day and age, entrepreneur marketing is ALL about figuring out EXACTLY what you are selling and pairing it with what "they" want and giving it to them!
Pick A Niche
One of the things that I notice when I am out in the field speaking is that most small biz owners don't want to eliminate anyone as a potential client so they go REALLY broad and shallow when describing their business. Realtors will talk about working with buyers and sellers, luxury and condos, functionally if you fog a mirror, they will take you out in the car. Now, don't go getting all sanctimonious about those realtors, most small biz people that I see standing up in networking talk about ALL of the things that they could do, but not a lot about a really tight target.
The best thing about having a tight target is that people can refer to you. If you are a financial services person and you say basically the same thing that all the other financial services people are saying, there is no way I can thin you out from the crowd. Now, if you say that you work with families who have children in the 9th or 10th grade who did not plan for their children's college education…that I can get all on board with. I KNOW people with kids that age because my daughter is that age and now I know who to be looking for to help you!
The second best thing about a tight target is that the person you are talking will have their reticular activator turned on and are ready to pick someone that they can refer you to!
Your reticular activator turns on when you are focusing on something actively…say you are thinking about buying a red jeep, all of a sudden there are red jeeps all over the road. Did they just have a sale on red jeeps? Nope, you just started noticing them! This works the same for your referral partners, clients and friends. If they KNOW that you like to work with newlyweds, all of a sudden they notice that there are newlyweds everywhere who they can refer to you!
Stop Selling Everything
You are thinking that this is like a pick a niche but it is not! I can't tell you how many times I hear something like,
"I moved here from Baton Rouge last year (GREAT OPENING) and own a call center that hooks up small business owners with prospects (SOUNDS GOOD, WHEELS ARE TURNING TO HELP THIS GUY), but today I am here to tell you that I just opened a nail salon and have an amazing nail tech who can….(BLOODY HELL, WHAT IS HE SAYING?)
LOTS of entrepreneurs read my blog. We are truly special people who do have the bandwidth to accomplish more in a day than most people do in a week. BUT, we confuse the hell out of our business partners, friends and family when we are not super clear about what we are selling. We frustrate them when we have diverse interests and try to pursue them all at once. And, like this guy, we shoot ourselves in the foot when we confuse our prospects by not having a clear goal of what we are selling.
Even if you have diverse businesses, don't talk about them in the same session. Pick the one that will resonate best with the person or people you are speaking to and stick with that one thing.
What's In It For Them
I KNOW, you are sick of hearing about this one but honestly the whole world has changed and the old ways are dead. If you are trying to tell anyone about your company or your products, you are probably dead in the water before you start.
Instead you should be helping people, sharing your expertise and adding value at every step. The days of standing up in networking and saying, "I am looking for someone who…" are gone. The marketplace is too crowded and people are overwhelmed by THOUSANDS of marketing messages everyday.
So what should you do when you have a chance to talk? Should you just stand there and look silly? NO!
Stand up and HELP, give a tip about your industry, tell something that you found out which could help someone in the room, tell a story that could benefit your listeners, give a shoutout to someone else during your time (especially in leads groups where you KNOW KNOW the people in the room well already).
People are so sick of marketing and advertising being shouted at them that when a message comes through with sincerity and true caring it shines like the sun. Just by caring you can set yourself WAY apart from the crowd and cut through the chatter.
Incoming search terms:
generating leads social media
lead generation OR generating leads social media