Want to finish up 2010 Strong? While everyone else is winding down, you could be out there getting new clients to start the new year off with a BANG! If you are in the Denver or Boulder area, we invite you to learn all the latest marketing techniques from experts in their fields!!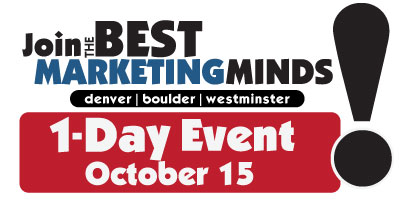 Join us for a 1-Day Marketing Event to get all the information you need to take your business marketing online and get results. Not only will you learn how to use the online tools to get your business noticed, you will have the tools to get results by the end of the day. If you can't handle doing hard work to become successful at online marketing, then this class is not for you!
We cover all that you need to know to get noticed online through social media, eNewsletters and your own website. Learn tips and tricks you can't read online or in books. Get your questions answered one on one.
Here are the Small Business Marketing Topics to be discussed:
8:30-9 Checkin
9-10 3 Squares & Marketing plan
10-12 SEO, Websites & Keywords
12-1 Email Marketing
1-2 LUNCH BREAK
2-3:30 Networking & Creating a Follow Up Plan
3:30-5:30 Social Media (Facebook, Twitter, LinkedIn)
5:30-6 Q&A
Small Business Marketing Expert Presenters
Tara Jacobsen of Marketing Artfully
Tara has been working with small business owners and entrepreneurs, helping them to increase sales and grow their business through marketing. She will be discussing marketing focus, URL selection and how to use social media like Facebook, LinkedIn and Twitter to grow website traffic.
Amber Montel of Your Marketing Voice
Amber is in the trenches everyday working with her clients to increase their reach through social networking and email marketing. Amber will be teaching how to stay in touch with your clients through email marketing AND how to integrate that into your Facebook Business Page.
Heather Florence of Cybercom Consulting and Places2Network
Heather works with her clients to provide professionally designed and promoted websites giving their business' the online credibility needed to elevate their products & services above their competitors. Heather will be speaking about proper keyword selection and how to use your website as a HUB for your marketing efforts.
Rebekah Welch The Colorado Connector
Rebekah is a Brand Recognition Strategist and Marketing Maven. She helps YOU get your message SEEN! She can't wait to meet you and learn more about your product or service. Rebekah has grown impressive networks, both online and off in the Denver Metro and Colorado Areas.
This is truly a once in a lifetime opportunity to get input and guidance from top industry experts on how to leverage the power of the internet to grow your business!
Small Business Marketing 1 Day Event FAQ
Do I have to be an internet whiz to get something out of these classes? Definitely NOT! We will be teaching these courses at a small business owner level. That is not to say that they are beginner topics, just that we will make sure to use plain English!
When are the classes? We will be holding classes October 15th from 9:00-6:00
Where are they being held? DeVry University, 1870 West 122nd Avenue Westminster, CO 80234
How much do the classes cost? The class is $99 but seating is limited!
Do you have something I can print out? Sure! Check out the 1-Day Marketing Event!

Do I have to pay extra for my assistant to attend? Not if you are working on the same laptop. We love having your assistant there so they can know the plan going forward!